Posts Tagged 'Anti-Lockdown Protests'
Anti-Fascists, Republicans and Socialists confront National Party in Dublin.
Hundreds clash in violent exchanges at Dublin protest
Protest by anti-mask, anti-lockdown groups, including right-wing National Party took place outside Leinster House
A protest by anti-mask and anti-lockdown groups, including the right-wing National Party, was organised to take place outside Leinster House at 1pm on Saturday. However, scuffles quickly broke out when the demonstration was met with a group of counter-protestors.

Gardaí confirmed an investigation focused on the organisers of both protests is now under way, while two men, one in his 30s and second in his 40s, were arrested for public order offences.

..

The group of at least 100 counter-protestors, which appeared highly coordinated but made up of disparate groups, met opposite the Shelbourne Hotel on St Stephens's Green at 12.45pm.

The group, all of whom were masked and mostly dressed in black, marched down Dawson St and turned right onto Molesworth St before moving towards Leinster House chanting "Nazi scum, off our streets".

The group was flanked by uniformed gardaí on bicycles, while several Garda vans from the force's public order unit remained on standby in the vicinity. Plain clothes members of the Garda also mingled among the crowds.
On Saturday 10th October 2020, Anti-Fascist Action (AFA) Ireland and its allies confronted a rally organised by the fascist National Party (NP) outside Leinster House, Dublin. Over 150 militant anti-fascists challenged a meagre group of NP supporters who were protected by a wall of steel barricades, lines of Gardaí and the Public Order Unit who had their batons drawn. The NP event was a failed attempt to use current Covid-19 restrictions as a rallying point to attract unsuspecting members of the public who may hold genuine grievances with the lockdown.
The Albert Meltzer quote "there's no such thing as a fascist march – only a police march" was proven again today as the massive Garda operation was required to ensure the larger anti-fascist mobilisation was kept away from the underwhelming fascist presence.
It continues,
Despite several weeks of publicising the demonstration on social media, the demo received zero traction beyond the NP's core members and supporters. Disingenuously the group didn't even have the courage to put their own name on the event poster which was widely shared by all main NP organisers.

Amongst the speakers today was mini-führer Justin Barrett and former British army soldier 'Tan Torino' (Rowan Croft) who served with the Royal Engineers in the late 1980s and early 1990s. Hardly what could be described as Irish patriots! A nervous Torino was spotted leaving the vicinity immediately after his rant and did not even stay around for Justin Barret's rambling long speech.

The fascists may have been emboldened by their recent attacks on individuals but cowered behind a sea of cops until they were led away for their own safety. The sight of them being escorted away was a pathetic sight. They have recently boasted about 'controlling' the streets of Dublin but seemed genuinely shocked and scared by the sight of hundreds of working-class anti-fascists in Dublin today. Our numbers proudly marched afterwards through the city from Leinster House to the GPO carrying Irish tricolours, starry ploughs, sunbursts and rainbow/lgbt+ flags. Passersby stopped and clapped on hearing the chant "Fascist scum, off our streets!" This was the second Saturday in a row in which the so-called hardmen of the far-right were shown up as mouthy cowards.

The National Party have strongly opposed the use of masks to prevent the spread of Covid-19 during this global pandemic. Their supporters are undeterred by restrictions. Today we saw the full support that these pricks can muster whereas we know that huge numbers of our supporters did not take to the streets today out of concern for the most vulnerable in society. Those of us out today did so out of a sense of necessity and true patriotism to protect our country from their dangerous and toxic ideologies.

The National Party, founded in 2016, is an ethno-nationalist far-right group. Its leader, veteran fundamentalist Catholic Justin Barrett, called for doctors who perform abortions to be executed. He has had long-standing ties with European fascists and spoke at several neo-Nazi rallies in Germany and Italy in the late 1990s and early 2000s when he was a leading member of the extreme anti-abortion group Youth Defence. He has remained unapologetic about sharing platforms with former SS officers.

AFA Ireland is a militant anti-fascist organisation formed in 1991. We believe in physically and ideologically confronting fascism whenever and wherever it rears its ugly head. As always, we encourage all anti-fascist minded people across the island to reach out to us and work together in a militant, disciplined movement against fascism. Profound thanks again to all our members and supporters in the republican, socialist, grassroots, LGBTQ+ and trade union movements.
Beir Bua. La Lucha Continúa. No pasarán.
AFA Ireland, 10 October 2020
ENDS
There is a background to this:
Socialist Democracy:
Fascism: Ireland's illusion of immunity begins to pall
18 September 2020
In reality Ireland is a society riddled with misogyny, class hatred,  sectarianism and anti traveller discrimination that easily adapts to racism.  In the North an entire political system is built around competing sectarian rights and housing apartheid.

The old governmental system in Dublin, revolving around two largely identical right wing parties, is in decay.  An opening has occurred and fascists have begun to mobilise.

They are still weak and disguise themselves in yellow vest and anti mask protests, but they are strengthened by their willingness to use violence and by winks and nods from the police.

Two guiding principles should lead us.  Firstly we must not privatise opposition,  with each left and republican group organising independently,  shouting "trash the fash" without having built the means to follow through on our promise.  There has to be an all Ireland anti-fascist  movement.  Secondly, socialists in such a movement must argue for a radical alternative.  Fascism grows whenever the workers movement fails.  At the moment the trade union leaders have buried themselves in partnership with the government and many socialists are advancing the fatuous plan of a "left" government led by Sinn Fein.

When working people are desperate and the left are silent we are leaving the door open for the far right.  Time to unite for a revolutionary alternative!
People are beginning to ask why there have been no counter-protests against the 'anti-mask' confusionist and  far right demos in Britain.
"I choose the opposite side to these people, on all matters." (Photo, SE)
Shadow Secretary of State for Work and Pensions. Lab/Co-Op MP for Stalybridge, Hyde, Mossley, Longdendale & Dukinfield.
Here is an indication, if we have got this right, of the Times report during the week that  David Icke and Piers Corbyn are now the moderates of the Covid Denial anti-Vax movement, fighting the extremist splitters who organised today's rally.
"
"GO Local 
#Build26Sep
 on wknd 19/20
ignore FakeNews* +diversions
(*Piers +DavidIcke are in TrafSq 26th NOT 19th)."
It would be funny, except, that it is not.
As in:
Met police show today that they don't only run from Islamist marches and blm riots. They're now equal opportunities cowards! Great to see – the
#English
resistance to the
#plandemic
lockdown.
And there was this:
And here.
Back to Griffin:
And here:
Gut wrenching – look at the QAnon posters on the top right of this post.
There is also this:
And this lot:
Is this a fair summing up?
This is next week: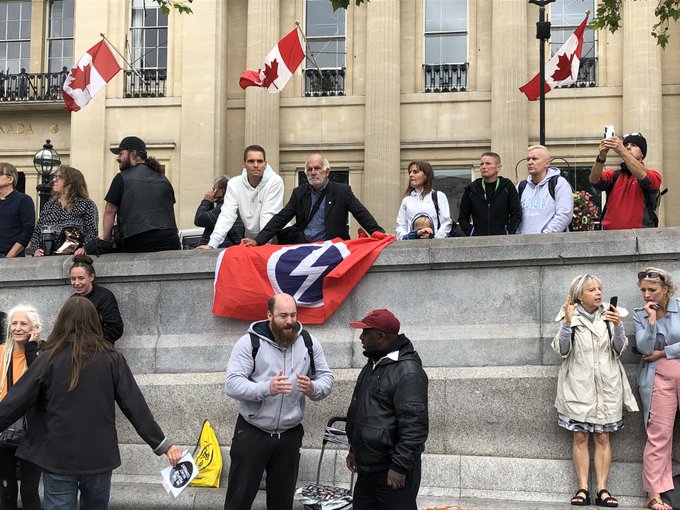 British Union of Fascists Flag: Anti-Vac and Conspiracy Right-Wing Mingle with Trafalgar Square Demo.
The London protest brings together Piers Corbyn and David Icke, and a raft of other far-right conspiracy activists.
Reports:
Here is another shot of them.
The far-right conspiratorial background of the march's principal organisers is well-known.
There is David Icke and Piers Corbyn. Corbyn has taken to railing at the 'New World Order', George Soros, and the 'Nazification' of the NHS.
Here he is this afternoon:
They are part of a Europe-wide (and further afield in North America and Australasia) movement that brings together 'anti-vaccination campaigners, 'civil liberty' anti-'big government' rightists, and straightforward racists.
These cross-overs in this latest outbreak of political confusionism are already being charted.
Le Monde, a few days ago carried a detailed  report highlighting the cross-over between those who hold anti-lockdown ideas and conspiratorial right-wing thinking.
La défiance imprègne notre société » : le discours antimasque, nouveau terreau complotiste
As indication they pointed to a Facebook site which had renamed itself from Zemmour (the surname of a French far-right-wing anti-immigrant historian) to "Non au masque" (no to Masks).
In an opinion survey of 800 members of these Web platforms it was found that 52% believed in the Illuminati (against a whopping 27% of the general population!), 56% believe in the Great Replacement by Immigrants (against 25%), and 52% in a Zionist "plot" against France (22%).
In the UK the culture warriors and identitarians of Spiked are also stirring the pot.
Britain was often a pretty unfree place before 2020. But this year illiberalism has gone into overdrive. The state now dictates that we must cover our faces in certain places or face a fine.
Yesterday: Not a single healthy child has died from Covid
A new study confirms the virus poses a negligible risk to children.
With the evidence mounting that kids are largely safe from Covid, it is clearer than ever that schools are safe. Those who want to hold up the return to education are massively over-stating the risks. In fact, they are causing harm to children by restricting their lives in the name of protecting them from a negligible threat.

Let's stop scaremongering and get schools back to normal.
More Background from Hope Not Hate.
THE UK'S EMERGING CONSPIRACY THEORY STREET MOVEMENTS.
New conspiracy theory-driven street movements, spreading dangerous QAnon, 5G and anti-vaccine propaganda, have held dozens of small protests in the UK recent months. These groups are collaborating and gathering momentum.

Last Saturday, over a hundred protesters marched to Buckingham Palace, where a section angrily chanted "paedophiles" outside the gates. Some protestors bore signs referencing QAnon, a baseless US-centric conspiracy theory alleging that President Trump is waging a secret war against a cabal of powerful Satanic paedophiles, alleged to be kidnapping, torturing and even cannibalising children on a giant scale. The conspiracy theory, which has strong undercurrents of antisemitism, has spread rapidly in the US and developed pockets of support in Europe in recent months.

The outfit behind the protest, Freedom for the Children UK (FFTCUK), is the British branch of a new American group, which held scores of gatherings across the USA, Canada, Australia and New Zealand last Saturday. FFTCUK itself organised events in eleven cities across Britain, and whilst some were tiny, others, including Manchester , were hundreds strong.

Whilst FFTCUK's deliberately vague branding appears to have attracted many concerned by genuine child trafficking, several of the group's central UK organisers have expressed QAnon beliefs. The iconography of the theory was displayed by attendees at events around the country, as well as numerous references to broader Satanic ritual child abuse conspiracy theories.

FFTCUK is just one of a constellation of conspiracy theory-driven protest groups to have emerged during lockdown, which, despite being founded on diverging issues, appear increasingly willing to pool their efforts. FFTCUK's Manchester event was supported by Stand Up X (SUX), a homegrown anti-5G outfit which, since launching in May, has organised dozens of small anti-lockdown events.

This Saturday SUX is, alongside a number of other groups, co-organising what may be the largest conspiracy theory protest in recent months, as David Icke, a major British conspiracy theorist and antisemite, is set to speak against the lockdown in London alongside prominent anti-vaccine activists.
Today is Saturday.