Posts Tagged 'anti-imperialism'
Venezuela, March 2017, Queue for 2 Bags of Goods.
"If seeing is believing, then these simple, everyday scenes that would be familiar to anyone in a developed nation should be enough to cast serious doubt on the perception that the Establishment media seem eager for us to adopt."
UNDERCOVER VIDEO SHOWS FULL SHELVES IN #VENEZUELA SUPERMARKETS
On Thursday the SKWAWKBOX published a first-hand account of the situation in Venezuela that challenges the prevailing portrayal and exposes the ugly reality of much of the opposition 'protest' as violent, even murderous and co-ordinated with 'economic war' on the socialist government to create the impression of a failed state.

A key part of the 'failed state' narrative is the claim of nationwide shortages in food and other key goods, as corporate and Establishment news attempts to convince that the socialist project has been a disaster.

That shortage-narrative has been raised by objectors to Thursday's article as proof of the claims of the right-wing opposition.

As Thursday's article showed, what shortages there are appear to have been manufactured by opposition-run monopoly corporations – but even those appear to have been greatly exaggerated.

For her Empire Files series, journalist Abby Martin filmed undercover in a series of Venezuelan supermarkets – and found something very different to what those watching BBC and other mainstream news would expect.
Skwawky reminds me of a certain Édouard Herriot (1872 – 1957) Parti Radical, and many times French PM) who remarked during a visit to Stalin's Russia in 1933 that, the "Soviet Ukraine was "like a garden in full bloom".
This is what Wikipedia has to say, Shortages in Venezuela.
Under the economic policy of the Nicolás Maduro government, greater shortages occurred due to the Venezuelan government's policy of withholding United States dollars from importers with price controls.[6] Shortages are occurring in regulated products, such as milk, meat, coffee, rice, oil, precooked flour, butter prices and other basic necessities like toilet paper, personal hygiene products and medicines.[4][7][8] As a result of the shortages, Venezuelans must search for food, occasionally resorting to eating wild fruit or garbage, wait in lines for hours and sometimes settle without having certain products.
This is what Human Rights Watch says (2017 report),
Under the leadership of President Hugo Chávez and now President Nicolás Maduro, the accumulation of power in the executive branch and erosion of human rights guarantees have enabled the government to intimidate, persecute, and even criminally prosecute its critics.

Severe shortages of medicines, medical supplies, and food have intensified since 2014, and weak government responses have undermined Venezuelans' rights to health and food. Protesters have been arbitrarily detained and subject to abuse by security forces.

Police and military raids in low-income and immigrant communities have led to widespread allegations of abuse.

Other persistent concerns include poor prison conditions, impunity for human rights violations, and continuous harassment by government officials of human rights defenders and independent media outlets.
Here is what the Morning Star said in July,
OVER 100,000 Venezuelans queued at the San Antonio del Tachira border crossing into Colombia over the weekend to buy foods and medicines that are in short supply at home.

It was the second weekend in a row that the socialist government has opened the border with Colombia, which was closed, as were all crossings, a year ago to obstruct smuggling.

Speculators were accused then of causing shortages by buying state-subsidised food and petrol in Venezuela and taking them to Colombia to be sold for far higher prices.

Venezuelan President Nicolas Maduro has played down talk of a humanitarian crisis, blaming his government's political enemies and self-serving smugglers for shortages.

He dismissed as a "media show" televised images of 500 women pushing through the border checkpoint a few weeks ago claiming to be desperate to buy food.

Venezuelan state TV ran footage on Sunday of citizens returning from Colombia empty-handed, dissuaded by "price-gouging" and the threat of violence from their neighbours.
So Skwawkbox have been caught out spinning faubations yet again.
Any shortages are the fault of the 'monopoly capitalists" and….well there are no "real" problems with food in supermarkets as a single video shows.
Perhaps one could ask who, with hyper-inflation, can afford to but anything.
Full marks for 'undercover' investigation into a Venezuelan supermarket though.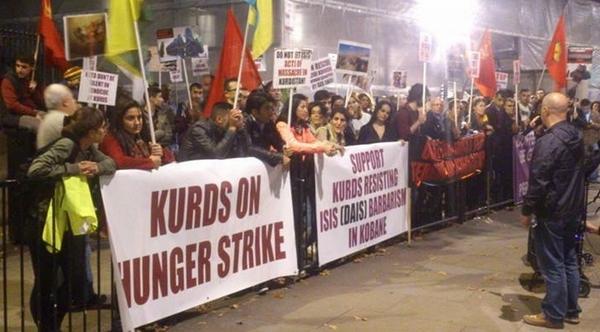 Solidarity with the Kurds – Not in our Name Says NUS.
Saturday sees another day of demonstrations in support of Kurdish resistance forces in the Syrian town of Kobane.

The protest at 2pm on Parliament Square follow a week of demonstrations across London.

The campaigners have already visited the square this week with action on Wednesday shutting down Westminster Bridge as well as causing issues around Parliament Square and Downing Street.

Campaigners have been seen throughout the city this week, bringing Oxford Circus and Angel tube stations and the Eurostar terminal in St. Pancras to a standstill.

Alexia Akkaya, a mother and blogger from west London, said she wanted to "scream and shout" in frustration at the situation in Kobane. She explained her reasons for marching: "I cannot sit back and watch the slaughter of innocent people. I am angry at the apparent lack of empathy by the Turkish government and the hushed British MPs and other influential people who had so much to say about other conflicts. I am not Kurdish but as a compassionate and loving human being and it is my duty to stand up in solidarity with the brave resistance in Kobane."
One group which has decided to "sit back and watch the slaughter" is the National Union of Students (NUS).
A move to get the students' organisation (600 student unions) to back  the brave Kurdish resistance against the Isis/Islamic State genociders was dismissed this week as "Islamophobic".
This is the motion presented to the NUS National Executive Committee (NEC) which fell. (here.)
Iraqi/Kurdish solidarity

Proposed: Daniel Cooper
Seconded: Shreya Paudel, Clifford Fleming

NUS NEC notes

1. The ongoing humanitarian crisis and sectarian polarisation in Iraq
– which has resulted in thousands of Yazidi Kurds being massacred.

NUS NEC believes

1. That the people of Iraq have suffered for years under the sectarian
and brutally repressive dictatorship of Saddam Hussein, the US/UK
invasion and occupation, the current sectarian regime linked to both
the US and Iran, and now the barbaric repression of the "Islamic
State" organisation.

2. That rape and other forms of sexual violence are being used as
weapons against women in IS-occupied areas, while minorities are being
ethnically cleansed.

NUS NEC resolves

1. To work with the International Students' Campaign to support Iraqi,
Syrian and other international students in the UK affected by this
situation.

2. To campaign in solidarity with the Iraqi people and in particular
support the hard-pressed student, workers' and women's organisations
against all the competing nationalist and religious-right forces.

3. To support Iraqis trying to bridge the Sunni-Shia divide to fight
for equality and democracy, including defence of the rights of the
Christian and Yazidi-Kurd minorities.

4. To condemn the IS and support the Kurdish forces fighting against
it, while expressing no confidence or trust in the US military
intervention.

5. Encourage students to boycott anyone found to be funding the IS or
supplying them with goods, training, travel or soldiers.

6. To make contact with Iraqi and Kurdish organisations, in Iraq and
in the UK, in order to build solidarity and to support refugees.

7. To issue a statement on the above basis.
A report on the meeting by Daniel Lemberger Cooper  comments,
"The motion was opposed by Malia Bouattia, the NUS Black Students' Officer, for astonishing and bewildering reasons. Bouattia argued that the motion was "Islamophobic" and "pro USA intervention" – (see Aaron Kiely, a fellow NUS NEC member's, tweet during the meeting as reflective of the position). The motion then fell as large numbers of NEC members either abstained or voted against (including the bulk of the political Left on NEC). I think this says a lot about the current state of the student movement."
Now observers may put part of this down to sectarian dislike of the movers of the motion, NUS internal politics, and simple snideness.
But this outweighs such a reaction:
The infamous Tweet:

It is hard to imagine, except with disgust, what "alternative narrative" to the "Western, racist" one that Aaron Kiely would spin about Isis.
We note, while passing on, that Kiely is "close" to the ex-Trotskyist sect, Socialist Action.
On the charge of 'racism' Cooper  remarks,
"The "Iraqi solidarity" motion had been worked on with Roza Salih, a Strathclyde university student of Kurdish descent (she submitted an almost identical motion to the Scottish equivalent of the executive, the Scottish Executive Council, which I will post later, which, incidentally, did pass! One must ask Scottish executive members why vote for a motion in Scotland, but not in England?!).Pro-intervention?"
This is what Malia Bouattia (who seems to be involved with something called, perhaps misleadingly, the 'broad left')  said after helping get the NUS to back the Palestinian cause,
'So the struggle continues, but this victory alongside the global sea change of public opinion gives us new hope. The Black Students Campaign remains committed. We will continue to protest, march, boycott and campaign. And we will not stop until the rights of Palestinians are restored and Palestine is free.' (from here)
Obviously freedom is not something the Kurds also deserve – unless it's freedom from solidarity.
As the Kurds (increasingly joined by other supporters, including many of the left) gather, the NUS has decided to stand aside as  Islamist genociders threaten the beloved people of Kobane.
 In years to come the majority of the NUS executive, and particularly  Malia Bouattia and Aaron Keily, will be able to say, "Solidarity with the Kurds? Not in  our name!"