Posts Tagged 'Alain Finkielkraut'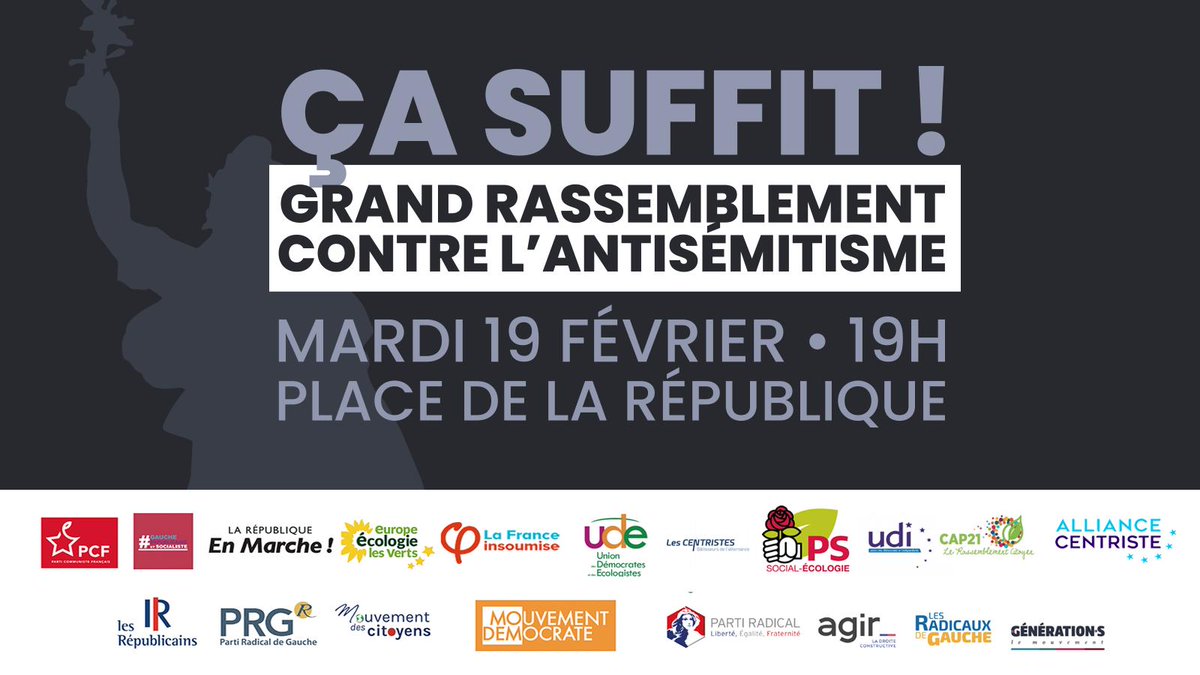 Unity Against Anti-Semitism.
Yellow-vest protests: Macron condemns anti-Semitic abuse
BBC.
French President Emmanuel Macron has condemned anti-Semitic abuse directed at a prominent intellectual by a group of "yellow vest" protesters in Paris.

Police stepped in to protect the philosopher Alain Finkielkraut after he was bombarded with insults and anti-Jewish taunts in the French capital.

President Macron said it was an "absolute negation" of what made France great and would not be tolerated.

Tens of thousands took part in anti-government protests on Saturday.

Prosecutors have now opened an investigation into the incident, and France's interior minister said on Sunday that a suspect alleged to be the "main perpetrator" had been identified by the authorities.
It is significant that the French Communist Party was one of the first to react:
Ian Brossat, chief French Communist Party candidate for the European Parliament, said "We can hate Finkielkraut's ideas", but "nothing can justify attacking him as a Jew".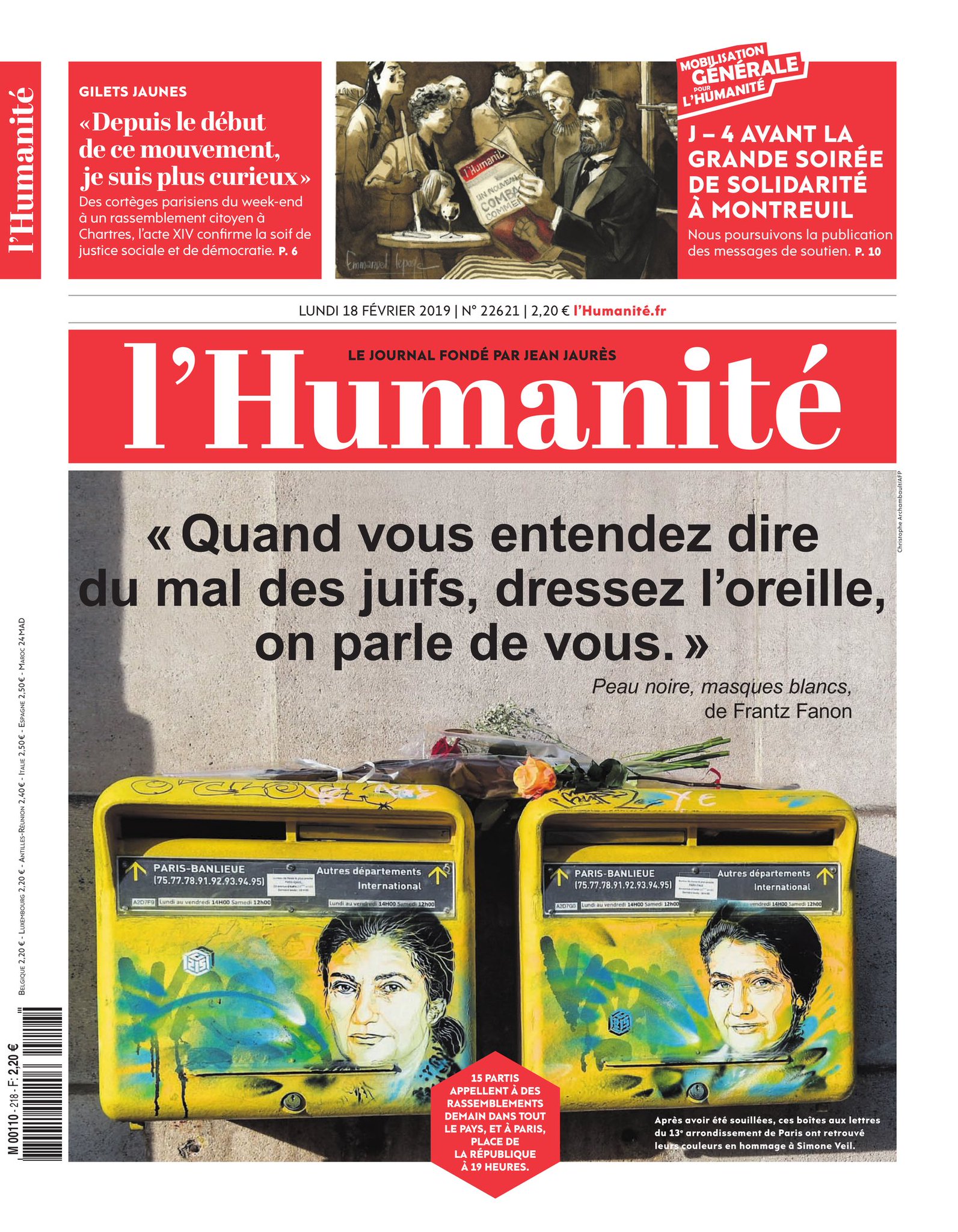 The anti-Semitic insults hurled at Alain Finkielkraut by certain Gilets Jaunes in Paris on Saturday continue to make waves in France.
This was on Europe 1 this morning.
Bernard-Henri Lévy : "On est dans un moment qui me fait penser à l'époque de l'affaire Dreyfus"
BHL's scattergun polemics will leave many people cold.
But in some respects he is completely to the point.
In le Monde Diplomatique this month Serge Halimi & Pierre Rimbert defend the Gilet Jaunes as a manifestation of class war.
They cite an episode from the history of French socialism. In the debate, known widely as the "Two methods" held in the Hippodrome of Lille in 1900, Jules Guesde defended the sectarian 'class against class' against those socialists who had defended Dreyfus and no backed a government to 'defend the republic' against the far-right 'reactionary' threat
In Lille in 1900, the socialist leader Jules Guesde had already seen through this political game to which the capitalist class owed its longevity in power: 'It is divided into progressive bourgeoisie and republican bourgeoisie, clerical bourgeoisie and free-thinking bourgeoisie, in such a way that a defeated faction can always be replaced in power by another faction from the same class, which is also [our] enemy. It's a ship with watertight partitions which can take in water on one side without being any less unsinkable.' But sometimes the sea gets rough and the vessel's stability is threatened. In such a situation, squabbles need to be set aside to present a united front and keep it afloat.
The authors do not cite Guesde's opponent, Jean Jaurès.
The exchange hinged on the participation of a socialist, Millerand, in the bourgeois (republican) government of René Waldeck-Rousseau. For  Jaurès defending Millerand was a matter of being against Nationalism and Reaction ("contre le nationalisme, contre la réaction").
The disagreement,as mentioned, went back to Dreyfus.
Guesde refused to back the Jewish victim of anti-semitism on the grounds that the affair was "un conflit interne à la bourgeoisie "(an internal squabble within the bourgeoisie).
Comrade Jaurès replied to these arguments by asserting that the human rights at stake with the injustice against Dreyfus were a matter for socialists.
There are two parts to capitalist and bourgeois legality: There are a whole mass of laws aimed at protecting the fundamental iniquity of our society, and there are laws that consecrate the privileges of capitalist property, the exploitation of the wage earner by the owner. We want to smash these laws, and even by revolution if necessary abolish capitalist legality in order to bring forth a new order. But alongside these laws of privilege and rapine, made by a class and for it, there are others that sum up the pitiful progress of humanity, the modest guarantees that it has little by little conquered through a centuries-long effort and a long series of revolutions.

And among these laws the one that doesn't allow the condemnation of a man, whoever he might be, without discussion with him is perhaps the most essential. Contrary to the nationalists who want to keep of bourgeois legality all that protects capital and turn over to generals all that protects man, we revolutionary socialists want, within today's legality, to abolish the capitalist portion and save the human portion. We defend legal guarantees against the braided judges who smash them, just as, if the need arises, we will defend republican legality against generals in a coup d'etat.
That  tradition, which sees the fight against anti-Semitism as part of the wider struggle for human rights, and socialism, is quiet but is now becoming more and more alive.
Yves Colman, one of many on the radical French left,  stands against this latest manifestation of anti-Semitism,
Quand des Gilets jaunes lancent des insultes antisémites et xénophobes contre Alain Finkielkraut ils ne font que suivre les traces de leurs prédécesseurs de Nuits debout
The fact that Finkielkraut is reactionary, hostile to Muslim immigration, is indeed an excellent reason to fight it politically. The fact that he does not understand the difference between Islam and Islamism, or between political Islam and jihadist terrorism, the fact that he defends Renaud Camus, the theoretician of the "great replacement", does not make him particularly attractive.

But there is a wide margin between this and making antisemitic and xenophobic remarks about him when you come across him in the street. This is the step  that yellow vests made today.
Yves continues, comparing this incident to the outpouring of hatred that occurred when Finkielkraut made an equally provocative visit to the Nuit Debout movement's spectacle at the Place de la Bastille in 2016.
The extreme left, denouncing Finkielkraut's slightest gesture and systematically associating him with Zionism, could only have facilitated the creation of the current anti-Semitic climate. From this climate left and extreme left who claim to be "anti-Zionists" are partly responsible.

…

Anti-Semitism and anti-Muslim racism go hand in hand. And we can not pretend to fight the second without fighting the first. Otherwise we play the game of the extreme right
Here
New Low for Académie française.
I suppose any institution claiming to represent the heights of French culture that includes  former French President and mediocrity Valéry Giscard d'Estaing (still, amazingly, alive, though it's often hard to tell)  lacks, shall we say, all credibility.
But the election of Alain Finkielkraut to the "immortals" has introduced a new low.
Finkielkraut occupys the same place in French philosophy and culture, as, say, Peter Hitchins.
He began with some, middlebrow, writings in the tradition of Emmanuel Levinas. He celebrated Jewish culture and sometimes offered penetrating insights into post-Shoah Jewish identity. Some may admire his stand on the break up of Yugoslavia, where he was beside himself against Serbia. Fewer, perhaps,  would have admired  his close friendship with Croat leader, and Holocaust denier, Franjo Tuđman.
In recent years Finkielkraut has been distinguished by a relentless hatred of anything he believes threatens French identity.
If anybody wants to distinguish left-republican secularism from what Finkielkraut's critics call his « républicano-communautariste » it is easy to do.
He explicitly attacks multiculturalism  from the right, offering only a tale of woe and decline faced with immigration and métissage (Mixing, cultural and ethnic). As one can imagine he has had the courage of those going with the grain of conservative prejudice to oppose "political correctness" – a term as wide as it is vacuous.
By contrast Jean–Luc Mélenchon has explicitly defended" " métissage" as the basis for a new class unifying republican socialist  left.
Over the last year Finkielkraut has become even more obsessed – were it possible – with "l'identité française".
He complains that France is an "auberge espagnole" (a pejorative term, in this context,  for a mixture of people living together)  in which the ethnically true French dare not speak out. (L'Identité malheureuse, d'Alain Finkielkraut. 2013)
Despite the occasional exalted language Finkielkraut resembles a Peter Hitchins, or a French version of Nigel Farage.
It is with no surprise that we learn that his election to the Académie française met opposition. The columnist scraped in with 16 votes out of the 28 members of the august body.