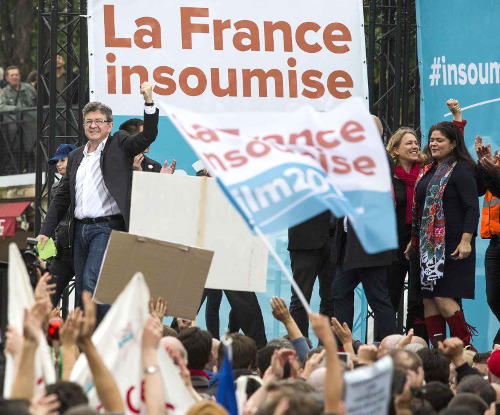 "Fashion dies young, " (La mode meurt jeune) said Jean Cocteau (Le « populisme de gauche » est mort !)
It seems like another epoch.
'Left wing populism", the new strategy of the left, was going to sweep all before it.
In the "era of people" the old class divisions were eroded, politics was about moblising, giving a voice to, and joining together the victims of neo-liberal economics against the Oligarchy, the "elite".
National symbols and a feeling of real  community needed to be retaken by the left.
In  France this reached the point of celebrating the "patriotic" revolutionary tradition of 'the French' with 'left populists' waving the Tricolore and singing the Marseillaise – as indeed their forebears in the French Communist Party were wont to do in times of popular unity and their own 'National Fronts' (1940s onwards).
We were lectured on how French nationalism – no doubt like so many other nationalisms in the eyes of their 'left' supporters – is uniquely revolutionary and 'popular'.
It would not be hard to find the pages written on this, from Chantal Mouffe's For a Left Populism (2018) to scores of articles on Mouffe, and the (deceased) Ernesto Laclau's writings on populism.
It was recommended that the British Labour Party take note and develop its own "insurgent" style and politics.
In those distant days (31st of March 2019) the self-styled voice of the American radical left, Jacobin, was full of articles on the topic.
Anton Jäger and Arthur Borriello wrote,
Left populism is the new idiom of radical politics worldwide. It emerged as the answer to the problem of a weak and disorganized working class — but despite its electoral successes…

In contrast to a moribund old left, clinging to antiquated remedies when facing annihilation, left-populism has trimmed its sails to the wind.
The previous year (2018, how distant it seems now! ) Jacobin's European editor, Dave Broder boasted, of an event on the fringe at the Labour Party Conference.
Tonight Jacobin will host an event at The World Transformed featuring France's most popular political leader, France Insoumise's Jean-Luc Mélenchon. Winning seven million votes in last year's presidential election, the radical left-winger is today at the forefront of the revolt against Emmanuel Macron's crisis-wracked government.
He went onto to praise, Mélenchon and his movement's
 ..success in uniting the oppressed…
Earlier this year Broder gave a reverential interview to the Leader of la France insoumise in the Jacobin supplement, the UK magazine Tribune.
'Everyone should know — I am very dangerous'
This Blog has covered the growing crisis in his La France insoumise.
We have discussed this book, Le populisme : le grand ressentiment (2017) and interview (2018) Left-wing populism. A legacy of defeat: Interview with Éric Fassin,
Fassin had the foresight to say:
The problem with the populist strategy, for the left, is that it's neither left nor a winning strategy. It was even less so during the latest presidential campaign in France: everyone played that same card at the same time, including Macron, with a rhetoric of 'centre' populism!
Today we read on a site of the French radical left close to the independent section of La France insoumise, Ensemble, though increasingly not close to Mélenchon himself, that the strategy of left-wing populism has unravelled right to down to reveal its bleached skeleton.
Le « populisme de gauche » est mort ! 
The economist Cédric Durand and the sociologist Razmig Keucheyan.
After tracing the origins of this strategy to the Latin America left, (an important inspiration for Ernesto Laclau inspiration), and the failures of the 'Bolivarian Revolution" they state,
..the limits of the model are obvious, and even more so in Europe, where no current claiming "left-wing populism" has been able to gain power. The results of Podemos and La France insoumise in the European elections, accompanied in the Spanish case of very poor local elections scores, sound the death knell of experience.

…

It forced the left to think about what "people" means today. More complex and diverse, the 'people' are no longer those created during  the post-war economic success when the left bloc combined the salaried popular classes and certain fractions of the middle classes, especially intellectual ones. Globalisation, neoliberal Europe and the renunciation of social democracy have blown it up, creating a deadly cleavage between a supposedly protective nationalism and an all-market pseudo-internationalism. The populist strategy has been able to defy the hegemony of the neoliberalized left by jostling amongst the interstices of the historical formations.

But it failed to structure a new social alliance. How to explain the failure?
The summary of the answer to this is that,
The opposition between the 1% and the 99% has perhaps allowed to trigger a political movement and to incarnate it in a leader, but has  prevented it from developing long-term roots.
They argue that the backing for these parties, above all Podemos and La France insoumise,  has been based on too many differing social  constituencies. These are not just fragmented but lack  a consistently defined interest however much a political apparatus tries to "articulate to offer a stable political base.
To put it simply 'federating' a variety of 'democratic' struggles and social concerns together around a charismatic 'Leader' has not paid off.
No strategy based on Laclau's picture of the rhetorical foundations of society and floating signifiers, or Mouffe's agonism, and "effects" can hide the results of elections, and the failure to "capture" the – ambitious – Gilets Jaunes revolt to restore the "moral economy" that many very different social categories dream of  asserting faced with President Macron and his own simulacrum of a party, La République En Marche.
Perhaps the substantial part of LFI's ecosocialism" and green planning (far from their personal property as Benoît Hamon and Génération.s, stand for "une écologie humaniste qui prône l'humain au coeur de la réflexion écologiste" indicates) can be saved from this wreck……
That is France, but the downward spiral of left populism has wider implications.
Above all Durand and Keucheyan ask,
Why do left-wing populisms prove incapable of dealing with disagreements and bringing pluralism to life? Podemos and La France insoumise are authoritarian structures. A clear-headed assessment obliges us to recognise this.
One party of the answer, which applies to French Left Populism,  is offered here.
In this article Après le départ de Charlotte Girard, «La France insoumise en difficulté»… et après? Luc Benz  criticises above all La France insoumise for its "hégémoniste et exclusive " political practice.
This is a striking observation.
Jean-Luc Mélenchon a été formé à l'école de Pierre Lambert: où qu'il soit passé (y compris comme premier secrétaire de la fédération PS de l'Essonne comme féal mitterrandien), il n'a jamais hésité devant les méthodes brutales, au nom des exigences de l'orientation politique du moment, cette orientation fût-elle éphémère.

Jean-Luc Mélenchon was trained at Pierre Lambert's |(note, hard-line orthodox Trotskyist, with strongly patriotic/nationalist traits)  school: wherever he went (including as first secretary of the PS federation of Essonne as a loyal supporter of Mitterrand)  he never hesitated before brutal methods In the name of the political demands of the moment, however ephemeral they were.
It was often said that Left Populism was a strategy in a hurry.
It needed to build quickly to overtake and replace  the 'old' left, the compromised 'neoliberals'  those unable to confront globalisation with a viable appeal to "the people".
Internal democratic structures in such 'start up' parties, movement, best called in France's case a rally, were not that important.
Fat chance….
When they lose votes in elections, when their strategy is in tatters, how else can their difficulties be discussed?
How can a return to alliances of the left bloc, the people of the left be made by charismatic leaders with a direct line of communication to the People?
The obituary of left populism may be premature.
The stakes are high:
Yet the "populist moment" today is the time of national populism of the right and the far-right, helped by political confusionism – the -red-brown 'left'.
Let's hope that the left stops listening to those who were so enthusiastic about  left populism only a few months ago reflect.
Beware ! to  anybody in the UK stumbling by chance on Jacobin, left-populist Dave Broder is now praising Jeremy Corbyn….
Update: this is in an interesting analysis of the "chain of equivalences" between La France insoumise and the Front National.
France Insoumise : Ces chauvin(e)s qui nous cassent les couilles.
«l'Insoumission »? C' est un  « Front ». France ≡ National / Insoumise  ≡ Front.

C'est avec la naissance de la France Insoumise que Mélenchon (qui a passé la plus grande partie de sa vie dans le « socialisme ») et les siens ont abandonné le drapeau rouge au profit du sympathique et vibrant Bleu, Blanc, Rouge. Ils ont aussi abandonné cette vieillerie de l'International au profit de la très moderne Marseillaise. Mélenchon et les siens ne se réclamaient plus de la « gauche » mais du « peuple » en prétendant que le mot gauche est un attrape-tout, qu'il empêche de penser rigoureusement.

It was with the birth of France Insoumise that Mélenchon (who spent most of his life in "socialism") and his family abandoned the red flag for the sympathetic and vibrant Blue, White, Red. They have also abandoned this old age banner of the International in favour of the very modern Marseillaise. Mélenchon and his people no longer claimed to be on the "left" but on the side of the "people" by claiming that the left word is a catch-all term, that prevents rigorous thought.
See also this (the fall-out continues on a daily basis):