A Reminder of what Blasphemy Laws Can Bring.
Pakistan Islamists clash over French cartoons depicting Prophet Mohammad
Reuters two days ago,
ISLAMABAD (Reuters) -Thousands of Pakistani Islamists clashed with police for a second day on Tuesday in protest against the arrest of their leader ahead of rallies denouncing French cartoons depicting the Prophet Mohammad, officials said.
.
At least one activist and one police officer died from wounds suffered overnight after Islamists blocked highways, rail tracks and main entry and exit routes, paralysing business in almost all major cities.

Police fired tear gas to disperse the protesters, government official Naveed Zaman told Reuters, adding that they had refused to leave until the release of their leader, Saad Rizvi, who was arrested on Monday.

Rizvi is the head of an extremist group, Tehrik-i-Labaik Pakistan (TLP), that rose to prominence making the denunciation of blasphemy against Islam its rallying cry.
The Tehreek-i-Labaik Pakistan (TLP) party, which has widely denounced perceived acts of blasphemy against Islam, has organized three days of protests in which more than 100 police officers have been injured. The group opposes the publication of cartoons depicting the Prophet Muhammad in France, and also the French response reaffirming the right to "blasphemy" after schoolteacher Samuel Paty was beheaded last October.

The TLP has demanded that the government expel the French ambassador and endorse a boycott of French products.

Anti-French sentiment has been simmering for months in Pakistan since the government of President Emmanuel Macron expressed support for Charlie Hebdo's right to republish the cartoons, deemed blasphemous by many Muslims.
France 24. Today,
Clashes erupted on Tuesday between TLP supporters and police officers after the group's leader, Saad Rizvi, was detained hours after encouraging thousands of his supporters to take to the streets in cities across Pakistan.
Two police officers died in the clashes, which saw water cannon, tear gas and rubber bullets used to hold back crowds.
Rizvi has been charged with instigating murder.
TLP supporters brought the capital Islamabad to a standstill in November last year for three days with a series of anti-France rallies.
Announcing the decision to outlaw the TLP, Pakistani Interior Minister Sheikh Rashid told reporters in Islamabad that the government did not want "to be known as an extremist nation at international level".
But the TLP is backed by a majority Sunni sect of Islam with a massive following in Pakistan, that will make it difficult to enforce any ban.
Pakistani extremists groups also have a history of popping up with different names after being outlawed.
Blasphemy is a hugely sensitive issue in conservative Pakistan, where laws allow for the death penalty to be used on anyone deemed to have insulted Islam or Islamic figures.
Islamist racists in Street Protests.
The Pakistani prime minister has also sought a ban on "Islamophobic content" on Facebook. Imran Khan's criticism of Emmanuel Macron comes at a time when he is under scrutiny for rising religious intolerance at home.
Pakistani Islamists have a long history of attacks on Freedom of Expression. Here demonstrators express support for the racist killers who attacked Charlie Hebdo and murdered our comrades: 2015.
Thousands marched in several Pakistani cities on Sunday against the publication of Prophet Mohammed cartoons by French satirical magazine Charlie Hebdo, two days after similar protests were held across southern Asia.
The largest rally on Sunday was held in the financial center of Karachi by Jamaat-e-Islami (JI), Pakistan's main Islamic party, and according to police estimates it was attended by some 25,000 people.
This indicates a wider lesson: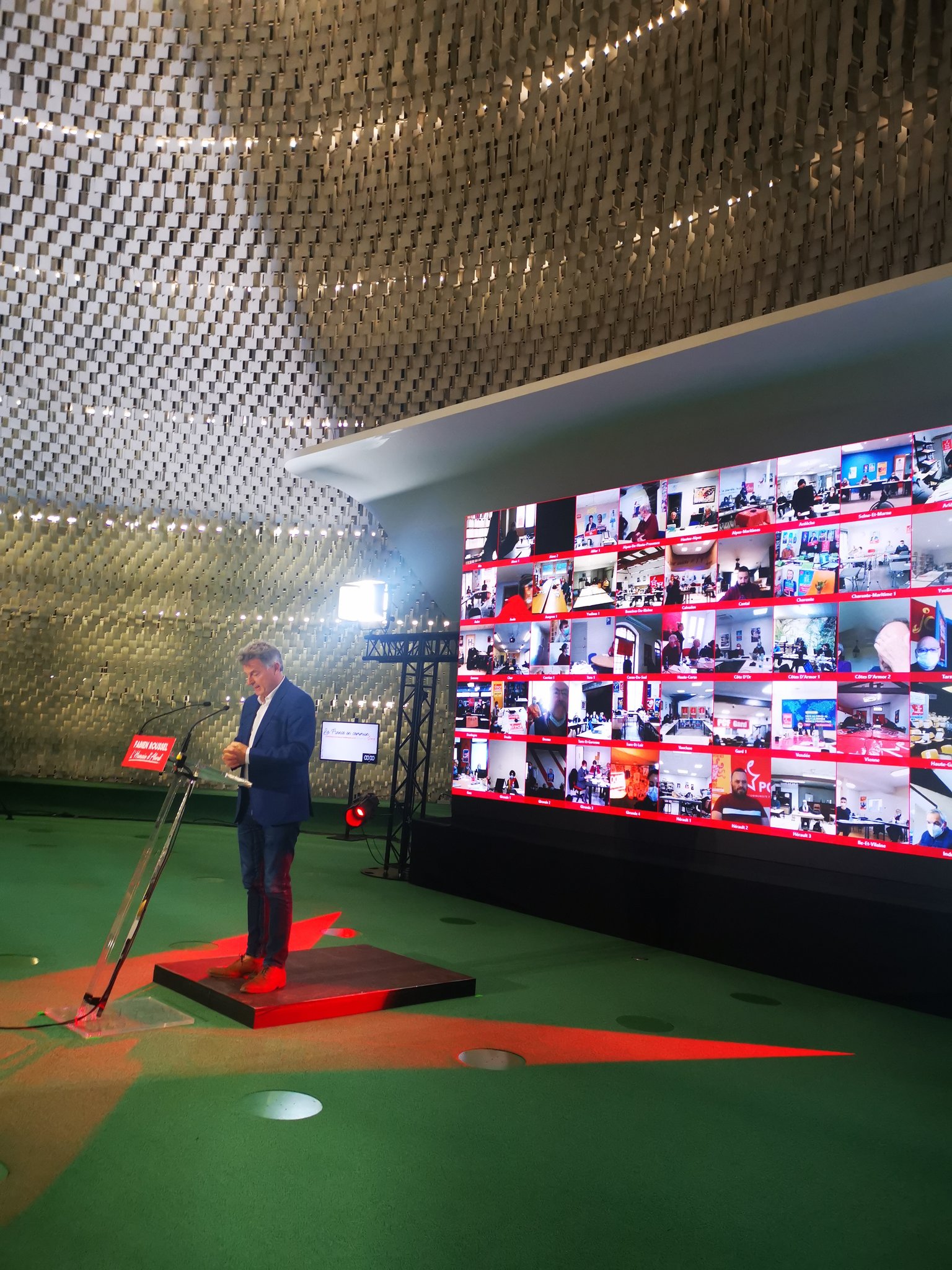 Fabien Roussel PCF Presidential Candidate.
Présidentielle: le PCF opte pour une candidature «quoi qu'il en coûte» Mediapart (adapted).
For the first in fifteen years the French Communist Party, the Parti Communiste Français (PCF) has determined that it will present a Presidential candidate. That is, if a earth-shaking realignment does not take place on the left agrees on a united candidate.
Last weekend, during a national conference organised partly by videoconference, two-thirds of the around a thousand party delegates voted to present the candidacy of Fabien Roussel for the next presidential election. A candidacy that the national secretary of the PCF and deputy of the North promises to carry "right to its conclusion" and which must be ratified by a final vote of the members, on May 9th.
In 2017 the PCF had backed Jean Luc-Mélenchon and his Rally/Movement La France insoumise (LFI) in their bid for the Presidency. That option is, for the Communists, no long viable. Not only was the Mélenchon operation,, in common knowledge a populist leader with a "controversial" personality, a far from unifying machine, but, "Communist and LFI candidates competed in the following legislative elections, fratricidal duels, in most constituencies, especially in the red suburbs of Seine-Saint-Denis and Val -de-Marne."
The last time the PCF ran for the office of Head of State, Marie-George Buffet, in 2007, they had only got 1.9% of the votes. More recently, in the European elections of 2019, where they ended with a score of less than 3% – the threshold necessary for the reimbursement of the campaign. For the first time in the history of the European Parliament French Communist MEPs were not returned to Brussels.
Explaining their differences with Mélenchon,
Some of the PCF cadres are still pushing for a new rapprochement with the rebels but they are in the minority in a family where every vote counts. The Communists have a strong argument: they no longer believe in the strength of the double presidential candidate (11% in 2012 and 19% in 2017). A leader said (of Mélenchon) curtly: "He can't get the same score as the last time, it's over, he's burnt out." Harsh words, shared on the left and among environmentalists. Yet les Insoumises still believe in their star.
At 11% Mélenchon is at present topping the poll for left and green candidates for the 2022 elections. The Green (EELV) Yannick Jadot is at 6% and the Socialist (PS) Anne Hidalgo is at 7%.
There are, as this Blog has reported, welcome moves for left unity in some areas, such as the Haut-de-France, for this year's regional elections in June. How far a "dynamic" towards wider unity will spread is an open question.
Reporting on these developments the US left-populist magazine Jacobin says.
MP Fabien Roussel — national secretary of the Communist PCF — has declared his own presidential bid within his party. On Sunday a PCF national conference endorsed the idea of an independent presidential run, which would be the party's first since 2007. The wider PCF membership, slated to vote on the project from May 7–9, will also likely have the option to vote for a competing resolution which calls on the party to build unity before the first round of the presidential election. For what it's worth, PCF members have bucked party leadership before: In the fall of 2016, they voted to endorse Mélenchon's campaign, rejecting the national conference's vote for a PCF candidate.

In Northern France, A Divided Left Is Finally Coming Together Cole Stangler.
There are a number of problems with this. Conflicts between LFI and the PCF have grown since 2016. Mélenchon is an outstanding speaker in a political culture that prizes oratory. His left populism won him 7 million votes (19,58 %) in the 2017 Presidential election. But in practice the way he operates is as a one-man band with retainers and followers, unable to tolerate internal pluralism. LFI operates as an autocracy. There are no internal currents, and no mechanism for 'supporters' (there are no members properly speaking, except the top clique) to dissent. As Thomas Guénolé says there is "True democracy and self-management in words, but centralised and authoritarian management in reality." (La Chute de la maison Mélenchon 2019).
A third time Mélenchon candidacy is unlikely to be backed by activists who have experience of this side of La France Insoumise. And that's without wider political disagreements on the left.
Morning Star platforms 'Marxist-Leninist' defence of Chinese Regime.
"Perhaps China's current ability to tolerate paradoxes is the most notable legacy of Mao – that dedicated admirer of contradictions." (P 465) "An adaptive 'guerrilla-style' mode of policymaking", ""Maybe that is why China, for the time being, can be ruled by a party that continues to emphasise its Marxist-Leninist-Maoist heritage, whole proclaiming the necessity of market forces; that proclaims its possession of a 'comprehensive plan' at a time when China is more complicatedly diverse than at any point in is history. Maybe this explains also why I has a leader who has revived Maoist strategies fifty years after his family were torn apart by Mao's policies."(P 465)
Maoism: A Global History. Julia Lovell. 2019.
The one-time pro-Soviet Communist Party of Britain has taken to admiring the Chinese Communist Party.
Quotes from Mao festoon party members' tweets, the CPB has taken to calling itself 'Marxist-Leninist'(an old orthodox Official Communist tag, but one these days largely confined to the remaining fragments of Maoism) and they have produced this:
It seems as if the CPB, lacking the Beacon of the USSR, has, in desperation, found a new Socialist Fifth of the World.
Enter the latest sally.
Kate Woolford, a member of the Southampton Young Communist League and social media editor of Challenge (The YCL journal) writes.
"The latest red scare propaganda targets China and its autonomous region of Xinjiang. Many people will have seen statistics that refer to "one million Muslims" being held in concentration camps and various other human rights abuses — even "genocide." It is crucial that the public are aware of where the main allegations come from and gain a picture of what is really going on in Xinjiang."
Scales no doubt fall from our eyes when, after a farrago of ad hominem attacks on small number of reports abut the persecution of this minority we come to,
According to CGTN, "From 1990 to 2016, thousands of terrorist attacks have been launched in Xinjiang, killing large numbers of innocent people and hundreds of police officers."

In response, China has launched campaigns to crack down on violent extremism, separatism and terrorism with a focus on re-education. The camps were built to de-radicalise Muslims who had been victims of Etim's ideas — this is the point of the mass mobilisation in the region that has led to false allegations of "genocide," "forced sterilisation" and "torture."
In the spirit of fairness, after having rubbished any report of bad treatment of China's Uighur minority China expert Kate Wolford cites the Chinese state's own line:
"the State Council Information Office of the People's Republic of China puts the state's case forward plainly."
"Faced with this severe and complex problem [religious extremism], Xinjiang has upheld the principle of addressing both the symptoms and the root causes in the fight against terrorism and extremism, by striking hard at serious terrorist crimes, which are limited in number and by educating and rehabilitating people influenced by religious extremism and involved in minor violations of the law.

"In accordance with the law, it has established a group of vocational education centres to offer systemic education and training in response to a set of urgent needs: to curb frequent terrorist incidents, to eradicate the breeding ground for religious extremism, to help trainees acquire a better education and vocational skills, find employment and increase their incomes and most of all, to safeguard social stability and long-term peace in Xinjiang."

At the camps residents are taught Mandarin — the lingua franca spoken by 73 percent of the Chinese population — taught technical skills in order to help them find work when they leave and offered mental guidance to overcome radicalised ways of thinking.

Of course, as is the case everywhere in the world, the severity of a sentence depends on the scale of the crime and the willingness of a person of acknowledge their guilt.

The people in the re-education centres are assessed on how much harm they have been caused, their willingness to receive training and whether they have already completed a prison sentence but might still require further rehabilitation.

The people in the centres are provided with free education and once the trainees reach their expected criteria, they are offered certificates of completion and can leave. Depending on the reason they are there, many are allowed to go home to visit their families once or twice a week.

It is absolutely not a campaign to stop them practising Islam — religious activities are protected by Article 36 of the constitution: "Citizens of the People's Republic of China enjoy freedom of religious belief. No state organ, public organisation or individual may compel citizens to believe in, or not to believe in, any religion; nor may they discriminate against citizens who believe in, or do not believe in, any religion.
The lengthy piece ends with this:
"We cannot ignore the drive to war against China. Fear of speaking out against atrocity propaganda because of its upsetting and controversial nature will only lead to the manufacturing of consent for war. Western intervention led to two million people dying in Korea, 2.4 million people dying in Iraq since the 2003 invasion, three million people dying in Vietnam among millions more elsewhere.
Given the history, given the body count, socialists have a duty to vehemently oppose the idea that our countries should be able to interfere in others; denouncing the false narrative on Xinjiang is now part of that duty."
This is how the Chinese state has reacted to reporting on the issue;
John Sudworth's relocation to Taiwan comes after 'months of personal attacks' over reporting of alleged abuses of minorities
Here is some more History.
. "From October 1050 to October 1951, the regime eliminated somewhere between 1,5 and 2 million people. (P 24) this time, death sentences were fewer, formal executions many suspects killed themselves. "The objective was to produce a docile population by transforming almost every act and every utterance into a potential crime."(P 241)
The Cultural Revolution A People's History, 1962—1976 Frank Dikötter 2016.
Here are some more Fellow Travellers: John Ross, former leader of the International Marxist Group (IMG),
The main theme of the fellow Travellers of Chinese Communist Party is that its development of the productive forces in the country is a miracle. The lack of democracy, human rights, is less important that "this extraordinary successful political project". The regime has "extraordinarily" increased the 'real' freedoms of the population. Happiness is the CCP.. (Martin Jacques).
Martin Jacques, editor of Marxism Today, was famously the betist of bêtes noires of the Communist Party of Britain. Speculation is growing that he will be invited back to their pages.
Left Internationalists do not agree:
Update: there is also this,
'FIND OUT THE FACTS ON THE UYGHURS'
The Communist Party of Britain is urging labour movement bodies not to rush to judgment on the Uyghur question in China. 
Mr Griffiths said the reports of 'genocide' from a network of right-wing institutes and pressure groups funded by the US, British and Australian governments are recycled uncritically in the Western media. 

As one of many international delegations to visit Xinjiang, he had seen for himself that mosques are open, the Uyghur language can be seen and heard everywhere, and the majority of top state and political officials are Uyghurs, not Han Chinese.