Archive for the 'Suffolk' Category
Solidarity, from the Workers' Liberty site. 7th of September.
Author: Andrew Coates
Just over a year after Jeremy Corbyn was elected, in September 2016, the new Labour Leader addressed the Burston Strike Rally in Norfolk. Reminded of this by a "social media snippet" I wonder how many people remember what the Islington MP actually said. The Internet informs us that he spoke of social justice, workers' rights and opposed austerity.
By contrast it is not hard at all to recall the enthusiasm and warmth with which Corbyn was greeted by East Anglian trade unionists, pensioners, socialists. Or the new, often, young, people who came on our coach from Suffolk. That backing was reflected during the General Election in 2017 when people would speak to campaigners about their support for Labour. Sandy Martin was elected Labour MP for Ipswich, taking the seat back from the Tories with a majority of 831.
Bringing us down to earth Martin Thomas, observes, "In the 2017 manifesto, the words 'socialist' or 'socialism' were not used at all; in the 2019 manifesto, 'socialism' appeared once, and not to state an aim, rather to describe what already exists in the NHS".
Early on in What Went Wrong Thomas further notes, "Corbyn rarely uses the word 'socialist', but he has commented on Chavez's Venezuela, Evo Morales's Bolivia, and Castro's Cuba as if they are, more or less, models of a future society. That model of a future society is one to which workers in a country like Britain could never be won."
This is a criticism of the "foreign policy" Corbyn project that was made by some on the left already wary of these countries' socialist claims. It could be said to be a reflection on 1960s/70s "third worldism" which backed a variety of post-colonial states, in Africa, aligned at the time with the Soviet Union, as well as Communist Party led countries such as Vietnam, which have not created any form of socialist society.
Drawing up a balance sheet of "Corbynism", the years when Jeremy Corbyn was the leader of the Labour Party, is an important task.
Martin Thomas offers a clear and valuable insight into the workings of the bodies that sustained the Corbyn project. This includes a detailed account of the workings, and the democratic deficit, of Momentum, which became a Corbyn "defence guard". This he states was a 'virtual' (web-based) centrally run structure axed around supporting a 'charismatic' Leader. In this respect it reminds this reviewer of some European political organisations, such as the 'movement' La France Insoumise (LFI) of Jean-luc Mélenchon. All that seems to remain of the British 'left populism' and 'social movement' is a loathing, shared by many others on the Corbyn left, of a new 'enemy', Keir Starmer.
The more widely known influence of key Labour advisers, the "Stalinist-heritage" Seamus Milne, Andrew Milne and Steve Howell, all from the Communist Party, Straight Left background, and very pro-Brexit. If there was trade union influence it was from "top officials" and leaders, such as Len McCluskey of Unite.
With these figures at the centre Labour had no "interaction" with "workplace struggle". Still less did he help with "rebuilding of the labour movement at the base, both ideologically and in organisation in workplaces and neighbourhoods." It is, nevertheless, hard to see how Labour on is own could recreate a powerful union movement when economic change has underlined the basis for mass trade union struggles outside of the public sector.
What Went Wrong agrees with many commentators that Labour make a mess of Brexit. Since the Leader and key parts of his Office (LOTO) were glad that Britain voted Leave it was hardly likely that they would do otherwise. Conference manoeuvring blocked any clear call to oppose the Hard Right Brexit and fight for a new referendum.
Corbyn was unable to deal with antisemitism, and responded with "passive aggression" to any charges. "He himself had been 'an anti-racist all his life'. Ergo, no real problem. He was unable, or more likely unwilling, to recognise that some of the "political antisemites" considered themselves the best anti-racists and anti-fascists…." That this response is awry had fed the present impasse on the issue. There are those, out of bad faith, only too willing to tar all critics of Israel with the "antisemitic" brush. The present purge of Labour, with its multiple injustices, is a shabby and counterproductive response to these political problems.
In what could be called a digression Martin Thomas criticises the Editor of Chartist magazine for his observations on the Trotskyist "obsession with the Russian Revolution". Mike Davis has argued that building revolutionary parties is unimportant when radical left objectives might be achieved through existing left mass parties. Perhaps the AWL could show examples of mass revolutionary parties in the present day that indicate that Davis has placed his wager on the wrong horse. If Corbynism, JC4PM, did not win, surely a serious reform minded Labour government was worth campaigning for?
To get an idea of our present difficulties, hard right Tory Tom Hunt won Ipswich in 2021 with a majority of 5,479.
(Slightly sub-edited by the writer)
***
See also,
Solidarity, AWL. 30th of August.
Author: David Osland
Solidarity, AWL, 27th of August, Richard Price
Greatly Loved Countryside Menaced by Sizewell C.
East Anglian Daily Times. (extracts)
I don't normally get over-excited by a council by-election, but last week's double election in the Aldeburgh and Leiston ward was one of the most interesting we have seen for many years.
And the result was eye-opening, especially in the context of it being home to the existing nuclear power stations and the proposed Sizewell C that may join them in the future.
Two of the three seats in this ward were up for grabs. Going into the election all three were held by the Conservatives.
The background is that despite all the controversy that built up before the construction of Sizewell B in the late 1980s, the Leiston area itself has been pretty strongly pro-nuclear.
The local people appreciated the jobs the power stations brought and the money their employees brought to the local economy. They weren't seen as blots on the landscape (a matter of Opinion), indeed the Sizewell B dome is now a well-known local landmark.
Both main parties in the area (note, and the union, UNITE) have been broadly supportive of the nuclear power plants in the past.
Now the Conservative-dominated East Suffolk Council is desperately trying to take a neutral stance on Sizewell C . . . but the mood in the immediate area has shifted significantly.
People who have been supportive of Sizewell A and B are now firmly opposed to Sizewell C. This is largely because of the threat it poses to the local environment.
I won't repeat my arguments here – but there has been a really major change in attitudes among residents since Sizewell B neared completion 30 years ago over the plans that many people see will lead to the destruction of the nationally-important Eastbridge marshes.
However, I don't really think the victory of a Green Party candidate (and with his fellow party member falling just two votes short) will have local MP and cabinet minister Dr Therese Coffey quaking in her boots.
Also the Sizewell issue prompted many voters who would not subscribe to the Greens' national politics to lend them their vote for this council election. Come the next general election and they will return "home."
However, if I were a betting man, I'd put my dosh on the Greens taking all three seats in the next council elections in the seat in May 2023. They can now claim to be the only party capable of beating the Tories here – and there was a reasonable Labour vote to be squeezed.
And it is very difficult to dislodge a Green councillor once they have been elected – ask the Tories about that in Beccles, Lavenham, and Mendlesham! (very true, and note this: May 2021 County Council Election, Suffolk: "And it was the Green Party's success that was the real story of the day as it increased its number of county councillors from three to nine. It won seats in Sudbury, Stowmarket, and Halesworth. It doubled its number of seats in Beccles – costing former council leader Mark Bee his seat in the process – and it took advantage of a Tory split to snatch the division that includes Woolpit and Elmswell. EADT)
As I said, I don't see the result causing Dr Coffey any sleepless nights, and I don't really see it having any impact on the government which will still have the final say on whether Sizewell C gets the go-ahead.
I don't think the government could give a fig for the environment of the Suffolk coast. If it decides it wants to go ahead with Sizewell C it will just be seen as collateral damage.
But I do have serious doubts about whether the project can go ahead because it is not economically viable. (note, something many of us think).
There is no way that EDF can make the sums add up without billions of pounds of government aid.
The government is also past the point of no return with two other massive infrastructure projects – HS2 and the Hinkley Point power station – and Boris Johnson does like shiny hi-tech projects.
But Chancellor Rishi Sunak is starting to raise serious concerns about the level of debt – and is believed to be trying to rein in public spending.
And many MPs would like to see what public spending there is concentrated on the "Red Wall" seats in the north of England – not an attractive area on the East Anglian coast where unemployment levels are pretty low and where there is already an energy boom from service offshore wind farms.
So in my view it's 50-50 whether the government eventually gives the Green Light to Sizewell C.
Last week's election was an interesting diversion and an excuse to look again at the issue – but ultimately it will be Rishi Sunak's economics and not the election of a few more Green councillors that will finally influence the government's decision. (note very obviously true but it has the issue nationally again).
*****
Many people know and love the area under threat, and a fair number of us have personal links to the Leiston and Aldeburgh district. These are some of the reasons it is close to our hearts. One good point to begin or end a visit is at the Eels Foot Eastbridge just by Minsmere.
Lee Chadwick, who lived on Leiston Common, wrote this book, much of which covers the area.
EDF's plans to build two new nuclear reactors at Sizewell in east Suffolk will have a devastating impact on this unique and magical place and is too slow and expensive compared to alternatives in the fight against Climate Change.
How can we stop Sizewell C?
Money! If no one will invest, it cannot go ahead. You can help by writing to pension funds or other potential investors.
Politics. If Sizewell C, or the tax needed to finance it, is unpopular, Ministers will listen. Sign our Petition with Together Against Sizewell C at www.stopsizewellcpetition.com or write to The Rt Hon Kwasi Kwarteng MP: enquiries@beis.gov.uk, Dear Secretary of State.
Planning. If enough holes are found in EDF's plans and the impacts outweigh the benefits, it could be refused consent. The planning process decision is expected mid April 2022. See Take Part in the Planning Process for more information.
Visit Why Stop Sizewell C? to find our multiple reasons for campaigning against this damaging project. There are more campaigning ideas on our Take Action page.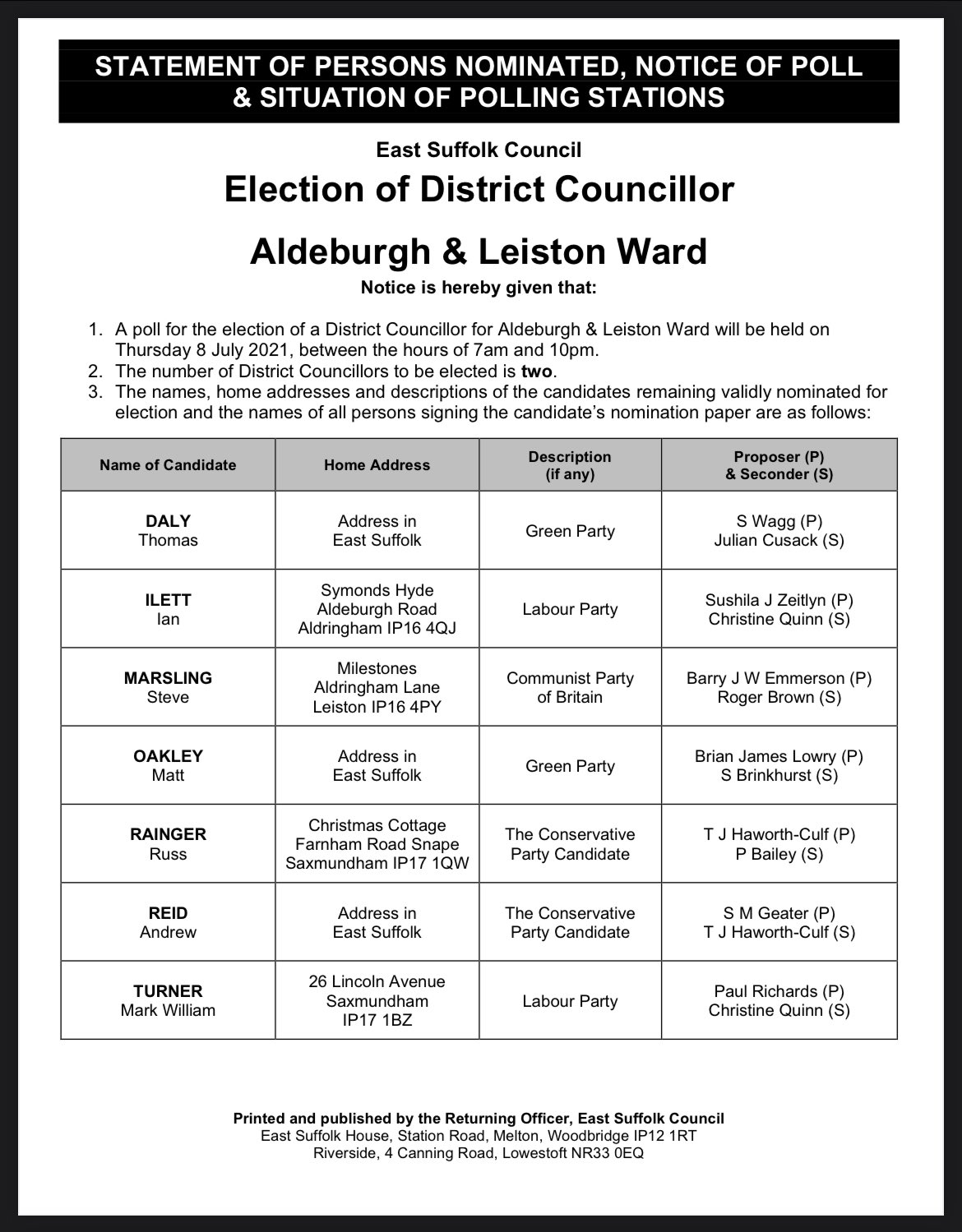 Communist Party Stands Against Democratic Left Labour Candidates.
The candidates contesting the Aldeburgh and Leiston by-election for East Suffolk Council next month have been unveiled.
Two of the three seats in the ward are to be elected, after the resignation of two Conservatives, T-J Haworth-Culf and Jocelyn Bond. Tony Cooper, also Conservative, has not resigned and remains councillor for the area.
Seven candidates from four parties are contesting the two seats, with voters casting their ballot on Thursday, July 8.
Background:
Two councillors representing Aldeburgh and Leiston have resigned from their elected positions at East Suffolk Council – with one citing the authority's energy policy stance.
The Sizewell expansion was a key factor in the resignation of Jocelyn Bond from East Suffolk Council .
In her resignation letter she said: "I believe the manner in which East Suffolk District Council is pursuing the energy aspirations is potentially extremely detrimental to, rather than being supportive of, the area I have had the honour to represent.
The Liberal Democrats are not standing,
"The Liberal Democrats have opted not to stand any candidates, although in the past the party has struck arrangements with Green candidates at various seats across the district and county so that they do not split votes."
The Communist Party of Britain has a candidate.
The communists of East Suffolk are standing local branch chair Steve Marsling in the forthcoming by-election to represent the ward of Aldeburgh & Leiston.
Says our candidate…
"Dedicated to my community
Hello, my name is Steve Marsling I am 70 years of age and have lived in the Leiston area for the last 10 years. In that time I have helped sponsor Leiston Football Club matches and brought Labour MPs to the area to publicise both the matches and future health strategies.
In the 1970's I was one of the London Recruits. A group of people who carried out agitational work to help bring down the South African Apartheid Regime. A book about our exploits is already out and a major film plus a teacher / pupil education pack for schools are due to be released later this year. I am proud of my small role in ending that brutal racist and totalitarian regime.
A track record as a representative
I have been a councillor in the London Borough of Southwark and a chair of the Sports and Arts Committee. Under my chairmanship the open air swimming pools were made free to the rate payers of Southwark.
I was Assistant Director of the London Borough of Lambeth and a Senior Officer in the Greater London Council.
An experienced educator
I have also taught in schools in London, Bristol, and Oldham and have represented my union ( NUT) on several trade councils.
I left the Labour Party when that party returned to being a party that supports the Capitalist System. A system that is swallowing up the earth's resources. A system that condemns billions of the earth's population to poverty. There must be a better way than food banks, zero-hour contracts, massive hospital waiting lists and a chronic housing crisis.
Leiston can make a statement
Leiston has voted Communist before and the example of Paxton Chadwick ( a past communist councillor in the town) is an inspiration to me. We even named one of our local streets after him.
Please give your support to Steve Marsling, proud citizen of Leiston, educator, experienced representative and Communist candidate."
This seat, on East Suffolk Council has been Conservative and 'Independent (Tory aligned) territory. Its present district dates only from a few years ago when this district council was formed from Suffolk Coastal and Waveney in 2019).
There is also another problem the CPB do not mention,
For Labour, Mr Ilett stood in the May elections for the county council for Aldeburgh and Leiston, as well as contesting the Aldeburgh seat back in 2015 at East Suffolk's predecessor Suffolk Coastal authority. Mark Turner made a bid in the 2017 county council elections for Blything.
Ian Illet is long-standing respected Labour left campaigner. He has been involved n Leiston Labour Party for some years and held office in the local party.
I have been involved with Labour Briefing for over a decade, am a member of Unite, for better and worse a life-long Labour Party and a member of the LRC since its foundation. Despite the difficulties of the present situation I believe the non-sectarian, democratic, socialist politics which in general LB and LRC defend are vital to advancing working class interests and need a much wider hearing.
In other words the CPB are standing against Labour's democratic left.