Archive for the 'Stalinism' Category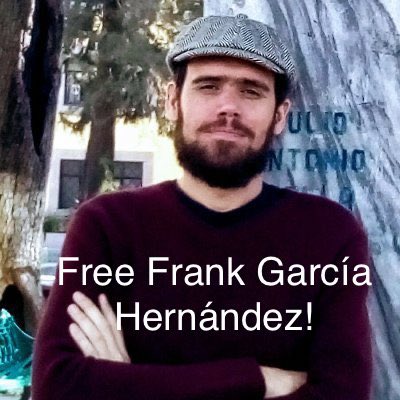 Cuban State have imprisoned our comrade.
#Cuba Cet article du @BlogComunistas est une demande de liberté pour tous les détenus et en particulier contre la détention arbitraire de Frank García Hernández @frankgH28, historien et marxiste cubain.
Frank Garcia Hernandez (standing), introducing the opening session of the 2019 conference in Havana on Leon Trotsky. Frank explained that he is not a Trotskyist, but that he believes the ideas of such Marxists as Trotsky, Rosa Luxemburg, and others like them should be known and discussed, and can strengthen the struggle against imperialism and capitalism, and for socialism, in Cuba and around the world. At the table are Eric Toussaint, Paul Le Blanc, Suzi Weissman, Bob Brenner.
From Paul le Blanc.
On Sunday, Cuban communist Frank García Hernández was arrested at a protest in Havana. The government of Miguel Díaz-Canel is attacking critical communists whose aim is to defend the gains of the Cuban Revolution.
On Sunday, mobilizations took place in Havana and across Cuba to protest the health crisis, shortages, and various government measures — problems that have been aggravated by the tightening of the U.S. blockade.
As part of the police repression against demonstrators, Frank García Hernández and others were arrested. His friends and comrades are denouncing this arbitrary detention, which was carried out violently by the repressive forces, who used pepper spray against the activists and bystanders.
Frank is a Cuban Marxist, sociologist, and historian, and a member of the Comunistas Blog collective. He was arrested along with Marco Antonio Perez Fernandez (a high school student who had been arrested previously, on April 30, for carrying a sign that read "Socialism Yes, Repression no!"). Also arrested were Maikel González Vivero (director of the LGTBQ community magazine Tremenda nota), as well as Mel Herrera, a trans activist for LGTBQ+ rights. All of the detainees identify as socialists. The whereabouts of Perez and Herrera are unknown.
The Comunistas blog published this demand for the freedom of the detainees in Cuba.
We join those in Cuba and other countries in demanding the immediate release of Frank Garcia and his comrades.
Repression and arbitrary detentions by the Cuban government must end. Yes to the democratic right to protest and to free trade union, social, and political organizations.
U.S. Hands Off Cuba! End the Blockade! Defend the Gains of the Cuban Revolution!
Reclamo por la libertad de los detenidos en Cuba!
En la manifestaciones de esta tarde en La Habana fue detenido Frank García Hernández, entre otros miembros de la izquierda cubana.
Nota: no todos los miembros del colectivo editorial de Comunistas Blog suscriben esta comunicación.
En la tarde de hoy el pueblo cubano salió a las calles. Un pueblo que no estaba convocado por ninguna organización que no fuera la aguda crisis económica que enfrenta Cuba y la discapacidad del gobierno para manejar la situación. Cuba salió a las calles con la consigna equivocada "Patria y vida", pero salió a las calles más allá de una consigna, salió para exigir al gobierno un socialismo verdadero. Los que estaban en las calles no eran artistas e intelectuales solamente, esta vez era el pueblo en su más amplia heterogeneidad.
Esta nota de Comunistas blog no busca analizar la situación de Cuba. Busca denunciar la detención con violencia de los manifestantes, denunciar que esta vez la fuerzas represivas del Estado se pusieron en el lugar contrario, que reprimieron a cubanos, que usaron gas pimienta y todos los recursos disponibles. Esta nota es un reclamo por la libertad de todos los detenidos y en especial por la detención arbitraria de Frank García Hernández, historiador y marxista cubano. Por la detención de Leonardo Romero Negrín, joven socialista estudiante de Física de la Universidad de La Habana. Por la detención de Maykel González Vivero, director de Tremenda Nota, una revista marginal. Por la detención de Marcos Antonio Pérez Fernández, menor de edad, estudiante de Preuniversitario. Por todos los detenidos violentamente en esta tarde negra que Cuba no olvidará. Comunistas apela a la solidaridad de la comunidad marxista internacional y también a la conciencia del gobierno cubano. Esta vez se trata de un pueblo que necesita respuestas y diálogo.
Se trata de una sociedad civil que no quiere la anexión, sino participar y decidir el destino de su nación. Comunistas blog condena la represión y dice basta a la burocracia.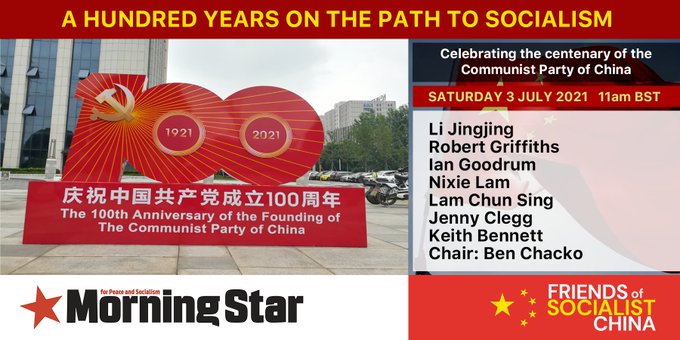 It's a long path and the CPC got lost a long time ago.
Deng Xiaoping's economic reforms of 1978 were a turning point in the history of the country. CARLOS MARTINEZ …
The Morning Star contains this article. It argues that the development of the productive forces is inherently socialist – regardless of the relations of production and the absence of democratic development, freedom of thought and election not to mention the wealth based on exploitation held by the CPC's members and allies.
For supporters of capitalism, the idea that China "ascended" to capitalism from 1978 onwards is a validation of their own ideology; China was socialist and poor, and then became capitalist and rich.
This view is near-universal among mainstream economists. Even the well-known Keynesian Jeffrey Sachs, who is both politically progressive and friendly towards China, considers that the key turning point in Chinese history was not 1949 but 1978: "After nearly 140 years of economic and social strife, marked by foreign incursions, domestic rebellions, civil wars, and internal policy blunders of historic dimensions, China settled down after 1978 to stable, open, market-based production and trade."
On the other hand, for many on the left (particularly in the West), 1978 marked a turning point in the wrong direction — away from socialism, away from the cause of the working class and peasantry.
(Note, the two views on not incompatible, as the judgement that CCP rule on China has never been socialist)
The introduction of private profit, the decollectivisation of agriculture, the appearance of multinational companies and the rise of Western influence: these added up to a historic betrayal and an end to the Chinese Revolution.
The consensus view within the CPC is that socialism with Chinese characteristics is a strategy aimed at strengthening socialism, improving the lives of the Chinese people, and consolidating China's sovereignty.
Although China had taken incredible steps forward since 1949, China in 1978 remained backward in many ways.
The leadership simply decided to "change the situation and make the PRC wealthy."
(Note; do not mention politics and the absence of democracy, the Fifth Modernisation hat never came).
Opening up to foreign capital, learning from foreign technology and integrating into the global market would allow for a faster development of the productive forces.
Export manufacturing would allow China to build up sufficient hard currency to acquire technology from rich countries and improve productivity.
Foreign capital would be attracted by China's virtually limitless pool of literate and diligent workers.
All this was highly unorthodox compared to the experience of the socialist world up to that point (with some partial exceptions, such as Yugoslavia and Hungary).
Deng's strong belief was that, unless the government delivered on a significant improvement in people's standard of living, the entire socialist project would lose its legitimacy and therefore be in peril.
Marx wrote in volume 3 of Capital that "the development of the productive forces of social labour is capital's historic mission and justification. For that very reason, it unwittingly creates the material conditions for a higher form of production."
The vision of the CPC leadership was to replace "unwittingly" with "purposefully" — using capital, within strict limits and under heavy regulation, to bring China into the modern world.
Reform and opening up is perhaps best not as a capitulation to capitalism but as a return to the policies of the New Democracy period.
The Morning Star writer sees China not in terms of what most people call a democracy but in CCP 1940s lines which is a sociological definition of a democratic', that is post-feudal and post-colonial society dominated by one party and its phantom allies in other 'democratic parties (in parts of Eastern Europe where there was bogus 'parties' allied to the Communists in national blocs).
This was the line of the period .
New Democracy, or the New Democratic Revolution, is a concept based on Mao Zedong's Bloc of Four Social Classes theory in post-revolutionary China which argued originally that democracy in China would take a path that was decisively distinct from that in any other country.
China may now adopt a system of people's congresses, from the national people's congress down to the provincial, county, district and township people's congresses, with all levels electing their respective governmental bodies. But if there is to be a proper representation for each revolutionary class according to its status in the state, a proper expression of the people's will, a proper direction for revolutionary struggles and a proper manifestation of the spirit of New Democracy, then a system of really universal and equal suffrage, irrespective of sex, creed, property or education, must be introduced. Such is the system of democratic centralism. Only a government based on democratic centralism can fully express the will of all the revolutionary people and fight the enemies of the revolution most effectively. There must be a spirit of refusal to be "privately owned by the few" in the government and the army; without a genuinely democratic system this cannot be attained and the system of government and the state system will be out of harmony.
This key book puts this history right, The Tragedy of Liberation: A History of the Chinese Revolution 1945–1957 Frank Dikötter.
Dikötter challenges the view that the early years of the People's Republic of China were constructive and relatively benign, at least as compared with the destruction of the preceding Chinese Civil War, or the subsequent Great Leap Forward. Instead, he describes it as an era of "calculated terror and systematic violence",[1] characterised by indoctrination, ill-conceived economic policies that stunted growth, the uprooting of traditional social relations, and officially mandated "death quotas" that contributed to the unnatural deaths of 5 million people within the first decade of the establishment of the Republic.
This Blog recommends this, and the other 2 books in Frank Dikötter's trilogy on Chinese Communist history.
Helen Davidson in Taipei and agencies analyses the regime in the Guardian.
Xi has cemented his eight-year rule through a personality cult, ending term limits and declining to anoint a successor. He has purged rivals and crushed dissent – from Uyghur Muslims and online critics to pro-democracy protests on Hong Kong's streets.

The centenary celebrations have been a highly orchestrated affair, with little prior announcement of what was on the cards. Thursday's event began with dozens of military helicopters and jets, including the J-20 stealth fighters, flying in formation through Beijing's skies, trailing flags and coloured smoke over Tiananmen Square, where 56 cannon – representing the 56 ethnic groups of China – were fired 100 times.

Last week, surveillance and security measures increased and Reuters reported police officers door-knocking to check household registrations, and tightened censorship directives at Bytedance and Baidu.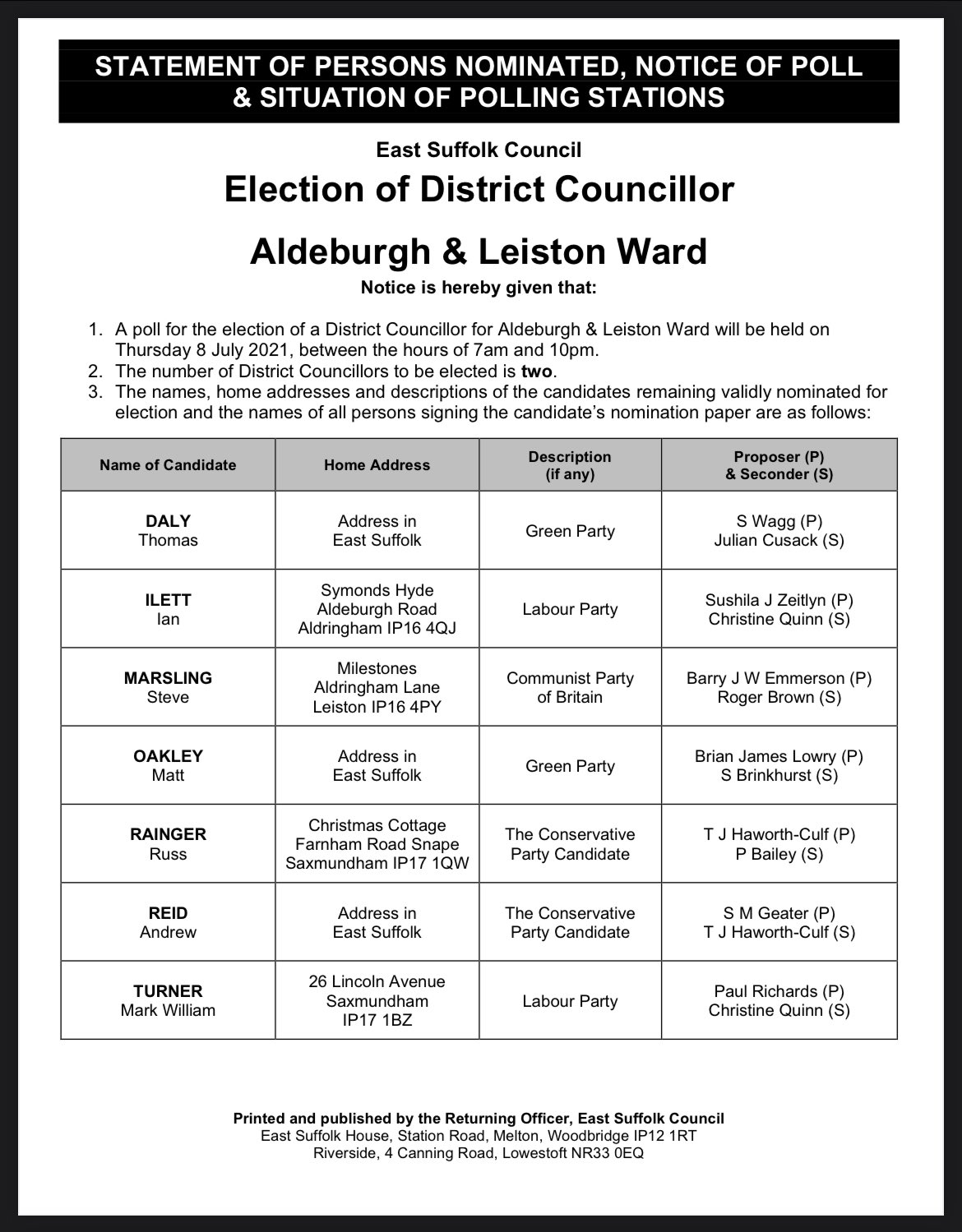 Communist Party Stands Against Democratic Left Labour Candidates.
The candidates contesting the Aldeburgh and Leiston by-election for East Suffolk Council next month have been unveiled.
Two of the three seats in the ward are to be elected, after the resignation of two Conservatives, T-J Haworth-Culf and Jocelyn Bond. Tony Cooper, also Conservative, has not resigned and remains councillor for the area.
Seven candidates from four parties are contesting the two seats, with voters casting their ballot on Thursday, July 8.
Background:
Two councillors representing Aldeburgh and Leiston have resigned from their elected positions at East Suffolk Council – with one citing the authority's energy policy stance.
The Sizewell expansion was a key factor in the resignation of Jocelyn Bond from East Suffolk Council .
In her resignation letter she said: "I believe the manner in which East Suffolk District Council is pursuing the energy aspirations is potentially extremely detrimental to, rather than being supportive of, the area I have had the honour to represent.
The Liberal Democrats are not standing,
"The Liberal Democrats have opted not to stand any candidates, although in the past the party has struck arrangements with Green candidates at various seats across the district and county so that they do not split votes."
The Communist Party of Britain has a candidate.
The communists of East Suffolk are standing local branch chair Steve Marsling in the forthcoming by-election to represent the ward of Aldeburgh & Leiston.
Says our candidate…
"Dedicated to my community
Hello, my name is Steve Marsling I am 70 years of age and have lived in the Leiston area for the last 10 years. In that time I have helped sponsor Leiston Football Club matches and brought Labour MPs to the area to publicise both the matches and future health strategies.
In the 1970's I was one of the London Recruits. A group of people who carried out agitational work to help bring down the South African Apartheid Regime. A book about our exploits is already out and a major film plus a teacher / pupil education pack for schools are due to be released later this year. I am proud of my small role in ending that brutal racist and totalitarian regime.
A track record as a representative
I have been a councillor in the London Borough of Southwark and a chair of the Sports and Arts Committee. Under my chairmanship the open air swimming pools were made free to the rate payers of Southwark.
I was Assistant Director of the London Borough of Lambeth and a Senior Officer in the Greater London Council.
An experienced educator
I have also taught in schools in London, Bristol, and Oldham and have represented my union ( NUT) on several trade councils.
I left the Labour Party when that party returned to being a party that supports the Capitalist System. A system that is swallowing up the earth's resources. A system that condemns billions of the earth's population to poverty. There must be a better way than food banks, zero-hour contracts, massive hospital waiting lists and a chronic housing crisis.
Leiston can make a statement
Leiston has voted Communist before and the example of Paxton Chadwick ( a past communist councillor in the town) is an inspiration to me. We even named one of our local streets after him.
Please give your support to Steve Marsling, proud citizen of Leiston, educator, experienced representative and Communist candidate."
This seat, on East Suffolk Council has been Conservative and 'Independent (Tory aligned) territory. Its present district dates only from a few years ago when this district council was formed from Suffolk Coastal and Waveney in 2019).
There is also another problem the CPB do not mention,
For Labour, Mr Ilett stood in the May elections for the county council for Aldeburgh and Leiston, as well as contesting the Aldeburgh seat back in 2015 at East Suffolk's predecessor Suffolk Coastal authority. Mark Turner made a bid in the 2017 county council elections for Blything.
Ian Illet is long-standing respected Labour left campaigner. He has been involved n Leiston Labour Party for some years and held office in the local party.
I have been involved with Labour Briefing for over a decade, am a member of Unite, for better and worse a life-long Labour Party and a member of the LRC since its foundation. Despite the difficulties of the present situation I believe the non-sectarian, democratic, socialist politics which in general LB and LRC defend are vital to advancing working class interests and need a much wider hearing.
In other words the CPB are standing against Labour's democratic left.