Archive for the 'New Left' Category
Key Text, Argues the Campaign for Democratic Socialism.
Some may be interested in the results of Chesham and Amersham by election.
But the Weekly Worker leads debate amongst class struggle Marxists on the UFO Question.
Former Revolutionary Workers Party central committee member David John Douglass argues that, on the basis of Marxism and dialectics, what Juan Posadas said about extraterrestrials being necessarily communist because of their advanced technology is a reasonable proposition (Letters, June 10).
In fact, the Posadas argument, to say the least, was rather naive. The 'UFO' debate polarises into two camps: the open-minded versus closed-minded individuals – the latter represented by people like Paul Demarty, whose thinking seems to rarely go beyond mainstream academia. Since the latter often dominate, because they represent mainstream views, the arguments of Posadas were not subjected to any serious scrutiny by the wider left, who keep away from the issue because they fear the ridicule factor, deployed by people like Demarty to shut down any debate.
Sightings of UFOs happen all over the world and I am far from convinced that those behind the phenomenon are all benign. It goes back thousands of years into prehistory, which Demarty is probably unaware of, and was the source of all the main religions, like Christianity – with its 'god making man in his own image' narrative, and so on – that plague the human mind, while religious people continue to be unaware of who these 'gods' really were.
More open-minded researchers, who have gone beyond mainstream academia and delved into the prehistoric origins of homo sapiens in southern Africa, have a different story to tell. For instance, Zecharia Sitchin, who studied at the London School of Economics, wrote his best seller, The 12th planet, based on his interpretation of ancient Sumerian text, which clearly reveals that humans were genetically engineered from homo erectus into homo sapiens as slave-workers for the aliens, referred to as 'the Anunnaki'. The term 'Anunnaki' means, in modern English, 'those who came from the heavens (ie, space) to earth'. Religionists, establishment academics and other mainstream thinkers have claimed that Sitchin has misinterpreted Sumerian text, but, the more they knock him, the more he is confirmed by modern science and astronomy.
For instance, on the basis of his interpretation of ancient Sumerian text, Sitchin predicted back in 1976 that another planet in our solar system would be found beyond Pluto with a huge elliptical orbit. In 2016, astronomers at the California Institute of Technology found the gravitational fingerprint of another planet, 5,000 times the mass of Pluto, on the outer fringes of the solar system with an elliptical orbit. This is precisely what Sitchin predicted, but on this amazing development in astronomy the closed-minded and the anti-Sitchinites remain silent. The astronomers are calling this new planet a gas giant, but they wouldn't know this by its gravitational evidence alone. The scientist and researcher, Michael Tellinger, confirms the general validity of Sitchin's interpretation of ancient Sumerian text in his book, Slave species of the gods – the secret history of the Anunnaki and their mission on earth.
I am not suggesting that Sitchin is infallible, but he is closer to the truth than his detractors and the closed-minded, and he has had too many hits to not take seriously. What we can be certain of is that the deep state knows more about the extraterrestrial, and inner-terrestrial, phenomena than they are letting on. All the evidence suggests, at least from an open minded perspective, that we are not alone in this solar system, the truth of which organizations like Nasa must be well apprised.
The point of all this is to warn against the naive Posadas view that those behind the UFO phenomena – whose existence have been confirmed by astronauts and pilots, both military and civilian, and others – are automatically benign. To draw such a view from Marxist dialectics is unwarranted. What we can draw from dialectics though is that, in Hegelian dialectics, regarding the relationship between essence and appearance, sooner or later, essence must appear – meaning in this case, that the secret activity of 'UFOs' related to this planet and its connection to humans will eventually be uncovered.
Tony Clark
Campaign for Democratic Socialism.
Some people may remark that the Campaign for Democratic Socialism has also time-travelled from High Gaitskiell's days in the 1950s and the Labour Right in the 1960s.
Zecharia Sitchin (July 11, 1920 – October 9, 2010)[1] was an author of books proposing an explanation for human origins involving ancient astronauts. Sitchin attributed the creation of the ancient Sumerian culture to the Anunnaki, which he stated was a race of extraterrestrials from a planet beyond Neptune called Nibiru. He asserted that Sumerian mythology suggests that this hypothetical planet of Nibiru is in an elongated, 3,600-year-long elliptical orbit around the sun. Sitchin's books have sold millions of copies worldwide and have been translated into more than 25 languages.
In a 1979 review of The Twelfth Planet, Roger W. Wescott,[29] Professor of Anthropology and Linguistics at Drew University, Madison, New Jersey, noted Sitchin's amateurishness with respect to the primacy of the Sumerian language:
Sitchin's linguistics seems at least as amateurish as his anthropology, biology, and astronomy. On p. 370, for example, he maintains that "all the ancient languages … including early Chinese … stemmed from one primeval source — Sumerian". Sumerian, of course, is the virtual archetype of what linguistic taxonomists call a language-isolate, meaning a language that does not fall into any of the well-known language-families or exhibit clear cognation with any known language. Even if Sitchin is referring to written rather than to spoken language, it is unlikely that his contention can be persuasively defended, since Sumerian ideograms were preceded by the Azilian and Tartarian signaries of Europe as well as by a variety of script-like notational systems between the Nile and Indus rivers.[30]
A New Generation of Struldbrugg Socialists.
As New Left Review (NLR)  enters its 61st year, while still publishing valuable articles, the political content has become dominated by Struldbrugg socialism. These long-living inhabitants of the  land of Luggnagg, Jonathan Swift discovered in Gulliver's Travels, show not  not only all the "follies and infirmities" of other elderly people , but they are also extra-opinionated.
NLR founding figure, Perry Anderson, writes in his Parish journal, the London Review of Books this week, "The letters objecting to my account of the European Union, offer a range of criticisms, none without an intelligible rationale.". (Vol 43. No5) The Struldbruggs are supporters of national sovereignty, or sovereigntists, but they tolerate imports, like a hefty shaft of rare and curious words, to remind us of our Bildungslücke.
The peevish, the morose, the covetous,, and the vanity of those those claim to challenge power from their laptops,  are hallmarks of those who wrote, as present Editor Susan Watkins did in 2016, welcoming the vote to leave the European Union,"  Critics of the neoliberal order have no reason to regret these knocks to it, against which the entire global establishment—Obama to Abe, Merkel to Modi, Juncker to Xi—has inveighed." Anderson indeed repeated this happy phrase in 2020,'critics of the neoliberal order have no reason to regret these knocks …" (Ukania Perpetua. NLR Second Series. 125).
Enter a new voice: Oliver Eagleton, whose work has appeared in Jacobin, The Article, Novara and openDemocracy, as well as Counterfire and Verso.
For the latter he wrote this hatchet job, which has disappeared from the archives:
Now there is this:
A review of Owen Jones, This Land: The Story of a Movement
This is not really a review of Jones' book, one written by somebody, Owen Jones, with serious experience and respect in the broad labour movement. It is a polemic against something Eagleton calls "McDonnellism", against left internationalists who stood against Brexit, and  a  pretty good effort at aping his  Struldbrugg  elders.
The first thing that strikes the reader is that Eagleton follows the NLR line that Labour should not have opposed Brexit. He fails to mention that his journal actively backed the vote to Leave, with Editorial Board member Tariq Ali appearing on public platforms to cast the ballot on the same side as the European Reform Group, the Tory hard right, and Nigel Farage. As he himself wrote in 2020, "Labour will never be the Party of Remain. It's time it stopped trying."
Eagleton focuses on the movement for a second referendum, widely backed by the Labour grassroots, and the force behind million strong marches protesting against Brexit.
While autopsies of Corbynism invariably identify the Brexit polarization as a fatal turning-point, This Land is unique in detailing how Corbyn's ambiguous position was partially responsible for creating that chasm in the first place. His protracted indecision generated a political vacuum that enabled the arch-centrist Remain movement to grow throughout 2018, winning over previously sceptical figures like Starmer and McDonnell.

……

McDonnell thus formed a second referendum pressure group inside the shadow cabinet, swaying the perennially indecisive Corbyn after purging the Leave faction from his office. Jones acknowledges the disastrous electoral fallout of this policy, but he concludes that 'Labour had no real choice'. 'Whatever decisions the party made', he writes, 'it would not have ended well'.
In this 'review' the idea that opposition to national neoliberalism, and to the hard right fantasy of the 'anglosphere' was behind this turn occurs not once.
Less interested in a political analysis of why Labour failed in 2019  – the obvious point being that Corbyn did not connect with the electorate, that there was gulf between the enthusiasm of the Corbynistas and the dislike of the majority of voters – Eagleton spares no words against Owen Jones, "a self-described 'participant-observer' in the Corbyn experiment", marked by "instinctual conformism", and takes a few side swipes at other highly regarded Labour people, including "Clive Lewis, the chest-thumpingly pro-nato Afghan war veteran.."
This paragraph, discovered in the thickets of ire. follows the main thrust of the book, "less a history of Corbynism than a prolonged apologia for McDonnellism." One that refuses to challenge the idea that there was a crisis in the Party about antisemitism, and, Eagleton underlines, ". Alongside such incoherent formulations is a summary of Israeli history which 'could have been written by Shimon Peres', as one critic has remarked. " Or that, "'tough action on antisemitism' is a proxy for antisocialism…"
Over it all there is the dark figure of John McDonnell….
Just as This Land's timeline is manipulated to indict Milne… , "The same double-standard is evident in Jones's disinclination to criticize his political mentor. In order to sustain the representation of Milne as obtuse Stalinist and McDonnell as master strategist, the latter's political misjudgements must either be neglected or downplayed. Like Jones himself, McDonnell warned against Corbyn's leadership bid; opposed the leader's anti-imperialist agenda (including his widely popular response to the Manchester bombings); advocated ihra; cosied up to New Labour leftovers like Alastair Campbell; and pushed the party towards Remain out of an irrational fear of Change uk. A serious account of Corbynism would recognize the damaging effect of these climbdowns. "
For Eagleton, "Starmerism is the end-point of McDonnellism, the logical result of Jones's prescriptions. "
The Struldbruggs nod, and nod and nod.
Not any of them have a clue about getting the left into power in this country.
We hear on good authority that the person Oliver Eagleton attacks in this review  has also written a reply….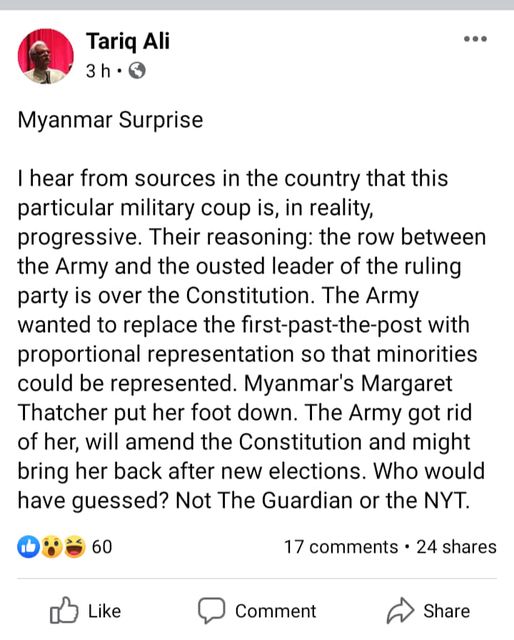 Tariq Ali has the Lowdown on Myanmar.
Exclusive.
Breaking News.
Tariq Ali sat in the attic of his Islington Town House. The veteran of many a revolution, he was honing his combat skills. Zionist Space Invaders flashed across the screen of a games console. He wove between the Jewish laser cannons and blasted a flying saucer to smithereens.
There was a sound from the Smartphone.
The urbane public intellectual and former guerrilla picked the device up,
"Take a chill pill old Red Mole, its all so bogus, like, I've gotten the real dope on Myanmar."
The Californian intonation could not disguise the voice of an old comrade, who had raised himself  to the level of comprehending the historical movement of imperialism as a whole.
"Halloa Perry! What ho? "
Mr Anderson continued, now speaking his mother tongue.
"Burma's Margaret Thatcher is gone gone gone! Por tanto, the  general mouvance, has, after una estación de tránsito, what is dominant' will never be exhaustive of the phase in question, Ha-at-tu-si ma-ak-ke-es-ta nu-wa-ra-ta-pa DINGIRMEŠ-is sal-la-i ha-as-sa-an-na-i da-a-er."
Tariq smiled as he recognised the familiar Hittite tag.
"Insider Source?"
"You bettcha!"
"Next issue of New Left Review or shall it be the London Review of Books?"
"Get the news out pronto!"
This was the Myanmar Moment, PR, steps forwards, who would have guessed?
The Street Fighting Man recalled the days in the Quartier latin leading the crowd to occupy the Sorbonne.
He called an old comrade.
"Bonjour Edwy Plenel! " Tariq continued in the language of Molière, "Je suis un Revolutionary, je habite  à the south of Islington."
As the story was unfolded the top French insider journalist exclaimed,  "Bougre de crème d'emplâtre à la graisse de hérisson!"