Archive for the 'Multi-Culturalism' Category
Convicted electoral frauder Lutfur Rahman won the Tower Hamlet's Mayor election this May. Or as the BBC puts it, "The returning mayor launched his own party after he was kicked out of office in 2015 having been found guilty of vote-rigging." The Aspire Party is now the largest in the Borough (24 out of 45). Rahman has just had the right to a puff – his own – in the US left populist magazine Jacobin.
I'm a Socialist, and I Just Beat the Labour Party in London's Poorest Borough
Last week I was elected as mayor of Tower Hamlets, London's poorest borough. Our victory was a grassroots-led upset of the big Westminster parties, including the Labour Party which has attempted for years to stop me from running under trumped up corruption allegations. After electing twenty-four councilors at the most recent election, Aspire, our left-wing independent party, is now the largest political force in Tower Hamlets. Labour, in contrast, gained only twenty-two councilors across the whole of England.
He continues,
We have a socialist program to spearhead a fairer society. The first absolute priority is to tackle the social emergency. We will restore and expand the homelessness fund, freeze council tax for poorer households, introduce an expansion of free school meals provision, bringing our privatized public services back in-house, and make full use of our powers to seize empty homes for new social housing.

Second, we will get tough on all those holding us back. We will use licensing powers to control rent hikes and refuse to comply with national anti-immigrant laws. We will end the slow destruction of our local heritage, most grimly represented by the Truman Brewery on world-famous Brick Lane being handed over to luxury developers.

And third, we will build a borough fit for the future; using the council's spending power to boost our local economy, developing a plan for green jobs that take pollution out of our atmosphere and put money in residents' pockets. We will build homes that people can both afford and be proud of.
Aspire's programme is certainly attractive.
But as Socialist Worker observes,
Rahman did not fight on a socialist platform. His manifesto included an endorsement from former London mayor Ken Livingstone and put forward what might be described as a version of mildly left Labourism. It called for building 1,000 council homes a year, vaguely backed "green jobs", pledged to "explore" extending free school meals to all secondary school students, rebuild youth centres and to protect "frontline services".

But it also demanded tediously familiar action over crime and anti-social behaviour that ends up as more powers for the cops. In Rahman's case it had the unusual element of a plan to arrest a "dealer a day".
SW's broad claims can be confirmed by reading the Lutfur Manifesto.
Independent of the main parties, if you elect me on 5 May, I will be beholden to no one but you, the
voter, the council taxpayer. I will reverse the botched Liveable Streets road closures (Note, known in many places as Low Traffic Neighbourhoods) while implementing a bold programme to go green. I'll safeguard frontline services from cuts, freeze council tax, (Note: a bold claim, no extra new money, apparently all will be found in council reserves, but no cuts) and make your council more accessible. And I'll tackle the housing crisis by building at least 1,000 social homes a year.

Road CC (a cycling publication) has remarked on the importance of this star policy,
Representing Aspire, the party he formed in 2018, Rahman, in part, based his campaign around pledging to reverse LTNs in the London borough, claiming they had increased congestion and contributed to more CO2.
Lutfur the motorists' friend, surrounded by a cloud of green verbiage.
There is another issue.
It was immediately noted that the party has as its councillors, '25 men, all from one community'.
Former Labour Mayor John Biggs says,
Tower Hamlets: Mayor Lutfur Rahman will be watched like a hawk – Labour
Mr Biggs warned of the potential for community division, with the Bangladeshi population targeted by Aspire making up nearly a third of Tower Hamlets residents as the largest ethnic group – slightly higher than the number of "white British" residents.

"We're potentially quite a divided community," he said. "We totally get on quite well together in Tower Hamlets but his [Mr Rahman's] campaign was totally focused on one community. His administration is 25 men, all from one community.

"I guess that's worrying but it shouldn't be worrying because we're in a multicultural community and everyone should stand up for everyone else, which is what we have tried to do in the Labour Party."
Aspire replied that diversity amongst councillors is not needed,
"A worldview in which ethnic minority politicians can only represent ethnic minority constituents belongs in the Stone Age."
Indeed why have women councillors when men can represent them so well.
To be fair, the party's list did include one woman for Limehouse ward (not elected).
The communalist character of Aspire was registered by the East End Enquirer when they announced their candidates back in January.
Lutfur's Aspire Party Rejects Diversity With 100% Bangladeshi Candidate List
"The Bangladeshi population makes up around one third (32 percent) of the population, the rest of us are the usual wild, wacky and mundane mix of people from all over the planet, which is Tower Hamlets main selling point.
There are no Somali candidates. There are no West Indian candidates. There are no European candidates. There are no Commonwealth candidates. As far as we are aware there are no candidates from the LGBTQ+ community, but we would be extremely surprised if there were."
Predictably Socialist Worker does not make this glaringly obvious point. But the SWP does say,
Socialist Worker welcomes Rahman's win. But, just as when Labour left wingers head a council, there can be no let up in the fight against cuts and racism. A test in the coming months will be how Aspire responds to reactionary pressure to attack LGBT+ education. It's good Biggs has gone, but prepare now to confront Aspire and Rahman if they let down the people who voted for them.
The anti-Labour 'alt-news' site Skwawkbox believes that Rahman was 'stitched up' when he was convicted.
Only somebody distant from socialist and pluralist democratic values would relish the prospect of a brough run by party whose directly elected Mayor and councillors exclusively come from one section of the community.
Then there's Rahman's past record.
On the conviction for corruption see Sacha Ismail in Workers Liberty (2015).
Is Tower Hamlets really an Establishment conspiracy?
None of the socialist organisations politically defending ousted Tower Hamlets mayor Lutfur Rahman seriously analyse the judgement made against him by election commissioner Richard Mawrey. None mention George Galloway previously hailing a judgement by Mawrey (against the Labour Party and in favour of Galloway's Respect) in 2007 — in a speech republished in full on the Socialist Worker website!

Socialists have no confidence in bourgeois judges, but the idea that Mawrey is a ruling-class assassin or bug-eyed Islamophobe is absurd.

The pro-Rahman left's main argument is that he is the victim of a racist witch-hunt. "Islamophobic" is the word used repeatedly, most notably the SWP and Counterfire (but also, for example, Socialist Resistance).

The Socialist Party argues that "a big dose of revenge by Labour… is mixed with outright racism against a Bangladeshi council leadership". Outright racism from who? In so far as this sentence makes any sense, it seems to be motivated more by the SP's absolute anti-Labourism than by analysis.

Counterfire, and others, makes a big deal of the fact Rahman is Tower Hamlet's "first Muslim mayor", as well Britain's. But he's the borough's only mayor so far! Muslims are only five per cent of the population in the UK, and elected mayors are pretty new.

Muslims do face discrimination, and of course this is reflected in who gets into political office. But my point is, does any significant constituency in the political establishment really think that a Muslim cannot be allowed to become a mayor? (By the way, none of Rahman's leftist defenders make the essential argument opposing executive mayors.)

There have been and are Muslim council leaders. Why have they not been removed from office? When Rahman was first elected, in 2010, the Labour candidate was a Muslim, Helal Uddin Abbas. Even after the departure of Rahman's supporters and the creation of Tower Hamlets First, 40 per cent of Labour's councillors in the borough are Muslim or from a Muslim background.

"Mainly," says the Socialist Party, "the institutions of the ruling class want to crush any hint of rebellion". The SP, Counterfire and the SWP all paint up Rahman's left-wing credentials on social provision, etc., though to be fair the SP does criticise him for making cuts. I say paint up, because there is plenty of evidence to suggest that the limited claims made for him (e.g. about EMA and building council houses) are serious exaggerations.

Should we believe that a significant constituency in the ruling class is so bothered by the extremely limited reforms Rahman's administration made (while also making cuts) that they were willing to organise enough pressure to fix the ruling on an election complaint?

In fact, anyone who wants Rahman gone, from whatever perspective, must be well aware of the fact that Tower Hamlets First may well win the election to replace him.

Rahman's left supporters are very bothered about the law preventing "undue spiritual influence" in elections. Counterfire claims that this law was "introduced by the British in Ireland to stop Catholic preachers rallying the Irish! One doesn't need much imagination to see how this legal relic will be used against Muslims." In fact, it was introduced by Gladstone, as he was becoming a supporter of Irish Home Rule, and as part of a package of measures which also, for instance, outlawed bribery and checked employers' ability to coerce their workers to vote a certain way.
The Guardian editorialised at the same time,
The sectarian politics of victimisation and electoral fraud that were practised in Tower Hamlets threaten to eviscerate democracy
The wholly devastating verdict against Lutfur Rahman, the former mayor of Tower Hamlets, found guilty of corrupt practices, vote-rigging, and deliberately smearing his Labour rival as a racist, destroys more than the career of an energetic and illegally unscrupulous politician. It is also a damning criticism of the inadequate ways in which British democracy defends itself against fraud, demagoguery and corruption.
Landmark Book.
Imagine a country where a former extreme left party has recycled itself as a Tribune against Woke and publishes articles defending the national populist ruler of Hungary, Viktor Orbán. Think of a political scene, where this party- become-network, joined with members of a Communist party committed to the fight against globalisation, and a wing of a social democratic party, nostalgic for the 'real' working working class. Imagine these defenders of the 'somewhere people' and the traditional values of family faith and flag, up in arms behind national sovereignty against the European Union. That they came together to fight for the right-wing side, of a Referendum. Think, if you can, of these old revolutionary girls and boys actively supporting a far-right party with a marked hostility to immigration and getting one their number elected as a MEP, and then given a Peerage. (1)
La Grande Confusion is a landmark book. Amongst many things it helps to put the above British twists and turns into a wider European context. The author Philipe Corcuff has a complex background on the French radical left, as he explains in the introductory pages (2). It includes a brief period as a member of micro-party originally left wing Socialists, Le movement des Citoyens. Its leader Jean-Pierre Chevènement would later stand as a Presidential candidate (2002) with the MDC rebranded, 'Mouvement républicain et citoyen) with the slogan " ni de droite, ni de gauche (neither right nor left) winning 5% of the vote in the first round. A paradigm, one could say for some of the book – shifts back and forward from left to right, a pull away from the left to the "real people" and the Nation. Or as the 'Che' put it, above the left and the right stands La République. The former Socialist got the backing of sovereigntists, royalists (!!), former Front National supporters, Régis Debray, one-time Socialists and a small number of people on the far left.
What is then is the confusion, the confusionnisme, referred to? This is, "the current name of a relative disaggregation of political benchmarks previously stabilised around the left-right cleavage and the development of rhetorical bridges between extreme right, right, moderate left and radical left" (Page 31) That is there is, he asserts something more than links, or the old 'Horseshoe' theory of extremes meeting. It is a kind of 'bricolage' of 'anti-system' politics, shifting towards the far right or red-brown fronts.
One of Corcuff's theses is that the idea of 'national sovereignty' is the axis around which a number of themes, from the 'identarian' assertion of French nationhood, a republican patriotism that has shifted towards nationalism. It is boosted by an 'anti-political correctness' that barely masks a defence of traditional prejudice. The cross-overs between French populists of the left and rights, from language – the common use of the word 'caste' to describe the 'oligarchy' opposed to the people – to theme amongst left-populists, such as Jean-Luc Mélenchon, to promote the national 'people' and working class over all others.
This tendency of the leader of La France insoumise to be worried about the menace of "communitarianism" Amongst many example, we can see in Melenchon's comments on the responsibility of the Chechen community when Samuel Patty as murdered by an Islamist racist in 2020. This indicates Corcuff argues, a "national republican" thread in his ideas (Pages 520-1). Some of this had gone further, ending in the «l'étrange trumpisation de gauche à la française»> that is a gloss that comes out with a Gallic version of Make America Great Again – a call to restore the universal mission of France.
For the English anti-woke Tribune Spiked read Front Populaire -a review founded by the one-time libertarian anarchist and atheist Michel Onfray. This brings together Sovereigntists "from all quarters" including, amongst others, Jean-Pierre Chevènement (former Socialist Minister, see above) Philippe de Villiers (classical right and …Alain de Benoist (New Right) (Avec sa nouvelle revue « Front populaire », Michel Onfray séduit les milieux d'extrême droite) One has to say that there is not even much of the Brendan O'Neill's style of residual libertarianism left here.
La Grande Confusion covers many writers and political figures any of whom are not widely known outside of the hexagone. To cite only a few Éric Hazan (who defended in 2019 demonstrating with the far-right violent wing of the Gilets Jaunes, against Macron, " A whole range of intellectuals see violence is evil. For those who do not stick to this position and may sometimes consider it legitimate, the fact that the far right is present in this violence puts them off quite a bit. But it doesn't bother me ) and Houria Bouteldja (notorious with a photo shot of her holding a placard saying Jews to the Gulag, she has been a member of the Indigènes de la République) , on the other hand, between Alain Finkielkraut (extreme cultural conservative) and Christophe Guilluy (the 'geographer' and self-appointed spokesperson for La France périphérique) Jean-Claude Michéa (who talks of 'Capital' as the Enemy, who draws on the late Christopher Lasch and claims an insight into George Orwell and Michel Onfray, on the one Chantal Mouffe (left populist') and Frédéric Lordon (once fashionable theorist whose Les affects de la politique, 2019, talks of the importance of the emotional ties of The People to a Sovereign Power), Alain Soral and Éric Zemmour: two variants of French-style ideological ultraconservatism, Renaud Camus and the conspiratorial fantasy of the "Great Replacement".
One of the few ventures outside the Francophone world is a long section on he German populist a member of Die Linke, Sarah Wagenknecht who has highlighted "immigration's negative impacts on the domestic working class".
"The book is a dizzying Ferris wheel" writes Adrien Mariani in Lignes de Crêtes. At six hundred and seventy two pages, with references to Merleau-Ponty and Foucault's theories of discursive formations, and a lot of detail, La Grande Confusion is perhaps, despite the clarity of the writing, more of a resource, or as it says on the cover, a small Encyclopaedia, than a sit down read.
Corcuffs's meticulous pursuit of his subject, the inevitable comparison with an earlier call to be wary of a slide to the right, the late Daniel Lindenberg's Le Rappel à l'ordre : enquête sur les nouveaux réactionnaires" (2002) That itself echoed a post Great War art movement away from avant-garde experiment back to classicism. Today it is no the classical right but the hyper-nationalist, 'archeo-conservative', conspiratorial, identarian national populist right which has infected some of the left. The book describes how this has happened, it does not tell us why, or explore the deeper reasons for the popularity of national populism and the extended (if ultimately limited) extreme-rights ideas across Europe.
The present work, as Le Monde says, shows " un méticuleux travail d'analyse, nourri par une considérable érudition, le goût de la pluralité des sources et le culte de la nuance." As the opening paragraphs of this review indicate, this take on political 'confusionnisme' has great relevance beyond France. La Grande Confusion is a trail-blazer. Will an emancipatory left emerge to fight the confusion? One can only hope so.
(1) I refer to the RCP/Spiked network and the Full Brexit: one can see the radicalisation of the Blue Labour politics of the common good' and the 'mainstream of the Nation' to the leader of Trade Unionists Against the European Union:
See
(2) It is hard to match this record!: , Jeunes Socialistes (1976), Parti socialiste (1977-1992), Mouvement des citoyens (1993-1994), Les Verts (1994-1997), Ligue communiste révolutionnaire (1999-2009), then NPA (depuis son congrès de fondation en février 2009 jusqu'en février 2013), et enfin, un tournant libertaire, avec son adhésion en février 2013 à la Fédération anarchiste.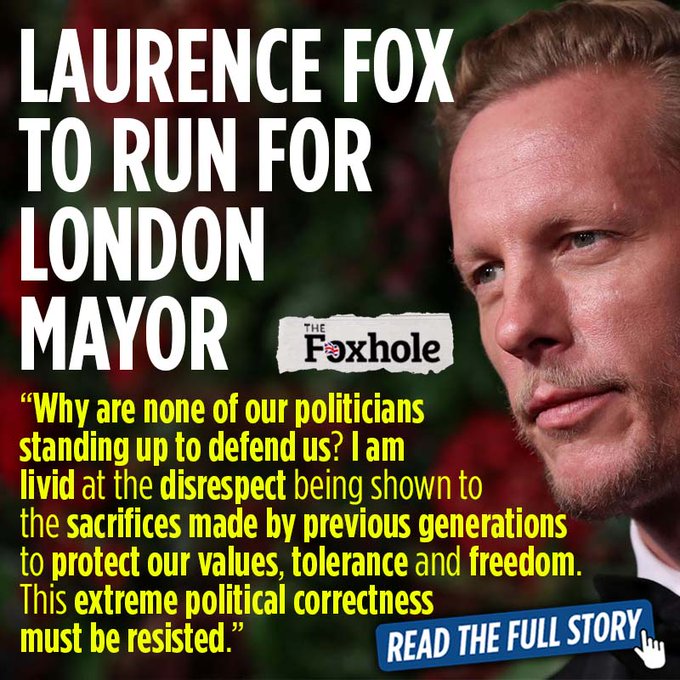 I used to like Lewis, me, now I can't watch it when this geezer comes on. 
(Why do all the breaking new stories come in the bleeding evening).
Laurence Fox joins London mayoral race on anti-lockdown ticket
Guardian.
Activist from acting dynasty says he wants to speak up for 'those who are being dominated into silence'
Fox joins a motley cast of candidates including fellow lockdown sceptics Piers Corbyn and Brian Rose, the former Wall Street banker and host of YouTube channel London Real, which famously aired a controversial interview with conspiracy theorist David Icke early in the pandemic.
An esteemed commentator says,
Attention Seeking Bellend Wants New Career. Also note that his entire run for mayor is being funded by a single donation of £420k from a former Tory benefactor.
What  a Geeze!