Archive for the 'LCR' Category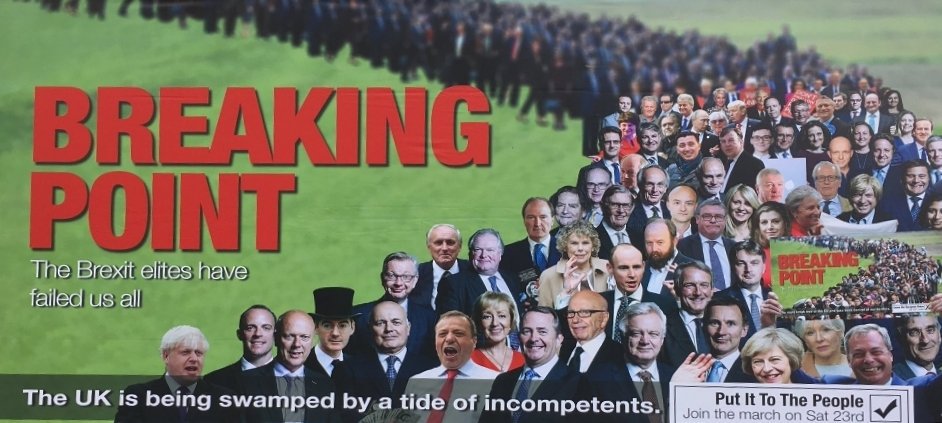 Yet Corbyn is widely reported to be doing everything he can to save Brexit.
Jeremy Corbyn has said he will work with Conservative MPs to try to avert a no-deal Brexit.

The Labour leader met with senior Tories Sir Oliver Letwin and Nick Boles on Wednesday to discuss their plan for a softer Brexit.

Speaking afterwards, he said he was "reaching out to all groups in parliament" and "looking at all the options" to prevent no deal.

It comes with talks between the UK and EU deadlocked and just days left for Theresa May to secure new compromises before MPs vote against on her deal next week.
Sienna Rodgers writes on Labour List.
All options are on the table. Some commentators and members are surprised – or perhaps just disappointed – that this remains the case: they expected that the twice-defeated Labour Brexit deal would be shelved by the party once support for another EU referendum was declared. But the leadership has made it clear all along that it is still looking to push for an alternative that involves leaving the EU (although also willing to whip for a public vote). The main reasons are two-fold: it is opposed to the idea, on ideological and electoral grounds; and it knows that a second public vote proposal is unlikely to pass in the Commons. Jeremy Corbyn has written in The Mirror today that "getting Brexit right" is his focus.

As well as publicly campaigning for "Our Alternative", LabourList understands that the leader's office has been quietly working with the Common Market 2.0 group to draft a new Brexit amendment. Made up of Labour's Lucy Powell and Stephen Kinnock, plus Nick Boles, Oliver Letwin and Robert Halfon from the Tories, this cross-party initiative has been campaigning for a deal consisting of single market membership and a new customs arrangement. They say it meets Labour's six tests and only requires changes to the political declaration in Theresa May's deal.
Perhaps Corbyn really believes that through these attempts at  backroom deals he is doing his best to secure a deal on Brexit that meets Labour's six tests.
But the very way this is being carried out is deeply distasteful, not in front of Labour's membership, but with Toires, and not doubt Corbyn's famous pro-Brexit 'advisers'. Playing along with Labour's Brexit supporters will raise the hackles of the wider membership as well
It is equally hard to believe, despite the pro-leadership spin,  that anything that's the result of negotiations with the Tories will meet this "2. Does it deliver the "exact same benefits" as we currently have as members of the Single Market and Customs Union?" and 4. Does it defend rights and protections and prevent a race to the bottom?
The Labour List report continues on the last issue:
People's Vote campaigners aren't happy, of course, and say such moves contradict the conference policy agreed in September. But others contend that the composite motion – which promised "full participation in the single market" – is actually more in line with the 'Norway Plus' group plan than anything else. And the leadership is keen to point out that avoiding 'no deal' is the priority, and if a fresh public vote proposal has no chance of securing a Commons majority, isn't backing a softer Brexit the only way to do that? Nonetheless, Clive Lewis – who is still a shadow minister – has called the latest strategy a "grave error". PV-ers are determined not to back any kind of Brexit now. But with around 30 on the Labour benches prepared to defy the whip to vote against PV, it will be interesting to see whether that changes. If the mood does shift after their preferred plan of another public vote is substantially defeated next week, Common Market 2.0 could be the future of Brexit.
Here is  Clive Lewis:
Here is  alternative to the 'Soft' Brexit Labour leader's.
On 23 March, six days away from the scheduled exit day, hundreds of thousands of people will march to demand a final say on Brexit.

We are coming together as the left in all our diversity to organise a massive left bloc and rally for the march, to put forward a clear left message and to bring as many people as possible on to the streets.

We are campaigning to transform society, not for the status quo. We are against Brexit because it is a massive assault on working-class people, on the environment, on migrants and on the communities that the left aims to represent.

We will put forward the positive politics of internationalism: for the transformation of Europe and Britain, for free movement, for international cooperation to stop climate chaos, and for solidarity between people and across borders. We urge everyone on the left to join us on 23 March at 11am at Grosvenor Square in London.

Marsha de Cordova MP, Clive Lewis MP, Kate Osamor MP, Caroline Lucas MP, Preet Gill MP, Lloyd Russell-Moyle MP, Rachael Maskell MP, Sandy Martin MP, Rosie Duffield MP, Chi Onwurah MP, Anna McMorrin MP, Sian Berry and Jonathan Bartley Co-leaders of the Green party, Amelia Womack Deputy leader of the Green party, Manuel Cortes TSSA general secretary, Joseph Healy Principal speaker of Left Unity, Michael Chessum Another Europe is Possible, Nadia Whittome Labour for a Socialist Europe, Zoe Williams Journalist, Julie Ward MEP
Many people on the left knew Red Action.
They were capable of talking the arse out of an iron pot on solidarity with the "Irish Struggle".
I am not writing this off the top of my head…..
Apparently this is news to the above:
But  what of the link between Corbyn and the group?
As I mentioned many people on the left came across Red Action, and the group it helped create in 1995, the Independent Working Class Association.
Many suggest  Aaronovitch looked into his own oeuvre – Voodoo Histories: How Conspiracy Theory Has Shaped Modern History  (2009) – before writing this
Zelo Street answers this.
I make no apologies for re-posting to add to the audience to this excellent piece of work:
Murdoch Corbyn IRA Bomb Smear BUSTED.
This is not a new idea from the Murdoch mafiosi: back in September 2015, the odious flannelled fool Master Harry Cole, who claims to be the Sun's Westminster Correspondent, claimed "JEREMY CORBYN TRIED TO FUND IRA BOMBER'S FLIGHT … The embattled new Labour leader handed over £45 to Irishman Sean O'Regan, who approached him inside Parliament to claim he was part of an IRA active service unit".

Sadly, Master Cole was peddling a pack of lies: it was one of Corbyn's staff who ponied up the £45, and as soon as Jezza found out, he called the cops. But now has come a new twist on the IRA claim from allegedly sensible pundit David Aaronovitch: "Finally, for a completely different reason, I've been going back over the 1993 Warrington bombing. There's a big possibility that it was carried out by far-left people associated with a group called Red Action. I offer no prizes for which Labour figure was close to Red Action".

Nudge nudge, wink wink, nod's as good as  a wink to a blind hack,eh? But let's take this pointless smear one step at a time. The Provisional IRA admitted responsibility for the Warrington bombings (plural) – that is, the gas works bombing in February 1993, and the town centre bombing the following month. It was speculated by a BBC Inside Out Broadcast in 2013 that it could have been an English "rogue" IRA unit.

The programme suggested that those who planted the town centre bombs were members of Red Action, despite the gas works bombing the previous month most certainly being carried out by an Irish IRA unit – some of whose members were caught in the aftermath of planting their device. And where does Jezza come in?
Indeed.
The Murdoch press is unequivocal in telling readers of its ultimate objective in attacking Labour leader Jeremy Corbyn: it wants him removed from the leadership. This reinforces the admission from the Mail last week. But thus far, the campaign has been ineffective, and so it is being stepped up. That means a new smear exercise in which Jezza gets blamed for IRA activity on the British mainland. I kid you not.
You'll love this. The claim of a connection between Corbyn and Red Action was made last weekend in the Sunday Times, under the by-line of … Andrew Gilligan. Yes, Andrew "transcription error" Gilligan, the clown who fouled up the reputation of the BBC Radio 4 Todayprogramme single handed, but still managed to escape censure from his press pals for his part in the outing of weapons inspector David Kelly.

So what's his best shot? "Corbyn spoke at at least three Red Action meetings between 1985 and 1992 and the group sometimes met at his then constituency office, ex-members said".

Convenient hearsay, just in time to start the next wave of smears. Oh, and "Jeremy Corbyn came to the attention of police after becoming involved with Red Action" might sound dead good until the obvious reality check is made on the claim.
Note: everybody on the left who knows about Red Action finds this direct Corbyn tie-in beyond any credibility
The post continues:
Corbyn had to undergo an extensive security vetting to become a Privy Counsellor. If there was anything like that in his background, he wouldn't have passed muster.

Andrew Gilligan doesn't know any better. But David Aaronovitch should. And he should be ashamed of himself. But in the end, all this proves is that the purchasing power of the Murdoch shilling remains undimmed after all these years. I'll just leave that one there.
Then there is the issue of the "big possibility " that  Red Action rather than the IRA carried out the Warrington Bombing.
It is widely noted that the Wikipedia entry on this was altered the day Aaronovitch made his assertion,
This is another source:
THE LARGEST PUBLIC COLLECTION OF ANTI-FASCIST ACTION MATERIAL
The Warrington Bomb and Red Action.
2003.
Recently, BBC North West's Inside Out programme conducted an investigation into the 1993 Warrington bombing. Ending the police's embarrassment of not catching the killers of Johnathan Ball and Tim Parry was, seemingly, the motivation. Inside Out speculates that the perpetrators of the lethal bombing were Jan Taylor and, Red Action member, Patrick Hayes. Inside Out asks that when the police were looking for Irish suspects; should they have been looking for a rogue IRA active service unit made up of Englishmen.

The documentary's evidence supporting their claim leaves some questions. First is the linking of the bin bombing and gas works bombing in Warrington to the Harrods bin bombing and the bombing of a gas works in Tyneside. They are linked by target but, it is also implied, by suspects. The Tyneside gas works was bombed by an Englishman; the Warrington gas works by Irishmen. That the Warrington gas bombing was conducted by Irishmen wasn't mentioned in the documentary. Partially based upon this faulty evidence the programme reasons that the Warrington bin bombing was carried out by the Harrods bin bombers: Hayes and Taylor. The film insinuates that English IRA active service units were attacking similar targets but Warrington gas bombing was done by Irishmen.

Another problem with the same targets, same nationality of suspects theory is that Hayes and Taylor were also convicted of bombing a train. Where does the train attack fit in to Inside Out's story?

Inside Out uses Hayes' Red Action membership as more evidence of guilt. Firstly, the programme doesn't make it clear that only Hayes was a Red Action member, Taylor wasn't. The programme also points out Red Action favoured "chicken-box bombs", like the one used by Hayes and Taylor. The fact is that Red Action has never been found to have bombed anything. The implication is that Red Action had a bombing campaign but they did nothing of the sort. Why would Red Action favour a certain bomb when they had nothing to do with bombing?

Red Action is painted as a shadowy organisation. Whilst certainly secretive it was hardly unreachable. The Independent, ITV and the BBC had all interviewed Red Action. The organisation was very openly pro-IRA, it was on the front of its newspaper and on its stickers; it wasn't a secret. It was not the underground network Inside Out would have us believe.

Another claim is that the (or these?) English IRA active service unit were rogue or not in the loop. It is pointed to that the IRA was already at the peace table so why would they need to continue bombing? Furthermore, the polices' claim that the IRA didn't use the correct code words is their evidence of the bombers being rogue. But the IRA disputed that the wrong codes were used at the time. It's a 'he said; she said' situation in which the truth may never be known.

Inside Out's own evidence can be used to dispute the rogue unit idea. To provide evidence that there was a campaign to bomb certain targets in England they discuss how the IRA's top man in England was caught with a list of targets, including gas works, and semtex. If the orders were coming from the IRA's leading volunteer in England how were the active service units rogue or acting alone?

The evidence presented implying the guilt of Patrick Hayes and Jan Taylor is hardly clear cut. The idea that English IRA units were bombing the same targets isn't true and the idea they were rogue has little evidence. I believe the documentary provides more questions than answers. The simplest being what was the purpose of documentary? And why now?