Archive for the 'Jews' Category
The David Miller affair rumbles on. Arguments about academic freedom, the rights of students, and wider free speech issues have come up. It is not helpful for those who defend the liberty of expression, to find that Miller's ardent defenders include those who agree with his conspiracist theories about 'Zionism'. Or indeed the claim by a former President of the NUS Malia Bouattia that the, "Zionist movement's involvement in promoting Islamophobia, a well-known fact among scholars who study the Palestinian question." (A war is being waged against academic freedom in Britain)
The line up at this meeting looks likely to include opinions from all these sides of the controversy.
Lindsey German, Convenor of Stop the War Coalition, and prominent member of the revolutionary socialist group Counterfire.
With racist lecturers, students etc., the campaign has of necessity to be much longer and has to be as wide as possible. The Harrington campaign was successful both because it was based on very militant tactics and because it involved far wider numbers of students than simply the existing left, including the philosophy students on Harrington's course.

Similar campaigns against a racist lecturer at Bristol university, and a fascist student at Plymouth need to get similar levels of support if they are to succeed. And they need to mobilise round specific aims – it is no good including a shopping list of demands, including the total abolition of racism in society, in a campaign to get rid of a racist lecturer. The wider issues should be taken up in Socialist Worker Student Society meetings, in Socialist Worker and Socialist Worker Review.

No Platform: Free speech for all?

(April 1986)
Here are some of the other speakers:
Tariq Mahood on Charlie 'Hebdo, 2015.
In remembering the Charlie Hebdo attack we must not forget the responsibility that goes with free speech
the 'free speech' argument of the last week has not really been about the right to free speech, but about how to exercise the responsibility that goes with free speech. I see no reason to celebrate those who abjure this responsibility or exercise it carelessly, heedless of the consequences of their actions. The defence of Charlie Hebdo – that they did not target Islam but everybody and anybody – is not impressive if the assumption is that targeting minorities and weak groups and being willing to use and strengthen stereotypes and racist imagery is ok, as long as the satirists in question also satirise the powerful.

None of this of course justifies any form of violence let alone the murders of last week, but it at least identifies some of the relevant issues, especially those which are about the uses of freedom and of being mindful of how images can reinforce social divisions.
Harriet Bradley, December 2019.
Harriet Bradley was suspended from the party on Tuesday after she shared a post on her Facebook page, with the message "the right kind of Jews – ie left voters"
Here is a well-wisher.
Here is another well-wisher, extending the field of combat.
Here is a fellow 'theorist' on 'Zionism':
Here is somebody who is not well-wisher:
Here is somebody who well wishes Miller even less.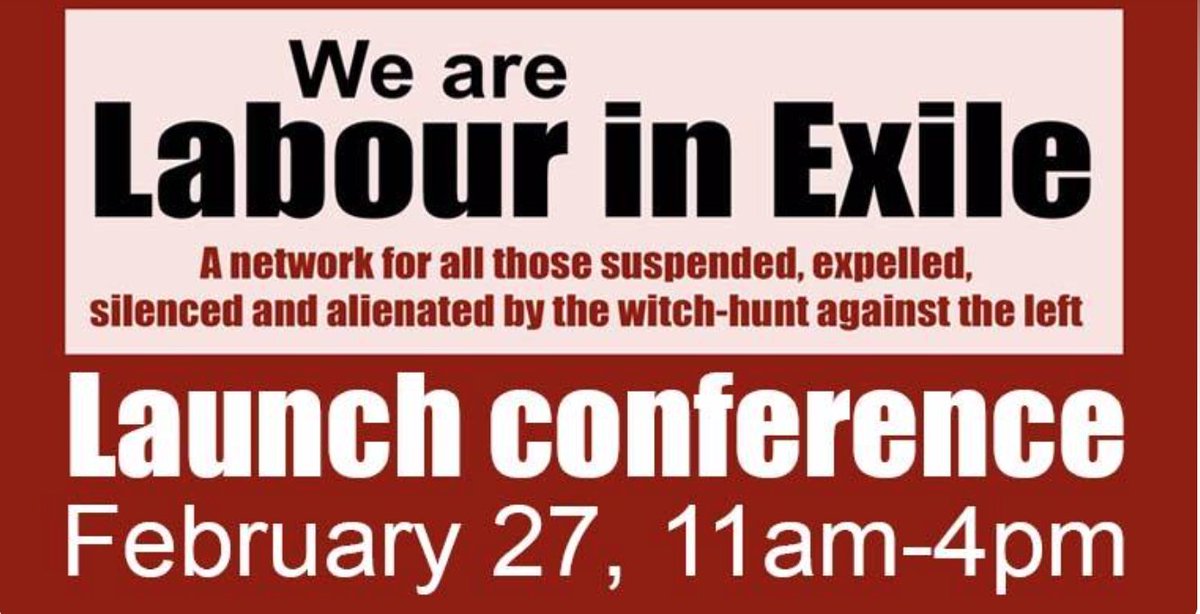 Links to Exile.
Labour in Exile Network held a Virtual Founding Conference last Saturday.
They have finally got round to posting about it (thanks Newshound David)
While claiming that "over two hundred people actively participated" at the event, votes cast on motions were just over 100.
The new LIEN steering group, as elected at conference
Paul Collins
Terry Deans
Esther Giles
Tony Greenstein
Stan Keable
Chris Knight
Faraz Khan
Wanda Lozinska
Norman Thomas
Neil Todd
Christine Tongue
Tina Werkmann
As expected the committee is made up of members of Labour Left Alliance, Labour Grassroots, present and former supporters of Labour Party Marxists (Weekly Worker, Communist Party of Great Britain, Provisional Central Committee) and wishers of Good Luck to Chris Williamson,
The Tony Greenstein Party made a strong showing.
Here is Greenstein's  South Coast neighbour and comrade:
Labour official accused of anti-Semitic tweets
Ms Massey is chairwoman of Hove, Brunswick and Adelaide branch of the party and is standing for election to treasurer of the Hove constituency party.

Delegates due to attend the Sunday's meeting were told by the party's regional organiser at 4pm on Saturday the venue was unavailable.

Comments by Ms Massey on Twitter included "Interesting insight into how Israel has Tory and Labour parties under control" and "How Israel lobby manufactured UK Labour Party's anti-Semitism crisis [link]".
As expected 'Zionism' plays a big part in their political concerns:
Racism and antisemitism group
Convenor: Tony Greenstein
Anti-Semitism is the main weapon that the Right have been using for the past 5+ years against the Left. The vehicle that they have chosen is the IHRA but there are indications that the Zionists are suffering a backlash because of the way they have used it.
It is noteworthy that both the Jewish Chronicle and John Mann have condemned the attempt to use the IHRA to no platform Ken Loach recently. Also there is news that an alternative definition, the Jerusalem Declaration, is about to be launched in Israel.
We have to react to these events and also set the agenda.  In particular we have to be merciless in our attack on Labour's racist leader Herr Starmer but also to make it clear that its about time that the Labour left came to terms with their failures to respond to the fake anti-Semitism campaign which led to Corbyn's demise.
How we do these things and more will be for this group to decide.
Proposal for an Anti-Zionist Action (AZA) Group
Coordinator: Neil Todd
We know that the witch-hunt is driven locally a network of Zionist trolls, often associated with the so-called "Labour Against Anti-Semitism" (LAAS) and other Zionist lobby groups, who spend much of their time trawling the social media accounts of party members, publicly smearing them as "anti-Semites" and manufacturing the fake anti-Semitism complaints which are used to get members investigated and suspended. We know also that many of these individuals are linked on Facebook and Twitter and regularly communicate. 
The main aims of AZA would be:
(1) to gain knowledge of the identity, location, activities and associations, of individual Zionist trolls;
(2) to use the knowledge so-gained for the purpose of (i) taking action against the individuals and (ii) warning other members to take care of those individuals. 
One way in which we can build knowledge is by means of a questionnaire, similar to the WAG questionnaire, which would go out to all members of the LIEN network.  One such possible action could be to make complaints against them using genuine incidences of anti-Semitism, e.g. the attacks they often make against non-Zionist or anti-Zionist Jews. Another such possible action could be to publish news items about the activities of certain key individuals, such as Jonny Morris in Plymouth. 
I am aware that there are already in existence local groups of members who have come together to counter the likes of Jonny Morris. I am sure that there will be others around the country, e.g. in Brighton, where we now know that Morris was also involved in attempting to block Chris Williamson from speaking. The AZAG would serve to bring these already existing groups and strengthen them by pooling knowledge and resources. 
Academics defend "eminent scholar" David Miller.
The prestigious site Spiked led,
I don't know what's going on inside the head of Professor David Miller of Bristol University. I do know that he is a fantasist devoted to conspiratorial thinking. I also know he hates Israel, and Jewish people who take exception to his vile polemics against Zionism. And I know that despite the distorted version of reality he promotes, and his obsessive fantasy about Zionism being responsible for the evils of the world, it is wrong to call on his university to fire him. I believe academic freedom is a foundational principle of university life and that it would be far better to challenge Miller's abhorrent views rather than suppress them.
'Educators' (educator, noun, mainly US,  a person who teaches people) and 'researchers' someone who conducts research, i.e., an organised and systematic investigation into something) have been bolder, a lot bolder…
Educators and Researchers for David Miller
Re: Academic freedom and the harassment and victimisation of Prof D Miller
We wish to express our serious concerns about the unrelenting and concerted efforts to publicly vilify our colleague Prof David Miller.

Prof Miller is an eminent scholar. He is known internationally for exposing the role that powerful actors and well-resourced, co-ordinated networks play in manipulating and stage-managing public debates, including on racism. The impact of his research on the manipulation of narratives by lobby groups has been crucial to deepening public knowledge and discourse in this area.

……….

As public intellectuals and academics, we feel duty-bound to express our solidarity with Prof Miller and to oppose such efforts to crush academic freedom. Given your roles within the University and your responsibilities to the wider academic community, we urge you to vigorously defend the principle of academic freedom and the rights to free speech and to evidence-based & research-informed public discourse. We hope that you will uphold the integrity of academic debate.

Prof Sarah Purdy Pro VC (Student Experience)
Prof Tansy Jessop Pro VC (Education)
Mr Jack Boyer Chair, Board of Trustees
Dr. Moira Hamlin Vice-Chair, Board of Trustees
Prof Judith Squires, Provost
Ms Jane Bridgwater, Director of Legal Services
Prof Simon Tormey Dean, Faculty of Social Sciences and Law

Yours truly

Professor Noam Chomsky, University of Arizona, Linguistics
Professor Judith Butler, UC Berkeley Comparative Literature
Mr. John Pilger Journalist, author, film-maker, London.

…..

Professor Roy Greenslade, City, University of London, Journalism.

….

Professor Alex Callinicos, King's College London (Emeritus)

And lots of others (see link).
Not everybody is happy:
Reminders:
And,
And another reminder:
Here is another petition by a public intellectual and expert on the Middle East;
Tony Greenstein finds time in his busy job publicly intellectualising  to comment on Tendance Coatesy:
you are a scab Jim Denham. The demand to sack a lecturer for speaking out on the oppression of Palestinians and the activities of the Israeli state via its proxies, which is what the Union of Jewish Student is, shows just how much you have degenerated politically.

Andrew Coates is no better.

You are both disgusting scabs.
Today he has expanded his field,
Being a scab Denham you wouldn't understand. However it is a widely used substitute for 'Keir' as Keir Hardie was a socialist whereas Starmer and you aren't!!
Tony Greenstein is expected to play a leading role in tomorrow's Labour in Exile Network (LIEN) Conference
Today he offers it extensive publicity on his Blog:
Labour In Exile Network Conference – This Saturday February 27th
Labour In Exile Network was formed in the wake of Jeremy Corbyn's suspension and the ensuing suspension of officers of the Labour Party who had the temerity to allow their parties to discuss such mundane matters as whether Starmer was out of his reactionary mind to suspend his predecessor.

……

To Labour's racist leader this is in itself a crime.  The only acceptable Black people to this Zionist 'without qualification' are the David Lammy's of this world.

"

LIEN has received considerable publicity in its call for an explanation from Starmer as to why he employed an Israeli spy, Assaf Kaplan, as a member of his staff, with the remit to snoop on members.

…

I sometimes despair at what I call the Stupid Left – Momentum and their fellow travellers.

…

Today even the most stupid member of Momentum realises that Starmer is a liar.

…..

The Corbyn Project attracted hundreds of thousands of people to the idea that a better world was possible.  They were betrayed by people like Jon Lansman and John McDonnell who thought they could trim their sails to the wind and bow to the ruling class 'anti-Semitism' attack that was launched against Corbyn and his supporters.
The doolally gent concludes,
Looking forward to seeing everybody

Tony Greenstein
Anybody 'stupid' or not can expect a warm welcome.