Archive for the 'Jews' Category
'Casual Anti-Semitism' – Tariq Ali.
Two groups on the left have stood firm for peace, justice and in the Middle East. without any concession to anti-Semitism or backing for attacks and repression against the Palestinian people. The British, Socialists Against Anti-Semitism, and the Réseau d'Actions contre l'Antisémitisme et tous les Racismes:
Yesterday's pro-Palestinian march in London included many groups and heard a broad range of speakers most of whom expressed the justified and right call for violence to end in the Middle East and for Israel to stop attacks on Palestinians.
But Socialists Against Anti Semitism has expressed serious concern at this:
Veteran activist & writer Tariq Ali :"They have learnt nothing from what happened in to them in Europe. Nothing. They talk a lot about saying all those marching for Palestine are anti-Semites. This of course isn't true. But I will tell you something they don't like hearing. Every time they bomb Gaza, every time they attack Jerusalem – that is what creates antisemitism. Stop the occupation, stop the bombing and casual antisemitism will soon disappear."
The group states,
"This is a wholesale transfer of the blame for what Israel has been doing to the Jewish people as a whole. The dead of the Holocaust cannot be blamed for what Israel does today. In a growing list of anti-Semitic statements from Ali, this perhaps is the most blatant yet. We would remind him of two things : 1 ) those died in the Holocaust are not to blame for anything ever done by the state of Israel. 2 ) Antisemitism is caused by anti-Semites, just as all racism is caused by racists. Nothing else creates antisemitism. It's time for those who call themselves anti-racists to stop giving him a platform."
Ali speaks for a tiny band of one, distinguishing himself in recent years by attacks on Charlie Hebdo after our comrades were murdered by Islamists and unbridled enthusiasm for Brexit.
It is indeed time for him to be cancelled.
A protest in support of the people of Palestine was marred by some anti-Semitic protesters who held placards expressing anti-Jewish hate, it has been reported.

Thousands of pro-Palestine supporters marched across London on Saturday, with people holding banners, placards and flags to show their solidarity with Palestine.

However, some protesters allegedly held placards displaying swastikas and references to Nazis.

According to the Times, a woman held a poster that read: "Israel, the new Nazi state" while another placard referred to "Holocaust Part 2".

It comes amid a rise of anti-Semitic incidents over the past week.

Britain's Leading Vegan and Red Browner Sinks to New Depths.
This Creature, once a Blairite, then a 'left' MP, was backed by some sections of the left, and is at present a supporter of the Socialist Party/RMT Trade Union Socialist Alliance (TUSC). Have you ever, in all your puff, seen such a blighter? He'll be accusing 'Zionists' of being child abusers next.
I leave this filth for others to comment further.
Update nothing about this campaign against 'Zionist' teachers yet on his Resistance Movement site;
35scFounder and ex Labour MP for Derby North. Vegan and animal rights champion.
35scFounding member of the Socialist Labour Party. Director for Resist. Lifelong Community activist and Anti Imperialist campaigner for Socialism.
24.20scFormer Trade Union Officer, Teacher and small business owner. Director & National Coordinator for Resist. Infrastructure and Membership.
16scDirector for Resist. Communities and Fundraising. Shamsher has worked to address inequalities in communities for over 30 years.
31scPhotographer and Co Founder of The Word newspaper.
14scScotland – (Highlands & Islands) Running printing works for leftist organisations in Europe and Palestine for 17 years. Lived for 25 years in South Africa. Consolidated Print media for the ANC after first all-race election 1994.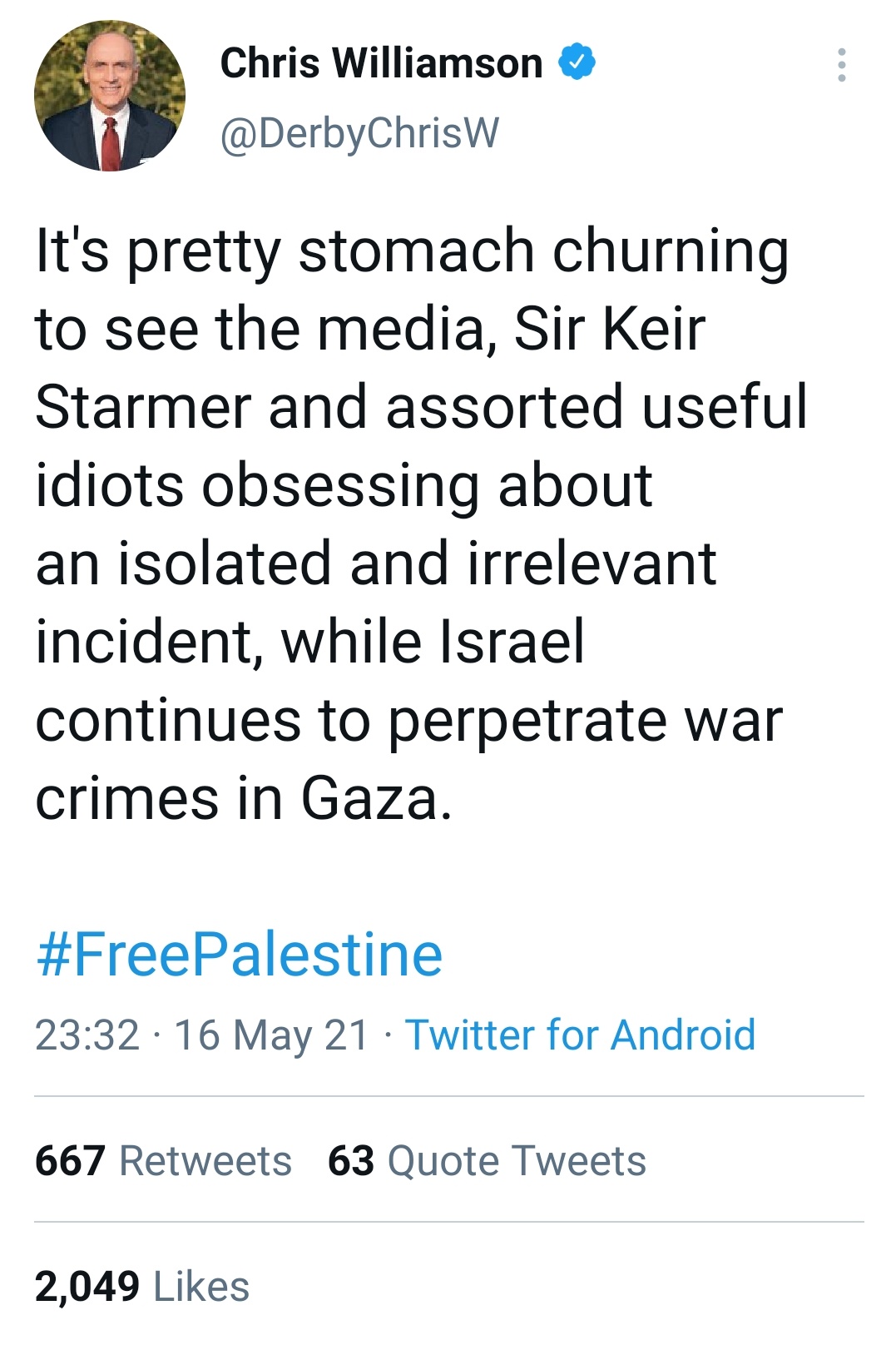 The Red-Brown Front, Chris Williamson, Complotiste, Assadist and supporter of the Trade Union and Socialist Coalition. (TUSC).
Chris Williamson RetweetedAsa Winstanley@AsaWinstanley·Israel has a troll army called "http://Act.il" which they openly boast about, and has a budget of more than $1 million a year. And that's only the one we know the most about:
For some of us, who noted that Williamson never expressed outrage at the mass killings of the Syrian regime, his comment about war crimes is greatly distasteful: "For me, one of the most unforgivable things Williamson has done, last summer, was promote Vanessa Beeley, a war crimes denier and fake news merchant. Here is an extract from Oz Katerji in the New Statesman on this incident: Williamson, who was attending the Beautiful Days festival, tweeted of his "privilege" in meeting Vanessa Beeley, a blogger who described meeting the Syrian regime's war criminal president Bashar al Assad as her "proudest moment" and has waged a relentless campaign of lies and distortion to promote the Assad regime abroad… Responding in kind to Williamson's endorsement, Beeley said in a Facebook post "Hats off to Chris Williamson, Labour MP – a genuine human being."..