Archive for the 'Jews' Category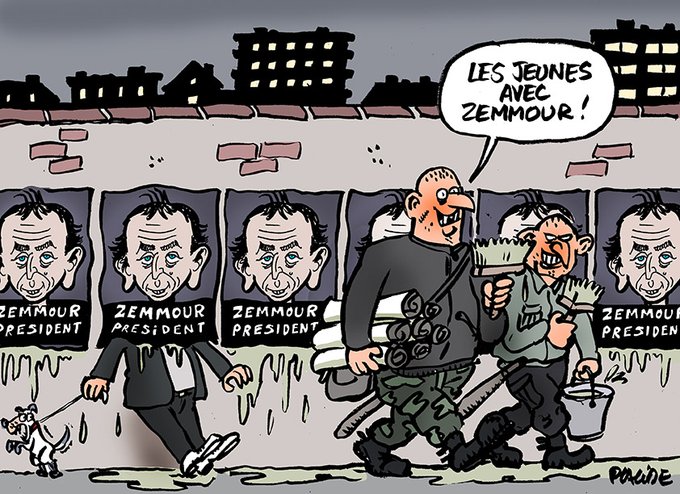 June: Posters were put up across France to back Zemmour's Presidential Bid.
Paul Mason wrote recently,
Something has changed on the far right. Via the anti-mask and lockdown movements, the anti-vaccination movement, the QAnon conspiracy theory and – most recently in Britain – the movement against footballers "taking the knee", they have learned a new, more rigorous ideology. It goes way beyond the "racism, nationalism, xenophobia and the strong state" checklist the European Commission adapted from political science.
When we speak of the far right we are no longer dealing with a tribute band to Nazism, Falangism or Mussolini – though such formations still exist. We are dealing with an ideology that is co-created by its participants online; which communicates memetically, through irony, subtext and whose followers teach each other flagrant indifference to the facts.
Paul Mason: Fascism in Europe is on the rise… here's how to fight it
Mason offers valuable insights but it is far from clear where to fit the latest far-right figure to pass from ideologue – handsomely paid ideologue with numerous media outlets, to a bid for the office of Head of State.
That figure is Éric Zemmour, writer and media pundit, in the press and television, notably on C News (Face à l'info) (1). He has been dangling a Presidential candidacy for some months now.
Like most of the French far right Zemmour has been opposed to the Health Pass, has talked about its Orwellian implications, even calling it part of a "dictature sanitaire. But the main thrust of his politics is simple: anti-immigration (he is himself of Algerian Jewish heritage). It is often said that he would like to see a "«grand rembarquement» of immigrants. That is their departure en masse.
Zemmour has been described as an "ultra-conservative", though he himself refers to Napoleon Bonaparte and De Gaulle with a dose of republican souverainisme, in the mould of former Socialist Minister Jean-Pierre Chevènement. Phillipe Corcuffe has talked of an alignment with 'post-fascism'. That is around the themes of defending traditional gender roles, the promotion of pure, original, French 'identity', the promotion of the 'real people', the people-nation against 'globalisation, and hero-worship of Great Men, "gaullo-bonapartisme". (See notably Pages 236 – 248.  La Grande Confusion », Philippe Corcuff. 2021). His criticisms of the EU's neo-liberalism sometimes echo those of the 'left', like the pro-Brexiteers in the UK. He is opposed to 'humanitarian interventionism' and the 'neo-colonial idea of human rights.
The polemicist has been described by Shlomo Sand as dreaming of a single France, united, centralising, and uniforme, which will live for ever. (Page 253. La Fin de l'intellectuel Français 2016).
You can read, this Blog has said before, his key work, Le Suicide Français, for free here.
There's a lot worse than this in Zemmour's past and present. Éric Zemmour has been convicted three times by French jurisdictions for provocation to racial discrimination or hatred toward Muslims.
Here is his take on rival far right nationalist populist Marine le Pen.
The polemicist and probable presidential candidate will no longer keep his weekly column in Le Figaro. The man who will be tried on September 8 for "inciting discrimination" and "racial insults" will devote himself to promoting his new book…
The comment about "to the right of Le Pen" is not an exaggeration:
He's now at 7 % in the opinion polls.
Eating into the right wing and far right electorate:
(1) Amongst many media controversies are these,
The chronicler had notably declared that Bashar al-Assad "did not gas his people but people who were his adversaries" 48 , that "either we sleep with the other sex and have children, or we do not sleep with them. the other sex and we have no children " 49 , that Pétain had saved the " French Jews " from the Nazi camps by sacrificing " foreign Jews " and that, in order to be French, one would have to take the point of view of France and renounce the point of view of his ancestors, including being "on the side of General Bugeaud ", who in Algeria "began to massacre the Muslims and even some Jews" >
Labour Party threatens to sue activist over criticism of Israel debate ban
The Electronic Intifada.
This is their take on things…(extracts)
Britain's main opposition Labour Party is threatening to sue a Jewish activist for criticizing a party official who blocked local activists from debating sanctions on Israel.

It marks another escalation in leader Keir Starmer's war on the left, particularly supporters of Palestinian rights.

It also comes after similar legal threats from the party against The Electronic Intifada.
They continue.
"Earlier this month, activist Tony Greenstein received a letter from London law firm Edwards Duthie Shamash accusing him of defamation over a 26 June blog post.
That post is about how two Labour officials, Kim Bolton and Scott Horner, banned members of the Hove and Portslade Constituency Labour Party from debating a motion calling for sanctions on Israel following its bloody attack on Gaza in May.
As The Electronic Intifada reported, Horner, Labour's South East regional officer, had advised Bolton, chair of the local party, that debating the motion "would undermine the party's ability to provide a safe and welcoming space for all members, in particular Jewish members."
"Aggressive" body language (something we all know Greenstein shows…)
The lawyers, who say they represent Horner and the Labour Party, gave Greenstein 14 days to withdraw his comments, apologize and pay legal expenses, or face the prospect of "proceedings against you without further notice" under Britain's Defamation Act.

They also demand Greenstein promise "not to publish any future statements, articles or social media posts relating to our client."

The lawyers claim that Greenstein's accusations caused Horner "emotional distress due to their seriousness in nature and in a climate of increased anti-Semitic hostilities."
Greenstein's own take written is his own inimitable language.
Imagine my surprise when I recently received a letter from solicitors for the Labour Party threatening to sue me for libel. What was my crime? I had posted a blog on 27 June accusing Kim Bolton, the Chair of Hove CLP and Scott Horner, Labour's South-East Regional Organiser, of being racists and anti-Semites. Which they are!
Recent activities of the Monster Raving Greenstein Party:
Bankruptcy Orders
GREENSTEIN, TONY
PO Box 173, BRIGHTON, BN51 9EZ
Tony Greenstein also known as Anthony Greenstein and also known as Anthony Nathan Greenstein of current address unknown, England lately of (a) PO Box 173, Brighton, BN51 9EZ; Currently unemployed.
In the High Court Of Justice
No 159 of 2021
Date of Filing Petition: 1 June 2021
Bankruptcy order date: 14 July 2021
Time of Bankruptcy Order: 10:46
Whether Debtor's or Creditor's Petition—Creditor's
Name and address of petitioner: CAMPAIGN AGAINST ANTI-SEMITISMPO Box 2647, LONDON, W1A 3RB
K Jackson 1st Floor, Spring Place, 105 Commercial Road, Southampton, SO15 1EG, telephone: 03030031735
Capacity of office holder(s): Trustee
14 July 2021
Update:
There is a theory that "Greenstein appears to be on a "take 'em all down with me" mission at the moment."
'Casual Anti-Semitism' – Tariq Ali.
Two groups on the left have stood firm for peace, justice and in the Middle East. without any concession to anti-Semitism or backing for attacks and repression against the Palestinian people. The British, Socialists Against Anti-Semitism, and the Réseau d'Actions contre l'Antisémitisme et tous les Racismes:
Yesterday's pro-Palestinian march in London included many groups and heard a broad range of speakers most of whom expressed the justified and right call for violence to end in the Middle East and for Israel to stop attacks on Palestinians.
But Socialists Against Anti Semitism has expressed serious concern at this:
Veteran activist & writer Tariq Ali :"They have learnt nothing from what happened in to them in Europe. Nothing. They talk a lot about saying all those marching for Palestine are anti-Semites. This of course isn't true. But I will tell you something they don't like hearing. Every time they bomb Gaza, every time they attack Jerusalem – that is what creates antisemitism. Stop the occupation, stop the bombing and casual antisemitism will soon disappear."
The group states,
"This is a wholesale transfer of the blame for what Israel has been doing to the Jewish people as a whole. The dead of the Holocaust cannot be blamed for what Israel does today. In a growing list of anti-Semitic statements from Ali, this perhaps is the most blatant yet. We would remind him of two things : 1 ) those died in the Holocaust are not to blame for anything ever done by the state of Israel. 2 ) Antisemitism is caused by anti-Semites, just as all racism is caused by racists. Nothing else creates antisemitism. It's time for those who call themselves anti-racists to stop giving him a platform."
Ali speaks for a tiny band of one, distinguishing himself in recent years by attacks on Charlie Hebdo after our comrades were murdered by Islamists and unbridled enthusiasm for Brexit.
It is indeed time for him to be cancelled.
A protest in support of the people of Palestine was marred by some anti-Semitic protesters who held placards expressing anti-Jewish hate, it has been reported.

Thousands of pro-Palestine supporters marched across London on Saturday, with people holding banners, placards and flags to show their solidarity with Palestine.

However, some protesters allegedly held placards displaying swastikas and references to Nazis.

According to the Times, a woman held a poster that read: "Israel, the new Nazi state" while another placard referred to "Holocaust Part 2".

It comes amid a rise of anti-Semitic incidents over the past week.