Archive for the 'Israel' Category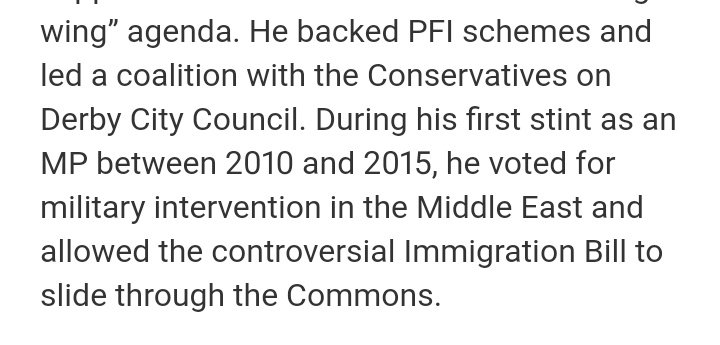 Chris Williamson's Record.
The news today:
Labour faces calls to suspend Chris Williamson over anti-Semitism comments
BBC.
Labour is facing growing calls to suspend one of its MPs for "deeply offensive" comments about the party's handling of anti-Semitism.

Chris Williamson said Labour has been "too apologetic" in the face of criticism and was being wrongly "demonised as a racist, bigoted party".

Deputy leader Tom Watson said the Derby North MP brought Labour into disrepute and should have the whip withdrawn.
This is his 'apology'.
Shiraz sets the line: Chris Williamson is a disgrace
Comrade Bob from Brockley has been posting on this individual for some time:
I recently posted on Chris Williamson, the odious Labour MP who really needs to have the party whip removed from him. I didn't think Williamson could stoop any lower than he has already, but today he signed a petition defending Gilad Atzmon, tweeted the petition, then deleted the tweet, and later wrote a half-arsed non-apology. (Atzmon had been banned by Islington council from playing there in the Blockheads. Not sure I approve of this ban, as when he is playing saxophone in someone else's band he hasn't got a platform for his politics. But given how toxic he is, I'm not going to complain about him being considered a pariah.)

If you don't know who Atzmon is, here's over 13 years' worth of my blogposts about him. The short version is he is an Israeli-born jazz musician who long ago renounced his Jewishness, became a Holocaust revisionist and antisemite. He is not only denounced by anti-fascists like Hope not Hate but also by anti-Zionists such as As'ad AbuKhalil, Michael Rosen and Tony Greenstein.

Williamson's apology to me reveals he is either more stupid or more dishonest than we already realised but either way confirming he doesn't care at all about racism against Jews. Because either he saw a petition complaining about someone being accused of antisemitism and just assumed the accusation was false without bothering to research it (in which case he is remarkably stupid and irresponsible, as well as automatically assumes accusations of antisemitism are always false) or he's lying.

And Williamson has a track record:
And there is this.
For me, one of the most unforgivable things Williamson has done is promote Vanessa Beeley, a war crimes denier and fake news merchant. Here is an extract from Oz Katerji in the New Statesman on this incident:
Williamson, who was attending the Beautiful Days festival, tweeted of his "privilege" in meeting Vanessa Beeley, a blogger who described meeting the Syrian regime's war criminal president Bashar al Assad as her "proudest moment" and has waged a relentless campaign of lies and distortion to promote the Assad regime abroad.

This is not Williamson's first dalliance with pro-Assad trutherism, having voiced doubts over allegations that Assad was responsible for the gas attack on Douma while addressing a protest outside parliament in April 2018. Williamson has been no stranger to causing offence to Jewish Labour members in recent months, so his endorsement this week of Beeley, who has also been accused of anti-Semitism, marks another new low for the Labour party.

Responding in kind to Williamson's endorsement, Beeley said in a Facebook post "Hats off to Chris Williamson, Labour MP – a genuine human being."…

Williamson's tweet provoked immediate condemnation, drawing a strong response from James O'Brien, who called Williamson a "disgrace" and referred to Beeley as "Assad's very own Alex Jones."

The Washington Post's Middle East correspondent, Louisa Loveluck, responded to Williamson's endorsement of Beeley's "reporting" with: "Beeley has justified the use of incendiary weapons against civilians, recycled and championed debunked conspiracy theories, and described a meeting with Assad as her proudest moment. This is cheerleading, not reporting."

Noting that Beeley has viciously slandered the late Jo Cox (Beeley "has shamelessly accused her of being a "warmongering Blairite" and "al-Qaeda advocate" endorsing a policy of "wholesale devastation" on Syria.) Oz argues that the Labour Party has a choice between being the party of Jo Cox or the party of Chris Williamson.
Here is the latest from this source:
Here is one of Williamson's last best friends.
At the moment Skwawkbox seems too occupied with trying the foment a Labour rebellion against party policy on a new vote on Brexit to post in Williamson's defence…..
This is his last effort: RIGHT-WING ABUSE OF LEFT-WING MP WILLIAMSON SPREAD UNCRITICALLY BY MSM