Archive for the 'Israel' Category
"A safer pair of hands, a less disruptive force, than even the Tories." – Tribune.
How Keir Starmer Sabotaged Rebecca Long-Bailey
The Editor of Tribune, Ronan Burtenshaw is beside himself, "From her earliest days as shadow education secretary, Keir Starmer set about undermining Rebecca Long-Bailey – because her socialist politics and loyalty to trade unions were incompatible with his leadership."
The socialist politics Rebecca Long-Bailey represents has no place within Starmerism, as the other Left members of the shadow cabinet will realise in due course. His political project is to present Labour to the British establishment as a safer pair of hands, a less disruptive force, than even the Tories.
The chief of the re-vamped and US-owned journal, announced as a monthly in 2018, now reduced to a quarterly appearance,  also asserts,
To many onlookers, Rebecca Long-Bailey's sacking might have seemed strange. After all, she was fired for sharing an interview by someone else in which they made a claim which was only marginally incorrect. (The Israeli police do, in fact, train the US police and encourage the use of "excessive force" against those who "pose little or no threat.").
He concludes,
Starmer's determination to be seen as sensible by the business and media elites is also incompatible, in any longer-term sense, with unity with the Left. It is not possible to present yourself as unthreatening to capital with principled socialists as part of your coalition. And so, they were always going to be sidelined – it was a matter of time.
It would be interesting to see what plans, and with what troops,  Burtenshawn has to threaten capital and to challenge the "powerful", and all those business and media "elites".
The would-be general of the revolt concedes,
Such an approach might win an election.
So what is he wittering on about?
That Starmer might succeed without toppling the statues and moments of capital?
Perhaps he could ask his close allies:
The Morning Star, totally independent of the Communist Party of Britain, which called to boycott Labour and voting for any party in last years' European election,  said of the Long-Bailey's dismissal,
Sacking Rebecca Long Bailey is an attack on the whole left
Attempting to dismiss references to the relationship between the Israeli and US security forces as "an anti-semitic conspiracy theory" is a cynical bid by the Board of Deputies to warn people off attacking the Israeli government at a time when its plans to annex the West Bank are arousing widespread condemnation.

Using it as an excuse to sack Long Bailey looks like a cynical bid by Starmer to drop a shadow minister whose refusal to attack teaching unions and parrot his irresponsible push for schools to fully reopen more quickly showed up the weakness of his opposition to a Conservative government whose mismanagement of the Covid-19 pandemic has cost tens of thousands of lives.
In other words Starmer acted against Long-Bailey because of his own failings, an inability to stand up to a Cabinet which is causing tens of thousands of deaths. Not only is the Labour leader unable to stand up to the mismanagement that is leading to people dying, his "cynical" move is against trade unionists in the teaching profession and in line with a further "cynical bid" bu the Board of Deputies to prevent people attacking Israeli plans for the West Bank.
Some might suggest that this looks a bit like a conspiracy!
Today the paper which likes to speak on behalf of the "whole left" says,
Editorial: Covid-19 is still a crisis – but Labour isn't grappling with it
Where's Labour? Hinting that it is now ready to drop the radical Green New Deal programme developed by the previous leadership.

Keir Starmer's spokesperson says that new climate commitments will be written "in four or five years' time," that is in line with the parliamentary electoral cycle which he assumes is immune from external factors.

That shows no desire at all to try to work with, let alone lead, those fighting to transform this crisis into an opportunity for far-reaching change in the present.
Pause.
The Morning Star believes that Brexit is an "opportunity" for a 'people's' then a 'socialist' Brexit.
Now it seems to think that Covid-19 and the Green New Deal are further opportunities to begin "far-reaching changes".
With such an abundance of fruitful chances, how many more opportunities can we deal with?
Fact Checking.
The furious Tribune boss and his friends in the Morning Star has yet to respond in full to this:
Did Israeli secret service teach Floyd police to kneel on neck?
Channel Four FactCheck.
It seems Ms Peake's original claim is based on an article in the Morning Star from 1 June, which states: "At least 100 Minnesota police officers attended a 2012 conference hosted by the Israeli consulate in Chicago, the second time such an event had been held."

The article has been shared over 40,000 times on Facebook, according to analytics provided by the website Crowdtangle.

This description appears to be supported by a report from Minnesota Public Radio (MPR) at the time of the event. By the MPR account, the conference took place in Minneapolis and was "put on by the Israeli consulate in Chicago, the FBI and Minnetonka police". (Minnetonka is the neighbouring city to Minneapolis).

Which techniques were taught?

The Morning Star piece alleges that those attending the 2012 conference "learned the violent techniques used by Israeli forces as they terrorise the occupied Palestinian territories under the guise of security operations."

The article does not explicitly claim that Israeli forces taught American police to kneel on a person's neck at the conference.

The only link to this tactic in the story is made by an activist, Neta Golan, who told the paper: "When I saw the picture of killer cop Derek Chauvin murdering George Floyd by leaning in on his neck with his knee as he cried for help and other cops watched, I remembered noticing when many Israeli soldiers began using this technique of leaning in on our chest and necks when we were protesting in the West Bank sometime in 2006."

Ms Golan is quoted as saying: "it is clear that they [Israel] share these methods when they train police forces abroad in 'crowd control' in the US and other countries including Sudan and Brazil." The information in square brackets is from the Morning Star's copy.

The article mentions a 2016 report by Amnesty which lists US police forces that have "all traveled to Israel for training" and "thousands of others" that "have received training from Israeli officials here in the U.S."

After yesterday's controversy involving Maxine Peake and Rebecca Long-Bailey, Amnesty International told the New Statesman: "the precise nature of the training offered to US police forces by Israeli officials is not something we've documented".

They added: "Allegations that US police were taught tactics of 'neck kneeling' by Israeli secret services is not something we've ever reported".

Beyond the speculation of one activist, there is no information in the Morning Star article that would support the claim that the specific practice of kneeling on a person's neck was taught to US police by Israeli forces.
Or indeed Jim's latest post which signalled a justified scepticism about anything that appears in the Morning Star, wholly independent of the CPB and owned by the co-op that it is,
Long Bailey, 'antisemitic conspiracy theories' and the dangers of believing what you read in the Morning Star
It is quite possible to feel sorry for RLB – and to doubt that she is personally an antisemite – whilst recognising that she's been an idiot and that Starmer, operating in the real world, had no choice but to sack her (not least because the EHRC's report into antisemitism in the party is on its way, and expected to be highly critical).
Others have noted the flaws in the article Long-Bailey retweeted,
Rebecca Long-Bailey's sacking: such a fine line between stupid and clever
George Chesterton.
The first point – echoing the sentiments of so many charming hard-left voices of the past five years that anyone who didn't like Jeremy could "fuck off and join the Tories" – is all very well for Peake, but for a shadow cabinet minister to put a tick by such a knuckleheaded suggestion, even after the crushing defeat, betrays a lack of nous that would make Chris Grayling blush. According to Peake, Labour voters who didn't vote for Corbyn should "hang their heads in shame". Perhaps the electorate should apologise. But again, couldn't Long-Bailey see what this self-harm had achieved? People literally had fucked off and voted for the Tories.
He concludes,
 ..let's get this straight: Long-Bailey is praising an article in which an actor bad-mouths her new boss.
Quite.
Update, some reverberations:
Ronan Burtenshaw, editor of Tribune, says Starmer acted to "protect the reputation of the Israeli occupation'.
In recent weeks Keir Starmer, elected Labour leader with 56,2% of the party members' vote,  has managed to dent Boris Johnson's in the House of Commons. He has raised  issues, including the Tories' handling of the Coronavirus panademic, and the rubber-stamping a Tory donor's property development, that have further weakened the Conservatives position. Starmer's approval rating keeps rising in the opinion polls.
This news now dominates the Labour landscape.
Now, according to many on the left (overwhelmingly those who never supported him), the sacking of Rebecca Long-Bailey has struck a blow against the Corbyn legacy and socialism.
Momentum is using the sacking to mobilise to "win back power" in the party.
The Editor of Tribune (now owned by the US left-populist Bhaskar Sunkara, (New owner of relaunched bi-monthly Tribune magazine says 'Morning Star will cover the beat and we'll do more analysis') is perhaps not widely taken seriously.
But John McDonnell is.
McDonnell immediately received these replies (by people this Blog knows),
The Guardian's Heather Stewart reports on widely shared explanations for the sacking.
One Starmer-sceptic also pointed out that Long-Bailey, who represents a leave-voting constituency, had been sympathetic to Brexit, during the bitter internecine battle over the party's stance that raged throughout last year.

Perhaps it didn't help, either, that Starmer was visibly irritated last week when Boris Johnson wrong-footed him at prime minister's questions by pressing him to say he thought it was safe for children to go back to school.

Starmer's allies insist he has worked closely with Long-Bailey on schools policy; but some more centrist Labour MPs have accused her of listening too intently to teachers' unions, and not enough to parents, as she warned about the risks of wider reopening.

For these reasons he may not lament her departure from the frontbench, but Starmer's allies insist he would deal just as determinedly with claims of antisemitism even if they came from a close political friend.

Starmer's removal of Long-Bailey has rekindled Labour's civil war
A measured repose comes from Paul Mason.
The claim that Israeli police forces taught the US police the "neck kneeling" that murdered George Floyd has been denied.
The same link was made recently by Tariq Ali, who has supported a variety of political  parties and is at present believed to be a member of Labour.
I would now like to come to another part of the world which ironically links the knee on the neck to George Floyd to this region because a lot of the American police forces have been trained in Israel. Not just the Americans but many from right-wing countries in South America. And the methods in dealing with protests or ordinary citizens is virtually the same. You can find lots of photos of Israelis when these people are brave enough to take photographs with their knees on the neck of Palestinians."

Coronavirus, War & Empire: Arundhati Roy & Jeremy Corbyn in Conversation w/ Tariq Ali
Many consider that some on the left are so anxious to tie in Israel and Zionism to anything that they jumped on the opportunity to get them implicated in George Floyd.
Perhaps they will claim that the French police, who have been caught up in (justified) accusations, have been instructed by Israel.
Cédric Chouviat, a 42-year-old deliveryman, died in January after officers pinned him to the ground and put him in a chokehold, police tactics that are increasingly being called into question.

…

On Monday, Le Monde newspaper and Mediapart, an investigative news site, both reported details of the videos in which Mr. Chouviat can be heard saying "I'm suffocating" seven times over a roughly 20-second period as the officers arrested him.
More: Violences policières : avant la France, comment certains pays ont limité le recours à la clé d'étranglement et au plaquage ventral. Radio France. 20.6.20.
Update:
Long-Bailey continues to gain support….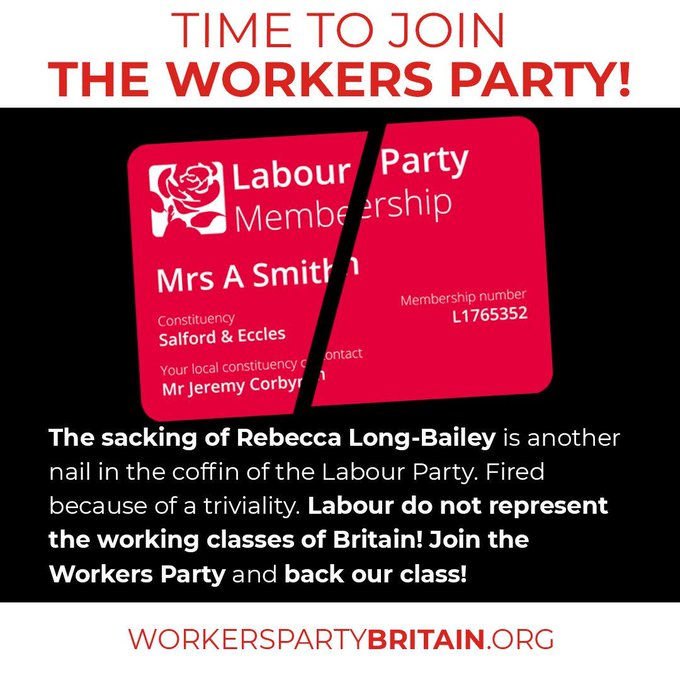 General Boulanger and the original Red-Brown Front.
In Memory of a Great Voice, Zeev Sternhell, 10 April 1935 – 21 June 2020.
Israeli historian and political scientist Zeev Sternhell, a peace activist and one of the leading thinkers of the country's left, has died aged 85, Jerusalem's Hebrew University said Sunday.
Polish-born Sternhell, head of the university's political science department, was an outspoken champion of Palestinian rights who strongly criticised Jewish settlements in the occupied West Bank.

Hebrew University president Asher Cohen hailed Sternhell, a professor emeritus there who was awarded the prestigious Israel Prize for political science in 2008, as "among the most important researchers" to emerge from the institution.

"His innovative political science research, which was translated into many languages, brought a deep change in the academic perception of ideological movements, specifically radical movements," Cohen said.

Ayman Odeh, head of the Arab-led Joint List in Israel's parliament, wrote that "during his childhood in Poland, Sternhell experienced the terrible results of fascism, and throughout his life had the courage and strength to research and fight it.

"For decades he was a significant voice for Palestinian human rights and against the occupation in the territories."
The article continues,
His academic work also delved into the "French roots of fascism" and stirred lively debate and controversy, according to former student Denis Charbit, now a lecturer at the Open University of Israel.

Sternhell was a "very demanding" professor, but also one "attentive" to his best students, Charbit told AFP.

In addition to academic writing and books, he regularly published opinion pieces in Israeli newspapers, most notably Haaretz, many of which were critical of settlers.

On one occasion Sternhell called the settlement movement a "cancer" in Israeli society, and in another instance said a settlement should be attacked with tanks
Sternhell continued his political combat,
After receiving the Israel Prize in 2008, he was wounded the same year by a bomb planted outside his house by a right-wing extremist.

Sternhell himself said the attack was testimony to the "fragility" of Israeli democracy.

In an interview with Haaretz later that year, he warned of the ongoing occupation of Palestinian territories and the condition of Israel "not respecting the national rights of others".

In a 2014 interview with Haaretz, during Israel's war against Hamas in Gaza, Sternhell warned that the Jewish state's democracy was "facing collapse".

"The Israeli democracy is eroding, and the signs (of emerging fascism) exist," he said.Tamar Zandberg, of left-wing party Meretz, said Sternhell's lasting legacy would be his work towards "a strong and not occupying Israeli democracy".

Communication Minister Yoaz Hendel offered his condolences to the Sternhell family, noting that while he didn't share many of Sternhell's opinions, "prominent intellectuals like him, from right and left, are the foundation to our existence as the people of the book".]

According to Haaretz, Sternhell died as a result of complications following surgery.
He is survived by his wife, two daughters and several grandchildren
Zeev Sternhell was at the centre of not just of Israeli political debate, but amongst the left and anti-fascists, in Europe, above all in France. Awarded a Ph.D. in 1969 from the Institut d'études politiques de Paris,  for his thesis on The Social and Political Ideas of Maurice Barrès, a key figure in the culture and ideology of the nationalist right, he had a great influence had, far wider than academic circles and far beyond the hexagone.
I first came across his books during the mid-1980s in the Bibliothèque municipale  Place Jules Joffrin, 75018 Paris in  The study,  Ni droite ni gauche. L'idéologie fasciste en France, 1983; transl. Neither Right nor Left: Fascist Ideology in France, has an enduring impact. This was reached many people on the left, as has been testified on hearing of his passing.
Sternehell's work has found new audiences with the rise of national populism, and the creation of 'neither right nor left' red-brown fronts across Europe, from the pro-Brexit alliances in the UK to the defection of many parts of the sovereigntist left in many countries to the nationalist 'anti-metropolitan elite" right. His account of the literary and polemical figure of the nationalist Maurice Barrès and his appeal to La terre et les Morts (Maurice Barrès et le nationalisme français. 1972), the homeland heritage and the living memory of the dead, evokes ideas one can find amongst defenders of the 'somewhere' folk who criticise the 'anywhere' people.  
In La Droite Révolutionnaire, (First Edition, 1978) Sternhell proposed that late 19th century and pre-Great War France was the cradle of fascist ideology. France was, in Sternhell's eyes, an ideal field for studying pre-fascism, and, full blown, "neither left nor right" fascist thought. His focus began on General Boulanger's 1886 campaign, an anti-parliamentarian movement which, following defeat in the Franco-Prussian War (1870 1871)  of  demanded 'revenge' against Germany, – the return of Alsace-Lorraine to France – and a clear out of the 'cabals' in the name of the People. His campaign was backed by Monarchists, Bonapartists, Maurice Barrès, some republicans and revolutionaries from the Blanquist tradition, and nationalists.
A part of the early French socialist movement  saw in the movement a protest against (as Sternhell put it) " les grands seigneurs de la finance." Some saw in Boulangism a patriotic reaction against Parliamentary and social elites,  that they could turn towards the left. Anti-Jewish sentiment, organised anti-semitism, appeared, leading to the creation of the Ligue antisémitique de France in 1889. Others from the socialist movement considered that the left should stand firm behind republican democracy and reject Boulanger: Le Bilan Boulanger. 1888 (M. Lissagaray)
In Ni droite ni gauche: l'idéologie fasciste en France (First Edition, 1983), Sternhell  turned to the 20th century.  In the years preceding the Second World War these movements drew together calls to "workers of all classes" against banking "hyper" capitalism, drew on the romance of the nation, and opposition to the liberalism of the Enlightenment and the elites of the Third Republic. This, he argued,  indicated that fascism originated and continued to operate as a synthesis of socialist ideas and nationalism.
The book surveyed anti-parliamentarian nationalism (the 'ligues'), "planiste" sections of French social democracy (Marcel Déat), the Monarchist and anti-Semite Action française, the mass parties of the later 1930s, the Parti Social français (PSF), the Parti Populaire français (PPF) of the renegade Communist Jacques Doriot, and a mixed bag of admirers of National Socialism and Mussolini. 
Last year Sternhell edited and contributed to an important study of pre-war French far right movements, L'Histoire refoulée. La Rocque, les Croix de feu, et le fascisme français. Sous la direction de Zeev Sternhell. 2019.
In 2006 Sternhell published a study of anti-Enlightenment thought, Les anti-Lumières: Une tradition du XVIIIᵉ siècle à la guerre froide. Edmund Burke and Thomas Caryle took their place alongside Herder and Charles Maurras as those defend the "moral capital" of tradition against what Frank Feurdi, from the Red-Brown sie Spiked calls "the counter-culture establishment". (The birth of the culture wars.  This century-long conflict is born of the Western elites' loss of cultural and moral authority. Spiked 19.6.20).
Sternhell, by contrast, defended neither cultural nor moral authority nor tradition.
His work was offers us landmark historical studies and a brilliant exercise of the "critical tradition" of the Enlightenment.
As he wrote, "Aucun ordre établi  n'est légitime du seul fait qu'il existe. La justice et le bonheur sont des objectifs valables et légitimes…l'homme est capable d'aller en avant, a condition qu'il fasse appeal a la raison." (Les anti-Lumières: Page 796).
"No established order is legitimate by the mere fact that it exists. Justice and happiness  valid and legitimate objectives …humanity  is able to progress, on condition that we use our capacity to reason.
Let that be Sternhell's epitaph.