Archive for the 'Islamism' Category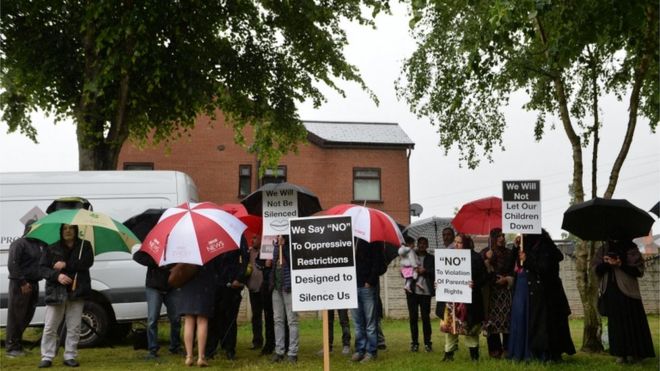 Bigots still Demonstrating last week against Equality Teaching.
The row over gender equality teaching continues to grow.
The campaign is supported by Islamists, some parents, and the far-right StopRSE campaign against 'sexual liberation' and "cultural Marxism".
This is the mixture of extreme right wing and Islamists latest statement (June the 7th).
Muslims against LGBT which we all know it isn't ….

As Muslims or people of faith we do not need to justify that we are not homophobic – because we are not – in the same way that as Muslims we do not have to apologise for terror attacks – because we are not terrorists…. don't fall into this trap of apologising for something you haven't done as it deflects the conversation away from what needs to be discussed …

We are against RSE because it is a clear erosion of parental rights and a state take over of the parenting role which is one of the first steps of a totalitarian regime

We are against RSE because it is open to abuse by nefarious Lobby groups who will use it to push their own sexual ideologies into the classroom

Schools should be about education and that's all …. ideology must not be allowed through the school gate

The sexual ideologues however are using RSE as a back door in to schools

Do not be fooled by the terms 'inclusion, diversity, tolerance, equality etc – they have very specific definitions to those who use them than to the way in which the rest of us interpret them …

People are thankfully starting to wake up to the political machinations being played but we have to stay awake and not be lulled back into the warm water 🐸

StopRSE
The protests are continuing now with the backing of right-wing Labour MP Roger Godsiff.
Roger Godsiff reported to chief whip for telling campaigners protesting against LGBT lessons 'you're right'

A Labour MP has been reported to the chief whip for telling campaigners protesting against LGBT teaching at a Birmingham primary school "you're right".

Roger Godsiff, the MP for the city's Hall Green constituency, which includes Anderton Park Primary school, also told protesters they had a "just cause" and criticised the headteacher.

The shadow education secretary, Angela Rayner, said she had reported the "discriminatory and irresponsible" comments to the chief whip, Nick Brown.

Parents have staged weeks of protests outside the school against the teaching of LGBT rights, claiming the lessons were "overemphasising a gay ethos" and contradicting Islam.

The demonstrations, which were described last week as "homophobic" by the West Midlands mayor, Andy Street, led the council to apply for a high court interim injunction, which banned rallies outside the gates from Friday.

Godsiff, who has previously said the equality lessons were not "age appropriate", was seen telling the protesters they were "right" in a video that emerged this weekend.

The veteran MP, who is seen with Shakeel Afsar, the lead organiser of the protests, said: "I think you have a just cause and I regret the fact that it hasn't been reciprocated by the headteacher."

He asked demonstrators to consider calling off the protest as he said they had made their point, but added it would be their choice to do so. He then said: "I will continue to try and fight your corner because you're right. Nothing more, nothing less. You're right."

Wes Streeting, the Labour MP for Ilford North, said he would be tabling a formal complaint to the party about Godsiff. He said: "This made me feel sick to my stomach. One of my own Labour colleagues stood with people who have peddled hatred and bigotry on school gates, intimidating pupils, teachers and parents."

The Labour LGBT group also called for the whip to be removed and condemned Godsiff's remarks "unreservedly and unequivocally".
Birmingham LGBT row: MP reported after backing school protest

BBC.

The MP for a primary school facing protests over LGBT teaching has been reported to the chief whip after telling campaigners "you're right".

In a video circulated on social media, Birmingham Hall Green MP Roger Godsiff told the Anderton Park Primary School protesters they had a "just cause".

Shadow education secretary Angela Rayner said she had reported the comments to the chief whip.

Mr Godsiff previously said the equality lessons were not "age appropriate".

A High Court injunction is in place banning protests, which have been going on for months, outside the school.

Parents started to gather at the gates over concerns children were "too young" to learn about LGBT relationships. They also said the lessons contradicted Islam.

In the video, Mr Godsiff, who is seen with Shakeel Afsar, the lead organiser of the protests, said: "If I had the opportunity of rolling the clock back I would do exactly the same thing again.

"Because I think you have a just cause and I regret the fact that it hasn't been reciprocated by the head teacher."
In the 2016 United Kingdom European Union membership referendum Godsiff supported the Leave campaign,[8] although his constituency voted by 66.4% to remain in the European Union.[1] Unusually for a Brexit-supporting MP, he abstained from the vote to invoke Article 50, to commence the UK's process of withdrawal from the EU, on the grounds that he was respecting his constituents' pro-Remain vote.

..

In 2011, The Guardian declared that based on his participation in votes, Godsiff was "Britain's laziest MP", being absent from 88% of votes at the start of that year. He has attended less than 50% of parliamentary debates during his whole time in office and refuses to take any part in hustings meetings.[14] He responded to the Birmingham Mail about his participation, saying "when you are in opposition and the government has a substantial majority, you know perfectly well that you aren't going to be able to have an effect on every vote".[15]

Godsiff opposed marriage equality in 2013, saying that he did not want to "[redefine] the current definition of marriage."