Archive for the 'Islamism' Category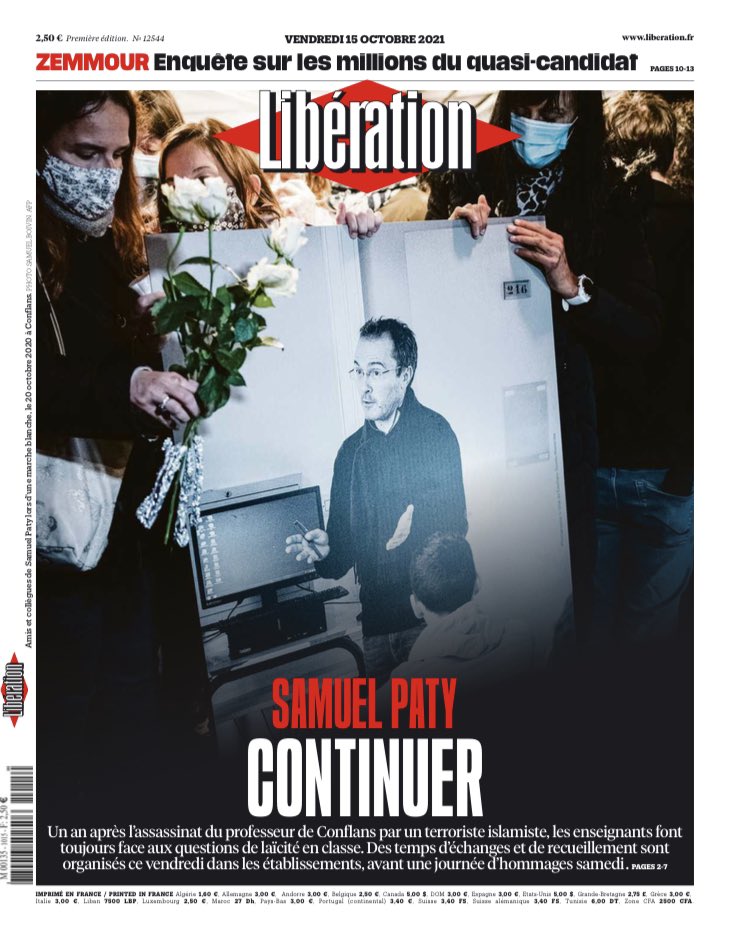 A Reminder Of How Serious Free Speech Issues Can Be.
Samuel Paty, un prof impliqué devenu héros posthume.
Today French schools will observe a minute of silence in hommage to Samuel Paty,
France honours 'quiet hero' teacher killed for showing Prophet Mohammed cartoon
France 24.
Samuel Paty, who was 47, was killed after leaving the middle school where he taught history and geography in the tranquil Paris suburb of Conflans-Sainte-Honorine on the evening of October 16, 2020.
His killer, 18-year-old Chechen refugee Abdullakh Anzorov, who had been living in France for years, claimed the attack as revenge for Paty showing his class the Mohammed cartoons in a lesson on free speech.
On Saturday, several ceremonies will be held in memory of the popular teacher hailed by President Emmanuel Macron as a "quiet hero" of the French republic.
In Conflans, the ceremonies will include the unveiling of a monument of an open book, while in Paris a square opposite the prestigious Sorbonne University will be renamed in his honour.
"The terrible drama of #SamuelPaty's murder took place a year ago . One year later, pay tribute to him, and even more, share knowledge, inspire reflection, sharpen the critical spirit. Against the gravediggers of freedom, let us, even more strongly, support human emancipation." Clémentine Autain. Radical left MP (Seine-Saint-Denis), La France insoumise, Ensemble!, unambiguous on the anniversary of the killing of Samuel Paty.
Charlie Hebdo: 40 years ago the Death Penalty was abolished, A year ago it was brought back.
The murder of Samuel Paty (French pronunciation: ​[samɥɛl pati]), a French middle-school teacher, took place on 16 October 2020 in Conflans-Sainte-Honorine, a suburb of Paris. Paty was killed and beheaded by an Islamist.
Paty had, in a class on freedom of expression, allegedly shown his students Charlie Hebdo's 2012 cartoons depicting the Islamic prophet Muhammad.[1][2][3] One of the cartoons portrayed Muhammad naked with his genitals exposed.[4] The cartoons having been protested by many Muslims in the past, Paty preemptively permitted his students to avert their eyes or leave the room while they were displayed.[5] The 13-year old girl who made the allegations against Paty has since confessed to lying.[6]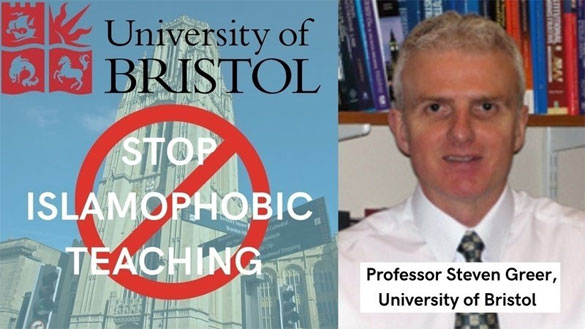 Another Free Speech in University Issue.
Peter Tatchell tweets this today,
Human rights academic Steven Greer was cleared over Islamophobia claims
Bristol University chiefs rejected complaints that he expressed 'bigoted views'
But Bristol University statement has now said 'we recognise BRISOC's concerns'
After a five-month investigation, Mr Greer's module was still pulled from syllabus
Critics said his lecture slide about 2015 Paris terror attack was 'Islamophobic'
Students called for the module at Bristol University's law school to be scrapped
Mr Greer accused senior academics of 'capitulating' to the threats of students
The story a few days before:
The Muslim Association of Britain, which has links to the hard-right Muslim Brotherhood, got involved.
One of the groups encouraging the witch-hunt, 5Pillars, an Islamist organisation,
The Website 5 Pillars has long been accused of extremism,,
5 Pillars UK: Dangers of Extremist Muslim Media
And,
5Pillars publishes Hizb ut-Tahrir leader advocating military force and a Caliphate to "liberate Palestine and Kashmir" (2021) Policy Exchange.
The UK Islamist news website 5Pillars has published an opinion piece by Abdul Wahid—chairman of the extremist group Hizb ut-Tahrir Britain—arguing that Muslim majority countries, and to a lesser degree some Muslims in the UK, are betraying the Palestinian and Kashmiri causes. Titled, Only a united Ummah can liberate Palestine and Kashmir, Wahid advocates the use of military force and the establishment of the Khilafah, or Caliphate, as the only means for achieving this.

Subtitled "Dr Abdul Wahid, chairman of Hizb ut-Tahrir Britain, asks when will Muslim states step up to their responsibilities and liberate Palestine and Kashmir," this piece is primarily an attack on Muslim countries, although it also denounces the United States and Israel—which is referred to by the derogatory term "the Zionist entity".
In the above, 5 Months ago, 5 Pillars carried the version given by Greer's accusers: Bristol University Islamic Society demands swift action over 'Islamophobic' remarks.
Greer stands accused of this:
A different view is offered by on New Age Islam,
By Arshad Alam, New Age Islam
The complaint against Professor Greer was made by the Muslim student body called the University of Bristol Islamic Society (BRISOC). The group encourages God consciousness, facilitates Muslim students by advising them on appropriate places to eat, find accommodation, etc. It educates Muslims about the necessity of being 'Islamic' at all times and one of the ways of doing so, it argues, is through gender segregation. Although it claims to represent the diversity of Muslim experience, it appears that the group is closer to a particular interpretation of Islam which can safely be called fundamentalist.
The campaign against Professor Greer has also been led by the Federation of Students Islamic Societies (FOSIS), an umbrella organization of Muslim student groups in the United Kingdom. Started in 1963, FOSIS is perhaps the first Muslim support group to become operative in that part of the world. The group's philosophy is about faith-based activism which it defines as a 'transformative journey of progression in faith, skills and habits to become comprehensive Muslims, living to further the cause of Allah'. One of the prominent faces in this forum was Ahmed Deedat, the South African writer and speaker of Indian descent, and who made a name for himself by entering into ceaseless polemics with the Christians.

Indians who are familiar with the work of Zakir Naik will recognise Deedat for the immense harm that such people have caused to inter-religious understanding. Rather than entering into a dialogue with one another, Deedat repeatedly trashed Christianity as a religion which was now superseded by Islam; the implication being that all of them should now become Muslims. Similarly, he has written against Hindu religious beliefs, denigrating them, without in fact understanding much of its philosophy.

Deedat supported the fatwa against Salman Rushdie and was sympathetic to the views of Osama bin Laden. In fact, his dawah centre was funded by the bin Laden family. It's not surprising, therefore, that he was awarded the King Faisal International Prize for his missionary work. In calling people like Deedat to their forum, the ideological orientation of groups like FOSIS becomes clear. And this orientation seems to come from a Wahabi-inspired ideology which wants Islam to become the ruling idea of the world.
The conclusion.
The criticism and censure of Professor Greer is, therefore, not from all Muslims but from Muslim groups which have a distinct political agenda. Most Muslims will not have a problem if a professor, in the wake of a discussion on polygamy and human rights, gives examples from the Islamic society.
Five Pillars have found time to back academics when it suits their cause.
The irony of reproducing this statement about Bristol seems to have escaped them,
In a letter sent to the university today, they accuse the university of caving in to the demands of the pro-Israel lobby and violating the freedom of speech that is necessary for intellectual enquiry.
The boycotters have mastered the jargon of hurt and safety.
In doing so, they say, the university is no longer a safe space for students and staff.
Perhaps they could also call for the sacking of Steven Greer to ensure student safety.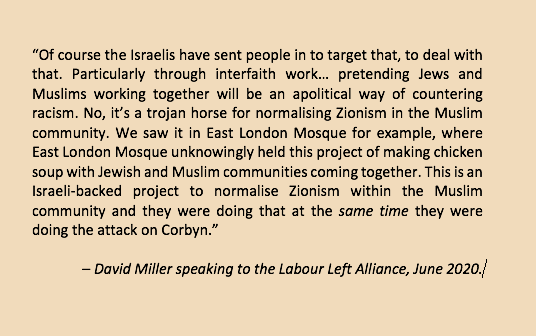 SWP – "Disagreeing with Miller about the significance of the Israel lobby is far less important than the need for solidarity with him now."
Academic and intellectual freedom are serious issues at present. Socialist Worker, commenting on the sacking of Bristol lecturer David Miller, says, that the University \\\2wanted to get of Miller, probably as a result of government pressure." Alex Callinicos continues, "When it couldn't pin antisemitism on him, it used the hurt his remarks may have caused some students to dismiss him. This manoeuvre is typical of the senior management of contemporary universities, who operate like the bosses of businesses.
"The statement affirms Bristol's commitment to academic freedom but this is clearly a lie. Freedom of speech is impossible if you punish people for offending others. "Galileo Galilei offended the Pope and his cardinals when he said the Earth went around the sun, but this doesn't mean the Inquisition was justified in forcing him to recant." (Defend David Miller and academic freedom Alex Callinicos.)
On Spiked one-time Revolutionary Communist Party Leader Frank Furedi says, "I have little time for Miller or his obsessive fantasy that Zionism is responsible for the evils of the world. But despite his warped worldview, it is still wrong for Bristol to fire him. Academic freedom is a foundational principle in university life – it is far better to challenge Miller's abhorrent views than to suppress them." One can only agree with these words, were they not from somebody waging his own culture-war from the National Populist HQ who says little about his own side's efforts.
The one-time backer of No-Platform, Callinicos, says, "It's a basic liberal precept that toleration matters precisely when one doesn't agree with the views under attack. But we live at a time when liberal institutions such as universities don't respect their principles."
The problem lies there. As the SWP top-theoretician's fellow liberal Nick Cohen righty wrote last Sunday, "As it is a familiar experience for contacts to tell me in confidence that they are frightened of speaking their minds, while pretending in public that nothing is wrong, the canard that cancel culture does not exist needs to be tackled." Shouldn't progressives be in favour of people wanting to speak their mind? Nick Cohen.
One would nevertheless find it hard to place David Miller in the camp of those opposed to Cancel Culture. Or Socialist Worker as a resolute defender of free speech.
Here is what Alex Callinicos wrote after the murder of our comrades from Charlie Hebdo (Paris attacks are a legacy of imperialism. January 2015),
The closest French equivalent to the Socialist Workers Party, the New Anti-capitalist Party (NPA), (NOTE, a claim most people would strongly contest) issued a statement condemning the Charlie Hebdo massacre headlined "Barbaric and reactionary madness".

Of course it was right to condemn the massacre, but the NPA was wrong to call the attack barbarism (and even, in another statement, its perpetrators fascists). This is exactly how ruling classes frame their wars in the Muslim world.

After 9/11 George W Bush talked about a struggle between civilisation and barbarism. Ex-right wing president Nicolas Sarkozy echoed him on the steps of the Elysée presidential palace last week.

This discourse implicitly justifies the right of Western imperialist states to bring order and freedom to "backward" societies and combat "Islamofascists" worldwide.

The NPA statement goes on to accuse the attackers of "sowing terror, against freedom of expression, freedom of the press in the name of reactionary and obscurantist prejudices". This effectively endorses the dominant identification with Charlie Hebdo—"Je suis Charlie"—with a magazine that has gloried in publishing horrible, bullying racist caricatures of Muslims.
Not much of defence of Charlie's freedom of expression there. Those backing Charlie Hebdo, the learned theoretician asserted, stand with a bullying racist horrid weekly. Slaughtering the cartoonists, staff and people who happened to be in their offices, was not "barbarism". It was highly inappropriate to call the murderers 'fascists'. They, if "nasty", were really acting as part of the "legacy of imperialism", and the fault lies with those that bequeathed that heirloom.
In fact one see here that Callinicos and the SWP have little interest in freedom of expression, except, in the Miller case, when it suits their cause of defending a potentially larger pool of "critical scholars" and showing up university authorities.
The politics of universities, dominated by business-driven managers, and, it is said, competing staff and student identity politics of the right and self-identifying left, is not something this Blog cares greatly about. If Nick Cohen is right this culture has been inflected by narcissism, fear, 'feelings', by sneaks, and heresy-hunters, to put it no higher.
We are strongly in favour of free speech and the liberty of debate.
As one of the greatest defenders of this principle put it,
"Let her [Truth] and Falsehood grapple; who ever knew Truth put to the worse in a free and open encounter? Her confuting is the best and surest suppressing."
― John Milton, Areopagitica 1644.
Milton claimed to have met Gallio, besting Callinicos, "grown old a prisoner of the Inquisition, for thinking in astronomy otherwise than the Franciscan and Dominican licensers thought."
A lot of the politics at play at present look like, as Milton said, attempts to "expel sin" – reducing debate to rival expressions of moral outrage. That is, liberty of expression reduced "into the power of a few".
Milton liked people who had done a bit of ground-work, the "deep mines of knowledge", before speaking,
"When a man writes to the world, he summons up all his reason and deliberation to assist him; he searches, meditates, is industrious, and likely consults and confers with his judicious friends; after all which done he takes himself to be informed in what h writes, as well as any that writ before him." (Areopagitica).
Which certainly does not look like the kind of work behind the ranting about inter-faith chicken soup (and his bizarre conspiracy charts) that Miller went in for and will no doubt continue.
Or as this chap says:
Tony Greenstein started this petition to academics and supporters of civil liberties
Professor David Miller of Bristol University called for an End to Zionism and said that the Union of Jewish Students, which is affiliated to the racist World Zionist Organisation, is using Jewish students as pawns and playing on their fears of anti-semitism.
David Miller has come under vicious attack from the Jewish Chronicle and a full spectrum of Zionist organisations including the Board of Deputies of Zionist Jews, the Union of Jewish Students and a multiplicity of Zionist organisations.
In Israel they imprisoned a dissident Palestinian poet Dareen Tatour who spoke out against the racism that Arab citizens of Israel experienced. We refuse to allow Israel's undemocratic norms to become the normal in this country.
We support Professor Miller's right to speak out about Zionism and the racist State of Israel.
It is not David Miller who should be condemned but the Zionist movement and a state that refuses to supply vaccines to the 5 million Palestinians under its control whilst inoculating its own Jewish citizens.