Archive for the 'Islamism' Category
"Dallas police chaplain says law enforcement impressed by Rabbi Charlie Cytron-Walker's composure during Colleyville attack, notes how faith leaders immediately sprang into action."
COLLEYVILLE, Texas, Jan 16 (Reuters) – An FBI Hostage Rescue Team stormed a synagogue in Colleyville, Texas on Saturday night to free three remaining hostages of a gunman who had disrupted a religious service and began a standoff with police more than 10 hours earlier.
All the hostages were safely released on Saturday night and the gunman was dead, Colleyville Police Chief Michael Miller told a news conference.
Britain's foreign office confirmed the death of a British man in Texas, when asked to respond to a Sky News report that the gunman was a British national. The foreign office did not explicitly say the dead Briton was the gunman. read more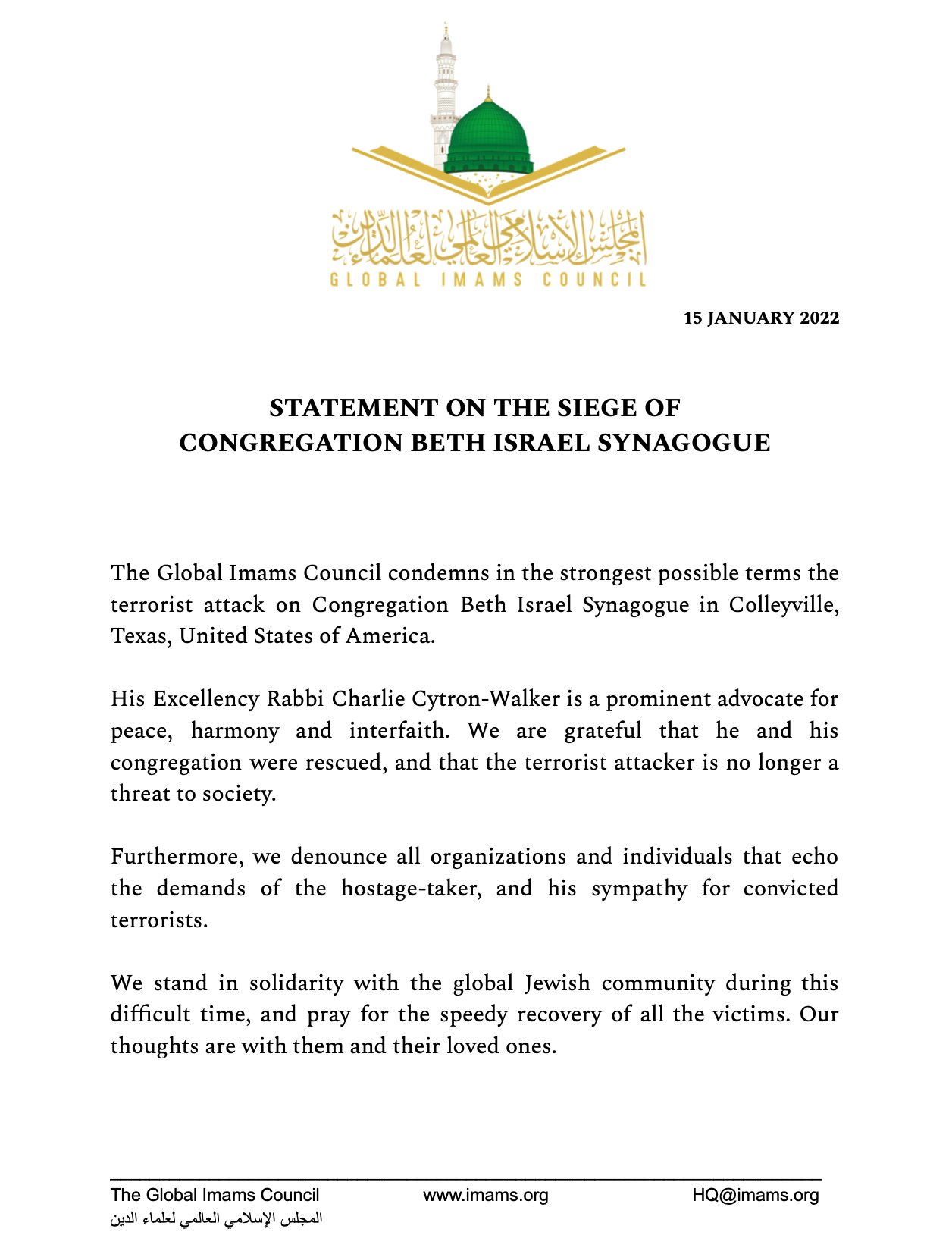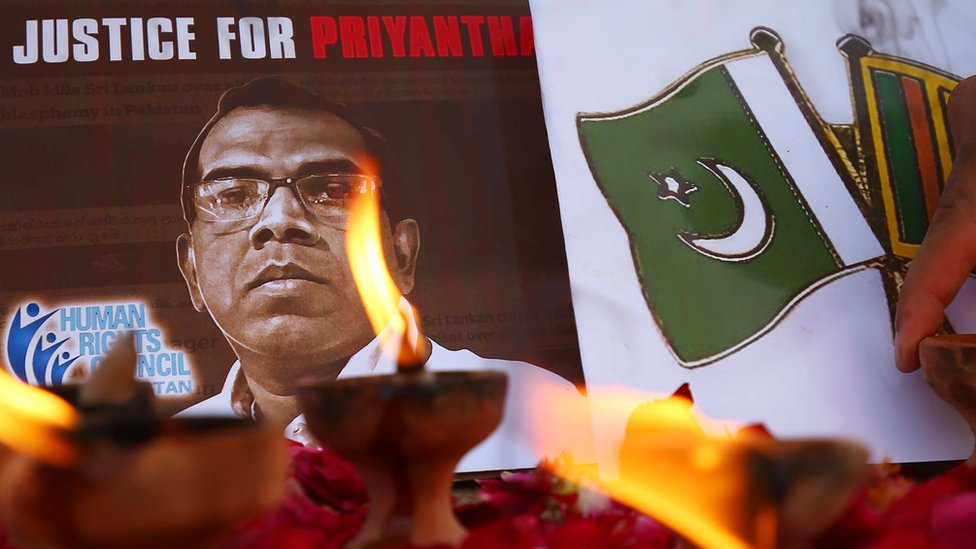 Reports struggle to express the depths of this public mass murder.
A brutal mob killing of a Sri Lankan man accused of blasphemy in Pakistan has sparked protests in both countries, with Pakistan's leader condemning the vigilante violence.
Priyantha Diyawadanage, 48, a factory manager in the city of Sialkot, was beaten to death on Friday and his body set alight.
More than 100 people have been arrested so far, said Pakistan PM Imran Khan.
He has described the incident as a "day of shame" for his country.
The victim's family in Sri Lanka have told the BBC they are in despair.
His wife, Nilushi Dissanayaka, called on both Pakistan and Sri Lanka's governments to conduct a full investigation to "bring justice to my husband and my two children".
"I saw that he was being attacked on the internet… it was so inhumane," she said.
Videos of the lynching proliferated across social media over the weekend, and showed scenes of the incensed crowd dragging Mr Diyawadanage from his workplace and beating him to death.
They then burnt his body, and several people in the crowd were seen taking selfies with his corpse.
The violence had begun after rumours spread that Mr Diyawadanage had allegedly committed a blasphemous action, in tearing down posters with the name of the Prophet Muhammad, local police chiefs said.
But a colleague, who rushed to the site in a bid to save him, told the Associated Press of Pakistan that Mr Diyawadanage had only removed the posters as the building was about to be cleaned.
His wife has also denied the blasphemy claim.
"I totally reject reports that said my husband tore down posters in the factory. He was an innocent man," she told the BBC.
"He was very much aware of the living conditions in Pakistan. It is a Muslim country. He knew what he should not do there and that's how he managed to work there for eleven years."
The Morning Star had a short but to the point article on the lynching concluding,
In Pakistan, anyone who insults Islam risks the death penalty.

The country's laws prohibit disturbing a religious assembly, trespassing on burial grounds, insulting religious beliefs or intentionally destroying or defiling a place or an object of worship.

Mr Khan said that he was overseeing investigations into the attack, adding: "Let there be no mistake, all those responsible will be punished with the full severity of the law."
This is how many people across the world feel.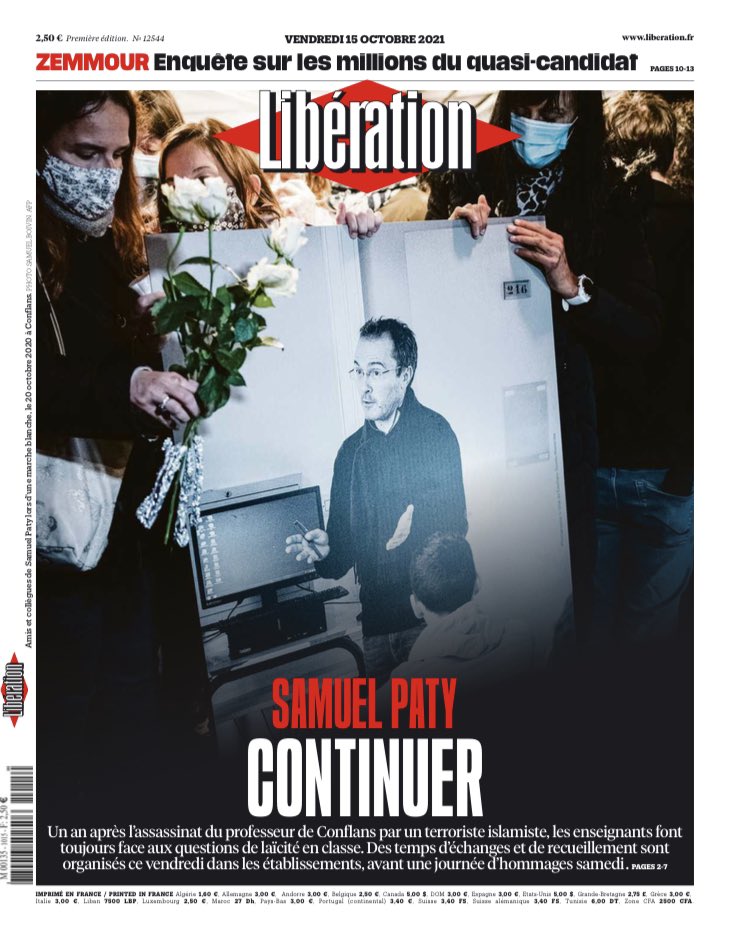 A Reminder Of How Serious Free Speech Issues Can Be.
Samuel Paty, un prof impliqué devenu héros posthume.
Today French schools will observe a minute of silence in hommage to Samuel Paty,
France honours 'quiet hero' teacher killed for showing Prophet Mohammed cartoon
France 24.
Samuel Paty, who was 47, was killed after leaving the middle school where he taught history and geography in the tranquil Paris suburb of Conflans-Sainte-Honorine on the evening of October 16, 2020.
His killer, 18-year-old Chechen refugee Abdullakh Anzorov, who had been living in France for years, claimed the attack as revenge for Paty showing his class the Mohammed cartoons in a lesson on free speech.
On Saturday, several ceremonies will be held in memory of the popular teacher hailed by President Emmanuel Macron as a "quiet hero" of the French republic.
In Conflans, the ceremonies will include the unveiling of a monument of an open book, while in Paris a square opposite the prestigious Sorbonne University will be renamed in his honour.
"The terrible drama of #SamuelPaty's murder took place a year ago . One year later, pay tribute to him, and even more, share knowledge, inspire reflection, sharpen the critical spirit. Against the gravediggers of freedom, let us, even more strongly, support human emancipation." Clémentine Autain. Radical left MP (Seine-Saint-Denis), La France insoumise, Ensemble!, unambiguous on the anniversary of the killing of Samuel Paty.
Charlie Hebdo: 40 years ago the Death Penalty was abolished, A year ago it was brought back.
The murder of Samuel Paty (French pronunciation: ​[samɥɛl pati]), a French middle-school teacher, took place on 16 October 2020 in Conflans-Sainte-Honorine, a suburb of Paris. Paty was killed and beheaded by an Islamist.
Paty had, in a class on freedom of expression, allegedly shown his students Charlie Hebdo's 2012 cartoons depicting the Islamic prophet Muhammad.[1][2][3] One of the cartoons portrayed Muhammad naked with his genitals exposed.[4] The cartoons having been protested by many Muslims in the past, Paty preemptively permitted his students to avert their eyes or leave the room while they were displayed.[5] The 13-year old girl who made the allegations against Paty has since confessed to lying.[6]