Archive for the 'Islamism' Category
"Concerns over the leadership, Brexit position and deliverability of the manifesto damaged Labour's chances."
It will take a while to digest the full report but these are some initial responses, from a left internationalist, that is, from an activist in the anti-Brexit left.
One of the reasons to speak as the impact is being felt is that there are already efforts to use the report to blame those opposed to the hard right Brexit project for our Party's defeat.
Here was a view, expressed by somebody believed, not least by himself, to be one of Corbyn's close friends(1st of June 2019),
 Vilayat Khan: So, let's start with Corbyn and the Labour Party.  How would you assess Corbyn on Brexit?

Tariq Ali: I think Corbyn's position is correct. I think to make Brexit into the major divide of the British politics is crazy. Given that whatever finally happens, whether it's Brexit or Remain, the problems of ordinary people, working people are not going to be solved. Brexit is very much a debate, I think, within the elite, and I think people voted, large numbers of people voted for Brexit to kick the establishment and to say you can't get away with everything.

..

And ever since it happened a large chunk of the English establishment has been trying to reverse the referendum. So that's what is going on, and for Corbyn it's a serious problem because half of Labour supporters voted for Brexit, especially in the north. So he can't ignore them. The choice, which the right of the Labour party is offering him is to agree to a second referendum now, campaign around it and Remain, and basically ignore the Labour supporters in the north, in other words, send some working class supporters in the arms of the Brexit party. That's unacceptable.

Tariq Ali on Corbyn and the British Media, Palestine, Kurdistan, Pashtun movements and how to revive Internationalism.
In the coming days we can expect a lot in this vein. There will be claims that the metropolitan liberal Labour "elite",by pushing for a Second Referendum, ignored the Brexit proletariat and drove the working class into the hands of Johnson. They will be strongly made by those who themselves campaigned, like Ali, for a Leave vote. Given the track-record of the national sovereignty left it would not be surprising if they try to apportion blame to groups like Another Europe is Possible, which mobilised the internationalist left, and had a strong presence at the hundreds of thousand strong protests against Brexit, for the catastrophic election.
In a fact-denying exercise some are already trying to make the claim,
Jon Trickett and Ian Lavery, the two most outspoken proponents of Brexit in Corbyn's deeply divided top team, said: "Let's be clear, people lost trust in Labour after failing to deliver change after 13 years in government. This was brought to a head when the party ignored the democratic vote for Brexit; it was the excuse that allowed loyal Labour voters to finally break with a party they felt had been ignoring them for far too long. (Guardian)
This is not going to wash.
More broadly, as one of the authors of the Review, James Meadway, point out (below), the report avoids "superficial explanations".
This the Election Review 2019.
Labour List notes that,
The project commissioners included MPs Ed Miliband, Shabana Mahmood, Lucy Powell, plus journalist Ellie Mae O'Hagan, TSSA's Manuel Cortes and former John McDonnell aide James Meadway.
These are key findings,
The report notes that Labour "lost support on all sides" in 2019 – around 1.7 million Leave voters and around one million Remain voters in net terms, compared to 2017 – and failed to attract swing voters.

Labour lost roughly equal numbers of Remain (1.9 million) and Leave (1.8 million) voters between 2017 and 2019. But it also gained around 900,000 Remain voters, while only winning over around 100,000 Leave voters.

Although one of Labour's aims under Jeremy Corbyn was to attract non-voters, it was also identified that the Conservatives were more successful than Labour in turning out non-voters in 2019.
In summary,
It says the "broad consensus" across the party, reflected in the survey results, is that concerns over the leadership, Brexit position and deliverability of the manifesto damaged Labour's chances.
The report, Election Review 2019, says,
There is a broad consensus across our Party – mirrored in the results from our survey of Labour members – that a combination of concerns about the leadership, Labour's position on Brexit and our policy programme damaged Labour's chances in this election. Our weaknesses going into this election were interlinked, and indivisible. They catalysed long term trends between Labour and our voter coalition.

This was an election where people were more often voting against the scenario they feared most, rather than for the party they liked best. We failed to provide a believable narrative for change, that enough of the electorate could vote for.
Concerns about Labour's leadership were a significant factor in our election loss in 2019. 'Stop Jeremy Corbyn' was a major driver of the Conservatives' success across all their key groups including previous non-voters, and among all the swing voters Labour lost to the Tories.
In 2017, Jeremy Corbyn's personal poll ratings dramatically improved over the campaign.  Had these levels been maintained, Labour's vote share in 2019 would have been 6 points higher. The very low poll ratings on leadership going into the 2019 election cannot easily be disentangled from the handling of issues like Brexit, party disunity and anti-Semitism.
The Tories won the 2019 election primarily by consolidating the Leave vote. In contrast, Labour lost support on all sides. Compared with 2017, in net terms, Labour lost around 1.7 million Leave voters; and around 1 million Remain voters. We also failed to attract swing voters, winning over far fewer swing voters than at any other recent election, and turning out fewer new non-voters than in 2017.
Non-voters (both those who did not vote in 2017 but turned out in 2019, and those who voted in 2017 but not in 2019) played a critical role in the Conservative success. According to analysis conducted by Datapraxis, well over 4 million voters turned out in 2019 who had not voted in 2017. In 2017 Labour benefited much more from 2015 and 2016 non-voters but in 2019 the Tories overtook Labour among 2017 non-voters, by turning out many older and Leave voters as well as some younger voters.
Whilst individual policies polled as popular, resistance to Labour's reform programme came as people evaluated the overall package in our manifesto. Affordability, and the negative impact on the economy or their own personal finances were raised as concerns by voters. Unlike in 2017 many thought our manifesto was considered as unrealistic, risky and unlikely to be delivered.
Labour suffered a meltdown in Scotland, polling well below even the Tories, with the SNP making significant gains. The SNP gained at Labour's expense among key swing voter tribes. Brexit, the UK leadership and our position on a second Independence referendum were key factors in our loss.
The Guardian puts two issues at the heart of the defeat,
 Jeremy Corbyn was deeply unpopular

The report is unflinching in its analysis of how the leader's appeal to voters plummeted between 2017 and 2019. Had his popularity stayed at its peak level, it says, Labour's vote share in 2019 would have been 6 percentage points higher.

By September 2019, it finds, 67% of voters disliked Corbyn, most strongly, and only 12% liked him. It links this to issues including Corbyn's handling of complaints of antisemitism in the party, Labour's Brexit position, and a perception of disunity due to events such as the defection of MPs to the short-lived Independent Group.

The report says research suggests an "intense" dislike of Corbyn was a key factor among voters who switched from Labour to the Tories; they raised issues such as antisemitism, perceived support for terrorism, and unaffordable policies.

The views of one 52-year-old woman who voted Labour in 2017 are summarised in the report as: "Frightened at the possibility of a Marxist government. Disgusted at Corbyn being a terrorist sympathiser. Most disturbed about plan to nationalise BT as I fear it would allow a Labour government to spy on internet users."

4. A confused Brexit policy

In a poll of Labour members carried out for the report, 57% named the Brexit policy of promising a second referendum on any departure deal as the single most unpopular and challenging idea to sell to voters, citing views such as "dithering", "dire", and "reflecting division".

This, the report finds, repelled both leave and remain voters. Of those who voted Labour in 2017, the party lost 1.9 million remain voters and 1.8 million leave voters in 2019. Given the generally pro-remain views of Labour voters, this represented a much higher proportion of leavers.

For many of those who changed their choice between 2017 and 2019, voting for another party in the European elections in May provided "a conveyor belt" away from Labour, the authors say.

Even those who stayed with Labour seemed to do so despite the party's Brexit policy rather than because of it, with majorities of remain and leave backers saying they preferred to either stop Brexit entirely, or "get Brexit done", respectively.
Comments.
Corbyn's Popularity.
It would take a fully hyped up fan of the 2018 Jez-fest to ignore that Jeremy Corbyn was not liked by the electorate.
It is hard to criticise the former Labour leader about this, above all because it was made clear (at least to those who cared to know) that he had initially not wished to stand for that position.
But doubts were always there.
One aspect that was visible was an approach to the issues on which he made a mark, within the Labour and wider left.
Corbyn's political history is tied to a particular vision of internationalism.
For some activists on the left his campaigning had an edge of the 'anti-imperialism' which always measured international issues through the lens of supporting, however 'critically' states and movements opposed to the USA, from Venezuela to Cuba, the Palestinians en bloc, even Iran, when they were standing up to Washington. Issues such as human rights, evoked in abstract, tend to melt when conflicts with America arise.
More to the point electorally what kind of appeal does this campaigning have for either activists or for the wider public?
Chatting to Tariq Ali and Roy, Corbyn recently referred to his work with the Stop the War Coalition (StWC) which has done precisely nothing to defend the Kurds, the Yazidis  and Syrian democrats against Islamist genociders, and the Assad regime,
 Like you, I wish that Stop the War didn't have to exist, but it does, and here we are all these years later. And the derivation of those wars has been the refugee flows of the Middle East, has been the wars all across the Middle East, has been the refugee camps in Libya and Lebanon and so on.
This is his lament and call,
….the arms still flow to Saudi Arabia that have been used to bomb the people of Yemen, the war carries on in Yemen. The refugee crisis of the Rohingya people moving into camp (inaudible) continues. The refugee crisis in Libya, and Lebanon continues and others do. And so we do need a global movement that recognises the real threat to world security is health and poverty inequality. The real threat to global security are wars based on the abuse of human rights and the thirst for grabbing somebody else's resources. The real threat to our security is actually the environmental crisis. That we should be facing in the future.
7th of June: Coronavirus, War & Empire: Arundhati Roy & Jeremy Corbyn in Conversation w/ Tariq Ali
Charitably this illustrates a wide-ranging concern with global issues.
Another, less favourable judgement is that Corbyn come across, even in a friendly environment, as a bit of talker, a high-pitched waffler, not a doer.
Even less kindly, most electors would have given up listening early on.
Brexit.
Was Labour's confused position the result of pressure from 'liberal metropolitan elites'?
Was it an honest effort to reconcile largely pro-Brexit working class voters with the views of the majority of Party members?
Many people in a position to know doubt this.
There is old mucker again: Jeremy Corbyn 'would be campaigning for Brexit if he was not Labour leader', says long-time ally Tariq Ali (Independent May 2016.)
"The Labour leader was forced to refute comments by his brother Piers that his pro-EU stance is a 'party management' issue."
These claims did not disappear after the Referendum.
When Jeremy Corbyn announced on Tuesday that he would back a second EU referendum in all circumstances and campaign for Remain against a Tory Brexit, it marked a victory for the pro-EU movement inside the Labour party. The Labour leader resisted pressure to make the shift for months, worried about the potential loss of voters in Leave-supporting areas. He was persuaded to make the move by an alliance of MPs, grassroots members and union leaders.

But he has still refused to clarify whether Labour would campaign for Remain or Leave in a general election, a sign of the considerable influence of his four key allies, dubbed "The Four Ms". The group — Karie Murphy, Seumas Milne, Andrew Murray and Len McCluskey — have been the strongest advocates for Labour to back Brexit.

Reported the Financial Times in July 2019.
The "compromise" that resulted was not just for a Second Referendum.
It was for a renegotiated deal for Brexit which would then be put to a popular vote.
If it wins the election, Labour wants to renegotiate Prime Minister Boris Johnson's Brexit deal and put it to another public vote.

Rather than backing either Leave or Remain during the election campaign, the party will remain neutral until a later date.

Should a referendum under a Labour government be held, voters would be able to choose between a "credible Leave option" and Remain.

The party would organise the referendum within six months and decide which position to back at a special conference in the build up.
In other words, you could back Labour to get a better Brexit, or because you wanted a ballot on whether Leave should take place.
It was this which looked, for the obvious reason that it was " "dithering", "dire", and "reflecting division".
Few bothered to go into this for the obvious reason that if you wanted Brexit there were other alternatives on offer.
Others may suggest that the Four Ms, with Corbyn behind them, equally played a major part in what the Guardian calls, the "dysfunctional 'toxic culture' (that) led to defeat…"
More to follow…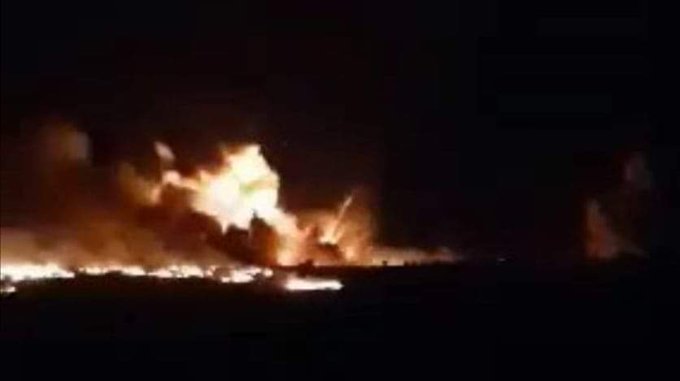 Turkey Bombs Sinjar: Yazidi Lives Matter.
Yazidi Exile Council of Sinjar calls to "stop Turkish attacks"
Survivors of the ISIS genocide in Shengal were among the targets of the Turkish state that carried out a massive aerial bombardment on several locations in South Kurdistan tonight.

As part of its genocidal all-out war against the Kurdish people in various parts of Kurdistan, the Turkish state has launched a wave of large-scale air raids in southern Kurdistan, northern Iraq tonight.

20 fighter jets of the Turkish army are reported to have conducted the massive campaign which started at around 00:00 local time. The strikes targeted several positions in the regions of Qandil, Maxmur and Shengal (Sinjar), including a refugee camp and hospital.
This is a heart-rending call: 
The Yazidi Exile Council of Sinjar (Shengal) released a statement and asked: "What use did it have to end ISIS if Turkey is allowed to kill us anyway?"

The statement of the Yazidi Exile Council of Sinjar (MŞD) reads as follows:

"Today, 15 June, 2020, Turkey again bombed Sinjar, Iraq in a targeted and intended strike against the Yazidis. In one night Turkey bombed the survivors of a genocide 8 times. It is likely that a hospital was deliberately hit.

How many of our people is Turkey allowed to kill before this finally ends? Will the US and EU Members stop Turkey killing us? What use did it have to end ISIS if Turkey is allowed to kill us anyway? Why was all the money spent on defeating IS if Turkey is allowed to do the same now?

It is well known that the Yazidi religious community is the oldest religion in Mesopotamia. The Islamic State attacked the Yazidi religious community on August 3, 2014, and a cruel genocide was carried out. After this genocide, we Yazidis decided to found our own self-governing forces and fight against IS. Since we received no help at the beginning and afterwards and were left defenseless to the IS by the local armed forces. We then founded YBŞ, the self-governing armed forces of Sinjar, on January 14, 2015. To date and during the liberation of Sinjar, we have lost hundreds of Yazidi men and women in the fight against IS.

Even after that, we received no support from the United States, the United Nations or the European Community in any way for the reconstruction or the further fight against IS. Since the liberation from the IS terrorists, the Turkish state has repeatedly attacked the region in and around Sinjar. Since October 2019, simultaneously with the invasion of the Turkish state in North-East Syria, the Turkish state has bombed the region of Sinjar five times before today. Several Yazidi self-governing militants were killed in these previous attacks by the Turkish state.

We however refuse to become Turkish proxies! That is why Turkey bombs us and calls us 'PKK'. The US confirmed officially that the PKK left Sinjar. The YBŞ is part of the Iraqi army. All the world knows that Erdogan is a dictator who calls everyone 'PKK' or 'terrorist' and who says 'no' to Erdogan. We continue even now to say 'no' to Erdogan. We will not become his subjects under his control.

The Turkish state repeatedly attacks the Sinjar region and bombs the YBŞ positions. Based on these facts, there is no doubt that the Turkish government wants to continue the genocide of the Yazidi religion and empty the Sinjar region. Turkey wants to force all ethnicities and religious groups to become its proxies and servants. We refuse that and that is why Turkey decided to wipe us out.

We appeal once again to the United States, which controls Iraqi airspace, to stop Turkey from attacking the Yazidis. In the five previous Turkish attacks since October 2019, many civilians have already been killed and injured. The Yazidis pose no threat to Turkey. Nevertheless, the Yazidis are exposed to the attacks of the Turkish state without protection. It is incomprehensible to us Yazidis why the international public silently accepts the attacks by the Turkish state and does not stop their NATO partner in his violations of human rights.

We call on the United States to close Northern Iraqi airspace, particularly around the Sinjar region, with immediate effect for the Turkish state to stop Turkish air strikes. We expect a written confirmation of this measure. And we emphasize again that we are not a threat to Turkey, nor to any other country or religion. There is simply no justification for this Turkish aggression against us!"
Turkey carries out airstrikes against Yazidi areas of Iraq's Sinjar
The Jerusalem Post reports,
Turkey launched waves of airstrikes against what it claimed were Kurdistan Workers Party (PKK) elements in northern Iraq. The  airstrikes shook mount Sinjar, an area that is home to the Yazidi minority and where ISIS carried out a genocide against Yazidis in 2014.

The area has  been unable to recover because of constant threat of Turkey's airstrikes and the presence of armed groups, militias and checkpoints. The PKK and its affiliates fought ISIS near Sinjar in 2014 and although Turkey labels the PKK a "terrorist organization," affiliates of the PKK in Sinjar never carried out any attacks on Turkey.
The genociders are beginning to face justice:
"In cultural matters the old division of right and left has come to look more like two Puritan sects, one plaintively conservative, the other posing as revolutionary but using academic complaint as a way of evading engagement in the real world."
Robert Hughes, The Culture of Complaint. 1993. (1)
Trevor Phillips has been suspended from the Labour Party for alleged Islamophobia. What looks like a parting factional swipe at a long-standing opponent of Corbynism, only adds to the culture wars. After the crisis over anti-Semitism recent weeks have seen a new battle, over Transsexuals, reach a peak. Some have demanded that transphobes be added to the list of the expelled. Defenders of family, faith and flag from Blue Labour, self-identifying libertarians, and supporters of the Brexit Party in Spiked, full-blown national populists, and radical feminists have joined together to attack demands for trans rights.
Judith Butler wrote in her critique of 'foundational' identity politics, Gender Trouble (2007) "If I were to rewrite this book under present circumstances, I would include a discussion of transgender and intersexuality, the way that ideal gender dimorphism work in both ways to discourses, the different relations to surgical intervention that these related concern." At present it looks improbable that differences between gender-critical, or "materialist feminists", and those defending transsexuals, can take place within reasonable limits.
For Blue Labour, citing the inevitable Christopher Lasch on 'narcissism', Jonathan Rutherford asserts that, "Like other forms of identity politics, the language of its more extreme advocates has the same mix of moral self-righteousness and ideological certainty. Scientific facts that compromise ideology are dismissed." "Identity politics becomes the singular pursuit of self-interest detached from social obligations." He claims, "It is a struggle that many women feel is all the more threatening because of the involvement of powerful lobby and corporate interests." (The Trans Debate And The Labour Party)The nastiness of a minority amongst those defending absolute 'cis' gender has shredded that hope to pieces. The Suzanne Moore affair has opened up a breach that is unlikely to be bridged. (2)
In 1993 Robert Hughes was one of the first to suggest that Marxism, dead after the collapse of official Communism, has had an afterlife by shifting away from "economic and class struggle in the real world", theorising instead a variety of oppressions and "discursive" articulations and antagonisms. This 'cultural Marxism', exploring themes from German and French left theory, has become a target for conservatives railing against "multiculturalism". Speech codes, the "PC wars" of the 90s, and. fast-forward. Today we have Mark Lilla's 2018 left of centre critique of "liberal identity politics" (The Once and Future Liberal), and Douglas Murray's conservative broadside against "identity politics and intersectionality", "the last part of a Marxist subculture" (The Madness of Crowds. Gender, Race and Identity. 2019) (3)
National Populism.
Those attracted to national populism, who disdain the causes of minorities, have become champions of identity, of the "Somewhere" plain folks against the identity politics of the 'Anywhere" cosmopolitan elites. This strategy is not confined to the English-speaking world. "The ambition is to imitate the activism of minorities – postcolonial or LGBT – fed by French theory …..in order to serve the cause of identity" writes Nicholas Truong in this Saturday's Le Monde (Il s'érige contre la « dictature » de la « bien-pensance » : l'essor du national-populisme intellectuel et médiatique). In France, "national populism", a "catéchisme néo-réactionnaire", the theme of immigration, the fear of the "great replacement", the 'Islamisation' of urban spaces, up to hostility to human-rights "mongering" (droits de l'hommisme) , and the "terror" of feminist campaigns against sexual violence and harassment. The denunciation of multiculturalist "bobos" (Bourgeois bohemians) parallels British sneers, from Blue Labour, Spiked to the Morning Star at the 'Islington left". Truong, with good reason, compares this to French Communist language of the past century attacking the "petty bourgeois".
In Le rappel à l'ordre (2002) Daniel Lindenberg outlined the way a group of French writers had begun to denounce May 68, human rights, feminism, anti-racism, multiculturalism, Islam, and "globalism" (mondialisme). These "new reactionaries" had moved from the left critiques of market liberalism to national republicanism, He suggested that anti-globalisation could serve as a crossing-point
A "crude piece of work" commented Perry Anderson. It takes no more than a few minutes to see some names, Marcel Gauchet, Alain Finkielkraut, reappear in Truong's article, some, like Eric Zemmour, and Jean-Pierre le Goff, author of a study that is recalled or its postscript on the enduring impact of "cultural leftism" post-68, had yet to come to wider attention. Others, like the once respected historian of the French left, Jacques Julliard are much more recent entries, though one was perhaps forewarned by his willingness to debate Jean-Claude Michéa, who asserts that the original sin of French socialism was its Dreyfus Affair alignment with democratic liberal human rights defenders. That one of these figures, Michel Onfray, a self-styled anarchist and pop philosopher has extended his openness to reaction by contributing to the pages of the Nouvelle Droite Eléments, is the occasion for sadness. (4)
Realignments to the right that have yet to go so far could be seen in the UK during the EU Referendum and Brexit process. The Full Brexit brought together left sovereigntists, Blue Labour, Labour Leave, activists in Nigel Farage's Brexit Party, and members of the Communist Party of Britain. They contrasted the real popular sovereignty of the nation against the workings of the globalist EU elites. Andrew Murray has expressed the widely shared views of these sections with his hostility towards "rancid identity politics", pitting the rights of "peoples" against the "poisonous seeds" of human rights (The Fall and Rise of the British Left. 2019)
The French new reactionaries have, Truong outlines, a strong and highly visible media presence right in the mainstream, the MSM. For those inflamed with hatred for identity politics Britain offers the consolations of Spiked, the Spectator, and the hard right press for those hostile to all things Woke, with the occasional television platform like Sky Press reviews. As interest in Brexit has waned some of  this new sect of plaintitive reactionaries  has taken up the cudgels against transsexuals. Elsewhere Verso Books publishes Andrew Murray, who thanks Tariq Ali for his "support and political commitment., The journal of Perry Anderson, New Left Review, is home to Wolfgang Streeck, a supporter of the Full Brexit, who believes that national borders are the "last line of Defence"….
*****
Page 60.

T

he Culture of Complaint, The Fraying of America. Robert Hughes

.

Harvill. 1994.

Page xxviii.

Gender Trouble. Feminism and the Subversion of Identity. Judith Butler.

Routledge 2007.

Lecture 2.

Multi-Culti and its Discontents. Robert Hughes. Op ci

t

. "PC Wars" in Chapter 8.

New Consensus for Old

.

One Market Under God, Thomas Frank

.

Vintage 2002.

Page 169.

Perry Anderson

The

New Old World.

Verso. 2009

Jean-Claude Michéa and Jacques Julliard La Gauche et le Peuple

. Champs. 2014.
Page ix.

Andrew Murray.

The Rise and Fall of the British left.

Verso, 2019