Archive for the 'Islam' Category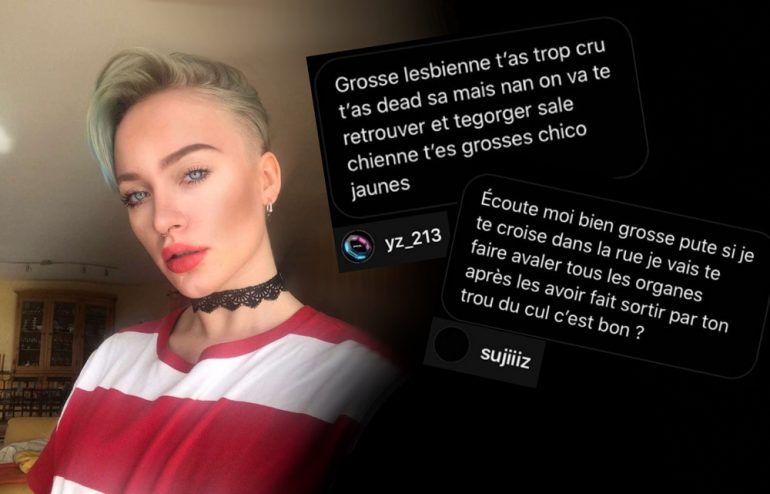 Misogynist and Homophobic Hatred in Response to Mila's Criticism of Islam.
Le Monde, Mattea Battaglia and Charlotte Herzog.
(Adapted)
It could have been just another live video posted by a teenage girl on Instagram on a Saturday. It has become what is now called the "Mila affair". This homosexual high school girl with purple hair was insulted and threatened with death for having made insulting remarks towards Islam on January the 18th.

…

The case took on a new dimension when the Minister of Justice, Nicole Belloubet, was invited to speak on the subject on Europe 1 on Wednesday January 29. She was accused of wanting to put into  question the right to blaspheme (which is not not a crime in France), declaring that insulting a religion "obviously constitutes an attack on freedom of conscience" .

….

Mila is 16 years old, she lives in the Lyon region, and is passionate about singing. It is on Instagram that she shares her opinions, speaks about her life, posts videos of her, chats with her followers, and talks openly openly about her homosexuality.
In a video she expressed this view,
"  I hate religion, (…) the Quran there is only hatred in there, Islam is shit. (…) I said what I thought about it, you are not going to make me regret it. There are still people who will get excited, I clearly don't give a damn, I say what I want, what I think. Your religion is shit, your God, I put a finger in her arsehole, thank you, goodbye.
This was the reaction,
"I received 200 messages of pure hatred per minute", fake accounts are created in her name, she explains to Bellica (an 'identitarian' rightist site) , which has posted screenshots of the ultra violent messages that she received .

Personal information concerning her, such as her address or the name of her school, was disclosed.
She says,
Unlike them, I did not insult anyone, nor threatened, nor called for violence against anyone. What I did was blasphemy, general criticism of religions, and nothing else . "

But,

"I can no longer set foot in my lycée and I can't even change my  lycée because it's the whole of France that wants my hide" .
This was another response,
On Thursday January 23, the general delegate of the French Council for Muslim Worship (CFCM), Abdallah Zekri, estimated in the programme Les Vraies Voix on Sud Radio  : "whoever sows the wind harvests the storm". "She sought this, she is responsible," he said again, while saying "against" the death threats she received.
Mila has problems at her  lycée where some of the students are thought to have been at the origins of the violent threats.
Her case is being dealt with by the educational authorities.
A procedure to prosecute MIla for inciting race hate has been dropped, while another investigation into the origins of the death threats has been launched.
In France after the assertion of the Minister of Justice, Nicole Belloubet the "affaire Mila" has taken a political dimension.
If she soon backtracked, saying the death threats are no acceptable, questions remain as to why she ever came out with this defence of hatred.
The Minister of Justice returns to her remarks concerning the Mila affair
France 24.
"We have the right to criticise a religion, it's very clear. There is no question of coming back to this," added Nicole Belloubet to Radio Classic's microphone on Thursday.

It evokes a 

"formulation error"

. Nicole Belloubet, the Minister of Justice, made a point, Thursday, January 30, the day after her remarks strongly criticized on the Mila affair. The Keeper of the Seals condemned the cyber harassment and death threats against the 16-year-old girl on Europe 1, adding that

 "insult to religion is an attack on freedom of conscience"

.

"I didn't have to say that, for sure", said Nicole Belloubet, at the radio of Radio Classique. "We have the right to criticise a religion, it's very clear. There is no question of coming back to this", she added.

he minister had already started, on Wednesday afternoon, a mea culpa, believing that his "expression may have been awkward". "Insults and discrimination on the grounds of religious affiliation are offences. That is what I meant", she said, denouncing a controversy "ridiculous". And to add: "I have absolutely no justification for the offense of blasphemy."
A stock response on the British left these last years has been to dismiss people like Mila.
Saying that Islam is shite obviously does not hold up to the high standards of those, like Terry Eagleton, who think that religious truths are a separate kind of verity that unbelievers cannot understand.
Others, who promote a communitarian view of truth, think that nobody should be rude about a community of belief.
Even the 'free speech' warriors of Spiked and people like Douglas Murray consider that saying nasty things about 'gammons' should be halted.
Charlie Hebdo came to the defence of Mila, unbowed, recalling their own bloodied martyrs.
Yesterday they published this:
Editorial by Riss: Teenagers to the stake!
Have you heard of the boot torture? It involved encasing each of the suspect's legs between two wooden planks, tying all four tightly together and then driving wooden wedges between the two central planks, thus crushing the limbs if the suspect refused to admit the crime of which he was accused. The Chevalier de La Barre was one of the most famous victims of this torture. In 1766, aged 20, he was condemned to have his legs crushed, initially with two wedges and then with four, before having his tongue ripped out, being decapitated and being thrown into the flames. His crime: blasphemy. He was accused of having failed to doff his hat to a passing religious procession in the saintly town of Abbeville and, what is more, of mutilating a crucifix. His decapitated body was burned with a copy of Voltaire's Philosophical Dictionary nailed to the torso.

Today, blasphemy is no longer punished by decapitation: it is not even against the law. Nevertheless, in 2020 there are still people clamouring for death in its name. The Chevalier de La Barre was only 20 when he was tortured. He read licentious and impious books that did not respect religion. He had the insolence of his age – an age that fears nothing – and desired only to live in freedom.

At the ripe old age of 16, the age of revolt, Mila could have been his younger sister. Last week, online, she dared to express her anger against the injustice and aberration of faith, particularly that of Islam, in terms that the Chevalier de La Barre probably wouldn't have disavowed. Mila won't be subjected to the boot torture, only to insults on the social networks and death threats on the Internet. Routine treatment nowadays for those who refuse to submit to religious authority.

Her anger against the arbitrariness of religion is all the more moving because it recalls that of another young girl of her generation, the now famous Greta Thunberg. They both seem to be rebelling against the same injustice: adults' cowardliness. Adults have done nothing to stop the planet disintegrating before our eyes. Nor have they done anything to fight religious intolerance, which is becoming more invasive every day, like an oil slick that we can no longer hold back. At 16, it's impossible not to be worried by the thought that this is the world where you have to try and live: a planet asphyxiated by exhaust gases and the toxic preaching continually emitted by the diesel engines of Islamism and fanaticism. And you can't count on adults to protest against the pollution filling our lungs and smothering our freedom of speech.

After first being insulted by the most stupid, Mila was threatened by the most fanatical and finally abandoned by the most cowardly. Her anger and sincerity should have elicited as much support as Greta Thunberg's. But people have turned their backs on her out of fear and intellectual laziness, because her cause is less photogenic than koalas squealing when their little backsides are toasted by the flames of an apocalyptic fire. Above all, Mila is more dangerous. Here, we're not talking about saving life on Earth, but saving our very skins. We refuse to admit that our society is capable of torturing the innocent with the same icy certainty as our ancestors at the Chevalier de La Barre's time. We're so full of our own modernity that we nonchalantly brush off the impassioned indictments of a Voltaire against the inquisitors, because they make us confront our cowardice. The boots in which we crushed blasphemers' leg bones belong to the past. We no longer need them.

Smartphones, backed up by a few Kalashnikovs and well-sharpened kitchen knives, have taken their place when it comes to intimidating the insolent who refuse to bow before the faith of the fanatics and the resigned.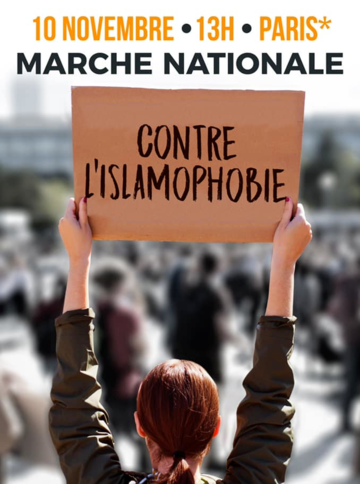 This Sunday there is going to be a large demonstration against Islamophobia in Paris.
This is bound to have international resonance.
Protesting against hatred shown towards Muslims takes place after the attack on a Mosque  in Bayonne at the end of October and polls which show up to  44% of French people backing laws against wearing the veil in public spaces. (LES FRANÇAIS ET L'INTERDICTION DU PORT DU VOILE ISLAMIQUE DANS LES LIEUX PUBLICS.)
An appeal, signed initially by 50 prominent figures of the political left, trade unionists, anti-racist activists and intellectuals  was published in Liberation on the 1st of November calling for a response to the rise in hatred.
The dignity and integrity of millions of our fellow citizens are at stake. It is a question of unity against racism, which, in all its forms, which today again threatens France.

Le 10 novembre, à Paris, nous dirons STOP à l'islamophobie !
The racist atmosphere has reached a new level after what has been called an appeal to civil war against Muslims and immigrants from the writer Éric Zemmour at the  Convention de la Droite, held at the end of September,  which also starred the rising figure of the French far right Marion Maréchal. (Les propos d'Eric Zemmour, comme une incitation à la guerre civile)
Anybody wishing to be informed on the climate could do well to begin by reading Zemmour's Le Suicide français (2014).
He begins by lamenting French decline, blaming an alliance of 68 libertarian leftist ideology, feminism, gay rights, and unrestrained free market capitalism for undermining the family and French national sovereignty. The left, by denigrating the Nation, the land, and its dead, has paved the way for globalism. The destruction of France is furthered by the European Union's super-national project and the 'elites' running it against the rooted people of the countries they rule over.
Immigration plays a role in undermining French nation. In place of the 'integrationist' process of assimilation – he himself is from a North African Jewish background – today capitalists and leftists have allowed separate communities to develop. The "cult of mixing" and diversity has replaced the republican model of equality (, le culte du métissage )
Le Suicide français Zemmour described Paris as surrounded by a banlieue  studded with Islamic and drug dealing fortress.
His more recent diatribes continue in this vein,
"one must choose between living and together" [a play on words on the slogan "vivre ensemble"]. The question today is thus that of the people. The people can remake a nation. The French people against the universalisms, whether market or Islamic. The French people against the cosmopolitan citizens of the world who feel closer to the inhabitants of New York or London than to their compatriots in Montélimar or Béziers and the French people against the Islamic universalism that is transforming Bobigny, Roubaix and Marseille into so many Islamic Republics and which waves the Algerian or Palestinian flags when its football team wins – I mean the team it loves, the team of their parents' country, not the team of their ID or health insurance card.
In these conditions it is valid to make some comparisons between Zemmour and the 19th century  author of the best known French anti-Jewish hated, Edouard Drumont  (De Drumont à Zemmour, les résonances de la France rance).
It is less clear that we can draw exact parallels with the organised anti-Semitism, which included 'leagues' that promoted Jew baiting,  of that period.
The attempt to do so and make explicit reference to the Dreyfus Affair in Pour les musulmans by Edwy Plenel (2015) whose title echoes Pour les Juifs  by Emile Zola is devoid of all geopolitical context, beginning with the rise of extreme right Islamism.
Yet there are clearly mechanisms of exclusion against Muslim voices. During public debates on the veil, the Hidjab, this has happened:
La semaine du racisme antimusulmans a commencé le 11 octobre 2019 : depuis cette date, 85 débats sur le hijab ont été organisés, 286 personnes ont été invitées sur vos écrans mais PAS UNE SEULE femme portant le hijab n'a été invitée dans le cadre de ces débats
 (The week of anti-Muslim racism began on October 11, 2019: since then, 85 debates on the hijab have been organized, 286 people have been invited to your screens but NOT ONE ONLY woman wearing the hijab has been invited as part of these debates)
These indicate some of the reasons why the Sunday protest may have problems in balancing a universalist stand against the racist wave and the need to avoid becoming trapped in an incircle defence of religious-political  ideas.
So far most of the debate has centred on these aspects of the difficulties involved.
To begin with the word Islamophobia, as if a religion rather than Muslims as people, are the target of hatred, is a difficulty for many.
This is much less of an issue than the fact that the demonstration is backed by people whose own anti-racism is far from clear.
Marcher le 10 novembre avec les islamistes et décoloniaux : une erreur politique majeure pour la gauche. Manuel Boucher.
There is equally  a strident tone against existing secularist  laws in the appeal for the march.
Few people are eager to take lessons on secularism from anybody associated with Islamism. (1)
This had led the Parti Socialiste and others to withdraw their support. A gauche, défections en série avant la «marche contre l'islamophobie»
Despite these criticisms Jean-Luc Mélenchon has maintained his backing (Marche contre l'islamophobie : Mélenchon défend sa signature «au nom du texte réel et du contexte cruel»)
Even from a distance it is hard not to deny the scale of the problems Muslims, from very diverse communities, forms of Islam, politics,  and origins, from the Maghreb onwards,  face in France.
********
(1) Une ombre islamiste plane sur la marche contre l'islamophobie
La Croix.
D'autres signaux permettent de déceler l'engagement de l'islamisme, parfois radical, dans la manifestation « Nous dirons STOP à l'islamophobie ! » du 10 novembre. Ainsi, une source policière note le relais de l'Appel à cet événement par plusieurs imams lyonnais, très investis dans l'UOIF. Mohamed Louizi relève, lui, les mêmes attitudes chez l'imam francilien Noureddine Aoussat, « frériste » reconnu ou chez l'imam nordiste Abdelmonaim Boussenna (Roubaix), très proche, longtemps, de Tariq Ramadan, et dont les profils YouTube et Facebook comptent des centaines de milliers d'abonnés.

Scrutant la liste des signataires de l'appel à manifester « contre l'islamophobie », Mohamed Louizi estime que « plusieurs d'entre eux posent problème ». Ainsi, la « Plateforme L.E.S. Musulmans », un « réseau collaboratif » qui entend exprimer l'opinion des « bases musulmanes », a été fondée par Marwan Muhammad, un « proche des Frères musulmans » qui fut aussi porte-parole et directeur exécutif du Collectif contre l'islamophobie en France (CCIF). Cette plateforme activiste vient d'ailleurs de lancer une Union des imams qui inquiète certains observateurs. Ses adhérents pourront être de toutes sensibilités et tous courants de pensée, y compris salafistes.

Plus largement, poursuit Mohamed Louizi, « tous les initiateurs de cette manifestation dénoncent, depuis le début, la loi du 15 mars 2004 qui interdit de porter à l'école les signes manifestant ostensiblement son appartenance à une religion… » A ce propos, une phrase de la tribune publiée par Libération, le 1er novembre, a particulièrement attiré l'attention : « Depuis des années, les actes qui visent (les musulmans) s'intensifient : qu'il s'agisse de discriminations (…) ou de lois liberticides… »
Yaqoob Back in the Days of Respect.
Ex Respect leader and anti-war activist Salma Yaqoob launches shock bid to be West Midlands Mayor
Outspoken activist Salma Yaqoob has launched an audacious bid to win the right to challenge Andy Street as West Midlands Mayor, BirminghamLive understands.

Ms Yaqoob, former leader of the Respect Party and an ex Birmingham city councillor, has decided at the 11th hour to throw her hat into the ring to win the Labour nomination – despite questions over her party credentials.

Subject to confirmation from Labour's executive that her candidacy meets membership criteria, she will stand against Hodge Hill MP Liam Byrne, thought to be the frontrunner, and unions favourite Pete Lowe from Dudley in the race to be selected as the party's official candidate to take on Street next May.
The reason why she left Respect was not disagreement with its politics, but a personal spat with Galloway over his defence of Julian Assange.
He suggested accusations against Julian Assange by two Swedish women did not constitute rape "as most people understand it" and Assange was simply guilty of "bad sexual etiquette."

Yaqoob was caught up in the backlash and left the party as a result.
This is what she said afterwards,
I've always admired George's anti-imperialist stances and I don't regret, for a second, standing side by side on those issues. But for me, to have to make a choice between that and standing up for the rights of women was a false choice. I thought it was a blurring of something that didn't need to be blurred. It's not that complicated – you can hold two ideas at the same time." Of course, "we're all human, we can't always make perfectly worded and crafted sentences – I really hoped a clarification would sort that out." She published a statement setting out her own position, but then, as she describes it, things escalated. Although she says Galloway never got directly in contact – and still hasn't – she felt she was being personally maligned; that "under the guise of different names there were personal attacks".

Salma Yaqoob, in her first interview, explains why she left the party, what comes next – and her thoughts on George Galloway
The interview continued,
There is also a significant cohort worried about the nature of the membership of Respect, that it is an uneasy alliance of far left and Islamist far right. "I will not accept that. I've been there from the beginning. I know that we have fought those very reactionary forces, we challenged them from within. I get the hate calls – I get people in the streets saying, 'She is trying to wreck our homes.' I've had the death threats, that anyone who beheads me will go straight to heaven. Because I promote democracy, because I have a very clear stance on pluralism. Pluralism is not about just supporting people you happen to agree with anyway. I would challenge anybody to say where I have pandered to, never mind encouraged, any reactionary stance."
This is denying reality, the alliance between Respect and Islamists is a fact that can't be wished away by referring to their distance from the most extreme, violent, wing and ignoring the link between the party with 'moderate' Islamists of, amongst others,  the Muslim Brotherhood.
Her own ignoble role in denying Islamist influence during the Trojan Horse scandal is a matter of record. (1)
One can admire her standing up for democracy against the Jihadist wing of Islamism.
One can also admire the fact that she has stood up for Syrian refugees.
And she believes in a Third EU referendum, not to mention loathes the Boris Johnson Coup.
Yaqoob appears to have made a personal enemy in arch-right wing Leaver MP Roger Godsiff which is good.
But her background in Galloway-style bogus 'anti-imperialism' is still there.
Because of this, Lansman's is very far from a unanimous left-wing view:
(1) "While Ofsted's inspection of Park View is not thought to have found any evidence of extremist behaviour, the report concludes:
The academy did not do enough to alert students to the risks of extremism.
Speakers invited to the school were not vetted and pupils not taught about the safe use of the internet.
Staff are scared of speaking out and some feel governors get inappropriately involved in the running of the school.
Pupils are not given adequate preparation for living in a multi-cultural society.
Education about sex and relationships is ineffective.
The school's managing trust has issued a statement rejecting the findings, saying inspectors have misrepresented the facts, adding there was "no suggestion" in the report of extremism being present in classrooms.
Park View Educational Trust said: "Ofsted judges that Park View is not doing enough to raise students' awareness of the 'risks of extremism'. We reject this.
"It is also crucial to note that the Ofsted reports make absolutely no suggestion, nor did they find any evidence, that trust schools either promote or tolerate extremism or radicalisation."
The trust added it had been working with the government's Prevent anti-extremism programme since at least 2012.
It said there was "an open working environment" but accepted improvements in areas like staff pay, recruitment and progression could be made.
However, it said "a disillusioned workforce would soon result in (academic) standards slipping" and this had not been the case, with three-quarters of GCSE pupils earning grades A* – C, including maths and English, last year.
Mr Gove is facing renewed pressure from his Labour shadow, Tristram Hunt, over the government's handling of the threat of extremism in schools.
Mr Hunt told BBC Radio 4's Today programme: "How you can go from outstanding to inadequate? And that's because the inspection criteria is not fit for purpose.
"We want a much broader criteria to make sure these problems don't arise."
Ms Yaqoob, who described herself as "a Birmingham mum", alleged that Ofsted's findings were "prejudged" and she had yet to see "a shred of evidence" that pupils were being radicalised.
"The kids of Birmingham are already damned as being extremist," she added.
"One of the [Ofsted] inspectors asked a girl who was sitting next to a Muslim boy whether she felt intimidated.
"The assumption being that a Year 11 Muslim boy is, by virtue of being a Muslim boy, intimidating."