Archive for the 'Iraq' Category
This lengthy article in the Guardian by Bethan McKernan in Istanbul and Adam Gnych in Amedi, northern Iraq, is heart-rending and through. It is essential reading.
Yesterday there was a sad reminder that supporters of the Turkish state and Erdoğan's Islamist regime are prepared to extend their violence to Europe. Attackers, said to be from the extreme-right Islamist and nationalist Grey Wolves violently attacked a Kurdish cultural centre in Lyon. Banned in France after they defaced a memorial to the victims of the Armenian genocide, the group is still active.
Quatre membres de la communauté kurde blessés dans une attaque à la Guillotière.
The Mesopotamia cultural space, located on rue Mazagran, was reportedly taken over by 20 to 25 attackers, armed with iron bars, on Saturday at the beginning of the afternoon. Four people were injured.
 It happened very quickly, they broke everything, "reports a member of the Mesopotamia cultural space, located rue Mazagran, in Lyon 7 th . This place, frequented by members of the Kurdish community, was attacked Saturday, around 2:30 pm, by "twenty to twenty-five" individuals, armed with iron bars, according to this indirect witness. Four people were present inside the small room at the time of the events. All were injured.

The victims are between 30 and 40 years old and had been beaten with baseball bats, iron bars and weapons with blades, according to firefighters.
Commentators already note that banning the fascist organisation the Loups Gris (Grey Wolves), with links to the Turkish state, had not prevented this assault.
Today protests against the fascist attack took place in Lyon. Around 300 people took part. The window of a Turkish grocery shop was broken. The police used tear gas to break up the demonstration.
A Visit That Resonates Around the World.
Iraq has these last days seen a welcome visit by Pope Francis. He stood for the cause of humanity against sectarian murders, the religious cleansing of well over a million Christians from the land, and the actions of the genociders of Deash, whose killings aand slavery of the Yezidis will never be forgotten. Pope Francis acted with courage. It is good to see that religious Muslim religious figures in Iraq stood with him.
This is a historic event that sends a message of hope across the world.
People of all faiths, and none, progressives of all sides, stand by Pope Francis.
The Pope paid special attention to the victims of Islamist genocide, the Yazidis.
This meeting will be welcomed in many different religious communities.
Today,
Pope Francis condemned violent religious extremism Saturday during an interfaith prayer service at the site of the ancient city of Ur, where the Prophet Abraham is thought to have been born.

Francis travelled to the ruins of Ur in southern Iraq to reinforce his message of inter-religious tolerance and fraternity during the first-ever papal visit to Iraq, a country riven by religious and ethnic divisions.

 "We believers cannot be silent when terrorism abuses religion," he told the congregation, which included members of religious minorities persecuted under the Islamic State group's three-year rule of much of northern Iraq.

The pope urged Iraq's Muslim and Christian religious leaders to put aside animosities and work together for peace and unity.

"This is true religiosity: to worship God and to love our neighbour," he told the gathering.
This is a welcome reaction: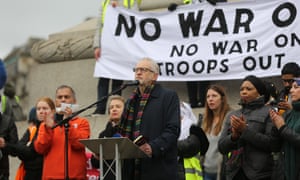 Yesterday in London there was a small, 2,000 strong according to Socialist Worker, demonstration saying no to war with Iran.
This is an honourable cause.
But one aspect leaves a very nasty taste.
Jeremy Corbyn made  some valid points,
Labour leader Jeremy Corbyn has told a rally in London that the shooting down of a passenger plane in Tehran was an "appalling act" for which there can be "no excuses".

Addressing a "No war on Iran" protest in Trafalgar Square on Saturday, Corbyn said the disaster, which killed 176 people, was "part of a whole pattern of appalling acts across the region".

He added: "There's no excuse for shooting down an airliner, there's no excuse for a targeted assassination by one state against another."
Are these acts equivalent?
Some go further.
The immediate threat of war appears to have fallen back after Iran hit back with its missile strike on US bases on Tuesday night.

But the downing of the Ukrainian airliner shows the unintended consequences the US's wargames in the Middle East can have.

Not only can it lead to appalling loss of life—176 people were killed—but such an incident could spark retaliations that spiral uncontrollably into war.
In other words, it's the US that is ultimately to blame for the murder of the air passengers.
Followed by,
Then,
Accidents will 'always Happen'
Morning and RT writer John Wright,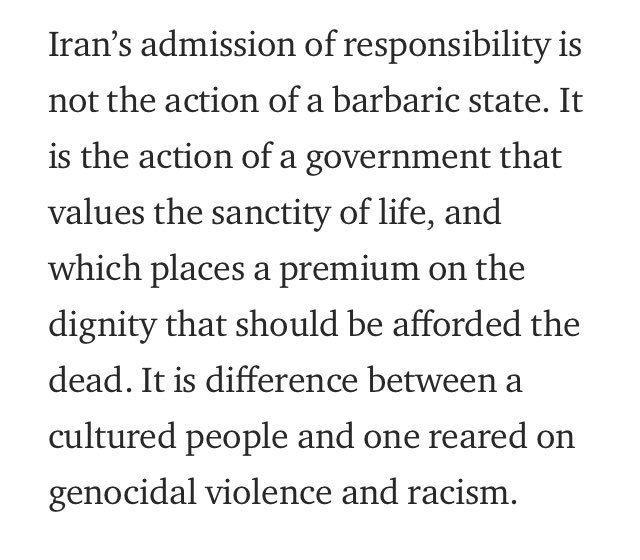 This is not the view of many Iranians.
Iranians hold angry protest over downed plane
Protesters in Tehran have chanted calls for the resignation of officials, after Iran admitted it accidentally shot down a Ukrainian passenger plane on 8 January.
Relatives and friends of those who died held a vigil near the Amirkabir University of Technology on Saturday.
Videos uploaded to social media show a crowd gathered, with some chanting for their country's leaders to resign and calling officials "liars".
Iran had initially denied reports its missiles had brought down the plane, but said on Saturday that it had "unintentionally" shot it down.