Archive for the 'Iranian Resistance' Category
Tahrir Square Baghdad: In Iraq Iranian Backed Militias Now Killing Protesters.
Iran is an active player, that is the leader,  in the fight against the recent Iraqi people's protests.
Last week:
Two days ago (Guardian)
At least 15 people stabbed after Hashd al-Shaabi supporters march to Tahrir Square.
More than a dozen people have been stabbed in a Baghdad square that has become a focal point for anti-government and anti-Iran protests after supporters of an Iranian-backed militia flooded the area.

Thousands of men waving sticks, Iraqi flags and the insignia of the Hashd al-Shaabi armed group descended on Tahrir Square on Thursday morning in apparently coordinated marches from across the capital.

Anti-government protesters who have been occupying the square for several weeks, some of whom are critical of Iranian influence in the country, said at least 15 people were stabbed before the militia-linked marchers withdrew by the late afternoon.
Today: (BBC)
Iraq has seen one of the worst flare-ups in weeks of anti-government protests, with gunmen killing at least 20 people in Baghdad early on Saturday.

The unknown attackers raided key protest sites in the capital sending demonstrators fleeing into the streets.

The unrest in Iraq began in October, fuelled by anger over corruption, unemployment, poor public services and the influence of Iran.

More than 400 people have been killed since the protests started.

Witnesses described chaotic scenes from the latest attacks, which happened overnight on Friday.

Armed men on pick-up trucks are said to have driven through areas that have formed the centre of the protests in Baghdad, forcing demonstrators to flee from bullets.

It is not clear who is responsible – state television called the assailants "unidentified men".

Earlier this week several people were stabbed in Baghdad after supporters of an Iranian-backed militia swarmed into a square occupied by protesters.

In another development, a drone dropped a bomb on the house of the influential Shia cleric Moqtada Sadr, a source within his party said. He was out of the country at the time.

The Iraqi Prime Minister, Adel Abdul Mahdi, has resigned over the protests but those who have taken to the streets want a fundamental overhaul of the country's political system.

Iraq uses a quota-based system that allocates positions to political parties based on sectarian and ethnic identity.

But many Iraqis say it only encourages patronage and corruption and there is particular concern over Iran, the dominant Shia Muslim state which has close links to Iraqi Shia politicians who have been running the country since the toppling of Saddam Hussein.
Iran itself has seen protests against the Islamist theocracy grow.
The Islamists have used extreme violence.
It is well known that the Khomeinist regime consolidated its power under the banner of 'anti-imperialism'.
Many of the Iranian left, and the left internationally, bought this line.
Today we see the same anti-progressive positions being peddled by some  anti imperialists like the Stop the War Coalition and their allies in other Western countries.
Their priority remains fighting against imperialism.
This have been many  counter-voices from the Iranian left.
In the context of the present-day protests against the Islamist reactionaries, – one that could be extended to their actions by proxy against the Iraqi people, and across the near east through their alliance with Assad in Syria and sectarian forces in Lebanon) Mina Khanlarzadeh  now offers an important analysis of the unfolding fight against the Hassan Rouhani clique that has implications for these other crises.
First of all Khanlarzadeh offers some serious ideas about what kind of solidarity we should offer those fighting for their rights in Iran.
She writes in response to  the US petition, "Letter Against US Imperialism", "As anti-imperialist activists, scholars, artists and lawyers located in the United States, we stand in solidarity with the peoples of Latin America, Africa and Asia in their calls to end imperialism, sectarianism and neoliberalism, and we view the recent protests in Iran within this broader international context of resistance."
The people of Iran are resisting the economic, political and militaristic violence imposed on them both by international and domestic elites. The majority of the Iranian people do not seek regime change because they have already lived through two monumental events that destabilized their lives – the Iranian Revolution of 1979 and the Iran-Iraq War that lasted from 1980 until 1988. The elder generations can still recount the horrors that followed the toppling of Prime Minister Mossadegh during the U.S. and British-backed coup of 1953.

Iranians seek economic and political stability, and above all, they seek to maintain their national and individual dignity. We stand by them and their calls for domestic reform, and as people in the United States, we demand the end of the sanctions regime and U.S. and Israeli interference in the lives of the Iranian people.
In a detailed response to this declaration (milder than some of the rhetoric coming up from some 'anti-imperialists' who fight shy of direct backing for any form of  protest seen to further US interests, "Imperialist powers intensify pressure on Iranian regime in wake of protests") states
"The petition pretends to know what Iranian people want: "The majority of the Iranian people do not seek regime change because they have already lived through two monumental events that destabilized their lives […]  Iranians seek economic and political stability, […]. We stand by them and their calls for domestic reform [….]" The petition claims Iranians want stability, but who are these Iranians who want stability? It's certainly not the protesters who shouted for the fall of the dictator (Ayatollah Khamenei) in the streets and actually destabilized the country by forcing the government to use maximum force to silence them and to the surprise of the petitioners, kill more than 200 of them. The violent politics of stability has, in fact, been employed by the government to silence any cry for transformation towards improvement.
As Khanlarzadeh says, these forces position reminds one, of "the famous Ayatollah Khomeini quote, "All the anger you have accumulated in your throat must be screamed at the US."
At a time when even the Communist Party of Britain has called for solidarity with the Iranian protests, some clarity on the issues is welcome.
Morning Star November.
Communist Party of Britain general secretary Robert Griffiths wrote to the Iranian ambassador yesterday to express grave concern.

Mr Griffiths said: "While our party has campaigned against the imposition of sanctions by the United States, we deplore and condemn the suspension of civil rights, the indiscriminate killing of demonstrators and mass arrests which have taken place over the past week."

Codir is calling on individuals and organisations to show their solidarity with the Iranian people "in this their darkest hour."
Anti-Imperialism As An Intellectual Trap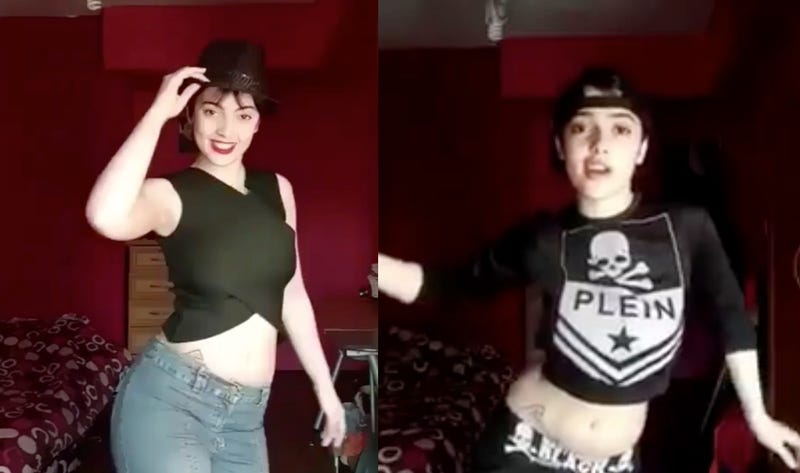 Islamist Bigots Crack Down on Unveiled Dancing Women.
Iran has arrested a number of people over videos that were posted on Instagram, including a young woman who filmed herself dancing to music.

According to activists, Maedeh Hojabri was one of a number of users behind popular Instagram accounts who have been arrested. The identities of the other detainees have not been confirmed.

Her account, which has been suspended, was reported to have had more than 600,000 followers.

Hojabri has since appeared on a state television programme with other detainees, in which she and others made what activists say were forced confessions, a tactic often used by Iranian authorities.

State TV showed a young woman, her face blurred, crying and shaking while describing her motivation for producing the videos.

"It wasn't for attracting attention," she said. "I had some followers and these videos were for them. I did not have any intention to encourage others doing the same … I didn't work with a team, I received no training. I only do gymnastics."

Little is known about Hojabri's personal life, or which city in Iran she is from, but since her arrest her videos have been shared by hundreds of people, giving her a reach beyond her account.

They appear to have often been taken using a camera in her bedroom while she danced to western pop and rap music without wearing a hijab, which is required in public.
Just in case anybody had forgotten the everyday religious tyranny that the Iranian Islamist regime shackles its people with.
But…
Iranians Mock Clerics After Teen Girl Arrested Over Instagram Dancing
Iranian women post video of themselves dancing in public after Maedeh Hojabri, 18, arrested for videos in which she appeared without compulsory headscarf
https://twitter.com/AlinejadMasih/status/1015641765272084480
Solidarity.
The Sharpest 'Injuries'  –  Words. 
The Guardian Opinion desk Editor David Shariatmadari commented yesterday on the case of Warwick University Students' Union attempting to ban Maryam Namazie, from addressing a meeting of its Atheists, Secularists and Humanists Society.
There's nothing misguided about the left's concern for Muslims. David Shariatmadari.
He comments,
Namazie's supporters two things were very clear: first, this was a direct attack on free speech; second, lefties were once again siding with religious conservatives because of a misguided belief that Muslims, as a minority group, should be protected at any cost.
Shariatmadari starts poorly,
First – was the move to block Namazie's appearance really an attack on free speech? She should certainly be at liberty to express herself within the law. The Guardian has in the past published her work. But does the withdrawal of an invitation really amount to censorship? Her words have not been banned, the state has not gagged her. Is Namazie's capacity to share her ideas diminished if she doesn't appear in front of 50-odd students? After all, she can still tweet and blog, as she showed over the weekend. If anything, the whole episode has increased her audience.
So, Warwick University SU's decision was small beer.
The state has not banned her.
Namazie, can still speak. She can write, go on Facebook, she can tweet.  She can mumble to the wind.
No need for secularist uproar.
"All we're really seeing is one student body's messy weighing up of which values it wants to endorse, and which it wants to reject – and exercising its own right of free expression to make that choice."
But until the SU reversed the decision she could not address the Atheists, Secularists and Humanists Society. That is the province of the SU who can decide, or not decide, if her speech is acceptable to them.
And they – as he indicates, have some reason to be wary, then they can tell their student members what they can and cannot listen to.
Shariatmadari makes clear there were reasons for the Students' Union to be worried.
That leads us to a second point: what motivated those who didn't want the event to go ahead? Were they really "kowtowing to Islamists"? Namazie is often described as a secularist, championing enlightenment values and defending the rights of women against conservative religious ideology. These are positions that most progressives would find it easy to get behind. But the way Namazie articulates her arguments might give them pause.
Indeed, he continues, the Guardians of what or what not Warwick students should be allowed to hear at their meetings, were right to pause.
At the World Atheist Convention in Dublin in 2011, she set out her stall as an equal-opportunity critic of religious belief. "In my opinion, all religion is bad for you. Religion should come with a health warning, like cigarettes: religion kills."

However, she does regard Islam as a special case. She believes it is defined by the concept of "inquisition". She contrasts it with Christianity, arguing that "a religion that has been reined in by the Enlightenment is very different from one that is spearheading an inquisition." This would seem to hold out some hope for the "Reformation" of Islam. (Personally I feel that the analogy with 16th-century Europe is flawed. It misrepresents the nature of hierarchy in Islam, as well as being anachronistic.) And yet at the same time, Namazie denies the possibility of change and evolution.

She says that "under an inquisition things like 'Islamic feminism', 'liberal interpretations of Islam' – these are all in quotes for me – 'Islamic reformism' … are impossible. A personal religion is impossible under an inquisition."
One might at this point note that comrade Namazie is Iranian ( Shariatmadari is proud to signal in his own background, that "My 90-something uncle, whom I've met three times, was a religious nationalist politician in Iran, but I was brought up in a secular household.).
Perhaps he has also met modern Iranian secularists. Perhaps he has heard about the censorship, the religious 'legality' of Iran, the repression, the torture, the gaol sentences for Namazie's comrades, and the deaths of the beloved martyrs for secularism and the left, under the Islamist theocracy.
No. Shariatmadari goes to what he considers is the quick.
So, at a stroke, she denies the agency of all would-be Muslim reformers, Muslim feminists in particular. She undermines those imams and scholars who do preach a liberal, open version of Islam. She appears to think that Muslims with non-judgmental views about sex and sexuality are kidding themselves. In fact, she speaks as though she would actually like to shut down debate in these areas. At one point she quotes the Iranian political activist Mansoor Hekmat: "This is the religion of death."
Hekmat is the author of many works on Marxism and Islamism, which have had a deep impact on the international left (see Wikipedia). He was the founder of the Iranian Worker Communist party.
This the article referred to, by comrade Hekmat said about Islamism, in fuller form, and not the Guardian's abbreviated version.
I realise that the interests of some require that they rescue Islam (as much as possible) from the wrath of those who have witnessed the indescribable atrocities of or been victimised by Islamists. I also realise that the extent of these atrocities and holocausts is such that even some Islamists themselves do not want to take responsibility for them. So it is natural that the debate on 'true Islam' vis-à-vis 'practical Islam' is broached over and over again. These justifications, however, are foolish from my point of view (that of a communist and atheist) and from the points of views of those of us who have seen or been the victims of Islam's crimes. They are foolish for those of us who are living through a colossal social, political and intellectual struggle with this beast.

The doctrinal and Koranic foundations of Islam, the development of Islam's history, and the political identity and affiliation of Islam and Islamists in the battle between reaction and freedom in our era are too obvious to allow the debate on the various interpretations of Islam and the existence or likelihood of other interpretations to be taken seriously. Even if the debate were in the future and on other planets where the most basic rights and affections of humanity were not violated. In my opinion, it shows the utmost contempt for the science and social intelligence of our times if every excuse and justification that Islamists fling into society whilst retreating is scientifically analysed and dissected… In Islam, be it true or untrue, the individual has no rights or dignity. In Islam, the woman is a slave. In Islam, the child is on par with animals. In Islam, freethinking is a sin deserving of punishment. Music is corrupt. Sex without permission and religious certification, is the greatest of sins. This is the religion of death. In reality, all religions are such but most religions have been restrained by freethinking and freedom-loving humanity over hundreds of years. This one was never restrained or controlled. With every move, it brings abominations and misery.
What does this imply for free speech?
Moreover, in my opinion, defending the existence of Islam under the guise of respect for people's beliefs is hypocritical and lacks credence. There are various beliefs amongst people. The question is not about respecting people's beliefs but about which are worthy of respect. In any case, no matter what anyone says, everyone is choosing beliefs that are to their liking. Those who reject a criticism of Islam under the guise of respecting people's beliefs are only expressing their own political and moral preferences, full stop. They choose Islam as a belief worthy of respect and package their own beliefs as the 'people's beliefs' only in order to provide 'populist' legitimisation for their own choices. I will not respect any superstition or the suppression of rights, even if all the people of the world do so. Of course I know it is the right of all to believe in whatever they want. But there is a fundamental difference between respecting the freedom of opinion of individuals and respecting the opinions they hold. We are not sitting in judgement of the world; we are players and participants in it. Each of us are party to this historical, worldwide struggle, which in my opinion, from the beginning of time until now has been over the freedom and equality of human beings. I will not respect the superstitions that I am fighting against and under the grip of which human beings are suffering.
Given the action of Daesh, shown last night on Channel Four News training children to slaughter, one can't help feeling that comrade Hekmat had a point – whatever we think about the details of the politics of the Workers-Communist Parties.
What kind of "respect" should we show these Islamists?
Freedom of speech does not mean deference or pandering to the intolerable.
By contrast, this is what Shariatmadari considers important.
What might lead people to decide they'd rather not give a platform to such rhetoric? Recognising the pressure British Muslims are under – surveilled by the state, victims of verbal abuse, vandalism and arson – could it be that some students felt welcoming a person who believes Islam is incompatible with modern life would be wrong?
He consdiers that many would not wish to live in a society ruled by Islamic values – glossing over the fact that even many moderate Muslims believe in some version of Shariah 'law' which by its very principle is a discriminatory – against Women, against non-believers – and is the rule of God, not of Democracy.
No, this is what matters,
However, the fact remains: at this historical moment, in this country, Muslims are subject to greater demonisation than almost anyone else. Absolutists may not like it, but this power imbalance must enter into the calculation.
So an Iranian woman whose views on Islamism stem from the experience of actually existing Islamic counties, contributes to those who wish to "insult and injure" Moslems.
How does this enter the calculation of the "power balance"?
He notices that,
We are lucky to live in a pluralist democracy, with freedom of choice in politics and religion. These are things we should cherish, but they are not in any serious danger. Were they really threatened – by the emergence of a theocracy, by the drafting of racist or misogynist laws – the left would oppose that with every sinew. I hope that more citizens in Muslim-majority countries can one day enjoy the level of political and social freedom that we do, and I support the men and women who try to bring that about.
But in the meantime it's okay to call a halt to those who wish to insult "injure" (with no doubt the shparest of weapons – words), Islam.
Earlier this year Shariatmadari expressed great concern about the word "terrorism".
Modern "terrorism" has the peculiar property that it relies on its enemies to grant it victory – and why not have a special word for that? Why not use it to describe the Charlie Hebdo attacks, which, in my view, fall into that category?

But the word itself casts a shadow of fear. Politicians deploy it to justify illiberal measures. The panic it evokes ramps up prejudice against minorities. It is even used to win support for wars. Wielded carefully, "terrorist" could still make sense, à la Fromkin. Used to frighten, cajole or slander, it's one of the most toxic words of our times.
No doubt he will feel equal concern at those of the description of Iran, and all states whose 'laws' are based on the Shariah as  theocratic monsters.
No doubt he will point to liberal elements in their regimes and the need for careful language.
And no doubt he will wince at those of us who call Daesh genociders.
Tough: that's freedom of speech.