Archive for the 'Iran' Category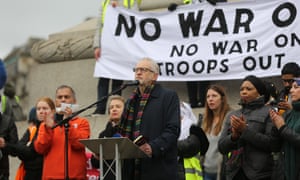 Yesterday in London there was a small, 2,000 strong according to Socialist Worker, demonstration saying no to war with Iran.
This is an honourable cause.
But one aspect leaves a very nasty taste.
Jeremy Corbyn made  some valid points,
Labour leader Jeremy Corbyn has told a rally in London that the shooting down of a passenger plane in Tehran was an "appalling act" for which there can be "no excuses".

Addressing a "No war on Iran" protest in Trafalgar Square on Saturday, Corbyn said the disaster, which killed 176 people, was "part of a whole pattern of appalling acts across the region".

He added: "There's no excuse for shooting down an airliner, there's no excuse for a targeted assassination by one state against another."
Are these acts equivalent?
Some go further.
The immediate threat of war appears to have fallen back after Iran hit back with its missile strike on US bases on Tuesday night.

But the downing of the Ukrainian airliner shows the unintended consequences the US's wargames in the Middle East can have.

Not only can it lead to appalling loss of life—176 people were killed—but such an incident could spark retaliations that spiral uncontrollably into war.
In other words, it's the US that is ultimately to blame for the murder of the air passengers.
Followed by,
Then,
Accidents will 'always Happen'
Morning and RT writer John Wright,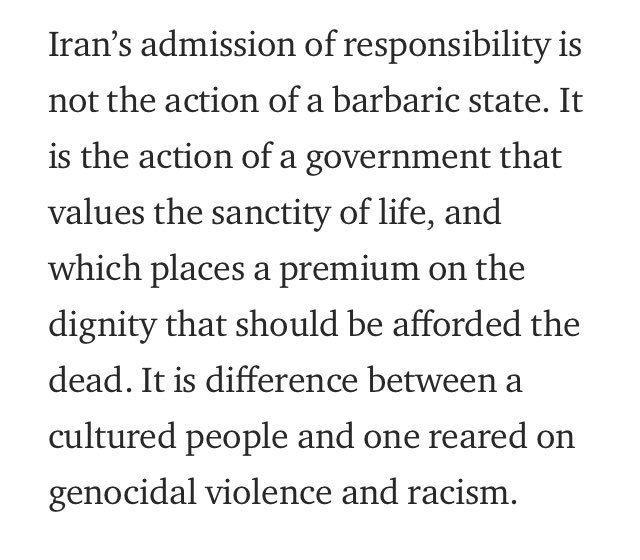 This is not the view of many Iranians.
Iranians hold angry protest over downed plane
Protesters in Tehran have chanted calls for the resignation of officials, after Iran admitted it accidentally shot down a Ukrainian passenger plane on 8 January.
Relatives and friends of those who died held a vigil near the Amirkabir University of Technology on Saturday.
Videos uploaded to social media show a crowd gathered, with some chanting for their country's leaders to resign and calling officials "liars".
Iran had initially denied reports its missiles had brought down the plane, but said on Saturday that it had "unintentionally" shot it down.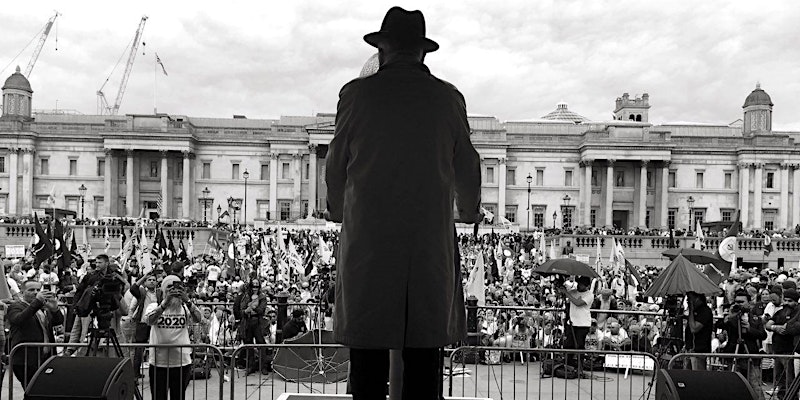 Labour Leadership Hopefuls Beware: Galloway Addresses Masses Backing Workers' Party of Britain.
The Workers Party positively embraces Britain's withdrawal from the EU. Britain needs to be free of the EU regulations that would restrict our fiscal and monetary policy and prevent Britain from taking public ownership of key utilities and transport infrastructure.
More on Birmingham event.
In the morning George will set out his vision for the Workers Party and discuss the historical necessity of building an alternative workers political party to the discredited and treacherous Labour party and its Blairite leadership. As always, the audience will be encouraged to participate and George will chair contributions from the floor until lunchtime.

In the afternoon the Workers Party will turn its attention to a British institution we all hold dear, the NHS. Britain's best known communist vascular surgeon Dr Ranjeet Brar (@Rango1917) will be joined by the NHS campaigner and inspiration behind the films "Sell-Off" and "The Great NHS Heist" Dr Bob Gil (@drbobgill). These two doctors will chart the path which led to the privatisation of the NHS and what must be done to turn things around. Contributions from the floor will be positively encouraged.

To close out the day George Galloway will give a closing speech and there will be time over lunch and at the end to meet new friends and talk politics!
The Spanking New Workers' Party will be Leading Protests Against US Threats to Iran.
"The party was founded in December 2019, by the former Labour and Respect Party Member of Parliament George Galloway, following the 2019 United Kingdom general election.[1]
The Workers Party is affiliated with the Communist Party of Great Britain (Marxist–Leninist) with its vice chair Joti Brar, also serving as deputy leader of the newly founded party.[2]
Wikipedia entry – to be expanded soon!
"Qasem Soleimani, the hated commander of the Islamic Republic's Quds Force" – Worker-communist Party of Iran.
The Stop the War Coalition responded differently.
The assassination of Iranian general Qassem Soleimani is an act of war by Donald Trump. The act was carried out in Baghdad, violating all agreements with the Iraqi government. Both Iran and Iraq will retaliate. Trump has been heading for war since tearing up the nuclear deal with Iran and if he succeeds will create a bigger war than we have seen in the Middle East. It will draw in major players across the region including Israel, Saudi Arabia and possibly Russia.

This is the bloody result of two decades of war started by the US after 9/11. Those of us who said war in Iraq would lead to endless conflict and misery were absolutely right to do so. And those who justified those wars are now looking on while the situation escalates.

We must do everything we can to oppose war with Iran – and attacks on Iraq if it demands the withdrawal of US troops.
German says not a word about this war criminal's actions.
Statement of the Worker-communist Party of Iran:
Qasem Soleimani, the hated commander of the Islamic Republic's Quds Force has been killed
In the early hours of today, Qasem Soleimani, along with a number of key commanders of the Quds Force, and of Hashd Al-Shaabi and Kata'ib Hezbollah, including Kata'ib's chief commander Abu Mahdi Al-Muhandis, were killed in a drone strike near Baghdad Airport. The attack comes after clashes between the US and the Islamic Republic forces in Iraq over the past few days. The death of Qasem Soleimani, who was the absolute commander of the Quds Force and one of the most powerful commanders of the Islamic Republic's Pasdaran paramilitary force (IRGC), is a deadly blow to the Islamic Republic – in Iran, in the region and particularly in Iraq.

Soleimani was one of the most vicious terrorists of the Islamic regime, playing a key role in the organisation of terror groups in Syria, Yemen and particularly in Iraq. He was the architect and organiser of Hashd Al-Shaabi and other Islamic gangs in Iraq and in effect led the suppression of the Iraqi people and their uprising. His killing will no doubt delight the people of Iraq and Iran who detest the Islamic Republic and are engaged in a daily fight with this regime and its mercenaries. People of Iran share in the happiness of the people of Iraq, who have come out dancing and celebrating on the streets of Baghdad.

Following the killing of Qasem Soleimani, the Islamic Republic will no doubt step up its attempts to incite military clashes between the Islamic forces and the American army in the region, and in particular in Iraq. However, the revolutionary people of Iraq and the power of Tahrir Square, which have already driven the fading Iraqi state into a total political crisis and deadlock, will not allow the warlike attempts of the Islamic Republic to succeed. The victim of such attempts will ultimately be the Islamic Republic itself.

The main response of the people of Iran to the rants of the leaders of the Islamic Republic, aimed at militarising and terrorising the social climate, and the way to confront the dangers of a conflict between Islamic terrorism and American militarism, is to step up the struggle for the overthrow of the Islamic Republic in Iran and its expulsion from Iraq, which is a key demand of the people of Iraq.

Victory to the revolution of the people of Iraq!

Down with the Islamic Republic!

Worker-communist Party of Iran

3 January 2020