Archive for the 'Imperialism' Category
"A safer pair of hands, a less disruptive force, than even the Tories." – Tribune.
How Keir Starmer Sabotaged Rebecca Long-Bailey
The Editor of Tribune, Ronan Burtenshaw is beside himself, "From her earliest days as shadow education secretary, Keir Starmer set about undermining Rebecca Long-Bailey – because her socialist politics and loyalty to trade unions were incompatible with his leadership."
The socialist politics Rebecca Long-Bailey represents has no place within Starmerism, as the other Left members of the shadow cabinet will realise in due course. His political project is to present Labour to the British establishment as a safer pair of hands, a less disruptive force, than even the Tories.
The chief of the re-vamped and US-owned journal, announced as a monthly in 2018, now reduced to a quarterly appearance,  also asserts,
To many onlookers, Rebecca Long-Bailey's sacking might have seemed strange. After all, she was fired for sharing an interview by someone else in which they made a claim which was only marginally incorrect. (The Israeli police do, in fact, train the US police and encourage the use of "excessive force" against those who "pose little or no threat.").
He concludes,
Starmer's determination to be seen as sensible by the business and media elites is also incompatible, in any longer-term sense, with unity with the Left. It is not possible to present yourself as unthreatening to capital with principled socialists as part of your coalition. And so, they were always going to be sidelined – it was a matter of time.
It would be interesting to see what plans, and with what troops,  Burtenshawn has to threaten capital and to challenge the "powerful", and all those business and media "elites".
The would-be general of the revolt concedes,
Such an approach might win an election.
So what is he wittering on about?
That Starmer might succeed without toppling the statues and moments of capital?
Perhaps he could ask his close allies:
The Morning Star, totally independent of the Communist Party of Britain, which called to boycott Labour and voting for any party in last years' European election,  said of the Long-Bailey's dismissal,
Sacking Rebecca Long Bailey is an attack on the whole left
Attempting to dismiss references to the relationship between the Israeli and US security forces as "an anti-semitic conspiracy theory" is a cynical bid by the Board of Deputies to warn people off attacking the Israeli government at a time when its plans to annex the West Bank are arousing widespread condemnation.

Using it as an excuse to sack Long Bailey looks like a cynical bid by Starmer to drop a shadow minister whose refusal to attack teaching unions and parrot his irresponsible push for schools to fully reopen more quickly showed up the weakness of his opposition to a Conservative government whose mismanagement of the Covid-19 pandemic has cost tens of thousands of lives.
In other words Starmer acted against Long-Bailey because of his own failings, an inability to stand up to a Cabinet which is causing tens of thousands of deaths. Not only is the Labour leader unable to stand up to the mismanagement that is leading to people dying, his "cynical" move is against trade unionists in the teaching profession and in line with a further "cynical bid" bu the Board of Deputies to prevent people attacking Israeli plans for the West Bank.
Some might suggest that this looks a bit like a conspiracy!
Today the paper which likes to speak on behalf of the "whole left" says,
Editorial: Covid-19 is still a crisis – but Labour isn't grappling with it
Where's Labour? Hinting that it is now ready to drop the radical Green New Deal programme developed by the previous leadership.

Keir Starmer's spokesperson says that new climate commitments will be written "in four or five years' time," that is in line with the parliamentary electoral cycle which he assumes is immune from external factors.

That shows no desire at all to try to work with, let alone lead, those fighting to transform this crisis into an opportunity for far-reaching change in the present.
Pause.
The Morning Star believes that Brexit is an "opportunity" for a 'people's' then a 'socialist' Brexit.
Now it seems to think that Covid-19 and the Green New Deal are further opportunities to begin "far-reaching changes".
With such an abundance of fruitful chances, how many more opportunities can we deal with?
Fact Checking.
The furious Tribune boss and his friends in the Morning Star has yet to respond in full to this:
Did Israeli secret service teach Floyd police to kneel on neck?
Channel Four FactCheck.
It seems Ms Peake's original claim is based on an article in the Morning Star from 1 June, which states: "At least 100 Minnesota police officers attended a 2012 conference hosted by the Israeli consulate in Chicago, the second time such an event had been held."

The article has been shared over 40,000 times on Facebook, according to analytics provided by the website Crowdtangle.

This description appears to be supported by a report from Minnesota Public Radio (MPR) at the time of the event. By the MPR account, the conference took place in Minneapolis and was "put on by the Israeli consulate in Chicago, the FBI and Minnetonka police". (Minnetonka is the neighbouring city to Minneapolis).

Which techniques were taught?

The Morning Star piece alleges that those attending the 2012 conference "learned the violent techniques used by Israeli forces as they terrorise the occupied Palestinian territories under the guise of security operations."

The article does not explicitly claim that Israeli forces taught American police to kneel on a person's neck at the conference.

The only link to this tactic in the story is made by an activist, Neta Golan, who told the paper: "When I saw the picture of killer cop Derek Chauvin murdering George Floyd by leaning in on his neck with his knee as he cried for help and other cops watched, I remembered noticing when many Israeli soldiers began using this technique of leaning in on our chest and necks when we were protesting in the West Bank sometime in 2006."

Ms Golan is quoted as saying: "it is clear that they [Israel] share these methods when they train police forces abroad in 'crowd control' in the US and other countries including Sudan and Brazil." The information in square brackets is from the Morning Star's copy.

The article mentions a 2016 report by Amnesty which lists US police forces that have "all traveled to Israel for training" and "thousands of others" that "have received training from Israeli officials here in the U.S."

After yesterday's controversy involving Maxine Peake and Rebecca Long-Bailey, Amnesty International told the New Statesman: "the precise nature of the training offered to US police forces by Israeli officials is not something we've documented".

They added: "Allegations that US police were taught tactics of 'neck kneeling' by Israeli secret services is not something we've ever reported".

Beyond the speculation of one activist, there is no information in the Morning Star article that would support the claim that the specific practice of kneeling on a person's neck was taught to US police by Israeli forces.
Or indeed Jim's latest post which signalled a justified scepticism about anything that appears in the Morning Star, wholly independent of the CPB and owned by the co-op that it is,
Long Bailey, 'antisemitic conspiracy theories' and the dangers of believing what you read in the Morning Star
It is quite possible to feel sorry for RLB – and to doubt that she is personally an antisemite – whilst recognising that she's been an idiot and that Starmer, operating in the real world, had no choice but to sack her (not least because the EHRC's report into antisemitism in the party is on its way, and expected to be highly critical).
Others have noted the flaws in the article Long-Bailey retweeted,
Rebecca Long-Bailey's sacking: such a fine line between stupid and clever
George Chesterton.
The first point – echoing the sentiments of so many charming hard-left voices of the past five years that anyone who didn't like Jeremy could "fuck off and join the Tories" – is all very well for Peake, but for a shadow cabinet minister to put a tick by such a knuckleheaded suggestion, even after the crushing defeat, betrays a lack of nous that would make Chris Grayling blush. According to Peake, Labour voters who didn't vote for Corbyn should "hang their heads in shame". Perhaps the electorate should apologise. But again, couldn't Long-Bailey see what this self-harm had achieved? People literally had fucked off and voted for the Tories.
He concludes,
 ..let's get this straight: Long-Bailey is praising an article in which an actor bad-mouths her new boss.
Quite.
Update, some reverberations:
Not "Liberté, égalité, fraternité" but "Work, Family and Community".
Blue Labour is a pillar of the alliance between supporters of the Brexit Party (Spiked/ex-Living Marxism), the Aaron Bank funded Trade Unionists Against the EU,the Communist Party of Britain, and sundry 'sovereigntist' anti-EU types, from red Tories to leading New Left Review contributor Wolfgang Streeck, the Somewhere, as opposed to the Anywhere People.
Its leading thinker, Maurice Glasman, a noble member of the House of Lords, has not been idle in the present crisis.
In the promiscuous forum of Web events the Baron of Stoke Newington and Stamford Hill,  has found time to discuss the weighty issues of the age in the comfortable companionship of old friends from the Spiked Network.
After this pleasant evening, displaying his preternatural intellectual endowments, the Brexit campaigner has enjoyed reflecting on the wisdom of the illimitable pretensions of  Catholic social doctrine.
It is Catholic social thought that has guided me through the 2008 crash, Brexit and now the coronavirus. It has been my inspiration and I will be eternally grateful to Catholics and the Church. It was a very generous gift. In the darkest moments, it lights the way.

Lord Glasman: How Catholic Social Teaching rescued me from an academic crisis
This deft piece in the Catholic Herald  could serve as a springboard for further popular instruction, from the 2008 crisis, pandemics, the glory that is Brexit, to the Universal Church's centuries-long striving for equitable social institutions.
Alas, efforts to corral the rock of St Peter on the side of society's efforts to "defend itself" may well have hit a snag.
Yesterday this lot hit the leftist headlines, the result of their own reference to another Catholic social thinker,  Philippe Pétain.
The Vichy regime and its leader enjoyed great support from the Church hierarchy and many believers, (see on this, "Vichy : un régime clérical." More than half of young people between the ages of 14 to 21 belonged to pro-Vichy youth movements" Les mouvements de jeunesse catholique connaissent un véritable essor sous Vichy, entre 1940 et 1944 près de la moitié des jeunes âgés de 14 à 21 ans, appartenait à un de ces mouvements.")
Vichy was permeated with "corporatist" ideology. Corporatism opposed class struggle Marxism, finance ('globalism'), and promoted revived national and community values. Nobody would contest that the Vichy 'National revolution' had many other sources and policies, but this attempt to run the economy and society, however much a mask for German rule, was not a simple smoke-screen.
People can be excused for thinking that claims to balance 'rights' and duties', to devise an alternative to Marxism and liberalism, "« le marxisme n'est qu'un aspect prolongé des doctrines libérales »" was not too far off Blue Labour's ideas of "mutuality and solidarity".  (Un laboratoire de la doctrine corporatiste sous le régime de Vichy : l'Institut d'études corporatives et sociales Steven L. Kaplan)
It is well known that Vichy was the first regime to establish the 1st of May as a bank holiday in France.
Le , le maréchal Pétain instaure officiellement par la loi Belin le 1er mai comme « la fête du Travail et de la Concorde sociale »23, appliquant ainsi la devise Travail, Famille, Patrie : par son refus à la fois du capitalisme et du socialisme
These aspects of history should not make us forget the courage of those Catholics who resisted Pétain and Vichy, some of the best human beings in French history.
It is to register that "Catholic social doctrine" is not a block of granite resting on the side of progressive causes.
Look at Hilaire Belloc, one of the best known social thinkers, amongst his many accomplishments.
The British-French essayist became a corporatist of sorts.
This is his best known  account of the origins unrestrained capitalism,
The Servile State (1912)
The Immemorial past of Europe is a Servile past. During some centuries which the Church raised, permeated, and constructed, Europe was gradually re- leased or divorced from this immemorial and fundamental conception of slavery ; to that conception, to that institution, our Industrial or Capitalist society is now upon its return. We are re-establishing the slave.
In his efforts to find a corporatist solution to this servitude Belloc equally didn't exactly stand firm against fascism and antisemitism…
Today it would not be surprising to see forms of national populism trying to modify the hard-line free-market thrust of their 'national neo-liberalism' with corportaist suggestions about bringing people together through social justice  in national communities.
You could say that Blue Labour, backers of a Brexit and enablers of the Johnson-Cummings project, form part of that wing of national populism.
After the initial tweet by Young Blue Labour a  – less complicated – history lesson followed:
Then,
The Scooby Gang running Blue Labour  – 'gotten' followed this by another American contribution- Howdy Pardners!
But "skepiticism" did not last
For some of us this reference to Dempsey is up there with the Vichy stuff…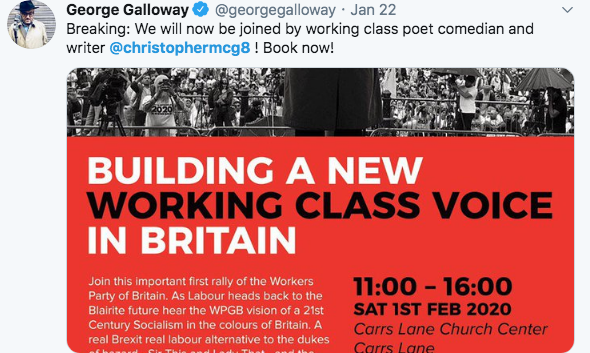 Chris McGlade, "kicking back at the metropolitan liberal elite."
"To defend the value of our votes, working-class communities had no choice but to vote Conservative, thanks to their betrayal by the Labour Party, writes Chris McGlade" – now supporter of George Galloway.
Le Monde Diplomatique is one of the world's best known political publications.
"Worldwide there were 71 editions in 26 other languages (including 38 in print for a total of about 2.2 million copies and 33 electronic editions)."
It has claims to be on the left.
In the February issue (French edition, I have a Sub.) the monthly published a lengthy account of the British Labour's electoral defeat by a Chris Bickerton, Pourquoi le Labour a perdu. Chris Bickerton. Bickerton is a supporter of the 'Full Brexit' initiative.
This is a pro-Brexit alliance between members of the Communist Party of Britain, the socially conservative "anti-immigration and pro-family' Blue Labour  current, including anti-rootless cosmopolitan campaigner Paul Embery the Communist Party of Britain, the British representative of the 'Lambertist' Trotskyist movement, Labour Party and other left sovereigntists,  and supporters (when it existed) of Nigel Farage's Brexit Party. The Full Brexit also includes a number of hard to classify anti-EU figures, from the Greens, 'red-Tories', and individuals who could be generously called 'eccentric'.
Many of the Full Brexit  are part of the Spiked 'network', whose origins lie in the Revolutionary Communist Party, such as former RCP cadre, James Heartfield, (born, James Hughes) who initially was going to stand as a Brexit Party candidate in the General Election in Jeremy Corbyn's constituency.
Spiked's present day campaigns include fighting "woke culture", environmentalism, and censorship. It is now engaged in sustained attacks on the Black Lives Matter movement (today, "The tidal wave of woke sentiment, unleashed in the name of anti-racism, threatens the very foundations of liberal democracy.")
Chris Bickerton has contributed to the Spiked site, the last time in 2017. More recently, immediately after the UK General Election,  he has written for the Guardian, Labour's lost working-class voters have gone for good. The Guardian notes that, he " teaches politics at Cambridge University and is a founding member of The Full Brexit."
While the British daily does not explain what the Full Brexit is, the paper at least it signals the affiliation.
Le Monde Diplomatique contents itself with listing that Bickerton is "Politiste, université de Cambridge."
Next to this article (in the print edition) is the following which does flag out the Full Brexit (without explaining the nature of this alliance of left sovereigntists and the far-right populist Brexit Party).
This is what McGlade says,
I've been a member of the Labour Party. I flirted with Militant when I was 18. I was in three trades unions. All my family are working-class, Irish immigrant stock and Labour supporters for decades. We're not brainwashed, but we all voted Conservative.

The Labour Party no longer represents working-class people in the northeast. It no longer speaks to us. It doesn't think like us. It's not us anymore. We have no voice. And, so, we voted for the only party who were offering to respect what we voted for in 2016. Yesterday, we voted in Redcar for democracy and the worth of our vote. If we'd lost that through a pack of middle-class progressive liberals getting elected and holding a second referendum, we'd have lost everything. They've taken everything off us up here, even our party. Our vote, our only protection against them, couldn't be taken away from us as well.
In  recent post Tendance Coatesy  expressed scepticism about the credentials of this type.
As political activists are all too well aware, it's something of a boastful excuse for people to claim to have been Labour supporters, "for decades"  when they are about to justify their right-wing views and vote for the Tories or the extreme Right, UKIP or British National Party.
A justified reservation, though it turns out a lot more than a pinch of salt is needed to take McGlade seriously.
On Tendance Coatesy David Walsh comments,
Chris McGlade ? The new working class hero of Le Monde Diplomatique is well known to many of us on Teesside. He is a clown (both professionally as a self-styled stand up comedian) and as a….well….clown. He is an obsessive conspiracist. In the 1990's / early 2000′ I was the leader of the local unitary council. In that period he was obsessed by what he saw as huge conspiracies involving developers, local councils and secretive quasi masonic bodies.

He first battened on to me with a series of comments that I was in receipt of huge back handers from industry and builders – all handed to me in the time honoured fashion of A4 sized brown envelopes. (I did point out that if I was getting such bungs, I'd want it done electronically, and (b) if it had to be brown envelopes, then the passing on of the goodies must not, as he alleged, be done in the lounge of the largest pub in the town………)

He dwells on his past as a steelworker, although I have no memory of him putting in any shifts anywhere on South Tees, and being a fervent leftie and working class Labour supporter. Again, if he was, I, and others, would remember all those leafleting sessions and canvassing that was the lot of us all then……. but memory in a funny thing. Still, he now neatly fits the needed narrative for our times if you are from the Lexit, Brexit Spiked / Red Brown Front, so the working class hero is made flesh and blood. BTW Welcome Back.
Comrade David Walsh is clearly on to something.
Here is some of life-long  'Labour' supporter McGlade's past,
(Northern Echo. 2005),
CAMPAIGNING comedian and a former London policeman have joined the race for the Redcar seat at the next General Election.

Jonathan Lehrle, chief of staff to Shadow Foreign Secretary Michael Ancram, has been unanimously selected as Tory candidate by Redcar Conservative Association.
Chris McGlade, who made his name as a stand-up comic before leading a campaign against Redcar's Coatham Enclosure plans, will stand as an Independent."
Here is some of his present.
In February the Communist Party of Great Britain (Marxist-Leninist) had this account of  Chris McGlade speaking at George Galloways 'Workers' Party' meeting,
Comrade Galloway closed the morning session by introducing a working-class poet and comedian from Teesside (northeast England), Chris McGlade, whose heartfelt and moving contribution received another standing ovation.
Welcome to Le Monde Diplomatique's new political pundits.