Archive for the 'Human Rights' Category
Spiked, Brexit Party ex-MEPs, Learned Pundits, Minstrels and Wordsmiths, try to heal divisions over Race.
Some might say it's odd, a new front set up on the issue of race, that says "don't divide us" whose three main initiators are: a former Brexit Party MEP and ex-Revolutionary Communist Party stalwart, Claire Fox of the 'Academy of Ideas', a one-time Brexit Party candidate and author at Brexit Central, and Spiked, Inaya Folarin Iman, and "anti-woke" glee and mirth-man, and – do we need to say? – Spiked contributor Andrew Doyle.
But it is so…
The Spiked Network (for more on this group see SPIKED FOOTNOTES) has geared into action…
The Spectator.
Racial division is being sown in the name of anti-racism
….activists, corporations and institutions seem to have seized the opportunity to exploit Floyd's death to promote an ideological agenda that threatens to undermine British race relations.

The power of this ideology lies in the fear it inspires in those who would otherwise speak out, whatever their ethnicity. But speak out we must. We must oppose and expose the racial division being sown in the name of anti-racism.

The consequences of this toxic, racialised agenda are counter-productive and serious.
Under soulless acronyms such as BAME and POC, all ethnic minorities are robbed of individual agency, and assumed to be victims of injustice.
Free speech is being eroded by a McCarthyite culture of conformity in which to question the new dogma means to risk one's livelihood and reputation.
Calls for the wholesale destruction of historical statues, symbols and works of art are fuelling an unhealthy war against the past and stirring up culture wars in the present.
An obsessive focus on the impact of colonialism threatens to turn history into a morality tale, rather than a complex, three-dimensional understanding of the past.
People will instantly agree that what we need on the issues of race and colonialism, slavery and ethnicity and nationalism, is the kind of complex nuanced debate that this little lot promoted as members of the Brexit Party, united behind the calm, anti-racist, leadership of Nigel Farage.
Or indeed by their on-line magazine Spiked:
Or: 'The left is turning into a Woke Taliban'
They are surely right to conclude that "We will not be divided – by reactionary racists or culture warriors – who refuse to see us as individuals beyond our skin colour."
Our ace-reporters are working on this right now, but look at some these tasty anti-division names that have backed this new Spiked Front:
William Clouston, party leader, The Social Democratic Party.
Recent healing Tweet:
Ben Habib, businessman; co-founder, Unlocked; former MEP (Brexit Party, modestly not mentioned…).
Christina Jordan, former MEP, South West England (Also Brexit Party, unmentioned).
Mercy Moroki:
Ed Husain, author The House of Islam: A Global History
Helen Pluckrose, specialist in the appealing sounding "Academic Grievance Studies and the Corruption of Scholarship".
Courtney Hamilton, Writer, (not mentioned: Author at spiked).
Another gleeman Simon Evans – he sounds a right laugh!
This all looks more like a Blue and Bluer Front than the previous Spiked initiative, The Full Brexit, which drew support from the Communist Party of Britain to the Brexit Party….
Perhaps closeness to Number 10 is altering the line…
Ronan Burtenshaw, editor of Tribune, says Starmer acted to "protect the reputation of the Israeli occupation'.
In recent weeks Keir Starmer, elected Labour leader with 56,2% of the party members' vote,  has managed to dent Boris Johnson's in the House of Commons. He has raised  issues, including the Tories' handling of the Coronavirus panademic, and the rubber-stamping a Tory donor's property development, that have further weakened the Conservatives position. Starmer's approval rating keeps rising in the opinion polls.
This news now dominates the Labour landscape.
Now, according to many on the left (overwhelmingly those who never supported him), the sacking of Rebecca Long-Bailey has struck a blow against the Corbyn legacy and socialism.
Momentum is using the sacking to mobilise to "win back power" in the party.
The Editor of Tribune (now owned by the US left-populist Bhaskar Sunkara, (New owner of relaunched bi-monthly Tribune magazine says 'Morning Star will cover the beat and we'll do more analysis') is perhaps not widely taken seriously.
But John McDonnell is.
McDonnell immediately received these replies (by people this Blog knows),
The Guardian's Heather Stewart reports on widely shared explanations for the sacking.
One Starmer-sceptic also pointed out that Long-Bailey, who represents a leave-voting constituency, had been sympathetic to Brexit, during the bitter internecine battle over the party's stance that raged throughout last year.

Perhaps it didn't help, either, that Starmer was visibly irritated last week when Boris Johnson wrong-footed him at prime minister's questions by pressing him to say he thought it was safe for children to go back to school.

Starmer's allies insist he has worked closely with Long-Bailey on schools policy; but some more centrist Labour MPs have accused her of listening too intently to teachers' unions, and not enough to parents, as she warned about the risks of wider reopening.

For these reasons he may not lament her departure from the frontbench, but Starmer's allies insist he would deal just as determinedly with claims of antisemitism even if they came from a close political friend.

Starmer's removal of Long-Bailey has rekindled Labour's civil war
A measured repose comes from Paul Mason.
The claim that Israeli police forces taught the US police the "neck kneeling" that murdered George Floyd has been denied.
The same link was made recently by Tariq Ali, who has supported a variety of political  parties and is at present believed to be a member of Labour.
I would now like to come to another part of the world which ironically links the knee on the neck to George Floyd to this region because a lot of the American police forces have been trained in Israel. Not just the Americans but many from right-wing countries in South America. And the methods in dealing with protests or ordinary citizens is virtually the same. You can find lots of photos of Israelis when these people are brave enough to take photographs with their knees on the neck of Palestinians."

Coronavirus, War & Empire: Arundhati Roy & Jeremy Corbyn in Conversation w/ Tariq Ali
Many consider that some on the left are so anxious to tie in Israel and Zionism to anything that they jumped on the opportunity to get them implicated in George Floyd.
Perhaps they will claim that the French police, who have been caught up in (justified) accusations, have been instructed by Israel.
Cédric Chouviat, a 42-year-old deliveryman, died in January after officers pinned him to the ground and put him in a chokehold, police tactics that are increasingly being called into question.

…

On Monday, Le Monde newspaper and Mediapart, an investigative news site, both reported details of the videos in which Mr. Chouviat can be heard saying "I'm suffocating" seven times over a roughly 20-second period as the officers arrested him.
More: Violences policières : avant la France, comment certains pays ont limité le recours à la clé d'étranglement et au plaquage ventral. Radio France. 20.6.20.
Update:
Long-Bailey continues to gain support….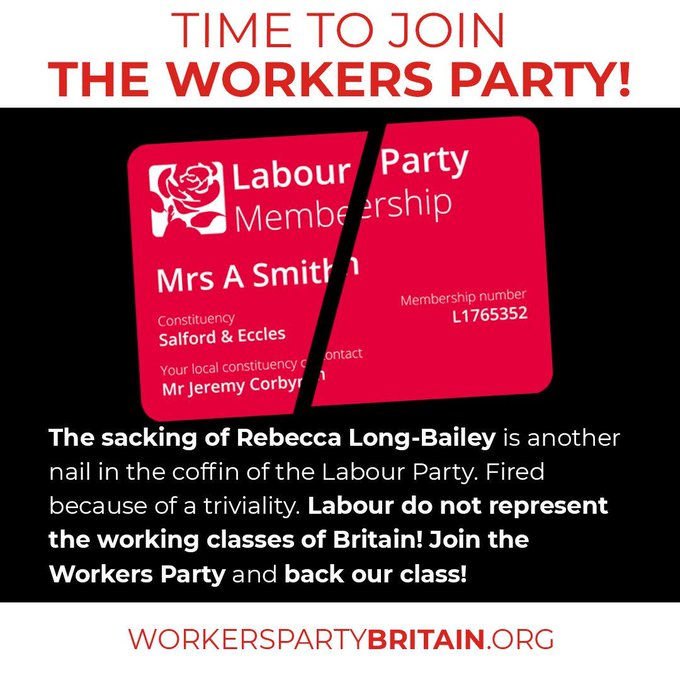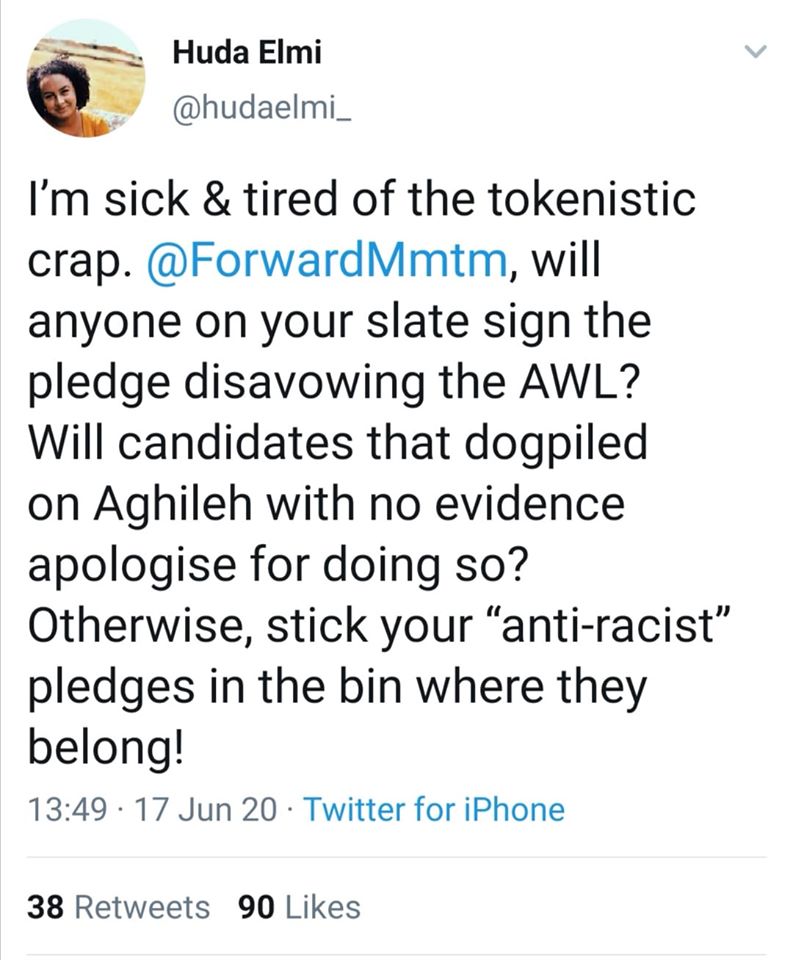 Huda Elmi, a senior elected figure for CLPs on the Labour Party's NEC.
Experienced Leftist Trainspotters, and even a few other Labour Party activists,  have been following with interest developments in the election campaign for  Momentum's National Co-ordinating Group (NCG).
It should be recalled that there are people on the left who did not become involved with Momentum whose stress on the importance of one individual, Jeremy Corbyn, was not universally accepted.
More recently Momentum has been seen as a block on efforts within the Labour Party to oppose Brexit such as the call for a Second Referendum.
In these elections there are serious ideas being debated and this seems a good outline of the two main slates,
One of these factions, Momentum Renewal, is seen as the continuity group, with its candidates broadly aligned with Lansman. Meanwhile its rival, Forward Momentum, is more closely associated with the former Shadow Chancellor John McDonnell, who has given his backing to the group.

…

There are also fundamental policy distinctions between the two factions. Forward Momentum appears to advocate a more member-led structure, with decision-making opened up to ordinary activists.

"Since joining, I have been disappointed by some the decisions of Momentum," says Ana Oppenheim, who is standing as a Forward Momentum candidate in London. "Very often it felt like a mailing list, instead of the movement we were promised, where people can discuss ideas, learn from each other and run independent campaigns. It felt like we were given a line to follow from the top."

As evidence, Oppenheim points to the way Momentum treated its members during the recent Labour leadership contest. The group didn't allow members an open vote on who it should support, instead presenting the Momentum leadership's favoured candidates (Long-Bailey and Angela Rayner for deputy leader), with members merely allowed to say 'yes' or 'no'.
Sam Bright puts his own interpretation on how Momentum has been run,
In late 2016, there was an attempt by the Trotskyist Alliance for Workers' Liberty (AWL) to infiltrate Momentum and seize power. In response, Lansman put in place a constitution to cement his power and prevent a coup. Ever since, control of the group has been tightly guarded by Lansman and his acolytes, even when they were arguing for more participatory democracy in the Labour Party.
There are a lot of reasons for what Lansman did to maintain his own position.
The include attempts by the 'Socialist Party' (fresh from standing candidates against the Labour Party, and support for a virulently anti-EU anti-Labour slate in European elections) to participate in local Momentum meetings, to an attempt to create  its own private own front, "Trade Union Momentum"(January 2016. Steps towards setting up Trade Union Momentum)
For opponents and critics of Lansman the only 'coup' was the one which kept his group's hold on the reins of Momentum. Those disputing this came from a whole raft of non-Lansman activists, and included an attempt to create 'Grassroots Momentum', a group that included people who are very very far from being connected to the AWL –
Momentum Grassroots conference: Against Jon Lansman (2017)
Over 200 Momentum members attended the first gathering of the newly established Momentum Grassroots network. It could have easily been much bigger, had it not been built as a 'delegate' event – a decision which was overturned at the beginning of the meeting by a clear majority of the branch delegates (see interview opposite).

The organised left was there, of course: there were about two dozen members and supporters of the Alliance for Workers' Liberty/The Clarion and a handful of supporters each of Workers Power (Red Flag), Socialist Appeal and Labour Party Marxists. The Labour Representation Committee and Nick Wrack's Labour Party Socialist Network had a few members present, though neither seemed to make a coordinated intervention.
The meeting  elected this body.
Steering committee
The following were elected:
Matt Wrack,137
Sahaya James, 95
Tracy McGuire, 93
Jackie Walker, 93
Nick Wrack, 89
Simon Hannah, 82
Delia Mattis, 82
Kevin McKenna, 80
Jill Mountford, 75
Graham Bash, 71
Rosie Woods, 71
Rida Vaquas, 69
Lee Griffiths, 69
Alec Price, 67
Pete Radcliff, 64
Ed Whitby, 63
Tina Werkmann, 61
Jan Pollock, 58
Richard Gerrard, 56
Joan Twelves, 53
In the present Momentum elections this has caught people's attention:
Responses:
Here, genuine it is claimed, is another intervention.
In an insightful  article On the right to organise, Ed Mustil asks,
Why does any of this matter? After all, who cares who wins elections to the ruling body of an almost-certainly busted flush of an organisation?
Yet this is attention-grabbing:
Candidates standing for positions on Momentum's National Co-ordinating Group (NCG, ostensibly the organisation's leadership body) have been asked by an anonymously-run twitter account to sign a pledge "disavowing" and "pledging not to work with" the Alliance for Workers' Liberty (AWL), a Trotskyist group.

The anonymity of the authors of the pledge makes it impossible to know for certain, but this seems pretty clearly to be a factional manoeuvre by some supporters of the Momentum Renewal (MR) slate in the NCG elections. Momentum Renewal broadly seem to represent continuity with the way Momentum has been run since 2016. They are fighting to retain control of the organisation in the face of a challenge from the Forward Momentum (FM) slate.
Mustil looks at the history of broad political tendencies, currents of thought, and organised factions within the Labour Party.
This is a striking feature which Labour shares with only a few other labour and socialist parties, such as the French Parti socialiste (PS). The PS, which was founded as an organisation (in 1969)  from different groupings, including the old Section française de l'Internationale ouvrière, SFIO. Post the Epinay Congress of 1971 this has continued to be formed through the way they present conference resolutions ("textes d'orientation politique, appelée «motions», déposés par les courants du parti"). Along the election of the Party General Secretary, these are presented, votes tallied, and if possible 'synthesised' (compositing).
In Britain there is not such official recognition, but the same kind of currents of opinion exist.
Organised factions and political groups have always existed in the Labour Party. In fact, the party itself began as a coalition of such groups — you couldn't even, as an individual, be a member of the Labour Party until 1918. Some such groups have maintained more or less their own party structures: the Independent Labour Party (members: Keir Hardie, Ramsay MacDonald), the Socialist League (members: Stafford Cripps, Clem Attlee).

Others have been less formally organised (the Bevanite movement in the 1950s). Some have been based around a publication: Labour Briefing (supporter: Jeremy Corbyn), Tribune (supporter: Michael Foot). Some have been Marxist (Militant, Socialist Appeal, AWL), some Blairite (Progress), some soft left (Open Labour). People of like minds will come together to organise. You can no more prevent this than King Canute could turn back the tide, and there is nothing inherently bad or weird about it. If we are to be the party of the whole labour movement, the right of these groups to organise must be vigorously defended.
On the Right to Organise describes the latest faction in the following terms,
For the sake of brevity, I'm going to refer to this undeclared faction as the Goons, since they on the one hand can be childish and unserious, and on the other hand can behave like thuggish bullies.
The AWL itself publishes support for other Pledges:
Left pledges in Momentum election
There will no doubt be further interventions, tweets and comments made during the Momentum elections.
Our Ace-Reporters are out there now, tracking them down!
See also : The issues in the Momentum election – by Momentum Internationalists