Archive for the 'Human Rights' Category
Celebrating the Death of Mass-Murderer Guzman.
From the Morning Star.
THE founder of the Peruvian Maoist group Shining Path, Abimael Guzman, died in a naval military prison hospital on Saturday at the age of 86.
A statement from the prison authorities confirmed that he had died "at approximately 6.40 in the morning in the maximum security detention centre of the El Callao Naval Base," due to complications with his health.
He was serving a life sentence on charges of terrorism and other crimes.
Known as Comrade Gonzalo, the former philosophy professor founded the Shining Path in 1980, hoping that a peasant-led revolution would take control of the countryside before moving in to urban areas.
At least 30,000 are believed to have been killed in the ensuing war against the Peruvian state which lasted until he was caught in the capital Lima in 1992 soon after 150 were killed in one of the group's deadliest attacks.
It waged a bombing campaign targeting Peru's infrastructure, while Shining Path guerilla fighters were accused of killing political opponents, including trade unionists and members of other Marxist organisations.
One can only agree with the Morning Star's report.
Hacking to death 69 poor peasants in 1983: Guzman revelled in this "hard blow" by his killers against the exploited and oppressed.
Peruvian President Pedro Castillo said: "The terrorist ringleader Abimael Guzman, responsible for the loss of countless lives of our compatriots, has died. Our stance of condemning terrorism is firm and unwavering."
In April 1983, Shining Path (SP) militants responded to the killing of one of their members by killing 69 people in Lucanamarca in the province of Huancasancos. They killed eighteen children, one only six months old, eleven women, some of whom were pregnant, and eight elderly people between fifty and seventy years old. [1]Most of the victims died by machetes and axes but some were mercifully shot in the head.
This was the first massacre committed by the Shining Path against the Peruvian peasantry. Countless others followed until the capture of Abimael Guzmán, the founder and leader, in 1992 effectively ending the reign of terror. Here he admits they carried out the massacre and justifies it by using the name of Lenin:"In the face of reactionary military actions and the use of mesnadas (local defence squads against their SP 'liberators' – TF), we responded with a devastating action: Lucanamarca.
Neither they nor we have forgotten it, to be sure, because they got an answer that they didn't imagine possible. More than 80 were annihilated, that is the truth. And we say openly that there were excesses, as was analyzed in 1983. But everything in life has two aspects.
Our task was to deal a devastating blow in order to put them in check, to make them understand that it was not going to be so easy. On some occasions, like that one, it was the Central Leadership itself that planned the action and gave instructions. That's how it was. In that case, the principal thing is that we dealt them a devastating blow, and we checked them and they understood that they were dealing with a different kind of people's fighters, that we weren't the same as those they had fought before… If we were to give the masses a lot of restrictions, requirements and prohibitions, it would mean that deep down we didn't want the waters to overflow. And what we needed was for the waters to overflow, to let the flood rage, because we know that when a river floods its banks it causes devastation, but then it returns to its riverbed.
I repeat, this was explained clearly by Lenin, and this is how we understand those excesses. But, I insist, the main point was to make them understand that we were a hard nut to crack, and that we were ready for anything, anything"—Abimael Guzmán. [2]
They routinely assassinated state officials, trade union organisers, other leftists, including Maoists, voters in elections etc. On 16-7-84, a group of between 30 and 40 members of the Shining Path used pickaxes, hammers, stones and guns to slaughter around 100 villagers in several locations in the south of Ayacucho province, in a case known as the "bus of death"
Tony Fox (from Michael .P.)
Mass murderers still have their defenders: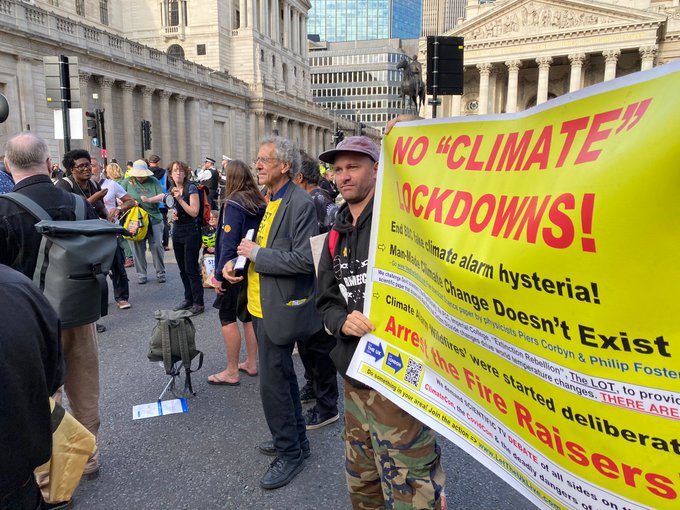 Corbyn protests against 'globalist tools'.
Before he became known for his 'anti-Lockdown' anti-vaxx antics Piers Corbyn was notorious as a climate change denier – he broke with the left on the issue back in the first decade of the new millenium.
"Corbyn believes in various false and discredited narratives about climate change; he believes that the media, Met Office and "corrupt scientists" are brainwashing the public as part of a Qatar-run conspiracy to keep oil prices high."
When you look at some of his statements you can see why he had got booted out of the left:
Welcome to WeatherAction
– world leaders in Long Range Weather & Climate Forecasting
** Comment from Piers Corbyn:- "#Covid19-Alarm has replaced #ClimateChange-Alarm as the main propaganda tool of the megaRich and Mega Corporations for their declared NewNormal / NewWorldOrder world plunder and control scheming to end democracy and destroy Rights. "These are strange times indeed when a LongRange Weather forecasting company actively discusses such political things; but make no mistake the totalitarian nature of this NewNormal / NewWorldOrder project is THE end of Science and THE end of democracy. Both ClimateChange propaganda and CV19 contagion propaganda rely on falsification of data and negation of evidence-based science. THAT REQUIRES the negation of democracy because it is through democratic debate based on evidence of the real world that science of the real world is advanced. Most academic institutions and official science and technology bodies are now prisoners of the propaganda machine and as in Nazi Germany – where 'contagion' was the key to coercion – and the Stalinist USSR, the "science" they propagate is for the political spectacle not the understanding of the living and physical universe."
In an interview with fringe YouTube channel Windows On The World, Corbyn said:
"The warming that we are told about is 100 per cent fake." [11]
On climate change science and policy, Corbyn said:
"It's a massive ideological tool by the globalists who are under massive pressure right now to justify the de-industrialisation agenda making super profits for the biggest corporations and more and more money for the super rich." [11]
January 2016
Speaking to The Guardian, Corbyn said:
"For one thing science doesn't do settled opinions. And for another they are all wrong." [6]
He also told The Guardian that former prime minister Margaret Thatcher plotted to popularise and endorse the science of man-made climate change, as a way of converting Britain from coal to nuclear power, to defeat striking miners. [6]
This has been back peddled of late, but apparently idiocies did hard (thanks, DW).
Not that Corbyn has neglected the Covid Conspiracy front.
Any book on confusionnisme in the UK, the cross-over between far right and former left, the ideological sewer pit that has been dug by conspiracy theories, anti-vaxx movements, and climate change denial, will have to have at least whole chapter on Piers Corbyn. Oh, and he's a hard line Breixteer.
Labour Against the Witch-Hunt Cadres, Greenstein and Keable.
"A reminder that our next all-members' meeting takes place tomorrow, Saturday August 28 at 6pm (for a maximum of 2 hours). We want to collectively discuss a number of important issues and our campaigning strategy for the next few months, including:
'Unite the Left' initiative
We have been invited to participate in this initiative. The steering committee has decided to participate, pending the final decision by this members' meeting. We will hear an update about this initiative, which is not without its problems – see a report here.
This is via above link.
Labour Left for Socialism
The LLA has been involved in the welcome and long overdue initiative 'Labour Left for Socialism', which will organise a first online gathering on September 18, a week before this year's Labour Party conference. Unfortunately, what was originally planned as a vibrant, interactive, real-life conference has now turned into an online rally. The declared aim is that the next events organised by the initiative will be 'proper' conferences, where different ideas and proposals can be debated and agreed upon in a democratic and transparent manner. The LLA has put its name to a joint position paper outlining the kind of conference of the Labour Left we are campaigning for – here.

The main organisations of the Labour Left are involved in this initiative, including the Campaign for Labour Party Democracy, Welsh Labour Grassroots, Jewish Voice for Labour as well as a number of smaller groups. Some of the most important and active unions have been represented at the various meetings, including Unite, the CWU and the FBU. It seems that Momentum has, perhaps only temporarily, withdrawn. At the first meeting, it was announced that the initiative (set up by 'Don't Leave Organise') would operate under 'Chatham House Rules', which prevents participants from reporting who said what – so we hope comrades forgive our slightly opaque reportage.
One can be totally against the current wave of blanket suspensions and expulsions. That is the view of this Blog.
But the idea that everybody on the left would work with Labour Against the Witch-hunt!
You are joking!
| | |
| --- | --- |
| Chair | Jackie Walker |
| Secretary | Stan Keable Labour Party Marxists (CPGB/Provisional Central Committee) |
| Vice Chair | Tony Greenstein (Tony Greenstein Party) |
Not to mention Tina Werkmann (ex-CPGB (Provisional Central Committee).
Here's Walker:
Here's Greenstein: