Archive for the 'Human Rights' Category
Islamist Hardliner Wins Iranian 'election'.
Iran election: Hardliner Raisi will become president
Hardliner Ebrahim Raisi has won Iran's presidential election, following a tightly controlled race.
He thanked Iranians for their support, after a vote that was widely seen as being designed to favour him.
Mr Raisi is Iran's top judge and holds ultra-conservative views. He is under US sanctions and has been linked to past executions of political prisoners.
Iran's president is the second-highest ranking official in the country, after the supreme leader.
Iran's Leading Candidate for President is a far right Notorious Hanging Judge
Polling suggests that Ebrahim Raisi will likely win Iran's presidential election. So who is he?
In 1980 after the Islamic Republic was established, Raisi joined the public prosecutor's office in the city of Karaj to the west of Tehran and rose to become the public prosecutor there that year. In 1985 he took up the position of deputy public prosecutor in Tehran. In the early to mid-1980s,the newly established clerical regime gradually banned middle class liberals and the Islamic-Marxist People's Jihadis (Mojahedin-e Khalq) from politics and pursued a Great Terror against them. Some 10,000 Mojahedin are said to have been killed in those years, some in running street battles, while others were polished off in prison.
In 1988 there was a massacre in jail of some 5,000 People's Jihadis (Note more commonly known simply as the People's Mujahideen), and Raisi was implicated in it. (The official Iranian account did not mention this role for him, as a result of which he has been sanctioned by the US and others, so that he cannot travel internationally.)
..
Iran seems set to continue to be ruled by a network of hardliners and racketeers, but my guess is that they now think they can make more money rejoining the nuclear deal with Biden than they could by remaining isolated from the world economy.
Old Foes Unite to Defend the Communist Party of China.
The Agit-Prop Bots are already working at full spec;
Martin Jaques is the former Editor the Eurocommunist 'New Times' Marxism Today published by the Communist Party of Great Britain. Andrew Murray is a former leading individual in the 'tankie' faction Straight Left in the CPG. and a leading figure in the break-away Communist Party of Britain (CPB) who has 'influence' on the Morning Star.
Both are now united in defending the bureaucratic capitalists of the Chinese Communist Party and the Chinese bourgeoisie and in defending them from criticism of their anti-human rights and record.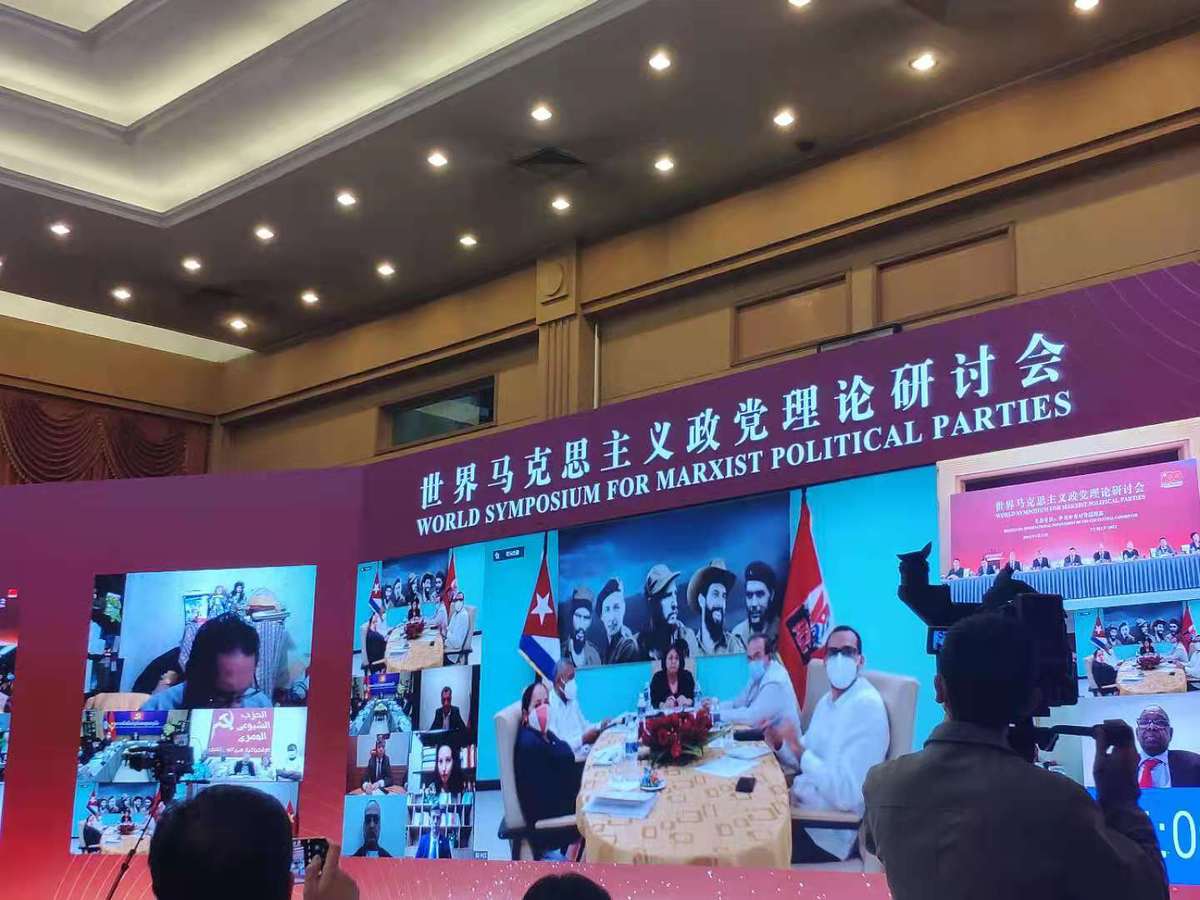 World Symposium for Marxist Political Parties.
More than 150 representatives of Communist and workers' parties have been taking part today in a World Symposium organised online by the Communist Party of China (CPC).

The meeting began with a message of greetings from Chinese President and CPC General Secretary Xi Jinping. He told the international guests that 'Marxism sheds light in a scientific way on the laws governing the development of human society, showing the way forward to emancipation and stimulating the advance of civilisation'.

In its centenary year, he reaffirmed the CPC's commitment to the 'tenets of Marxism applied to Chinese realities'. Marxism is full of vigour in China and was the cause of the country's 'great rejuvenation', he declared.

He urged the parties of Marxism to strengthen the dialogue between them in order to meet the challenges of the modern world together. 

'The CPC stands ready to assist all who wish to build the world of our shared future', President Xi concluded, adding that that 'the ray of Marxist truth' will illuminate the path ahead.
Keynote addresses to the all-day symposium were delivered by speakers from the Communist parties of Moldova, South Africa, Cuba, Italy and Vietnam. Other parties left-wing present included those from Chile, the USA, Brazil, France, Germany, Cyprus, Egypt, Congo, India, Laos and Nepal.
"
Communist Party of Britain general secretary Robert Griffiths was one of the 27 invited speakers. His brief contribution was as follows:
'In the course of the 20th century, starting from Marx's studies of colonialism and Lenin's analysis of imperialism, Marxist political economy sought to deepen and extend our understanding of economic development. The results have included an elaboration of the theory of state-monopoly capitalism in the advanced economies and the formulation of theories of under-development, "dependency" and neo-colonialism in the Third World.

'An authoritative and widely accepted theory of economic development in the socialist economies of the Soviet Union and Eastern Europe has yet to emerge.

'In 1978, learning from previous successes and mistakes, China embarked upon a new path of development. As President Xi Jinping explained in a series of speeches leading up to the 2nd session of the 13th People's Congress in March 2019, this model is itself in dialectical transition from one stage to another.

'This is the transformation from rapid development measured in terms of quantity to development measured increasingly in terms of quality.

'As President Xi pointed out, many middle-income countries have failed to develop into high-income countries. Why not? Because their rapid development remained quantitative, based on cheap labour, low safety and environmental standards, abundant raw materials and low tariffs.

'They failed or refused to consider issues of quality. Many are subordinate to the interests of Western transnational corporations and even in thrall to the economic doctrine of neoliberalism. In such circumstances, it is not possible for them to have a comprehensive, planned strategy for the promotion of high-quality development.


'China's new developmental model stands in stark contrast to those of free-market capitalism. The key features of high-quality development proposed by Comrade Xi and adopted by the Chinese Communist Party and government are innovation, technology, supply-side structural reform, the enhancement of State-Owned Enterprises, environmental protection and sustainability, energy efficiency, high-quality products and a fairer distribution of the rewards.


'While primacy in resource allocation is now given to markets, macro-management of the economy by the state and its ruling party is not only retained but strengthened.


'Moreover, for China, the transition to high-quality economic development has been integrated with social and cultural development, too, expressed most dramatically in the elimination of absolute poverty and the drive to minimise inequalities between different regions of the country. And in what Comrade Xi has called the "Silk Road spirit", this transition has an international dimension through the 'Belt & Road' initiative and the Asian Infrastructure Investment Bank, promoting high-quality development and its rewards in partnership with other countries and peoples around the world.


'Developing and newly industrialising countries can learn much from this model. Important aspects of it are applicable even to developed capitalist economies such as that of Britain.


'Here, the domination of our domestic economy by the financial City of London and by capitalist market forces – together with the absence of cross-border capital controls, central economic planning and a large, modern public sector in industry – results in the gross misallocation of resources, in deep sectoral and regional imbalances, and in low domestic levels of industrial investment and productivity.


'Levels of quantitative development are permanently low. High-quality development is secondary, fragmented and mostly subject to the operation of capitalism's 'law of value'.


'Almost all economic development in Britain occurs as the result of decisions that are unrelated to environmental, social and cultural goals. State-monopoly capitalism in Britain, as currently structured, appears incapable of the vital transition to high-quality economic, social and cultural development'.
The Communist Party was also represented by international secretary John Foster.
Meanwhile former leading figure of the International Marxist Group, John Ross who has also become a pro-CCP ideologue has published this.