Archive for the 'Greens' Category
Warning of "War played out in every city, every neighbourhood, every street.."
With COP and Climate Change dominating the news we hear a fair amount about Extinction Rebellion and their latest protests. But what are their wider politics, what is the kind of strategy their activists advance, and what what is their relationship to the left and any kind of progressive politics?
Here are some clues from a founding figures.
In 2021 only a Spiritual Revolution can bring us together. Only when we remember that we are all connected, only when we remember we are not separate from nature but part of it, only then can we come together on the basis of the one human value on which we all can unite: that life is good and we must preserve it at all cost. Whatever it takes.

Conservatives:

Allowing this to happen violates all our traditions, destroys families and communities, destroys our nations.

Liberals:

We face the destruction of all the progress towards freedom and prosperity built up over hundreds of years.

Radicals:

Corporate capitalism doesn't just create vile inequality, it now creates global mass death. It has to be stopped.
From ROG,Website of Roger Hallam.
Julian Roger Hallam, a Welsh environmental activist, a co-founder of Extinction Rebellion, cooperative federation organisation Radical Routes and the political party Burning Pink (which stood candidates in local elections last May, including in Ipswich).
The idea that Green Politics is neither Right nor Left but 'Beyond' or 'Above' political divisions is an old one. Hallam goes one stage further. He wants to abolish ballot boxes and elections and replace them with Citizens' Assemblies, "I started Burning Pink in 2019 to create a direct action movement which would stand in elections to create a political revolution: legally binding citizens assemblies to take over from politicians. We have painted the buildings of NGOs and political parties that refuse to tell the truth and act upon it."
This politics is based on a universal call to human kind. It has echoes of the 1980s anti-Nuclear movement's fight against the potential global catastrophe of Exterminism ("Exterminism designates those characteristics of a society — expressed, in differing degrees, within its economy, its polity and its ideology — which thrust it in a direction whose outcome must be the extermination of multitudes. "Exterminism and Cold War" E. P. Thompson 1987). For Hallam and his co-thinkers the answer to the present climate change threat is, transcendant yearnings aside, grounded on a 'revolutionary' proposal to replace elected democracy with institutions of decision-making selected by lot and statistics.
What are these Assemblies?
Permanent citizens' assemblies need to become the new legislative arm of the state. This is the precise constitutional definition of a democratic revolution in the twenty-first century. They are legally binding so they cannot be ignored by parliaments and are organised by independent civil society groups and social movements rather than by the government and elites. When they announce their decisions, the carbon elites and their political administrators will break the rules and use lies and violence to try to take back power. This happens in all revolutionary episodes. We have to be prepared for this. As soon as citizens' decisions are made millions will have to come back onto the streets to ensure the people's will is done. That we demand life not death. And nothing will stop us.
Hold on. Who gets in these powerful bodies?
Extinction Rebellion has a sketch:
"The Citizens' Assembly on Climate and Ecological Justice will bring together ordinary people to investigate, discuss and make recommendations on how to respond to the climate emergency. Similar to jury service, members will be randomly selected from across the country. The process will be designed to ensure that the Assembly reflects the whole country in terms of characteristics such as gender, age, ethnicity, education level and geography. Assembly members will hear balanced information from experts and those most affected by the emergency. Members will speak openly and honestly in small groups with the aid of professional facilitators. Together they will work through their differences and draft and vote on recommendations."
Burning Pink sees them as a "representative group of people" "chosen at random like a jury", to "reflect the wider population " – age, gender, sexuality, ethnicity, social class – and "sometimes relevant social attitudes (political left or right)".
They have, Burning Pink asserts, a three step procedure, learning, deliberation, and decision-making. All good members of the aleatorily chosen ones will, there is little doubt, be united in a quest for knowledge, and follow these guidelines to the deliberate letter.
One is recommended to see the Sortation Foundation for the background ("sortition (also known as selection by lottery, selection by lot, allotment, demarchy, stochocracy, aleatoric democracy and lottocracy").
The idea of abolishing democracy, representative or direct, based on election in which different programmes, ideas, and people stand in front of the electorate, the result to be decided by ballot, is a good idea is pretty off the wall. Most people would not wish important public decisions to be made by people chosen on the basis that they are a statistical reflection of the make-up of the population.
Furthermore unlike elections, where members of the elected body may stand for re-election, sortition does not offer a mechanism by which the population expresses satisfaction or dissatisfaction with individual members of the allotted body. Thus, under sortition there is no formal feedback, or accountability, mechanism for the performance of officials, other than the law.
It comes as no surprise that Hallam has plenty of other ideas on bringing together all kinds of different politics.

The environmental campaigner tells Freddie Sayers his movement is not just for the radical Left.
(from the right-wing site Unherd)
In an eye-opening interview, he tells Freddie Sayers about the importance of the nation-state, social conservatism, local community, and how he wants church leaders and ex-police officers in his movement. His pitch, in short, is that philosophical conservatives should not be afraid to embrace radical environmentalism:
On why nationalism is the best approach: National identity at the end of the day trumps internationalism when you're faced with annihilation. Now, I want to make clear that that does not mean the chauvinistic nationalism that a lot of left wing people associate nationalism with, for good reason, of course. But as we all know, there's many different shades of patriotism and nationalism. And it's silly really to weaponise it. What we're looking at is a nationalism or patriotism which is rooted in a love of one's country, a love of one's tradition, and a love of one's political traditions. – ROGER HALLAM, LOCKDOWNTV
Yet even so, this today is quite an eye-opener.
Then there is this…
He's still at it:
That analogy leaves you with a sick taste in the mouth.
Climate Protest as a Disruptive Hobby.
"For Hobbyists, their left wing politics are their identity, their raison d'être, and the source of much of their self-worth. But unlike earlier radicals, they are not at the vanguard of any movement, but are instead largely removed from the groups they seek to represent."
David Swift. A Left for itself, Left-wing Hobbyists and Performative Radicalism. Zero Books. 2019.
Swift harked back to groups that claim to stand for a variety of inter-sectional struggles, and he made a sweeping judgement. But you can't help feeling that the Climate Change and Insulate Britain movements fit the hobbyist bill.
Following the set back to the governing prospects of Corbynism and distant from the mass labour movement they also mark a return to the leftist folk politics of direct action.
A difference with the identity left or right is that they claim to stand for the whole human race and planet, if not a few more things besides. This is the basis on which to act in elitist vanguard ways. They have so far succeeded in alienating ordinary people without an express interest in their cause but have also cut them off from a large section of potential supporters.
Today it is blocking roads. Not long ago it was a variety of counter-produtive actions.
Such as this one:
One of the most ridiculous actions of Extinction Rebellion in East Anglia was the defacement of Ipswich Borough Council's Offices in Russell Road. In February 2021 a spin off from the movement, Burning Pink, they sprayed the front of the building with large graffiti. Ipswich Council has a Labour majority and takes the issue of Climate Change very seriously.
Two women have been arrested after the main office of Ipswich Borough Council was daubed in pink graffiti by members of a political party.

The council's Grafton House office in Russell Road was targeted by environmentalists on Monday morning, February 15.

A message in bright pink paint reading "tough love" and "12 demands ultimatum" was sprayed on the front door and windows and the Burning Pink party has claimed responsibility.

Several police cars attended the scene, while the council's graffiti team removed the message early Monday morning.

A spokesman for Burning Pink confirmed the party were behind the vandalism, which came as part of a move against 15 councils nationwide who in their opinion have failed to act on their promises after declaring a climate emergency.
This is what the left of centre and Green conscious Council said,
The group that is thought to have carried out this vandalism is making demands around climate change. However, the council has already declared a climate emergency, has been reducing its carbon footprint for years and has a plan to achieve carbon neutrality by 2030.

"Just last week the council's executive agreed to acquire a site for a new carbon neutral depot to run key services from; we've already spent millions on new electric and lower emission vehicles, made thousands of council houses more energy efficient through solar panels and better insulation and have planted hundreds of new trees.

"Climate change is everyone's responsibility – while the council is playing its part, the government and others need to do their bit too."
Burning Pink, campaigning on climate change and plans to abolish democracy and replace it with a system of citizens' assemblies chosen by lot to reflect the' real' poulation, got these votes.
The latest incarnation of this mouvance is Insulate Britain, ""set up by people in XR and related networks".
This elitist group is shy about how its internal decisions work. It is suspected that it works by 'consensus decision making' between a handful of activists. There is no democratic membership structure. Those prepared to engage in the vanguard politics of blocking roads are largely self-selected. The nature of the protests, which involve potential physical harm to motorists and demonstrators, as well as arrests, excludes mass participation and promotes those willing to 'sacrifice' themselves.
Socialist Worker argues that the left should support the campaign.
The Tories and right wing media have launched huge attacks on the climate action group, Insulate Britain. But Sophie Squire argues that in the face of government inaction and repression it's right for protests to be disruptive.
But the Tories and the right wing press have whipped up a backlash against the "eco mob" and "enviro zealots".

The left must not line up behind this onslaught and has to defend the need for protests to be disruptive.
The SWP does however note, "Direct action is most effective when large numbers of people take part. Thousands participating in this kind of action at the Cop26 protest could not only block a road but have the power to shut down a whole city."
This is what people are increasingly saying,
But with their actions causing further division rather than instigating positive change, what are they actually trying to achieve? If it just to raise awareness of climate change – then the vast majority of people agree that something needs to drastically change. However, blocking roads is clearly causing nothing but harm to everyday working people's lives.
The below are reasons why Insulate Britain are getting spurned:
Few are going to listen to this,
Insulate Britain released a statement saying: "We share the frustration of the people being delayed on the roads today. Does our government know what to do? The disorder on the roads today suggests otherwise.

"The Insulate Britain protests could end immediately, the government has a choice: make a meaningful statement that we can trust on insulating our homes, or make the decision to imprison those people who are more scared of the destruction of their country than they are of fines or a six-month sentence."
The self-regarding final sentence says it all.
The voice of would-be martyrs stands out as that of elitist hobbyists.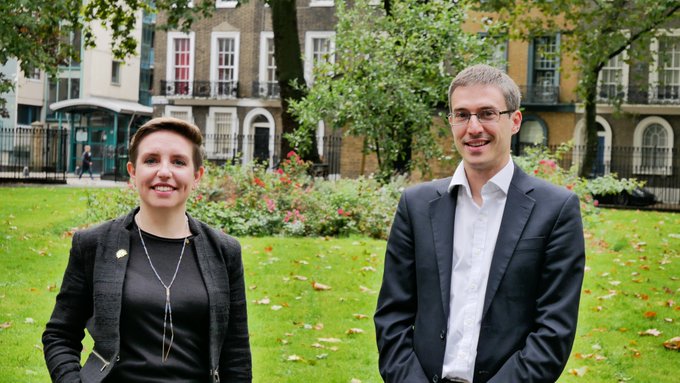 Will Greens Encourage Left Politics?
The Green Party has elected its two co-leaders:
.
Denyer: "We are at a crucial moment in history and it is clear that the other major political parties have failed"

Ramsay: "More than ever, we need strong Green voices to make the compelling case for a Green transition, a just transition"
Like the French Greens (EELV), whose candidate for President in 2022 was announced two days ago it was thought that timing the result to coincide with the German Bundestag result would boost their impact. The German Bündnis 90/Die Grünen– Greens – did well, 14.8+5.8%. But talk of their candidate, Annalena Baerbock, 40, becoming Chancellor, came to nothing.
This is what the new Green co-leaders say,
"We're determined to see more Greens elected in England and Wales," said Mr Ramsay. "We're here because we want to lead our party to success … to be the real opposition to this feeble Conservative government."

The Green Party has only one MP, Caroline Lucas, but has three members on the London Assembly and around 400 councillors across England and Wales
In the UK there is now also a new angle.
Immediately commentators have rushed to proclaim that the Greens (that is, the Green Party in England and Wales, GPEW, the Scottish Greens already have a "power-sharing deal" with the right-of-centre, left-of-centre, always nationalist SNP), are about to become a left-wing alternative to Labour,
"The Labour party leadership is trying to shed its leftwing image, but, as journalist Stephen Bush has pointed out, that means potentially losing a serious political constituency. Labour may talk a good game on climate investment, but its economically illiterate allusions to treating the nation's budget like a "household" is unlikely to wash with the large chunk of the electorate who have emerged from the pandemic wanting higher spending, more generous benefits and public ownership. And that's before we even begin to speak about Labour's pledge to continue deportation flights if it enters government, or its refusal to seriously rethink the UK's failing drug policies. Compare the ideas and energy I saw coming out of the World Transformed festival this week with the shadow cabinet speeches, and you can see the political waters in which the Greens should be swimming.
As fires rage across the world, and homes and businesses are flooded in the UK, it's no surprise that we see consistently high levels of concern about the climate crisis. The government and the Labour party are taking fairly serious steps forward on the issue, but by focusing on it they only reinforce its importance, and drive many voters toward the only party seen as putting it first – the Greens."
There is some truth in the idea that the emergence of Green issues, "global warming", "climate change", and "climatic disruption", as well as "environmental destruction", "weather destabilization", and "environmental collapse" are going to encourage some to vote Green.
Some people may equally believe this…
Denyer and Ramsay were in some ways the "safe bet" for the party, but their pledge to "transform society to create a brighter future for all" is a bold one.
Supporters of a darker future may disgree.
Having followed the debates in the Green Party in England and Wales I would say that the vast majority of then, when not about what nice people the candidates were, was winning seats in elections, and something about ecological, that is, Green issues. Did they mention trade unions? One may have missed it….
This is what the two successful candidates said about their platform (Left Foot Forward),
They say their goal is to have 900 councillors elected by 2025 and to be in political control of 40 councils. The pair also say they will aim to have a second Green MP elected by then.

They have pledged 'to take back the Green New Deal from Labour' and have placed a Green recovery from the pandemic as a major focus point, pledging green jobs, warm homes, a Universal Basic Income, restoring nature and active travel.

Denyer, councillor for the Bristol ward of Clifton Down, proposed the first Climate Emergency declaration in Europe, committing Bristol to go carbon neutral by 2030 and the pair are hoping that their combined political experience will appeal to members.
Nothing about the kind of weighted social and economic transformative programme developed by the team around John McDonnell or this limited list by Keir Starmer,
"We can unite around a programme that is credible and that will put us into a position to go into government.

promised to spend an extra £28bn a year on making the UK economy more "green", phase out business rates and ensure tech giants pay more tax, increase council and affordable housing stocks, increase the minimum wage to at least £10 an hour and end charitable status for private schools.
There is no reason to deny that the Greens have ideas to contribute, to the left, and elsewhere, even a possible debate in Universal Basic Income, which doles out the same money to the Duke and the Dustman, and leaves unresolved the issue of a living income for those who would rely on nothing else.
Indeed, the GPEW are not, thankfully, the same as the Austrian Green Party, Die Grünen – Die Grüne Alternative in coalition with the Christian Democrat anti-immigrant, (but less so than the actual far-right Freedom Party (FPÖ)), People's Party (ÖVP).
We, the European Greens, congratulate Die Grünen for voting in favour of entering a government coalition with the People's Party (ÖVP).

Green Wave strengthened further as Austria's Die Grünen become 4th European Green Party currently in government (2020).
Nor are they the same as the French Greens, who have just had a tight race to become the 2020 Presidential candidate, in a primary election open to all who signed a declaration of values and paid a nominal sum.
104,772 people took part to decide on the candidate who does not represent EELV but also, Pôle écologiste Génération.s, Génération écologie, and Cap écologie
In the GPEW vote,
Jadot, the only French Greens member with nationwide name recognition, has promised a pragmatic "solutions-driven" approach to environmental policies.

His runoff rival Sandrine Rousseau, sometimes called an "eco feminist", sprang a surprise in the first round of online voting last week, finishing a close second out of five candidates with 25.14 percent, compared to Jadot's 27.7 percent.
Analysts credited the strong performance to Rousseau's feminist credentials after she went public with allegations of sexual harassment against a Greens leader during the #MeToo movement.

Her radical proposals on the economy and environment — she wants to introduce a minimum living wage and significantly increase fuel prices and taxes on the rich — have also mobilised the party base

(note this blog watched their lengthy debates, and social issues took second or third place to er, Green subjects)

But in Tuesday's online primary runoff Rousseau had to concede with just under 49 percent of votes, failing to win over party sceptics who disliked her moves to switch focus from traditional Green concerns into social and economic territory.
People are already suggesting that the supporters of Rousseau are poised to vote for other candidates than Jadot in the 2022 elections.
That's as may be. But the French ecologists look much more serious than the GPE, if only in the numbers they have involved in their candidate election.
We will watch with attention if, as some are now suggesting, the English and Welsh Greens take the role of a left party. But given the kind of largely non-socialist people who run the GPEW and have got elected as councillors, it is unlikely even that they would take any interest whatsoever in such an idea. Will they get involved in this list of radical campaigns with the broad social and trade union input of the Labour radical left? Would they bring radical left ideas to them? Is "their first challenge is to show they can channel the insurgency of Corbynism, the Climate Strikers and Kill the Bill protesters? One could add, could they turn the elitist avant guard of Extinction Rebellion and Insulate Britain to mass audiences? It will need a lot of their "new enthusiasm" to make an impact – given the numbers who voted in the GPEW election….11,361.
The small, if not tiny, minority of radical truly left (Marxisant, socialist altermondialistes, or anarchist) greens in the GPEW might however get behind the strategy. They may not be a 'major force' to compete with Labour but that looks like at least a potential for them to rival for the SWP and TUSC…