Archive for the 'Globalisation' Category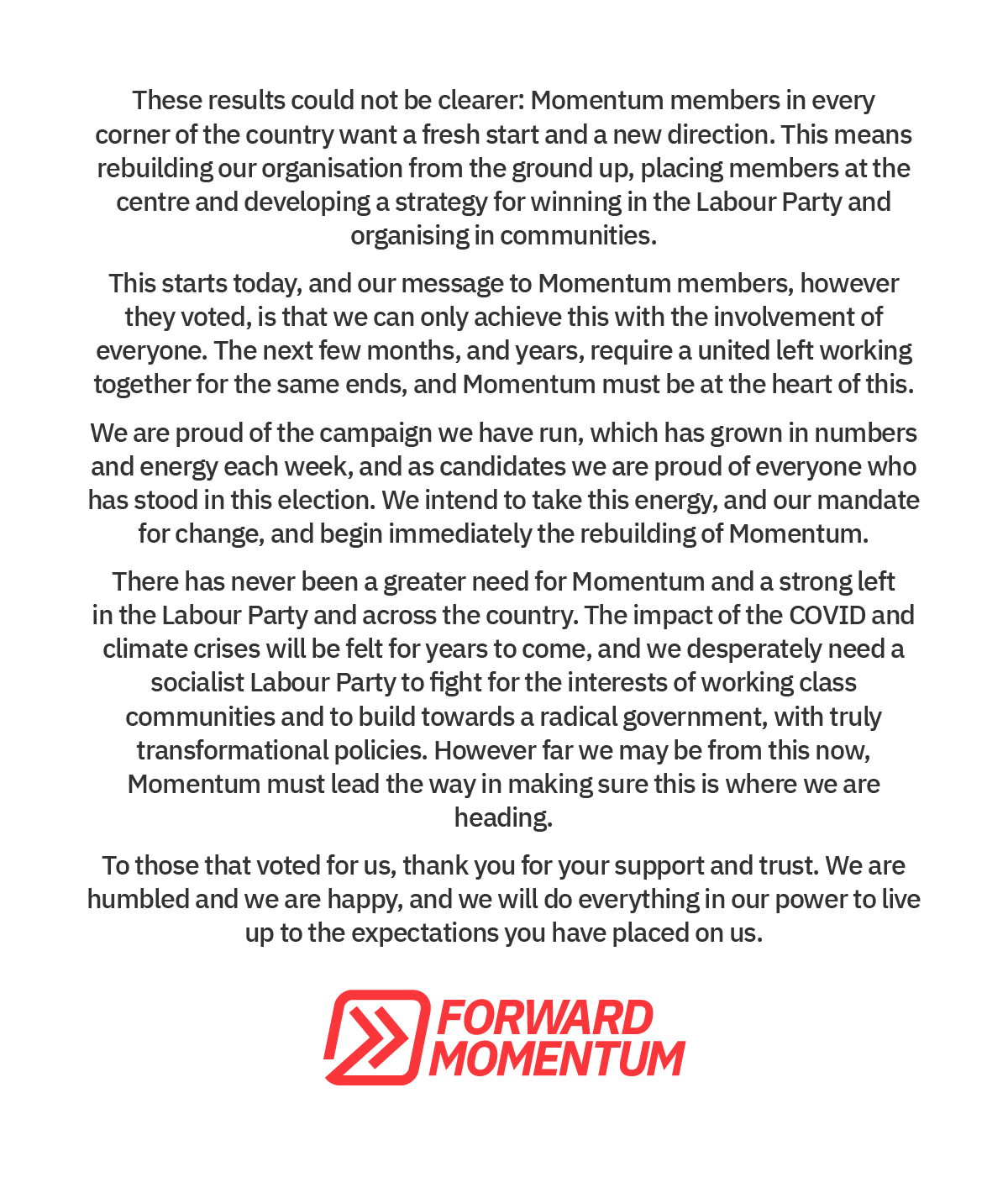 Tears for 'Tribune', Lavery and Bastani as their faction loses..
" Labour MPs such as Ian Lavery, Paula Barker, Sam Tarry and Charlotte Nichols, plus Tribune's Ronan Burtenshaw and Novara Media's Aaron Bastani, had all signed up to back the Renewal initiative."
" the candidates selected by FM – said to include key workers, shop stewards and community organisers – were described by the campaign as "representing a break with the current leadership faction".
It was bitterly contested fight, involving anonymous Twitter feeds attacking some of the Forward Momentum candidates for links with the Alliance for Workers' Liberty.
Described as a less than edifying bun fight this is the result (on a turn out of 8,580, tiny in comparison with Labour's growing membership of over 580,00).
Victory for Forward Momentum candidates as Lansman steps down
Labour List. Sienna Rodgers
Forward Momentum candidates have swept to victory by winning all member representative seats in Momentum internal elections that saw co-founder Jon Lansman step down.

Forward Momentum put forward one of the two main slates in the contest. The group pitched itself as 'anti-continuity' with a focus on democratising the organisation, and held open primaries to select candidates.

Momentum Renewal was the rival platform, more closely associated with Lansman. It stressed the importance of "left unity" within Labour and being "rooted in working-class communities".

FM candidates won all 20 places in the members' section, which gives them a majority on the NCG. Renewal candidates were elected by MPs and councillors to the four office holder posts.
That is, Renewal holds the  "4 representatives of Labour public office holders."
"the candidates selected by FM – said to include key workers, shop stewards and community organisers – were described by the campaign as "representing a break with the current leadership faction".
The Clarion has a report,
Forward Momentum sweeps election for Momentum NCG
Mohan Sen.
Momentum reform group Forward Momentum has won all 20 seats elected by members on the Momentum National Coordinating Group.

The four seats reserved for and elected by public office holders (MPs and councillors) were all won by conservative left / Stalinist slate Momentum Renewal. It remains to be seen if Momentum Renewal will try to use the 'fake seats' on the NCG allotted to various organisations to gain advantage. It will be hard given how comprehensive their defeat is.

(Full results here. Candidates outside the two main slates did poorly.)

This rejection of the conservative, demagogic and witch-hunting campaign Momentum Renewal ran is a good thing for the movement.

It at least opens up possibilities for changing Momentum.

Forward Momentum is a real mixed bag politically, with widely differing perspectives – even on what democratising the organisation means, let alone wider political strategy.

A serious debate about left strategy, demands and campaigning – which didn't get very far during the campaign – is needed.

It is very positive that two candidates who endorsed Momentum Internationalists' socialist platform – Abbie Clark and Ana Oppenheim – were elected on the Forward Momentum slate. We were sorry to see Nadia Whittome MP, who also supported the MI platform, narrowly lose out in the office holders' section.
Poor old Skwawky thinks he has managed to scramble on board the Forward bandwagon:
So far, (written a bare hour after the results were announced) the losers are keeping their chins up.
Keeping the Flag of the Bolivarian Revolution flying Bastani looks to set to continue his work in heralding the latest act of Maduro, and attacking the Labour leader.
It remains hard to see what role Momentum has today.
From its creation, as a group pledged to support Jeremy Corbyn, engaged in some serious election work in 2017, it has struggled to define its role.
Was it to become a "social movement", the yeast in amongst the people that gave substance to a British 'left populism'?
Was it, as it described itself, building socialism "in the community"? A " a people-powered, vibrant movement".
The claim that Momentum has been, "Harnessing people-power, technology and networks, we've won seats for Labour, changed minds about the solutions to the biggest crises of our time and altered the direction of travel for British politics. Our aim is simple: we're creating a society for the many, not the few." looks pretty empty after the 2019 Election Disaster.
Now some of the left seem happier spending their time attacking the popular and respected Labour leader, Keir Starmer.
Flaking away from the Party the self-pitying left seems on the up:
Nobody with morals or self-respect should remain in Labour.

Nobody with any with morals, intellect or self respect should now remain in the Labour Party. Throughout Jeremy Corbyn's leadership, the party was constantly sabotaged from within: the plotters praying that electoral defeat would help restore the hegemony of the right wing careerists – and it has. They have won.
And so it goes..
Many will be happy that Momentum has seen a clear out of the loyalists who used Momentum to ensure factional control of Labour Conferences in the interests of the Corridor Clique  that thwarted, notably, internationalist opposition to Brexit.
Beyond that there is little to indicate that Momentum has found a new positive direction away from its past factionalism.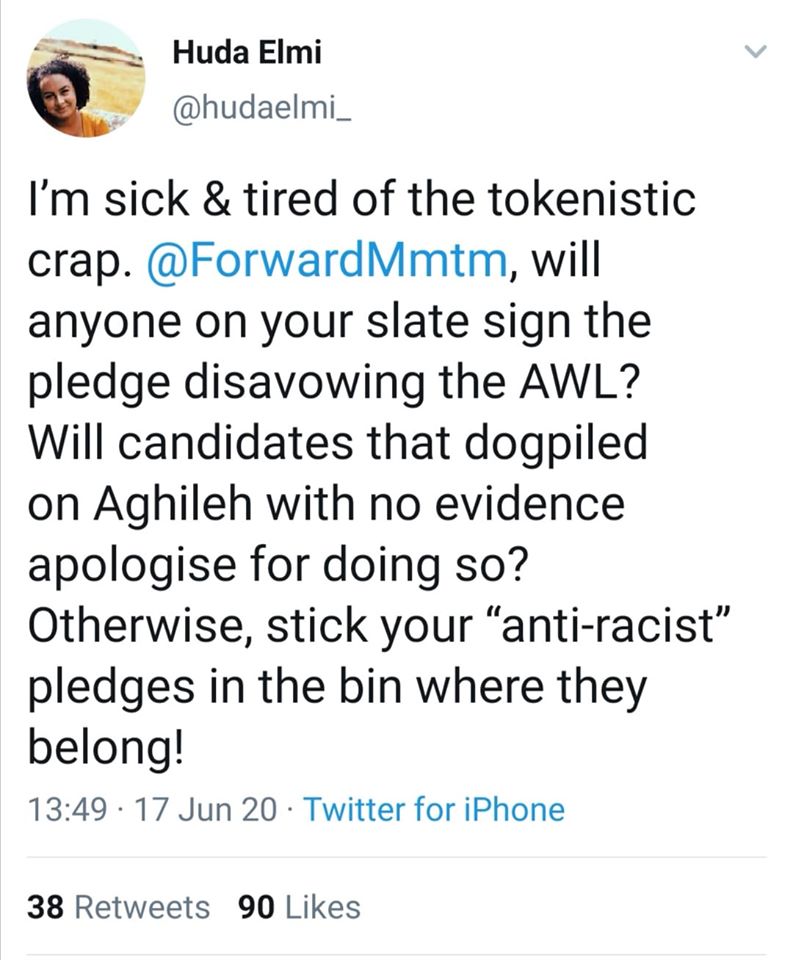 Huda Elmi, a senior elected figure for CLPs on the Labour Party's NEC.
Experienced Leftist Trainspotters, and even a few other Labour Party activists,  have been following with interest developments in the election campaign for  Momentum's National Co-ordinating Group (NCG).
It should be recalled that there are people on the left who did not become involved with Momentum whose stress on the importance of one individual, Jeremy Corbyn, was not universally accepted.
More recently Momentum has been seen as a block on efforts within the Labour Party to oppose Brexit such as the call for a Second Referendum.
In these elections there are serious ideas being debated and this seems a good outline of the two main slates,
One of these factions, Momentum Renewal, is seen as the continuity group, with its candidates broadly aligned with Lansman. Meanwhile its rival, Forward Momentum, is more closely associated with the former Shadow Chancellor John McDonnell, who has given his backing to the group.

…

There are also fundamental policy distinctions between the two factions. Forward Momentum appears to advocate a more member-led structure, with decision-making opened up to ordinary activists.

"Since joining, I have been disappointed by some the decisions of Momentum," says Ana Oppenheim, who is standing as a Forward Momentum candidate in London. "Very often it felt like a mailing list, instead of the movement we were promised, where people can discuss ideas, learn from each other and run independent campaigns. It felt like we were given a line to follow from the top."

As evidence, Oppenheim points to the way Momentum treated its members during the recent Labour leadership contest. The group didn't allow members an open vote on who it should support, instead presenting the Momentum leadership's favoured candidates (Long-Bailey and Angela Rayner for deputy leader), with members merely allowed to say 'yes' or 'no'.
Sam Bright puts his own interpretation on how Momentum has been run,
In late 2016, there was an attempt by the Trotskyist Alliance for Workers' Liberty (AWL) to infiltrate Momentum and seize power. In response, Lansman put in place a constitution to cement his power and prevent a coup. Ever since, control of the group has been tightly guarded by Lansman and his acolytes, even when they were arguing for more participatory democracy in the Labour Party.
There are a lot of reasons for what Lansman did to maintain his own position.
The include attempts by the 'Socialist Party' (fresh from standing candidates against the Labour Party, and support for a virulently anti-EU anti-Labour slate in European elections) to participate in local Momentum meetings, to an attempt to create  its own private own front, "Trade Union Momentum"(January 2016. Steps towards setting up Trade Union Momentum)
For opponents and critics of Lansman the only 'coup' was the one which kept his group's hold on the reins of Momentum. Those disputing this came from a whole raft of non-Lansman activists, and included an attempt to create 'Grassroots Momentum', a group that included people who are very very far from being connected to the AWL –
Momentum Grassroots conference: Against Jon Lansman (2017)
Over 200 Momentum members attended the first gathering of the newly established Momentum Grassroots network. It could have easily been much bigger, had it not been built as a 'delegate' event – a decision which was overturned at the beginning of the meeting by a clear majority of the branch delegates (see interview opposite).

The organised left was there, of course: there were about two dozen members and supporters of the Alliance for Workers' Liberty/The Clarion and a handful of supporters each of Workers Power (Red Flag), Socialist Appeal and Labour Party Marxists. The Labour Representation Committee and Nick Wrack's Labour Party Socialist Network had a few members present, though neither seemed to make a coordinated intervention.
The meeting  elected this body.
Steering committee
The following were elected:
Matt Wrack,137
Sahaya James, 95
Tracy McGuire, 93
Jackie Walker, 93
Nick Wrack, 89
Simon Hannah, 82
Delia Mattis, 82
Kevin McKenna, 80
Jill Mountford, 75
Graham Bash, 71
Rosie Woods, 71
Rida Vaquas, 69
Lee Griffiths, 69
Alec Price, 67
Pete Radcliff, 64
Ed Whitby, 63
Tina Werkmann, 61
Jan Pollock, 58
Richard Gerrard, 56
Joan Twelves, 53
In the present Momentum elections this has caught people's attention:
Responses:
Here, genuine it is claimed, is another intervention.
In an insightful  article On the right to organise, Ed Mustil asks,
Why does any of this matter? After all, who cares who wins elections to the ruling body of an almost-certainly busted flush of an organisation?
Yet this is attention-grabbing:
Candidates standing for positions on Momentum's National Co-ordinating Group (NCG, ostensibly the organisation's leadership body) have been asked by an anonymously-run twitter account to sign a pledge "disavowing" and "pledging not to work with" the Alliance for Workers' Liberty (AWL), a Trotskyist group.

The anonymity of the authors of the pledge makes it impossible to know for certain, but this seems pretty clearly to be a factional manoeuvre by some supporters of the Momentum Renewal (MR) slate in the NCG elections. Momentum Renewal broadly seem to represent continuity with the way Momentum has been run since 2016. They are fighting to retain control of the organisation in the face of a challenge from the Forward Momentum (FM) slate.
Mustil looks at the history of broad political tendencies, currents of thought, and organised factions within the Labour Party.
This is a striking feature which Labour shares with only a few other labour and socialist parties, such as the French Parti socialiste (PS). The PS, which was founded as an organisation (in 1969)  from different groupings, including the old Section française de l'Internationale ouvrière, SFIO. Post the Epinay Congress of 1971 this has continued to be formed through the way they present conference resolutions ("textes d'orientation politique, appelée «motions», déposés par les courants du parti"). Along the election of the Party General Secretary, these are presented, votes tallied, and if possible 'synthesised' (compositing).
In Britain there is not such official recognition, but the same kind of currents of opinion exist.
Organised factions and political groups have always existed in the Labour Party. In fact, the party itself began as a coalition of such groups — you couldn't even, as an individual, be a member of the Labour Party until 1918. Some such groups have maintained more or less their own party structures: the Independent Labour Party (members: Keir Hardie, Ramsay MacDonald), the Socialist League (members: Stafford Cripps, Clem Attlee).

Others have been less formally organised (the Bevanite movement in the 1950s). Some have been based around a publication: Labour Briefing (supporter: Jeremy Corbyn), Tribune (supporter: Michael Foot). Some have been Marxist (Militant, Socialist Appeal, AWL), some Blairite (Progress), some soft left (Open Labour). People of like minds will come together to organise. You can no more prevent this than King Canute could turn back the tide, and there is nothing inherently bad or weird about it. If we are to be the party of the whole labour movement, the right of these groups to organise must be vigorously defended.
On the Right to Organise describes the latest faction in the following terms,
For the sake of brevity, I'm going to refer to this undeclared faction as the Goons, since they on the one hand can be childish and unserious, and on the other hand can behave like thuggish bullies.
The AWL itself publishes support for other Pledges:
Left pledges in Momentum election
There will no doubt be further interventions, tweets and comments made during the Momentum elections.
Our Ace-Reporters are out there now, tracking them down!
See also : The issues in the Momentum election – by Momentum Internationalists
Not "Liberté, égalité, fraternité" but "Work, Family and Community".
Blue Labour is a pillar of the alliance between supporters of the Brexit Party (Spiked/ex-Living Marxism), the Aaron Bank funded Trade Unionists Against the EU,the Communist Party of Britain, and sundry 'sovereigntist' anti-EU types, from red Tories to leading New Left Review contributor Wolfgang Streeck, the Somewhere, as opposed to the Anywhere People.
Its leading thinker, Maurice Glasman, a noble member of the House of Lords, has not been idle in the present crisis.
In the promiscuous forum of Web events the Baron of Stoke Newington and Stamford Hill,  has found time to discuss the weighty issues of the age in the comfortable companionship of old friends from the Spiked Network.
After this pleasant evening, displaying his preternatural intellectual endowments, the Brexit campaigner has enjoyed reflecting on the wisdom of the illimitable pretensions of  Catholic social doctrine.
It is Catholic social thought that has guided me through the 2008 crash, Brexit and now the coronavirus. It has been my inspiration and I will be eternally grateful to Catholics and the Church. It was a very generous gift. In the darkest moments, it lights the way.

Lord Glasman: How Catholic Social Teaching rescued me from an academic crisis
This deft piece in the Catholic Herald  could serve as a springboard for further popular instruction, from the 2008 crisis, pandemics, the glory that is Brexit, to the Universal Church's centuries-long striving for equitable social institutions.
Alas, efforts to corral the rock of St Peter on the side of society's efforts to "defend itself" may well have hit a snag.
Yesterday this lot hit the leftist headlines, the result of their own reference to another Catholic social thinker,  Philippe Pétain.
The Vichy regime and its leader enjoyed great support from the Church hierarchy and many believers, (see on this, "Vichy : un régime clérical." More than half of young people between the ages of 14 to 21 belonged to pro-Vichy youth movements" Les mouvements de jeunesse catholique connaissent un véritable essor sous Vichy, entre 1940 et 1944 près de la moitié des jeunes âgés de 14 à 21 ans, appartenait à un de ces mouvements.")
Vichy was permeated with "corporatist" ideology. Corporatism opposed class struggle Marxism, finance ('globalism'), and promoted revived national and community values. Nobody would contest that the Vichy 'National revolution' had many other sources and policies, but this attempt to run the economy and society, however much a mask for German rule, was not a simple smoke-screen.
People can be excused for thinking that claims to balance 'rights' and duties', to devise an alternative to Marxism and liberalism, "« le marxisme n'est qu'un aspect prolongé des doctrines libérales »" was not too far off Blue Labour's ideas of "mutuality and solidarity".  (Un laboratoire de la doctrine corporatiste sous le régime de Vichy : l'Institut d'études corporatives et sociales Steven L. Kaplan)
It is well known that Vichy was the first regime to establish the 1st of May as a bank holiday in France.
Le , le maréchal Pétain instaure officiellement par la loi Belin le 1er mai comme « la fête du Travail et de la Concorde sociale »23, appliquant ainsi la devise Travail, Famille, Patrie : par son refus à la fois du capitalisme et du socialisme
These aspects of history should not make us forget the courage of those Catholics who resisted Pétain and Vichy, some of the best human beings in French history.
It is to register that "Catholic social doctrine" is not a block of granite resting on the side of progressive causes.
Look at Hilaire Belloc, one of the best known social thinkers, amongst his many accomplishments.
The British-French essayist became a corporatist of sorts.
This is his best known  account of the origins unrestrained capitalism,
The Servile State (1912)
The Immemorial past of Europe is a Servile past. During some centuries which the Church raised, permeated, and constructed, Europe was gradually re- leased or divorced from this immemorial and fundamental conception of slavery ; to that conception, to that institution, our Industrial or Capitalist society is now upon its return. We are re-establishing the slave.
In his efforts to find a corporatist solution to this servitude Belloc equally didn't exactly stand firm against fascism and antisemitism…
Today it would not be surprising to see forms of national populism trying to modify the hard-line free-market thrust of their 'national neo-liberalism' with corportaist suggestions about bringing people together through social justice  in national communities.
You could say that Blue Labour, backers of a Brexit and enablers of the Johnson-Cummings project, form part of that wing of national populism.
After the initial tweet by Young Blue Labour a  – less complicated – history lesson followed:
Then,
The Scooby Gang running Blue Labour  – 'gotten' followed this by another American contribution- Howdy Pardners!
But "skepiticism" did not last
For some of us this reference to Dempsey is up there with the Vichy stuff…