Archive for the 'Globalisation' Category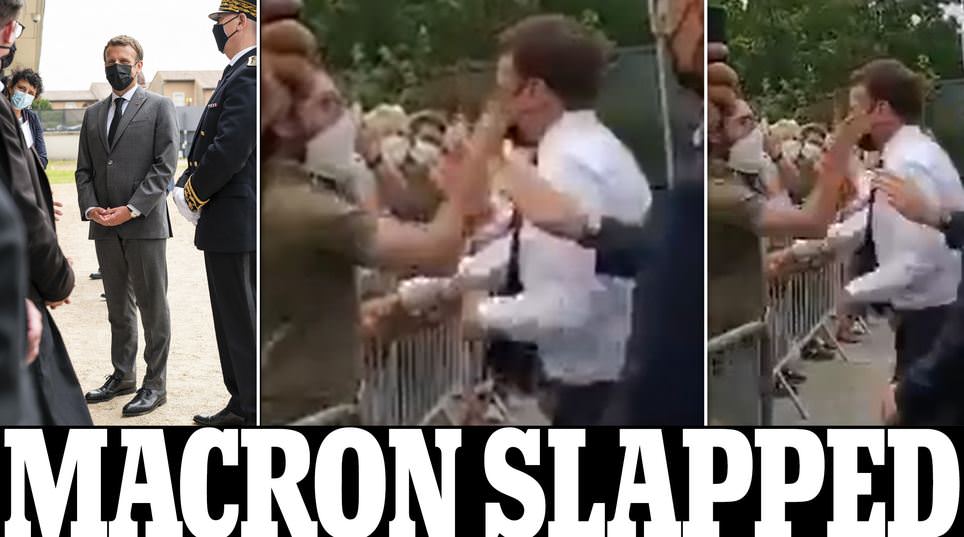 This is apparently a major news story and is Trending on Twitter.
"À bas la macronie !
BFMTV
EMMANUEL MACRON GIFLÉ LORS D'UN DÉPLACEMENT DANS LA DRÔME, DEUX PERSONNES INTERPELLÉES
Given the people revelling in this it makes you feel a slight twinge of sympathy for Macron.
Update: this Blog agrees with Cde Mélenchon.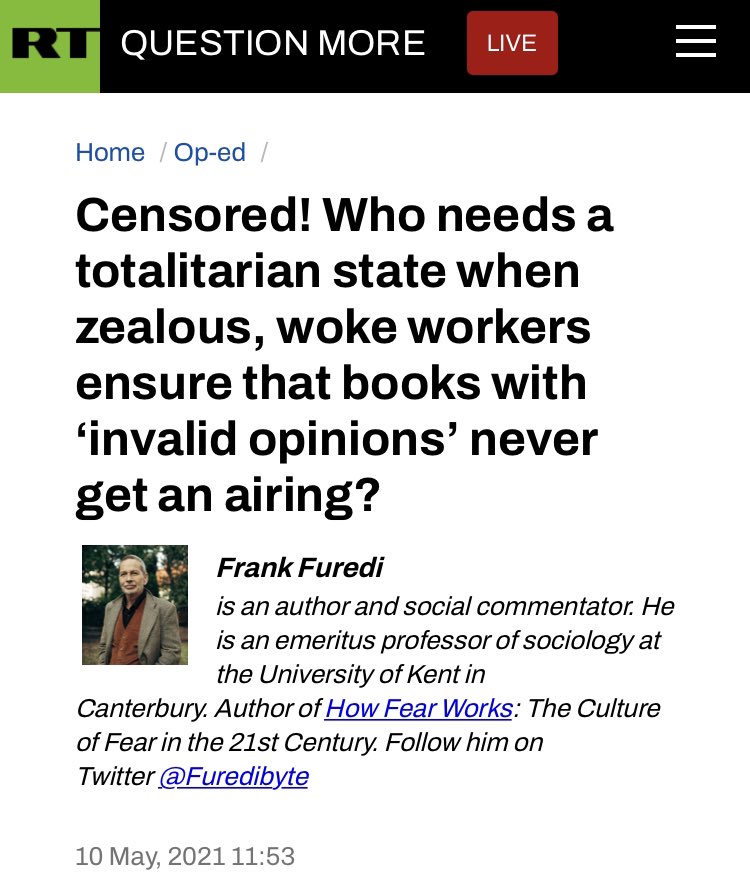 Writing recently on the Organ of Telly Putin the former Ideologue of the Revolutionary Communist Party says.
"Once upon a time, publishers were worried about the threat posed by state censorship and feared provoking the wrath of authoritarian censors from above. Today the publishing industry has become complicit in acquiescing to cancel culture, and the pressure to police what the public gets to read comes from below, from a new generation of intolerant employees.
Who needs a totalitarian state when zealous, fragile, and woke workers are determined to ensure that 'invalid opinions' never get an airing?"
One of the world's leading intellectuals of the Confusionniste movement and backer of the Red-Brown alliance of pro-Brexit nationalists, Radical Democrat, For Free Speech, Moral Autonomy, Choice, Sovereignty, Libertarials and British sovereigntists, Furedi has another obsession, therapy culture.

Barking mad: Therapy dogs & puppy rooms are turning university students into toddlers
The increased use of de-stressing techniques at universities, such as therapy animals and playing with toys, is misguided. Students need to be able to perform under pressure or they'll become intellectually flabby.
Is it possible for university students to succeed without having an opportunity to cuddle a dog? According to new 'research', the most effective way of helping struggling students to cope with their coursework is to give them a therapy dog.
Totalitarianism just cannot get worse…
Franky has got some admirers!
The Tendance Says:
Somewhere Party Gets Nowhere.
There are many things to say about the election results today. This is one of them.
David Goodhart famously separated the British population into 'somewhere' and 'anywhere' people. Th supporter of the Red-Brown Full Brexit campaign distinguished between "Somewhere – rooted in a specific place or community, usually a small town or in the countryside, socially conservative, often less educated – and those who could come from Anywhere: footloose, often urban, socially liberal and university educated. He cites polling evidence to show that Somewheres make up roughly half the population, with Anywheres accounting for 20% to 25% and the rest classified as "Inbetweeners". (see: The Road to Somewhere: The Populist Revolt and the Future of Politics 2017).
Amongst the fawning coverage by some of the left of the Northern Independence Party there was a common thread: the 'real' Northerners of Hartlepool were being given a choice. Vote for Starmer's Party or the genuine Northerner Thelma Walker.
Alas it was not to be…
Jill Mortimer (Conservative) – 15,529
Paul Williams (Labour) – 8,589
Sam Lee (Independent) – 2,904
Claire Martin (Heritage) – 468
John Prescott (Reform UK) – 368
Rachel Featherstone (Green) – 358
Andrew Hagon (Liberal Democrat) – 349
Thelma Walker (Independent) – 250
Chris Killick – 248
Hilton Dawson (North East) – 163
W. Ralph Ward- Jackson (Independent) – 157
Gemma Evans (Women's Equality) – 140
Adam Gaines (Independent) – 126
The Incredible Flying Brick (Monster Raving Looney) – 108
David Bettney (SDP) – 104
Steve Jack (Freedom Alliance) – 72
A renowned Left wing intellectual and Corbyn stalwart comments;
Backing also comes from the More Borders Left Unity Party.
What a load of Whippets!