Left & Right Unify At US 'Anti-Mandate' (Covid Conspiracy) Rally.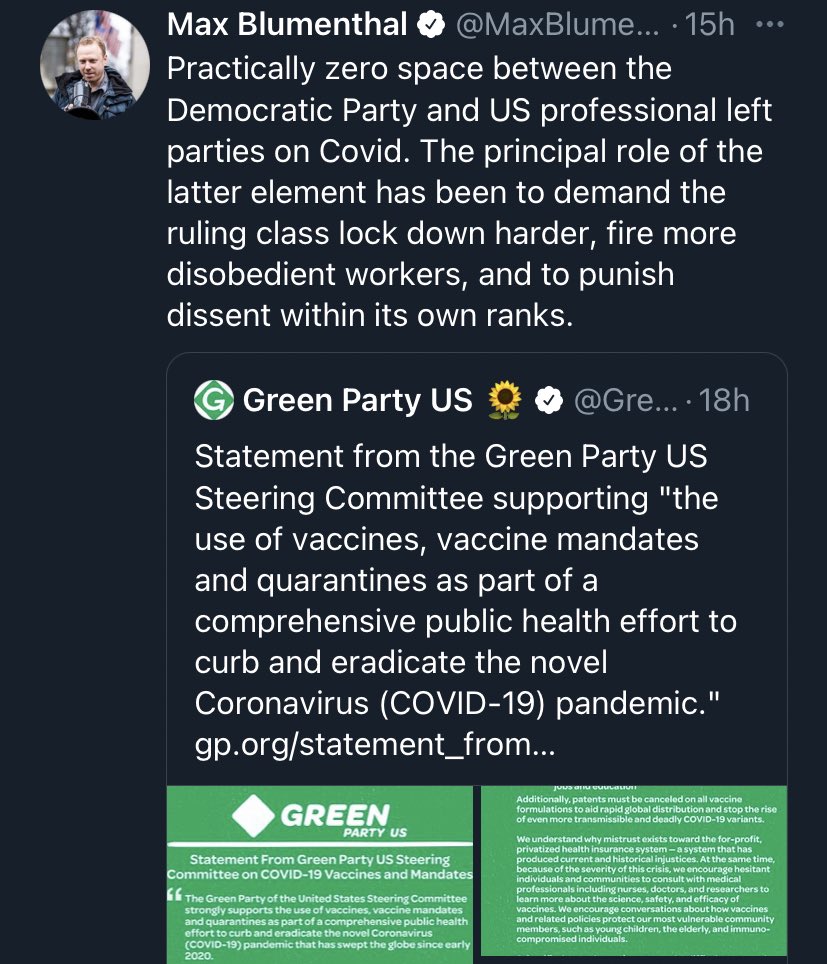 Verso's Most Prominent Red-Browner.
Verso (New Left Review) author Max Blumenthal unites with far-right on Coronavirus.
"Max Blumenthal is an award-winning journalist and bestselling author whose articles and video documentaries have appeared in the New York Times, Daily Beast, Guardian, Huffington Post, Salon, Al Jazeera English and many other publications. He is Senior Editor of AlterNet's Grayzone Project and the author of Goliath: Life and Loathing in Greater Israel, which won the 2014 Lannan Foundation Cultural Freedom Notable Book Award, the New York Times bestseller Republican Gomorrah: Inside the Movement that Shattered the Party, and The 51 Day War: Ruin and Resistance in Gaza. His documentaries and on-the-ground reports have been seen by millions."
New Left Review Editorial Meeting.
Tariq Ali.
"My Dog's got Coronavirus."
"How does he Smell?"
"He can't as Imperialist Big Pharma have got to him."
Boom Boom.
All is not going well with Blooming Max Blumenthal and his conspi site the Grayzone.
UK: Anti-vax marches—a warning from the right
Socialist Worker.
Anti-vax marches in London, and across Britain, last weekend tried to lure those NHS workers angry at mandatory vaccines.
Tens of thousands of people marched against vaccines in central London on Saturday—and they were joined by hundreds more in other towns and cities across Britain.
The demonstrations built on ­previous protests by the ­conspiracy-driven movement that has consistently mobilised large numbers of people.
But now the movement's ­organisers hope to latch on to health workers that face losing their jobs for being unvaccinated.
As with previous demonstrations, the march on Saturday brought together people representing a ­spectrum of anti-lockdown and anti-vaccination ideas.
It includes an element of people frustrated or hit hard by lockdowns, including small business owners and some workers. It also included people sceptical or unconvinced about the safety and ­effectiveness of the Covid-19 vaccine—and those who believe it is some sort of conspiracy.
In both cases, the trajectory was to the right.
Far from a fringe element, those pushing "harder" conspiratorial ideas, often rooted in antisemitism, are at the core.
And although the ­demonstrations are not a fascist movement, they are places where a variety far right groups are tolerated and even welcomed.
The most significant ­difference on Saturday's march was the organised presence of some health workers.
A group called NHS 100k ­organised a large feeder march of people in specially-produced blue hoodies. Most appeared to be genuine health workers and their ­families or supporters.
Many carried homemade ­placards demanding freedom of choice and informed consent, and emphasising the threat to jobs and the NHS, rather than advancing conspiracy theories.
Some even declared they'd had the vaccine themselves, but were against it being imposed on others.
But the main march's ­organisers used the health workers to give the movement a stronger sense of respectability and legitimacy. They encouraged those in blue hoodies to lead the demonstration chanting, "Save our jobs."
The "harder" element among the marchers linked vaccine mandates to their own conspiracy theories.
And the NHS100k website, where the health workers on the march bought their blue hoodies, casts doubt on the effectiveness of the vaccine and promotes false anti-mask "research."
It provides a model email to send to trade unions demanding to know what they are doing to oppose ­vaccine mandates. And it encourages its ­supporters to join the right wing English Workers Union, which is run by the leader of the far right English Democrats party.
Clearly, the right hopes to build on frustration and disillusion among some health workers at the major unions for failing to oppose sackings of unvaccinated health workers.
Look at the state of this man:
Corbyn can piss off with his brother, say we.
9 Responses