Fascists and 'Eco-Leftists' Unite in German Confusionist anti-Vaxx Movement.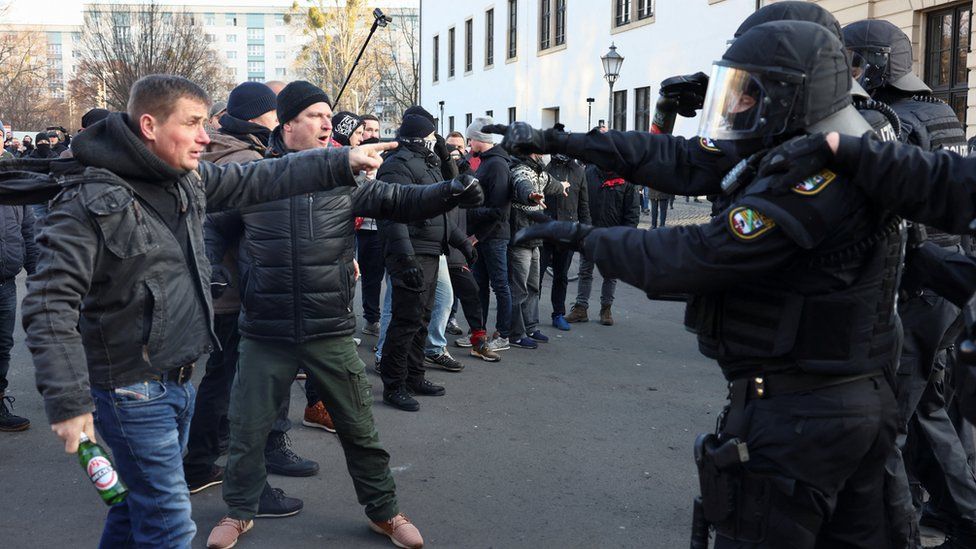 Red-Brown Alliance.
New York Times. The prospect of a vaccine mandate has galvanized a nationwide protest movement attracting naturalists, neo-Nazis and ordinary citizens alike.
UREMBERG, Germany — Maria Liebermann came wrapped in fairy lights and waved a peace flag featuring a white dove. Martin Schmidt carried a Germany flag with the word RESIST scrawled across it in capital letters.
She is a self-described "eco-leftist." He votes for the far-right Alternative for Germany. They disagree on everything from immigration to climate change, but on a recent Monday they marched side by side against the prospect of a general Covid vaccine mandate, shouting "Freedom!"
At the start of the pandemic, Germany was widely lauded as a model of unity in combating the coronavirus. A general trust in government encouraged citizens to comply with lockdowns, mask guidance and social distancing restrictions.
But that confidence in the authorities has steadily waned as the pandemic enters its third year and the fight has shifted toward vaccines, exposing deep rifts in German society and setting back efforts to combat Covid cases.
German Covid protests turn nasty in row over rules and vaccinations
BBC.
Many protests are peaceful, but others explode into violence and experts are increasingly worried by the aggressive language and threats aimed at politicians and public figures online.
Two security officers stood guard as I interviewed Petra Köpping about her experience.
Some of the hatred towards her, she says, is stirred up and exploited by the far right.
"We have to make a clear distinction between organisers who engage in right-wing extremist ideology and want to change society – they don't care about vaccination policy – and the people who come along because they're opposed to vaccination."
Der Speigel.
A number of Germans have sought refuge on Bulgaria's Black Sea coast from what they view as dictatorial anti-coronavirus measures back home. It has developed into a kind of alternative reality for conspiracy theorists.
Meanwhile:

One Response