Piers Corbyn Releases His Xmas Hits Chart Bid.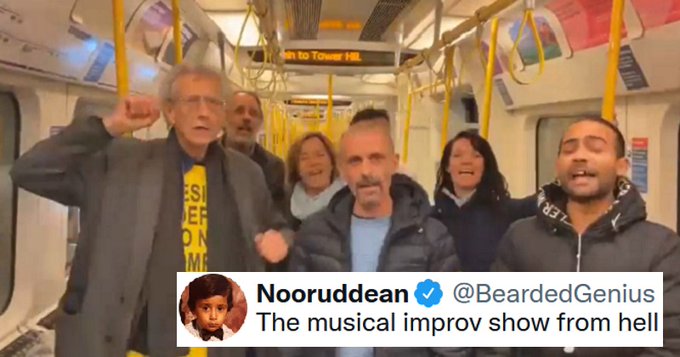 There is an anti-Vaxx sticker on a lamp-post by Bond Street next to the old County Hall in Ipswich near where I live. This year there's been a spate of similar stickers round the centre of town. This one has plumbed the depths: it's a protest against vaccinating school children. In other words, using the youngest to further their own frenzy against public health measures.
Piers Corbyn and his mates have got a reputation recently for targeting schools in their own campaign, "Anti-vaxxers have begun concentrating on kids, with Piers Corbyn yelling at London pupils in an try and scare them off getting the jab"
Is this the latest attempt by Conspiracy Corbyn to attract a youthful audience?
Here is Corbyn's Impresario:
This would be sad were it not more than a joke.
Corbyn is sometimes compared to the 'Protein Man', Stanley Green, who would parade down Oxford Street with placards calling to eat less fish, bird, meat, cheese, egg, bens, peas nuts and sitting and selling Eight Passion Proteins. A man with odd, famously odd, views, that did not harm to anybody.
But Corbyn is not just an eccentric. Nor has his relentless turn as bad penny been without consequences: his lies have helped stir the pot for a whole range of anti-Lockdown types, not just limosine libertarians but the hard far-right.
The former (very former) comrade from the International Marxist Group and brother of Jeremy Corbyn looks like the fascist that he has become.
Like the tasty geezer in the picture above.
Update: in the MSM now:
Experts wade in:
4 Responses