Trade Union and Socialist Coalition (TUSC) win 84 votes (6.08%) and 54 votes (3.74%) in Liverpool Council By-Election Breakthrough (they beat Tories and Liberal Democrats!).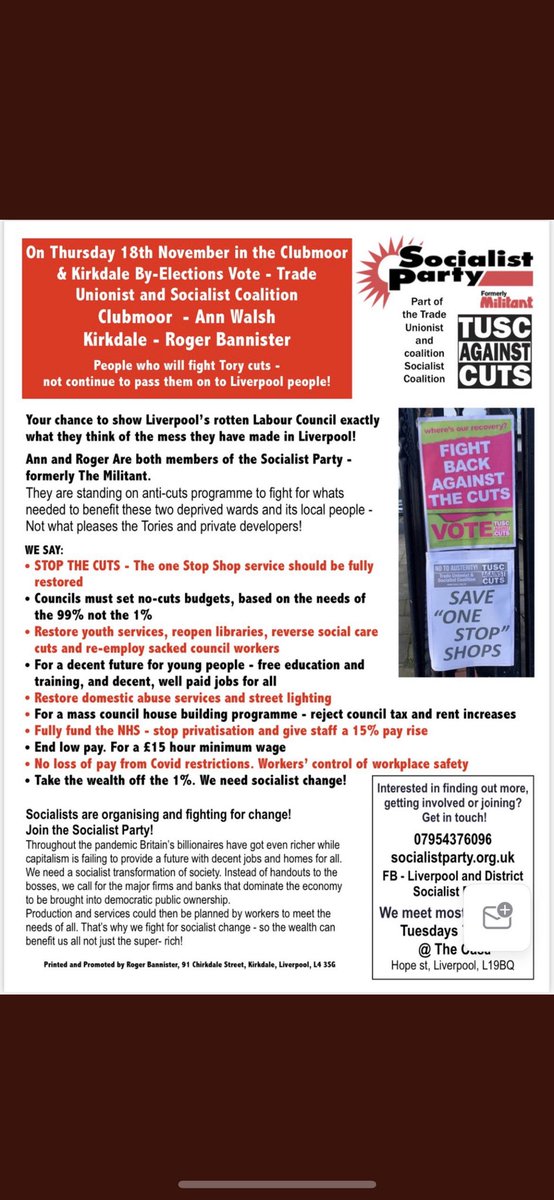 3,74% and 6,08% Breakthrough – Beat Tories and Liberals!
Labour has cruised to victory in three Liverpool City Council by-elections.
The ruling group comfortably held its seats in Anfield, Clubmoor and Fazakerley – with two former councillors returning to the authority.
Clubmoor
Matthew Smyth – Labour – 787 votes (54.50%) – ELECTED
Liam James Buckley – Liberal Party – 324 votes (22.44%)
Laura-Jayne Wharton – Independent – 167 votes (11.57%)
Ann Barbara Walsh – Trade Unionist and Socialist Coalition – 54 votes (3.74%)
Peter Cranie – Green Party – 45 votes (3.12%)
Stephen Fitzsimmons – Liberal Democrat – 34 votes (2.35%)
Wendy Rose Hine – Conservative – 33 votes (2.29%)
Kirkdale
Dave Hanratty – Labour – 852 votes (61.69%) – ELECTED
Peter Furmedge – 171 votes (12.38%)
Maria Teresa Coughlan – Green Party – 160 votes (11.59%)
Roger Bannister – Trade Union and Socialist Coalition – 84 votes (6.08%)
Katie Maria Burgess – Conservative Party – 57 votes (4.13%)
Jenny Turner – Liberal Democrat – 57 votes (4.13%)
Roger Banister representing TUSC stood for Liverpool Mayor in 2021. He got TUSC – 2.88%
Labour
Joanne Anderson
38,958
38.15%
7,535
46,493
59.2%
​​
Independent
Stephen Yip
22,047
21.79%
10,032
32,079
40.8%
​​
Liberal Democrats
Richard Kemp
17,166
16.79%
​​
Green
Tom Crone
8,768
8.67%
​​
Liberal
Steve Radford
7,135
7.05%
​​
Conservative
Katie Burgess
4,187
4.14%
​​
TUSC
Roger Bannister
2,912
2.88%
​​
Registered electors
336,382
Turnout
101,173
30.51%
Rejected ballots
3,978
*****
George Galloway's Workers Party of Britain won a respectable increase of 2,2% in a Canterbury by-election
Result for Gorrell ward Canterbury District Council by election 18 November 2021Green 1149 + 10.3%Labour 803 – 6.0%Tory 608 + 0.2% Workers Party of Britain, Colin Barry Gardner, 58 2.2% + 2.2%
Whitstable voters elect first ever Green Party councillor to Canterbury City Council.
Voters have elected the first ever Green Party representative to a local authority in a historic victory.
Clare Turnbull bagged a decisive win at the by-election in Whitstable last night after scooping more than 40% of the vote.
Clare Turnbull (Green) earned 1,149 votes (43.9%) – 346 ahead of her closest rival, Dane Buckman (Labour), who had 30.7% of the vote share.

The Conservative Party's Stephen Spencer got 608 votes (23.2%) and the Workers Party of Britain candidate, Colin Gardner, earned 58 (2.2%).
While the Greens have reason to celebrate winning in a hitherto safe Labour seat in Bohemian Whitstable, the future does not look rosy for left-wing mirco-workers' party TUSC and Galloway's red-brown alliance with the Marxist Leninist CPGB (M-L).
The Socialist newspaper, 17 November 2021
Working-class people need our own political voice, as part of our toolbox to help us stand up to attacks from the Tories and bosses. That includes in local councils. In May over 6,500 councillors are up for election round the country. Whether your union is affiliated to the Labour Party or not, you can stand as a candidate.
The Socialist Party is part of the Trade Unionist and Socialist Coalition (TUSC), an anti-cuts electoral alliance including the RMT transport union, executive members of other unions, former Labour MPs and many individual socialists. TUSC is organising meetings to campaign for councils to set budgets to meet the needs of working-class people, not do the bidding of the Tories. These meetings will start to gather together socialists, trade unionists, community campaigners, working class and young people, who are prepared to stand in the elections.
Please consider moving this model resolution in your union branch:
1. This [union branch] believes that despite talk of "levelling up", it is clear that the Tory government and bosses intend to continue to make working class people pay for their crises. This includes attacks on jobs, pay, conditions and services, alongside tax hikes and price rises. As part of this, we anticipate further austerity being inflicted in local government, which is responsible for over one fifth of all public expenditure.
2. We agree that we oppose Labour councils continuing to carry out Tory cuts.
3. [We acknowledge that our union is affiliated to the Labour Party/does not currently have any political affiliation]
4. Nonetheless, this [branch] resolves to encourage our members to consider standing as anti-cuts candidates in the council elections scheduled for May 2022, noting that there is nothing that prevents them standing as candidates, in a personal capacity, for any party which truly supports trade unionist and socialist principles.
Given their election results in the former Liverpool heartland of the Socialist Party (ex-Miliant) it looks like this call will fall flat.
Written by Andrew Coates
November 19, 2021 at 12:17 pm
4 Responses
Subscribe to comments with RSS.