Homages in France to Samuel Paty, Murdered for Defending Freedom of Speech.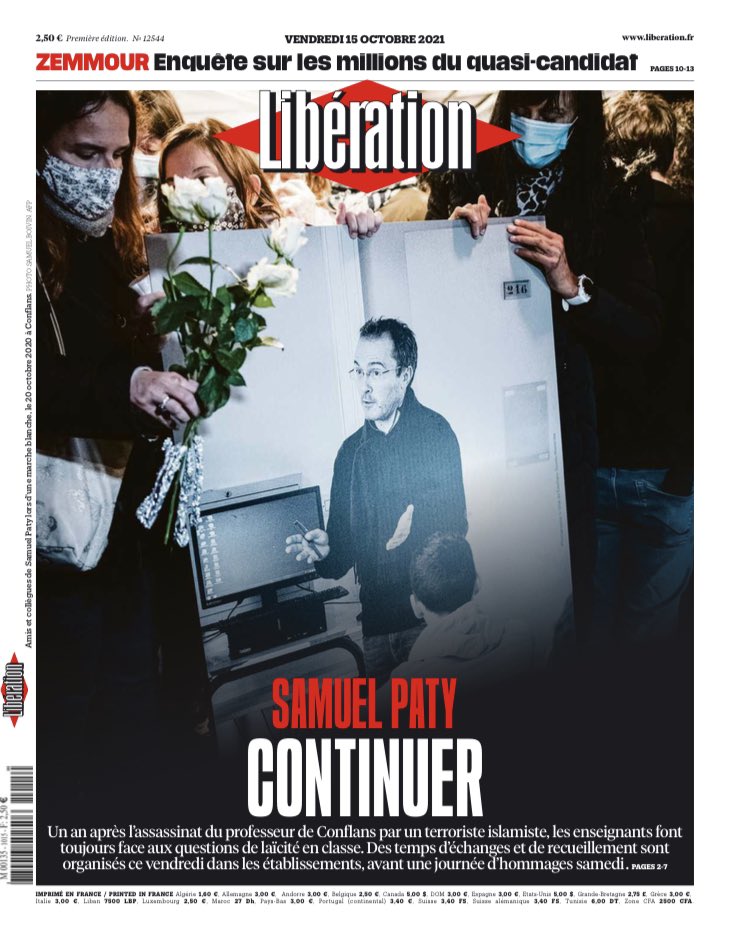 A Reminder Of How Serious Free Speech Issues Can Be.
Samuel Paty, un prof impliqué devenu héros posthume.
Today French schools will observe a minute of silence in hommage to Samuel Paty,
France honours 'quiet hero' teacher killed for showing Prophet Mohammed cartoon
France 24.
Samuel Paty, who was 47, was killed after leaving the middle school where he taught history and geography in the tranquil Paris suburb of Conflans-Sainte-Honorine on the evening of October 16, 2020.
His killer, 18-year-old Chechen refugee Abdullakh Anzorov, who had been living in France for years, claimed the attack as revenge for Paty showing his class the Mohammed cartoons in a lesson on free speech.
On Saturday, several ceremonies will be held in memory of the popular teacher hailed by President Emmanuel Macron as a "quiet hero" of the French republic.
In Conflans, the ceremonies will include the unveiling of a monument of an open book, while in Paris a square opposite the prestigious Sorbonne University will be renamed in his honour.
"The terrible drama of #SamuelPaty's murder took place a year ago . One year later, pay tribute to him, and even more, share knowledge, inspire reflection, sharpen the critical spirit. Against the gravediggers of freedom, let us, even more strongly, support human emancipation." Clémentine Autain. Radical left MP (Seine-Saint-Denis), La France insoumise, Ensemble!, unambiguous on the anniversary of the killing of Samuel Paty.
Charlie Hebdo: 40 years ago the Death Penalty was abolished, A year ago it was brought back.
The murder of Samuel Paty (French pronunciation: ​[samɥɛl pati]), a French middle-school teacher, took place on 16 October 2020 in Conflans-Sainte-Honorine, a suburb of Paris. Paty was killed and beheaded by an Islamist.
Paty had, in a class on freedom of expression, allegedly shown his students Charlie Hebdo's 2012 cartoons depicting the Islamic prophet Muhammad.[1][2][3] One of the cartoons portrayed Muhammad naked with his genitals exposed.[4] The cartoons having been protested by many Muslims in the past, Paty preemptively permitted his students to avert their eyes or leave the room while they were displayed.[5] The 13-year old girl who made the allegations against Paty has since confessed to lying.[6]
One Response