Are the new Joint Green Party Leaders a Left Alternative to Labour?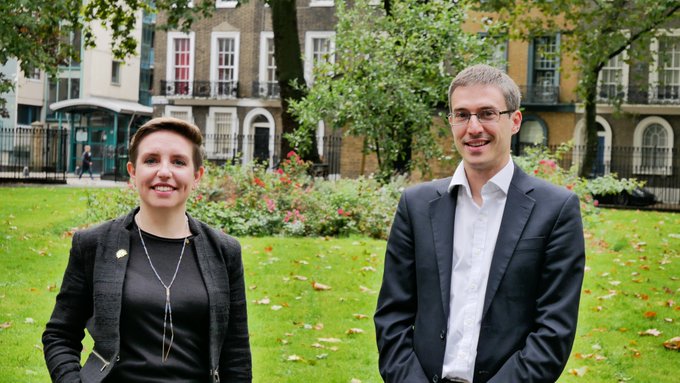 Will Greens Encourage Left Politics?
The Green Party has elected its two co-leaders:
.
Denyer: "We are at a crucial moment in history and it is clear that the other major political parties have failed"

Ramsay: "More than ever, we need strong Green voices to make the compelling case for a Green transition, a just transition"
Like the French Greens (EELV), whose candidate for President in 2022 was announced two days ago it was thought that timing the result to coincide with the German Bundestag result would boost their impact. The German Bündnis 90/Die Grünen– Greens – did well, 14.8+5.8%. But talk of their candidate, Annalena Baerbock, 40, becoming Chancellor, came to nothing.
This is what the new Green co-leaders say,
"We're determined to see more Greens elected in England and Wales," said Mr Ramsay. "We're here because we want to lead our party to success … to be the real opposition to this feeble Conservative government."

The Green Party has only one MP, Caroline Lucas, but has three members on the London Assembly and around 400 councillors across England and Wales
In the UK there is now also a new angle.
Immediately commentators have rushed to proclaim that the Greens (that is, the Green Party in England and Wales, GPEW, the Scottish Greens already have a "power-sharing deal" with the right-of-centre, left-of-centre, always nationalist SNP), are about to become a left-wing alternative to Labour,
"The Labour party leadership is trying to shed its leftwing image, but, as journalist Stephen Bush has pointed out, that means potentially losing a serious political constituency. Labour may talk a good game on climate investment, but its economically illiterate allusions to treating the nation's budget like a "household" is unlikely to wash with the large chunk of the electorate who have emerged from the pandemic wanting higher spending, more generous benefits and public ownership. And that's before we even begin to speak about Labour's pledge to continue deportation flights if it enters government, or its refusal to seriously rethink the UK's failing drug policies. Compare the ideas and energy I saw coming out of the World Transformed festival this week with the shadow cabinet speeches, and you can see the political waters in which the Greens should be swimming.
As fires rage across the world, and homes and businesses are flooded in the UK, it's no surprise that we see consistently high levels of concern about the climate crisis. The government and the Labour party are taking fairly serious steps forward on the issue, but by focusing on it they only reinforce its importance, and drive many voters toward the only party seen as putting it first – the Greens."
There is some truth in the idea that the emergence of Green issues, "global warming", "climate change", and "climatic disruption", as well as "environmental destruction", "weather destabilization", and "environmental collapse" are going to encourage some to vote Green.
Some people may equally believe this…
Denyer and Ramsay were in some ways the "safe bet" for the party, but their pledge to "transform society to create a brighter future for all" is a bold one.
Supporters of a darker future may disgree.
Having followed the debates in the Green Party in England and Wales I would say that the vast majority of then, when not about what nice people the candidates were, was winning seats in elections, and something about ecological, that is, Green issues. Did they mention trade unions? One may have missed it….
This is what the two successful candidates said about their platform (Left Foot Forward),
They say their goal is to have 900 councillors elected by 2025 and to be in political control of 40 councils. The pair also say they will aim to have a second Green MP elected by then.

They have pledged 'to take back the Green New Deal from Labour' and have placed a Green recovery from the pandemic as a major focus point, pledging green jobs, warm homes, a Universal Basic Income, restoring nature and active travel.

Denyer, councillor for the Bristol ward of Clifton Down, proposed the first Climate Emergency declaration in Europe, committing Bristol to go carbon neutral by 2030 and the pair are hoping that their combined political experience will appeal to members.
Nothing about the kind of weighted social and economic transformative programme developed by the team around John McDonnell or this limited list by Keir Starmer,
"We can unite around a programme that is credible and that will put us into a position to go into government.

promised to spend an extra £28bn a year on making the UK economy more "green", phase out business rates and ensure tech giants pay more tax, increase council and affordable housing stocks, increase the minimum wage to at least £10 an hour and end charitable status for private schools.
There is no reason to deny that the Greens have ideas to contribute, to the left, and elsewhere, even a possible debate in Universal Basic Income, which doles out the same money to the Duke and the Dustman, and leaves unresolved the issue of a living income for those who would rely on nothing else.
Indeed, the GPEW are not, thankfully, the same as the Austrian Green Party, Die Grünen – Die Grüne Alternative in coalition with the Christian Democrat anti-immigrant, (but less so than the actual far-right Freedom Party (FPÖ)), People's Party (ÖVP).
We, the European Greens, congratulate Die Grünen for voting in favour of entering a government coalition with the People's Party (ÖVP).

Green Wave strengthened further as Austria's Die Grünen become 4th European Green Party currently in government (2020).
Nor are they the same as the French Greens, who have just had a tight race to become the 2020 Presidential candidate, in a primary election open to all who signed a declaration of values and paid a nominal sum.
104,772 people took part to decide on the candidate who does not represent EELV but also, Pôle écologiste Génération.s, Génération écologie, and Cap écologie
In the GPEW vote,
Jadot, the only French Greens member with nationwide name recognition, has promised a pragmatic "solutions-driven" approach to environmental policies.

His runoff rival Sandrine Rousseau, sometimes called an "eco feminist", sprang a surprise in the first round of online voting last week, finishing a close second out of five candidates with 25.14 percent, compared to Jadot's 27.7 percent.
Analysts credited the strong performance to Rousseau's feminist credentials after she went public with allegations of sexual harassment against a Greens leader during the #MeToo movement.

Her radical proposals on the economy and environment — she wants to introduce a minimum living wage and significantly increase fuel prices and taxes on the rich — have also mobilised the party base

(note this blog watched their lengthy debates, and social issues took second or third place to er, Green subjects)

But in Tuesday's online primary runoff Rousseau had to concede with just under 49 percent of votes, failing to win over party sceptics who disliked her moves to switch focus from traditional Green concerns into social and economic territory.
People are already suggesting that the supporters of Rousseau are poised to vote for other candidates than Jadot in the 2022 elections.
That's as may be. But the French ecologists look much more serious than the GPE, if only in the numbers they have involved in their candidate election.
We will watch with attention if, as some are now suggesting, the English and Welsh Greens take the role of a left party. But given the kind of largely non-socialist people who run the GPEW and have got elected as councillors, it is unlikely even that they would take any interest whatsoever in such an idea. Will they get involved in this list of radical campaigns with the broad social and trade union input of the Labour radical left? Would they bring radical left ideas to them? Is "their first challenge is to show they can channel the insurgency of Corbynism, the Climate Strikers and Kill the Bill protesters? One could add, could they turn the elitist avant guard of Extinction Rebellion and Insulate Britain to mass audiences? It will need a lot of their "new enthusiasm" to make an impact – given the numbers who voted in the GPEW election….11,361.
The small, if not tiny, minority of radical truly left (Marxisant, socialist altermondialistes, or anarchist) greens in the GPEW might however get behind the strategy. They may not be a 'major force' to compete with Labour but that looks like at least a potential for them to rival for the SWP and TUSC…
4 Responses