Alt-Left 'News' Sites take Blow as Labour Gets a Small Poll Lead.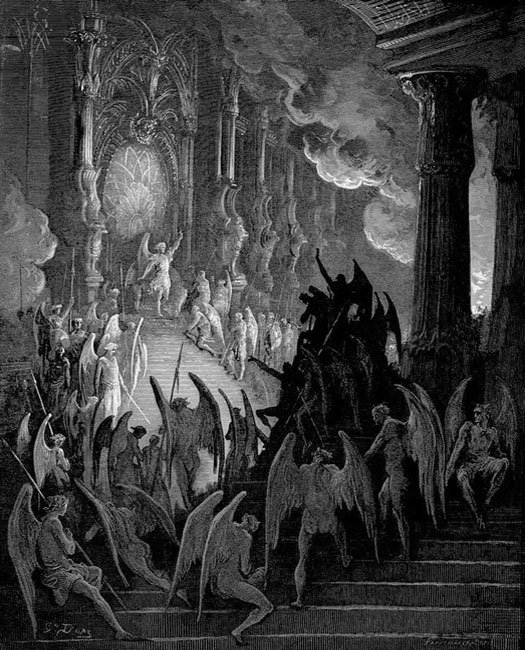 Alt-Left News Media Strategy Meeting (2000).
The alt-left news media took a blow yesterday:
After the April 2020 election of Keir Starmer as Leader of the Labour Party the key players of the alt-left media met in Pandæmonium.

Exclusive, Breaking….
"Their summons called from every Band and Squared Fraction, to that Infernal Court.
Up rose Steve Walker, "I should be much for Open Warr, O Peers! We shall not bow or warble to the Labour Sire!"
No sonner had the Great Squawker from the dark unbottomed Abyss sounded than Canary voiced shrill, while wrapt waves of torrent fire enflamed.
"Yet, for so the popular vote, inclines hereto to continue, and build up here, a growing Empire" sage she stood, the Mendoza woman. So spake her thus, "Seduce them to our party, that their god may prove their foe and with repenting foe abolish his own works."
From darkness visible there came this call, a cherub, fair faced, yclept Arron's Baston,
"Let us favour hard liberty fore the easy yoke of Servile Pomp."
The Great Shadow of the Synod, thunder browed rebounded then,
"Here we may reign secure, and in my choice to reign is worth ambition though in Hell: Better to reign in Hell, than serve Sir Keith."
"All is not lost, the unconquerable will, and study of revenge, immortal hate, and the courage never to submit or yield."
The Swindon of the Rachael, the Arch-fiend's nocent scribe, to the seat of desolation hies she…
Typical Alt-left Polls:
Is Keir Starmer Useless?
Worse than Useless?
A Disgrace?
Worse than a Disgrace?
Alas,
Attempt to explain the poll away:
5 Responses