Far Right Gets Involved in French anti-Health Pass and anti-Vaxx Protests.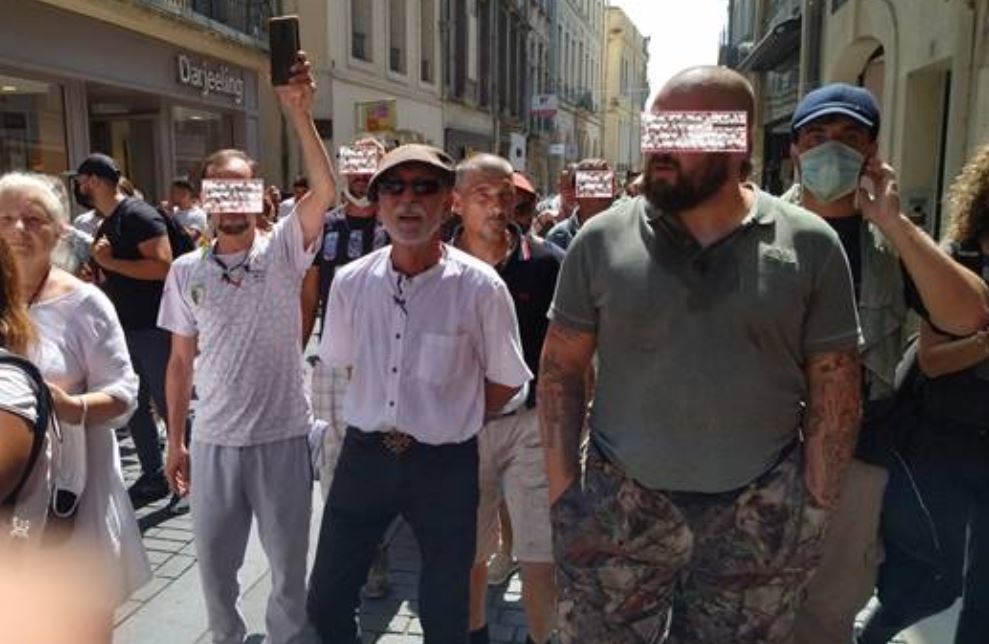 Far Right Ligue du Midi out in July Demonstrating Against the Health Pass in Montpellier..
(Richard Roudier, président de la Ligue du Midi, en chemise blanche, suivi par son fils Olivier Roudier, en polo et short, notamment condamné pour saluts nazis | Le 24 juillet 2021 à Montpellier lors de la manifestation contre le pass sanitaire)
France braces for nationwide protests against Covid-19 health pass
Thousands of French protesters will take to the streets on Saturday for a fourth consecutive weekend to demonstrate against the government-imposed Covid-19 health pass. The pass, which is an extended version of the EU's Covid-19 travel pass, comes into force on Monday, and is mandatory for access to public spaces such as bars and restaurants.ADVERTISING
Days after France's top constitutional authority approved the pass, calling it a "balanced trade-off" between public health concerns and personal freedom, protests are expected Saturday across the country for a fourth weekend in a row.
The health pass limits access to inter-city trains and planes to the vaccinated, and to people who can prove they have tested negative for the virus.
Critics accuse French President Emmanuel Macron of running a health "dictatorship" by forcing people to get vaccinated against their will. They say the pass limits their movements outside home — and implicitly makes vaccinations mandatory.
But on Friday, France's Constitutional Council ruled that the measure complied with the republic's founding charter.
Le Monde reports on the leading role of the far-right in the movement. Philippot has his own group, Les Patriots.
Florian Philippot tente de surfer sur le mouvement anti-passe sanitaire
Some things do not change about Florian Philippot. Four years after leaving the Front National (forerunner of Marine Le Pen's Rassemblement National Rally, RN), the technocrat still gives his appointments in the chic 6 th arrondissement of Paris and believes he has a national destiny. In this gloomy August, Mr. Philippot is in a good mood. The movement against the health pass has had a growing and unprecedented mobilisation for a summer.
This is something you are unlikely to come across in the English speaking media:
La présence de groupes d'extrême-droite sème la zizanie dans les manifestations montpelliéraines contre le pass sanitaire.
During the Montpellier demonstration on July 31, a few dozen far-right activists marched again, including members of the Ligue du Midi, Jeunesse Saint-Roch , a group nostalgic for royalty, and the late Jeunesses Nationalistes. Revolutionaries (JNR), dissolved in 2013 after the murder of Clément Méric by one of its members. The JNR were represented at the demonstration by Gilles Dussauge, neo-Nazi skinhead, former bodyguard of Serge Ayoub, "the man who for 30 years has been whispering in the ears of murderers" as StreetPress documents .
A man of Franco-Algerian origin:"I was accompanied by my wife and my cousin for whom it was the first demonstrations. I had heard that there were "fascists" and that they had attacked someone the week before, so we tried to avoid them by getting as close as possible to the head of the procession. It was festive, but when we got to the station, a group of several men and a woman passed us quite quickly and positioned themselves in front of us. I recognized them by their attire. One had a chain hanging down his jeans. Going up to the Comédie (Theatre) , I sang the famous Gilets Jaunes slogan "we are here!" and there, they kept staring at me insistently. They weren't chanting any slogan, they really didn't seem like they were there to protest.
One of them, a bearded hipster, He was really giving me hateful looks and before he got to the theatre he stared at me and started shouting "bamboulaaa" (a very racist expression) with a sneer. I took it upon myself because I didn't want any aggression.
(L'un d'eux, un barbu hipster, me lançait vraiment des regards haineux et avant d'arriver à la Comédie, il m'a fixé et s'est mis à crier "bamboulaaa" !!!!!)
Marine Le Pen has been more discreet.