Piers Corbyn's Gang Disrupts Labour NEC Lobby Against Expulsions.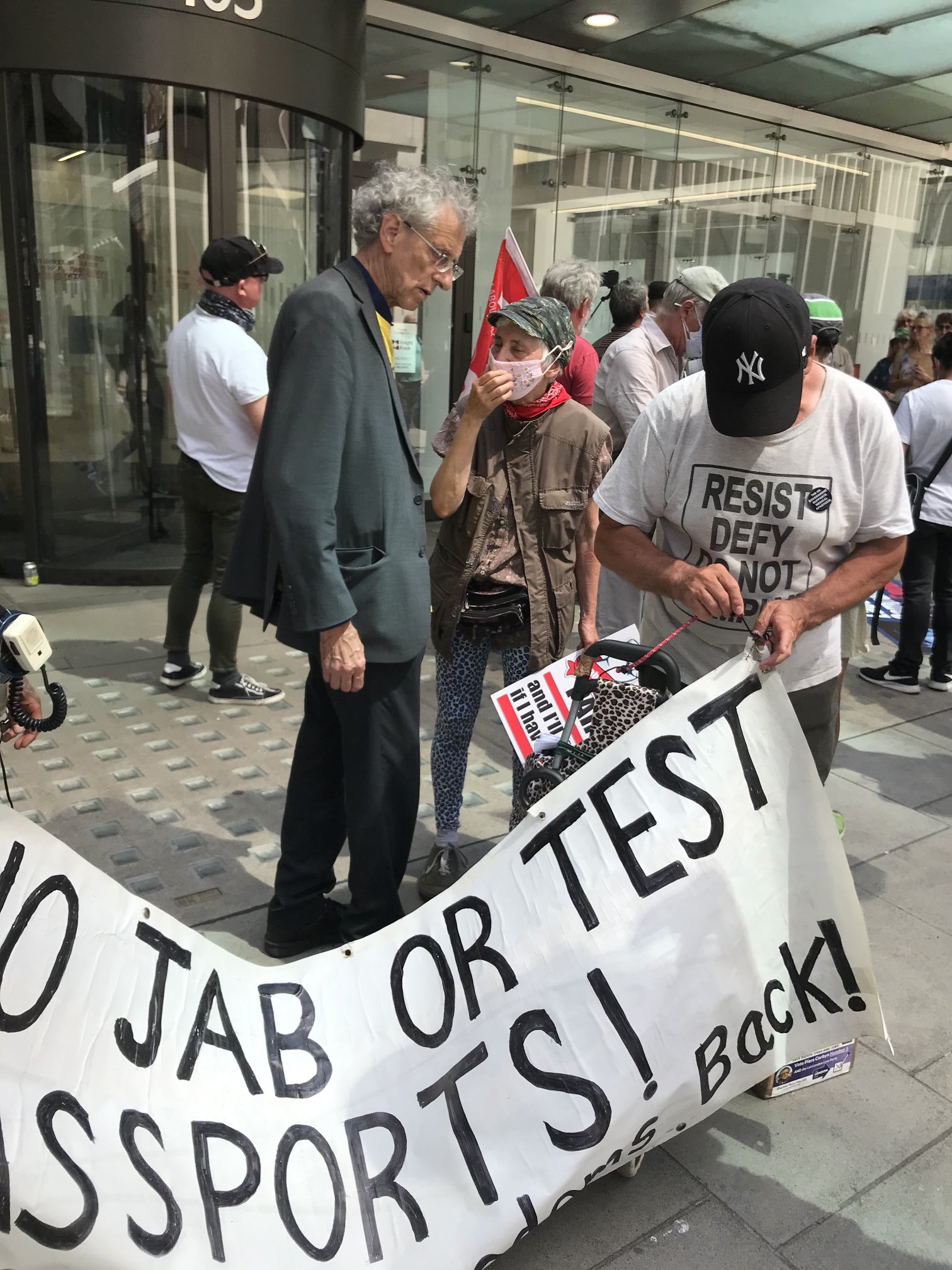 Piers Corbyn Joins Protest against Labour Plans to some Proscribe Left Groups.
While we are waiting for the NEC's decisions…..
Heiko Khoo above. This is the noted Red-Browner's background (standing for the confusionniste Let London Live anti-Lockdown slate in the London elections, led by Piers Corbyn, "Stop All Lockdowns and Covid Rules". He claims to have been in Socialist Appeal.
Heiko Khoo Let London Live candidate Central West-London
Dr. Heiko Khoo is a researcher, a journalist, and a radio producer. He organizes the highly acclaimed Karl Marx in London Walking tour (Marxwalks.com). But he is best known for his oratory at Speakers' Corner, Hyde Park, where he has spoken since 1985. Heiko 57 was born in London and lives in Ladbroke Grove.
We have spent a year under a regime of petty diktats that robbed us of our dignity and our basic rights and freedoms.
The coronavirus crisis concealed a global power grab by finance, tech and Pharma giants. It is time for the people of London to stand up to the global capitalist elites and their governments and stop this descent into dystopian madness.
Heiko is standing for the London Assembly to give voice to the anger and discontent of the people at the disaster that has befallen our city and the world. This means empowering the people to challenge state and corporate power. London has played a decisive role in world history for centuries. Now we need to stand up the powers that be and create London anew out of the wasteland.
Heiko has prepared a comprehensive document explaining the events of the last year, which you can find on www.unmask.org.uk
Here is how it began:
Jewish News.
Brother of ex Labour leader spoke alongside Tony Greenstein at demo opposing the party's actions against far-left groups whose members are accused of antisemitism
Speaking outside the Southside building in Victoria, central London, Piers initially heaped praise on Tony Greenstein – the "notorious antisemite" who was among the 100-odd activists present.

he ex Labour leader's brother then said he was present to give "100 percent support" to those he said were "being purged from the Labour Party."

He then added:"It's not just for my brother – I support his right to go back into the PLP fully, and everybody who is being purged."
As Piers continued to speak he then openly linked current attempts to tackle the pandemic with the climate under the Nazis in 1930s Germany.

At one stage he appeared to suggest compliance with the vaccine was a replica of submission to Hilter's Nazis.

"You know what happened in Germany.. they believed in Hitler, " he said.
You know what happened, the rest is history. "

Corbyn then attended that "the Jews" were "locked up" and that "the rest is ..what they were told to stay safe."
The article says, "When Piers Corbyn spoke some of the activists present attempted to distance themselves from a "Covid denier."
In the anti-vaxx/conspiracy/mad Pier's gang a speaker Heiko (above) said he, like Corbyn, was on the left.
This is the kind of the 'left' they are: 11th of July.
Laurence Fox and Piers Corbyn lead anti-lockdown and vaccine passport protests outside Wimbledon
4 Responses