Daily Mirror: Labour Against The Witch-hunt and Socialist Appeal among groups Labour is set to Proscribe.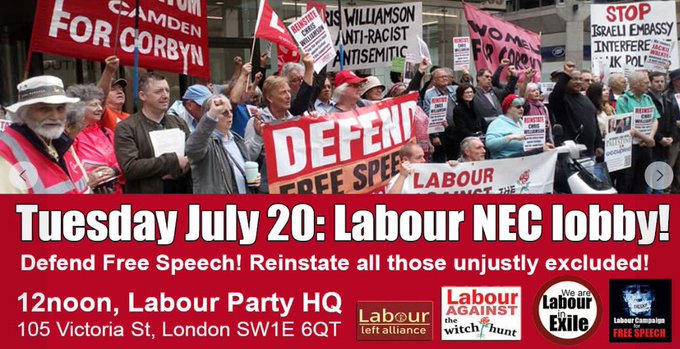 EXCLUSIVE (as in widely trailed by SA and sites like this Blog)
Labour Against The Witchhunt and Socialist Appeal are among the groups to be proscribed by the party's ruling body as the leader bids to stamp out "toxic extremism"
Keir Starmer is preparing to purge far left Labour members part of "poisonous" campaign groups in a bold confrontation with operators loyal to Jeremy Corbyn.
Labour 's ruling National Executive Committee will be asked to proscribe four "toxic" organisations which promote communism, claim anti-Semitism allegations are overblown and demand whips restore Mr Corbyn as a Labour MP.
Those to be banned include Resist and Labour Against the Witchhunt, which claim anti-Semitism allegations were politically motivated, and Labour In Exile, which expressly welcomes expelled or suspended members.
The openly communist Socialist Appeal will also become a forbidden group.
The Mirror understands anyone found to be a member of any group will be automatic expelled from the Labour Party.
The plans on the agenda at the NEC meeting on Tuesday are expected to pass and more than 1,000 members could be "auto-excluded" as a result.
……
A Labour spokesman said: "Labour is a broad, welcoming and democratic party and we are committed to ensuring it stays that way.
"From time to time, there are groups the NEC will proscribe. The NEC will be asked on Tuesday to consider whether these four organisations are compatible with Labour's rules or our aims and values."
Questions continue to be asked about whether Mr Corbyn will continue to sit as the independent MP for Islington North.
Comment:
This Blog is totally opposed to 'purges' – people of sick of this kind of politics as much as we are of Labour Against the Witch-hunt.
It is not a good move. Just because Socialist Appeal are not highly regarded it is not right in principle to suppress 'Communists' who are in fact (dogmatic) Trotskyists opposed to Stalinism. That ban is directed against a very minor cult. The other targets are much more wide-ranging Apart from the principles involved – democratic socialists defeat people politically by argument and debate not by bureaucratic means and this violates such norms – it is hard to see how it could be put into practice. To begin with, given the hard to pint down affiliations of people supporting network groups like LAW and the other named organisations (., Labour In Exile, & Resist) it is a potential nightmare of dispute and court cases.
Note Keir Starmer's own past, at his event held by Tendance marxiste-révolutionnaire internationale (TMRI).
3 Responses