Socialist Appeal Claims it is facing 'purge' from Labour.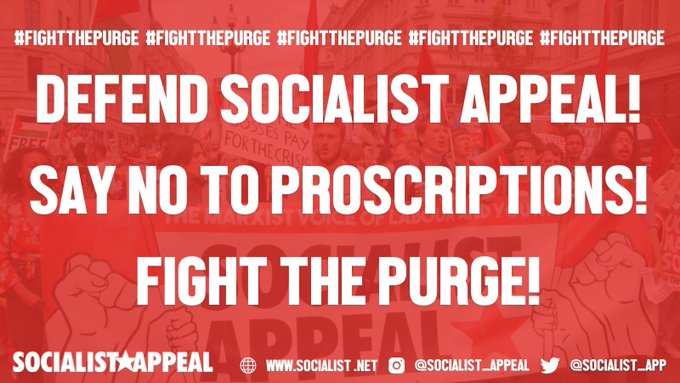 Rumours and reports are circulating that Socialist Appeal, along with three other left-wing campaigning groups (Note, which ones? They do not say) , are to be officially proscribed from the Labour Party. This is a direct political attack on the left and the ideas of socialism. The whole left must mobilise to fight this purge.
The Labour Party's national executive committee (NEC) is scheduled to meet next Tuesday, 20 July. According to various sources, a motion is being proposed by right-wingers on the NEC that would see Socialist Appeal deemed a proscribed organisation.
the motion states that this clause applies to Socialist Appeal and its activists, making support for Socialist Appeal 'incompatible with membership of the Labour Party'.

The grounds given are that Socialist Appeal has its own programme, membership, and structures; that we are part of an international organisation, the International Marxist Tendency; and that our organisation is a continuation of the Militant Tendency, which was similarly proscribed by the Kinnock leadership in the 1980s.

Finally, the proposed motion suggests that the above clause should apply to anyone who declares themselves a supporter of Socialist Appeal; sells our newspaper, or writes articles for our publications; or runs Socialist Appeal street stalls.
Like many on the left, I cannot stand this bureaucratic sect whose 'Marxism is rote-learned gibberish in the 'Militant' tradition with dollops of Lenin and Trotsky. But to some extent this Blog agrees in general with this statement,
Socialist Appeal, however, has always supported the Labour Party and its candidates. We are not a separate party, but a tendency within the Labour Party and the wider labour movement, organising socialist activists around Marxist ideas.

As with groups like Momentum, our activists are loyal Labour members, who have worked tirelessly to build the party in their local areas; and who have enthusiastically campaigned for Labour in every election.
First they came for the Marxists…
This latest McCarthyite move is therefore the thin end of the wedge. First the right wing will decapitate the left of its most militant layers. And if they are successful in this, next they will come for the rest of the left.
Yet they also call for their own purge of people they disagree with!
Written by Andrew Coates
July 16, 2021 at 6:28 pm
7 Responses
Subscribe to comments with RSS.