Batley and Spen: Violence Against the Left.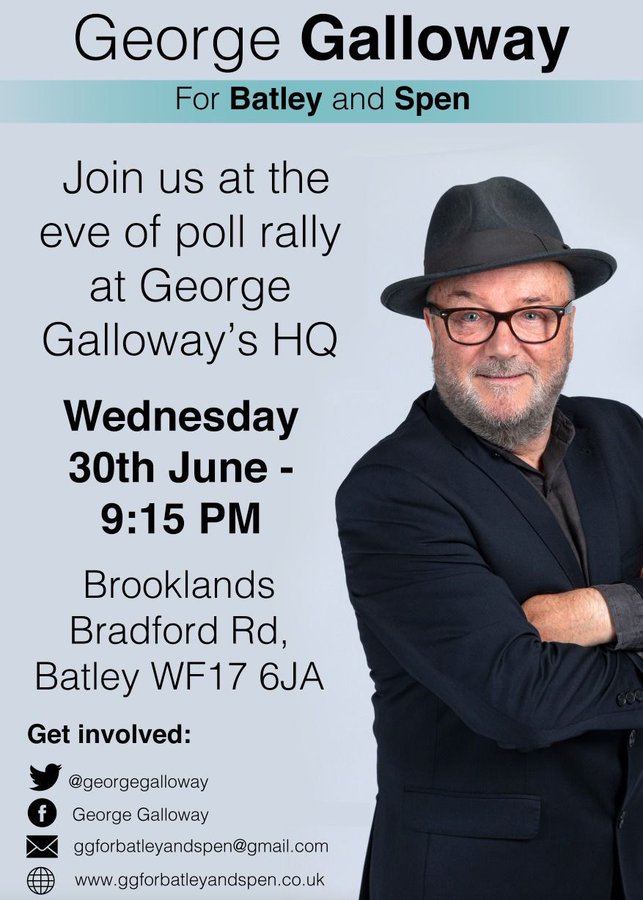 Red-Brown Rally Tonight.
This article by comrade Yasmin Alibhai-Brown will go straight to the heart of all democrats,
On Sunday afternoon, he was out with Labour supporters when they were pelted with eggs and attacked. A poster outside his house backing Leadbeater was torn down and replaced with another backing George Galloway and the All for Unity party.
George Galloway has galvanised Muslim hoodlums in Batley and Spen to further erode our failing democracy
Galloway's band and other posses are packed with young Muslims, angry (rightly) about Islamophobia, India's oppressive control of Kashmir and Israel's ruthless control over Palestine, yet (inexcusably) intolerant of modern values of equality for women and LGBT people. Some of the brutes intimidated Leadbeater when she was out campaigning.
How much monstrous hatred boils in someone who says this to a woman whose sister, a lovely and popular MP, was slaughtered on these very streets? One local Muslim family who emailed confessed that they'd decided not to vote because they're so afraid of the terrorisers, "our own young people, born here, behaving this way. Why are they like this? My son is a council worker and my daughter is at university. They respect everyone. Is it the fault of parents, politicians, mosques or society?"
We interviewed young Muslims from every background, including gay men and women and those from minority Muslim communities, routinely abused by zealous and backward believers, young and old. They weren't best pleased and some have vowed to "get us".
Meanwhile the red-brown front continues:
The original Red-Brown pact:
20 Responses