UNITE Beckett: maintaining his candidacy.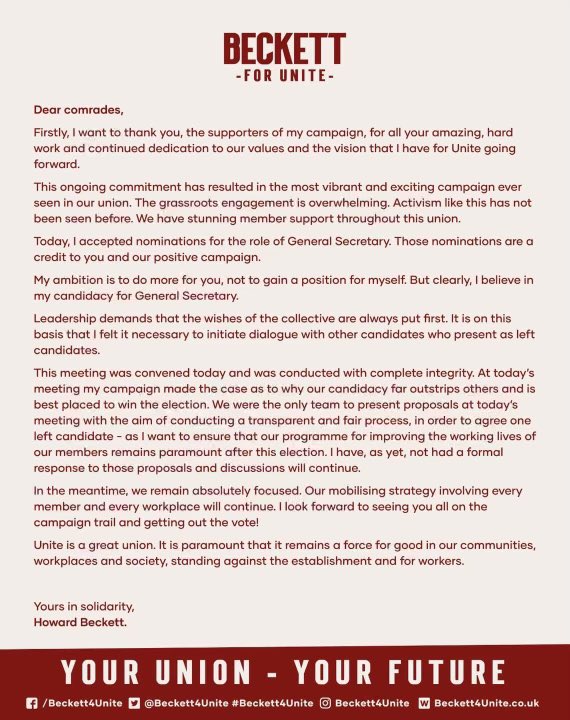 Beckett says his Candidacy 'Outstrips others."
Dear comrades,
Firstly, I want to thank you, the supporters of my campaign, for all your amazing, hard work and continued dedication to our values and the vision that I have for Unite going forward.This ongoing commitment has resulted in the most vibrant and exciting campaign ever seen in our union. The grassroots engagement is overwhelming. Activism like this has not been seen before. We have stunning member support throughout this union.
Today, I accepted nominations for the role of General Secretary. Those nominations are a credit to you and our positive campaign. My ambition is to do more for you, not to gain a position for myself. But clearly, I believe in my candidacy for General Secretary. Leadership demands that the wishes of the collective are always put first. It is on this basis that I felt it necessary to initiate dialogue with other candidates who present as left candidates. This meeting was convened today and was conducted with complete integrity.
At today's meeting my campaign made the case as to why our candidacy far outstrips others and is best placed to win the election. We were the only team to present proposals at today's meeting with the aim of conducting a transparent and fair process, in order to agree one left candidate – as I want to ensure that our programme for improving the working lives of our members remains paramount after this election.
I have, as yet, not had a formal response to those proposals and discussion will continue. In the meantime, we remain absolutely focused. Our mobilising strategy involving every member and every workplace will continue. I look forward to seeing you all on the campaign trail and getting out the vote!
Unite is a great union. It is paramount that it remains a force for good in our communities, workplaces and society, standing against the establishment and for workers.
Yours in solidarity,
Howard Beckett.
Hat-Tip Jim.
See Shiraz: Unite election: the Beckett File
This would appear to confirm that Beckett intends to continue in the race, despite garnering fewer nominations than the other two left candidates and having nominations very largely from Scotland and Community branches.
In the light of this, Shiraz as decided to release the dossier that some comrades we know in Unite have drawn up on Beckett and invite readers to draw their own conclusions:
Howard Beckett has positioned himself on the far-left – the tenacious left-winger, a veritable champion of the people and the scourge of Starmer and all his works. Under this banner he's gained support from a wide range of political radicals. But how much of this is real, and how much posturing in his quest to become GS?
This briefing is produced by activists who consider he's a 100% poseur, making him qualitatively different from our other candidates, who have 100% commitment to the movement. For that commitment Beckett substitutes boundless ambition and relentless self-promotion. To give substance to his ambition he has to play down his past.
Update: The Skwawking one is up to his old tricks today:
Union rep and 'occasional contributor' to Jacobin and Tribune, Robert Maisey decided to attack Howard Beckett – and sparked a furious reaction to his snide comments about the left's favourite in the Unite leadership contest.
6 Responses