French Communist Party (PCF) to stand Fabien Roussel as Presidential Candidate in 2022.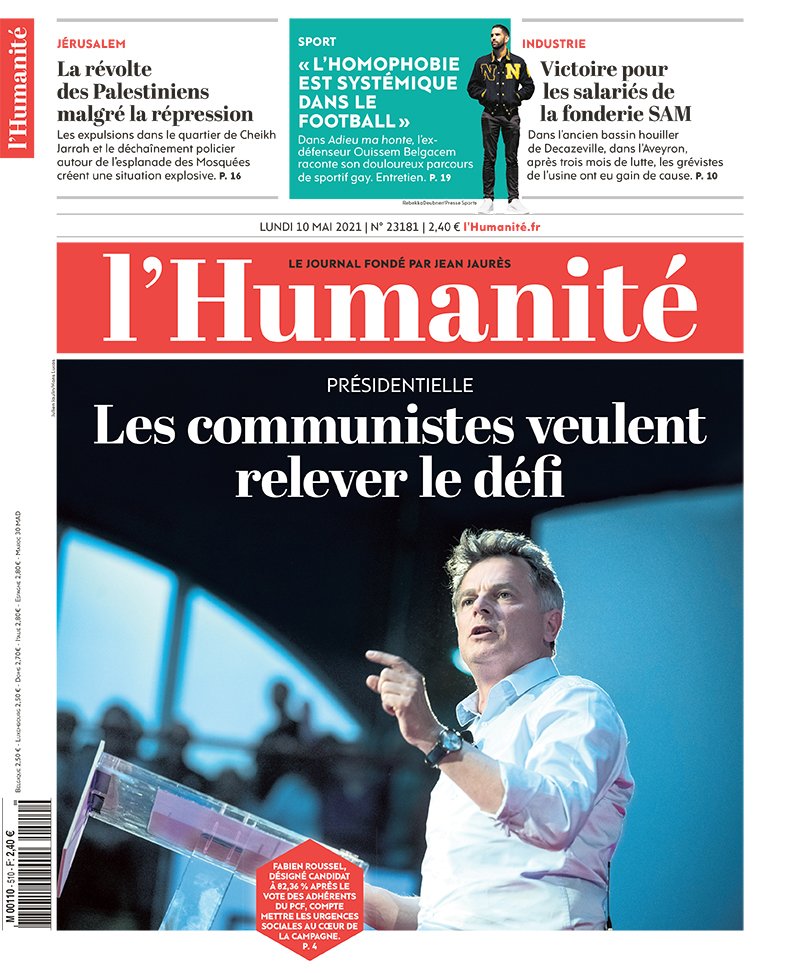 French Communists In Presidential Electoral Bid.
After fifteen years of absence, the Communist Party will again be represented at a presidential election, in 2022: and it will be Fabien Roussel. More than 82% of eligible members voted in favour of the candidacy of the national secretary of the PCF in an electronic vote which took place from Friday 7 to Sunday 9 April. The vote of these 30,000 members(out of 43,000) confirmed the decision of by the national conference of the PCF, where the party officers (cadres), on April 11 backed this candidacy. According to the statutes of the party, the last word was to go to the members themselves and now they have voted.
Présidentielle 2022 : Fabien Roussel officiellement candidat pour le Parti communiste. France Info.
Vote des communistes des 7, 8 et 9 mai 2021 sur les choix du PCF pour les élections de 2022
Not long ago this was published in the US left populist magazine Jacobin,
In Northern France, A Divided Left Is Finally Coming Together.
On top of all that, MP Fabien Roussel — national secretary of the Communist PCF — has declared his own presidential bid within his party. On Sunday a PCF national conference endorsed the idea of an independent presidential run, which would be the party's first since 2007. The wider PCF membership, slated to vote on the project from May 7–9, will also likely have the option to vote for a competing resolution which calls on the party to build unity before the first round of the presidential electionFor what it's worth, PCF members have bucked party leadership before: In the fall (autumn) of 2016, they voted to endorse Mélenchon's campaign, rejecting the national conference's vote for a PCF candidate.
Cole Strangler.
One understands the wish for left unity, one shared by friends of the French left across the world.
But while there are moves on the French left reach more than a "non agression" pact between themsleves, is as clear as day that many people and groups on the organised French left are not prepared to abandon their own parties and politics to subordinate themselves to Jean-Luc Mélenchon.
Libération's report on the decision notes, "The divorce with Mélenchon is confirmed."
In an appeal which many would consider disingenuous Mélenchon said on the 4th of May,
TO THE COMMUNISTS This week the Communists will decide if they break the alliance that has united us since 2009 in the elections and present a candidate for the presidential election. Or if they decide to wait to take a stand to see the landscape become clearer. Their decision will be imposed on us and we will have to face the serious consequences that it will inflict on us in the event that the choice is made to break up.
The rest evokes words like "dialogue", "union" and joint work in 'struggles'.
Activists observe that Mélenchon and his rally/movement, La France insoumise, is not a party with a democratic structure. Subject to the will and whim of its leader and inner circle, without members, only supporters. Its shifting programme evokes a new 'era of the people' a fight against the elites and oligarchs, and LFI has not been above adopting sovereigntist postures, if not worse in contradiction with support for " l'intérêt général humain." Mélenchon s unbounded admiration for President François Mitterrand (who helped him, a cadre of the Lambertist Trotskyist Parti communiste internationaliste, OCI) become a Parti Socialiste MP) is not universally shared.
Then there is this, only recently, "While Pierre Roussel was to lead a unitary list including Communists, "LFI" and Socialists, the local leaders of LFI caught him our by a deal with Europe Ecologie-Les Verts (EELV), forcing the entire left to line up behind the ecologist MEP Karima Delli. (Présidentielle 2022 : Fabien Roussel, candidat pour le Parti communiste
Mélenchon continues to believe in Mitterrand and the 1981 victory, backed, he observes, by the French Communists. Unity ('Union'), that time, he suggests, worked.
The last time the Parti Communiste Français (PCF) stood a candidate, Marie-George Buffet, in 2007 she got 1,93% Opinion polls at present put Roussel at 2%,
Critics still maintain it is too early to announce a candidacy from the left – though that has not stopped Mélenchon.
Today in an interview with Le Monde the Leader of LFI attacks every other group on the French left. The 'old apparatuses' (vieux appareils), the Parti Socialiste, social liberals doomed to extinction, Greens, "capitalisme écologique", Benoît Hamon (Génération. s), nice guy but wrong on Universal Basic Income (his main platform), Communists PCF), they have chosen a diminished role (un rôle diminué.) in politics, other figures: M. Jadot, ni Olivier Faure ou Mme Hidalgo do not want to share their candidacies and have a "common candidacy" (whatever that means…) with him.
HIstory is on his side….
la désagrégation du champ politique produit des effets qui peuvent m'être favorables.
The beak up of the political landscape is producing effects which could be favourable to me.
If this is true, asks the interviewer, who will face you in the second round of the Presidential elections?
Marine Le Pen évidemment. C'est la pente de l'histoire.
Jean-Luc Mélenchon : « Je n'ai pas l'intention de transiger »
Not everybody would agree that this is the likely direction historical events will take.