16 Monster Raving Loony Candidates (and one TUSC) in Kingston on Thames Council By-Election.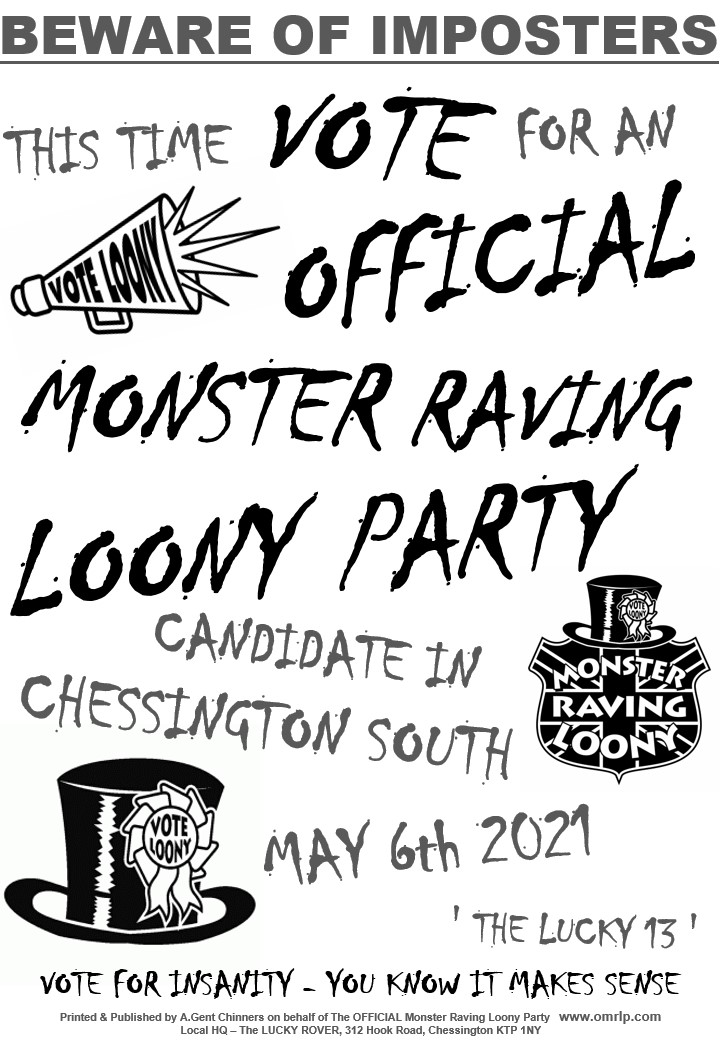 Trade Union and Socialist Coalition (TUSC) Faces Tough Competition From Monster Raving Looney Party.
Newshound David Walsh writes,
In this strange week where nothing political is stirring – anywhere – and nowhere on the left, please see the attached notice of nominations for a mundane by election in the Chessington South ward of Kingston upon Thames Borough Council. This follows the death of a Lib Dem Councillor.
When you open it, you will see that beside the three main parties , there are 13 candidates for the Raving Monster Looney Party – ranging from the Lady Dave Pither to the Count of Casual Corinthians via Captain Coily. In a ward where the last elections saw the Tories fighting off the Lib Dems in the mid one and a half thousands, and Labour trailing in with a couple of hundred it seems an odd place for Loonyism. Street view shows solid upper middle England villas and detached houses, and Google Earth shows a lot of big gardens with the blue dots of swimming pools. For the Loonies to have got the 130 signatures is a job of industrial enterprise. Odder still, the contest also sees a TUSC candidate – they must have found a hidden proletarian enclave that escaped me. See PDF from the council.
The following is a statement of the persons nominated for election as Councillor on Thursday 6 May 2021
Looniest election: Why 13 Official Monster Raving Loony Party candidates are competing for your vote in the same seat.
A total of 13 candidates for the Official Monster Raving Loony Party are standing for just one seat in Kingston's Chessington South by-election, possibly setting a record for the number of candidates a party has contested in a single-seat election.

There is nothing in the rules against this stunt, and there have been occasions in the past where two or three candidates have stood for one political party in a seat.

But it obviously makes it harder for a political party to win if their votes are split between several candidates. But then maybe that's the point…
The story continues.
Loony candidate A. Gent Chinners tweeted about the political ploy stating: "It's going to be a squeeze getting all 13 of them into that seat!"

He told MyLondon that despite "this massive plan of mine taking up far too much time" it was something he'd always wanted to try and arrange in a local election "and this one just seemed right what with lockdown."
Speculation is growing in the international workers' movement as to whether TUSC will manage to beat the Official Monster Raving Loony Party in a crucial contest in the proletarian heartlands.
6 Responses