Red-Brown Professor, Paul McKeigue, close comrade of David Miller, "fake Russian spy and the undercover Syria sting."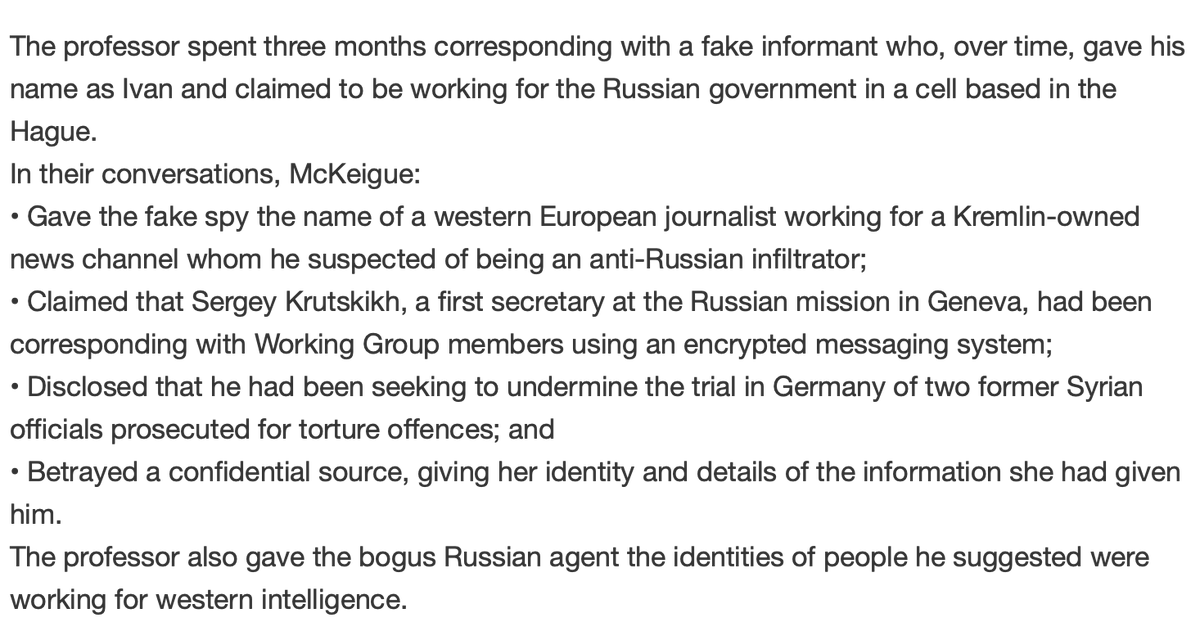 Assad Apologist and Close Comrade of David Miller
Observer : The UK professor, a fake Russian spy and the undercover Syria sting
This story is the depths. One of the leading members of David Miller's red-brown "Working Group on Syria, Propaganda and Media" was prepared to inform on people, with potentially life-threatening consequences, to the Putin regime. There is little doubt, had the agent been real that the Assad regime would have heard as well.
Who is this creature?
A more sceptical academic than Paul McKeigue might perhaps have wondered if the emails flooding into his inbox from "Ivan", a purported Russian spy, were too good to be true.

The Edinburgh genetics professor – who devotes large quantities of his private time to pursuing fringe theories claiming that attacks on civilians are staged to smear the government of Bashar al-Assad – dived eagerly into his new correspondence.

Over three months he filled hundreds of pages with speculation, including accusing journalists, researchers and diplomats of working as conduits for western intelligence agencies. He revealed the identity of a confidential source, and shared information she gave him.

Ivan appeared to share many of McKeigue's own personal obsessions, particularly his desire to discredit investigators who compile evidence of war crimes committed in Syria. And he claimed access to both ready cash and secret intelligence.

But McKeigue was not writing to a Russian spy, or even a man called Ivan. The email account was controlled by a group of staff at one of the organisations he hoped to discredit, who say they went undercover because of concerns over the tactics McKeigue and his allies were prepared to deploy in an effort to defend the Syrian government and its Russian allies.
diplomat at the Geneva embassy, first secretary Sergey Krutskikh, was corresponding with fellow members of the "Working Group on Syria, Propaganda and Media" on encrypted systems.

This is an alliance of far-left academics and researchers who claim western journalists, NGOs and others act on behalf of the CIA and MI6 to undermine the Syrian government, including faking evidence of civilian deaths and chemical attacks.

It includes the controversial Bristol University professor David Miller, who has been accused of antisemitism by his own students, a claim he denies, and the blogger Vanessa Beeley, who has frequently visited Syria on government-sponsored trips.

Group members have questioned the veracity of chemical weapons attacks in Syria and claimed Russia was framed for the poisoning of Sergei Skripal in Salisbury in 2018.

They were also part of a years-long public campaign against the White Helmets, a civilian rescue organisation that enraged pro-Syrian and Russian factions by recording atrocities as they tried to save lives, then sharing the footage.
Shiraz has an excellent report on the story, which began with a report in the Times and then the BBC and is still unfolding: Pro-Assad academic tried to grass up human rights activists to Putin.
Meanwhile fellow Red-Browner Chris Williamson retweets another pro-Assad tout; (Chris Williamson Retweeted
One Response