Tony Greenstein Wins Leading Role in Labour in Exile Network (LIEN).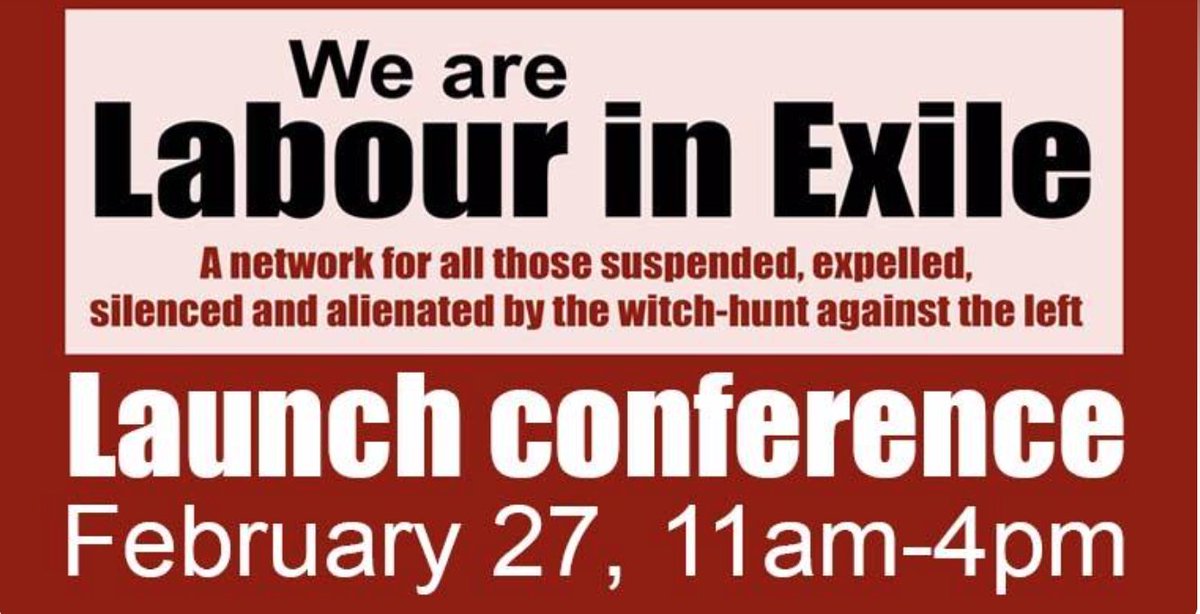 Links to Exile.
Labour in Exile Network held a Virtual Founding Conference last Saturday.
They have finally got round to posting about it (thanks Newshound David)
While claiming that "over two hundred people actively participated" at the event, votes cast on motions were just over 100.
The new LIEN steering group, as elected at conference
Paul Collins
Terry Deans
Esther Giles
Tony Greenstein
Stan Keable
Chris Knight
Faraz Khan
Wanda Lozinska
Norman Thomas
Neil Todd
Christine Tongue
Tina Werkmann
As expected the committee is made up of members of Labour Left Alliance, Labour Grassroots, present and former supporters of Labour Party Marxists (Weekly Worker, Communist Party of Great Britain, Provisional Central Committee) and wishers of Good Luck to Chris Williamson,
The Tony Greenstein Party made a strong showing.
Here is Greenstein's  South Coast neighbour and comrade:
Labour official accused of anti-Semitic tweets
Ms Massey is chairwoman of Hove, Brunswick and Adelaide branch of the party and is standing for election to treasurer of the Hove constituency party.

Delegates due to attend the Sunday's meeting were told by the party's regional organiser at 4pm on Saturday the venue was unavailable.

Comments by Ms Massey on Twitter included "Interesting insight into how Israel has Tory and Labour parties under control" and "How Israel lobby manufactured UK Labour Party's anti-Semitism crisis [link]".
As expected 'Zionism' plays a big part in their political concerns:
Racism and antisemitism group
Convenor: Tony Greenstein
Anti-Semitism is the main weapon that the Right have been using for the past 5+ years against the Left. The vehicle that they have chosen is the IHRA but there are indications that the Zionists are suffering a backlash because of the way they have used it.
It is noteworthy that both the Jewish Chronicle and John Mann have condemned the attempt to use the IHRA to no platform Ken Loach recently. Also there is news that an alternative definition, the Jerusalem Declaration, is about to be launched in Israel.
We have to react to these events and also set the agenda.  In particular we have to be merciless in our attack on Labour's racist leader Herr Starmer but also to make it clear that its about time that the Labour left came to terms with their failures to respond to the fake anti-Semitism campaign which led to Corbyn's demise.
How we do these things and more will be for this group to decide.
Proposal for an Anti-Zionist Action (AZA) Group
Coordinator: Neil Todd
We know that the witch-hunt is driven locally a network of Zionist trolls, often associated with the so-called "Labour Against Anti-Semitism" (LAAS) and other Zionist lobby groups, who spend much of their time trawling the social media accounts of party members, publicly smearing them as "anti-Semites" and manufacturing the fake anti-Semitism complaints which are used to get members investigated and suspended. We know also that many of these individuals are linked on Facebook and Twitter and regularly communicate. 
The main aims of AZA would be:
(1) to gain knowledge of the identity, location, activities and associations, of individual Zionist trolls;
(2) to use the knowledge so-gained for the purpose of (i) taking action against the individuals and (ii) warning other members to take care of those individuals. 
One way in which we can build knowledge is by means of a questionnaire, similar to the WAG questionnaire, which would go out to all members of the LIEN network.  One such possible action could be to make complaints against them using genuine incidences of anti-Semitism, e.g. the attacks they often make against non-Zionist or anti-Zionist Jews. Another such possible action could be to publish news items about the activities of certain key individuals, such as Jonny Morris in Plymouth. 
I am aware that there are already in existence local groups of members who have come together to counter the likes of Jonny Morris. I am sure that there will be others around the country, e.g. in Brighton, where we now know that Morris was also involved in attempting to block Chris Williamson from speaking. The AZAG would serve to bring these already existing groups and strengthen them by pooling knowledge and resources. 
11 Responses