'Labour in Exile' Network to hold Launch Conference, Calls for "Strike Action" for May Elections..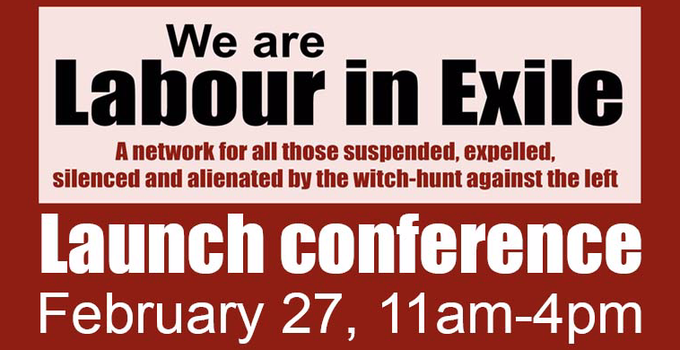 "will only campaign for Labour Party candidates prepared to condemn the suspensions."
Press Release.
LABOUR MEMBERS PLAN STRIKE ACTION FOR ELECTIONS
Labour Party members plan to take a form of extraordinary strike action — against their own party.

The action is being planned by the Labour In Exile Network (LIEN) group to protest against the suspensions of members under the leadership of  Keir Starmer.

Under the plan members will only campaign for Labour Party candidates prepared to condemn the suspensions.

Christine Tongue of LIEN said: "Hundreds of people, including many party officers,  have been suspended since Keir Starmer became leader,  unfairly and without even a semblance of natural justice. This is a purge — and we are going to take collective action to stop it."

The group aims to target the May elections to local government.
The Labour In Exile Network (LIEN) has been promoting this as an example of an unjust expulsion.
The Morning Star has just given them another puff.
Purged Labour party members to print their own membership cards in act of defiance
PURGED" Labour Party members are planning to print their own membership cards in an act of defiance as they vow not to quit the party.

Since Sir Keir Starmer became leader, members have been expelled for voicing solidarity with his predecessor Jeremy Corbyn after he was suspended and subsequently readmitted without the whip.

A fightback is being organised by the new Labour In Exile Network (LIEN) which is launching a campaign to change the party later this month.

The new cards will bear the original Clause IV of the party's constitution, calling for the common ownership of industry which was rewritten under New Labour leader Tony Blair.

Terry Deans, who was suspended last year, said: "We are not leaving the party, nor are we starting a new party.

"The Labour Party is our party and we are staying put.

"The cards will show people that whatever [Sir Keir] does, whether he suspends or expels us, the original party remains, and we remain members of it."

Following an investigation by Labour's national executive committee, the Falklands war veteran was suspended for 12 months, a decision that has left him puzzled as he was denied the opportunity for a hearing.

Mr Deans is still awaiting acknowledgement of his appeal submission nearly five months after lodging it.

"The disputes and disciplinary process is dysfunctional and not fit for purpose. All I want is a proper, fair justice system," he said.

"This is our party and we're not going anywhere."

Labour was contacted for comment.

LIEN's founding conference will take place on February 27. For more details go to www.labour-in-exile.org.
The anti-Labour Alt-news site The Canary has tweeted.
Labour In Exile Network Retweeted
Labour In Exile Network Retweeted
LIEN offers a 'Plan for Change'.
The right to free speech is coming under increasing  attack in the world at large and can no longer be guaranteed. We will campaign for Labour Party members, branches and CLPs to have the right to discuss any issues they like, without the threat of censure or suspension. We urge branches and CLP to ignore instructions of issues being "not competent business" as unconstitutional. We campaign against the recommendations of the EHRC report, which demands that antisemitism cases are outsourced and which leads to a curtailing of free speech. We will campaign to overturn the party's commitment to the so-called definition of antisemitism by the International Holocaust Remembrance Alliance, which conflates anti-Zionism and criticism of Israel with antisemitism in a number of its examples. Instead, we need a culture of open and free debate on all matters.
The mere mention of the Holocaust serves a reminder of what kind of free speech they are after. Labour has the right to set up barriers to the public expression of racism. Do they went "open and free debate" on the Shoah? Including the likes of Norman Finkelstein who praises négationniste David Irving.? On the evidence of the same group's Free Speech meeting last weekend, the answer can only be yes.
What effect will this have?
More headache for Keir Starmer as yet another Labour group is looking to boycott the local elections

In a press release, the group said it was planning "strike action":

Under the plan members [of LIEN] will only campaign for Labour Party candidates prepared to condemn the suspensions.
This is on the agenda of the Conference.
. We also want to elect a new Steering Group and we will be hearing contributions from Leah Levane, Jackie Walker, Tosh McDonald, Roger Silverman, Chris Knight and Graham Bash.."

Witch-hunt Action Group
Social media
Press and outreach
Racism and Antisemitism Group
Legal Action Coordinating Group
Anti-Zionist Action Network
This is a wholly destructive campaign.
Is LIEN going to demand a kind of loyalty oath to their principles from all Labour candidates?
The names, it is sad to say because some of them have been long-standing left activists. do not command a lot of respect or support these days.
This is another sign of the fragmentation of the left.
10 Responses