Ken Loach in new row over Anti-Semitism.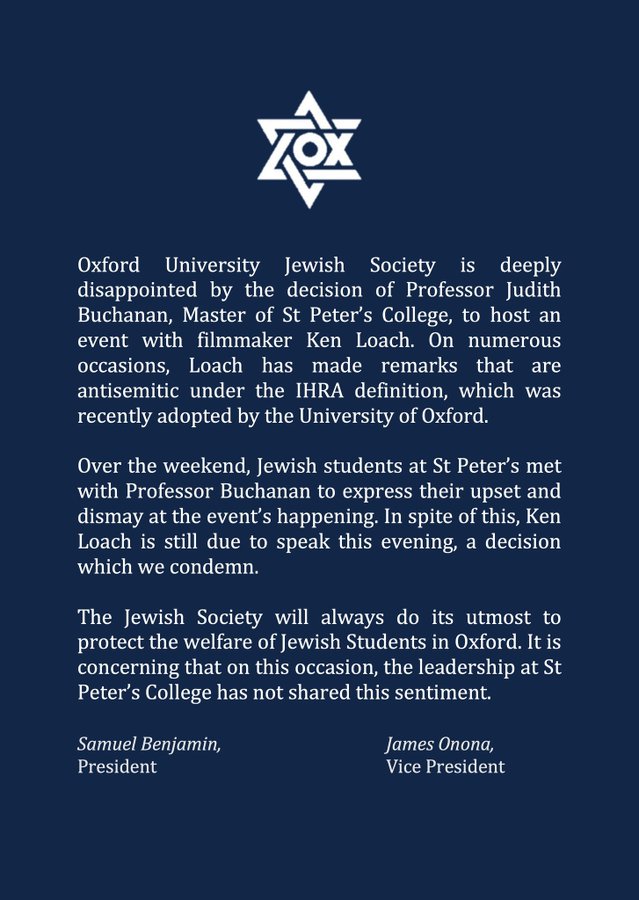 There are mixed reactions to the controversy over inviting Ken Loach to speak at a Zoom event hosted by St Peter's College Oxford:
An Oxford college event with Ken Loach went ahead on Monday despite objections from the Board of Deputies and Jewish students over the filmmaker's alleged antisemitism.

The event, live-streamed on YouTube yesterday, focused on the St Peter's College alumnus' filmmaking career.

Jewish Chronicle.

Outrage as Oxford college holds event with controversial filmmaker Ken Loach
Most people could not care less what an Oxford College does. But Jewish students who protested at this guest's presence have every right to do so. Loach has a past, not just as a graduate of an exclusive Oxford college, but a political background. This includes his joint authorship of the play Perdition, a not too distant membership of George Galloways 'anti-Zionist' Respect Party (2004 – 2012)  and present, support for Labour Against the Witch-hunt, whose Vice Chair Tony Greenstein, is described by his local paper as a "notorious anti-Semite'('Notorious anti-Semite' loses libel case).
But cancelling or no platforming Loach would  suggest that his films should be boycotted as well. No platforming was originally about street confrontations with violent far-right groups such as the 1970s National Front. The aim was to prevent them holding street marches to intimidate minorities. It was not about deciding on the virtue of this or that speaker. Loach has a high reputation as a film-maker for some, by no means all, cinema lovers, some of whom call many of his pictures in the last couple of decades 'miserabilist' and wooden, It is not a good idea to have the issue of protests against them introduced into criticism of the Loach cinematic oeuvre.
In the New Statesman. Steve Bush makes the point that it is one thing to defend the right to speak, and another to eulogise the speaker. This is a valuable distinction: very few people who defend Roman Polanski's past behaviour. and against more recent accusations of violation. But the director's 2019 film on the Dreyfuss Affair, J'Accuse has yet to be shown in many countries, including the US because of this.
Ken Loach's defenders are making an old and familiar mistake
When someone is accused of bad behaviour, their friendship with you is irrelevant.
The actor and comedian John Bishop and the Labour MP Ian Lavery have both defended the film director Ken Loach, whose invitation to speak at St Peter's College, Oxford, has been criticised by the university's Jewish Society due to his history of controversial remarks. Among them were Loach's declaration that the 30 Labour MPs who joined the 2018 "Enough is Enough" protest against anti-Semitism in the Labour Party were "the ones we need to kick out", and that claims of Labour anti-Semitism were "exaggerated or false".

Freedom of speech is vitally important, particularly at a university, but a university campus or a university college are not only institutions of higher education: they are also the home of their students, and it was, therefore, in my view, a mistake for the master of St Peter's College to invite Loach and treat him as an honoured guest. It is not the same as an invitation from a university film society.

….

Both men are using what I think of as the "Me Too Formulation", which is frequently wheeled out by friends and supporters of people accused of sexual harassment: I've met so and so, and they are a great bloke, so they cannot have done what they are accused of. Shakespeare in Love is a brilliant film, so no one involved in it can possibly have done anything untoward. And so on.
Bush's article does cover Perdition.
This gives a good idea of why people remember the play:
Sean Matgamna. 1987.
There are at least two issues involved in the 'Perdition' affair: artistic freedom and its limits; and whether or not 'Perdition' is anti-Jewish.

Allen and the director, Ken Loach, immediately raised an outcry against 'censorship', alleging that they were victims of a coordinated Zionist conspiracy. 'Perdition' was being crushed under the 'Zionist juggernaut', as Jim Allen put it when he told his side of the story to the Irish Times.
The article continues,
The play alleges that 'Zionism', with something like 5 million Jews already dead, needed the corpses of a million more Jews in Hungary to help it strengthen the moral case for setting up Israel after the war. Allen argues that Zionism shared the racist assumptions for Nazism from 'its own' side, and that that was the basis of a collaboration even to the extent of sacrificing the Jewish millions in Europe, Zionism was concerned only with sawing the notables and the rich.
Nothing of this seems to matter to the Canary.
The former Labour member Kerry-anne Mendoza writes,
The witch hunt has come for Ken Loach. They'll have to come through us first.
For the crime of not playing with the witch hunt, Ken Loach has become a target. As a national treasure, his words matter. And so the need to delegitimise him as an effective critic of apartheid is real. Now he is accused of Holocaust denial. Did he deny the Holocaust? No. Did he advocate for denying the Holocaust? No. They've reached back to the 1980s to replay

…a battle-hardened left is unwilling to play this game again. A massive and organic campaign of support has sprung up. The trending #IStandWithKenLoach hashtag is full of desperate pleas for truth in argument. By all means, we can have robust political disagreements. But to debase yourself by constructing entirely false narratives on such a serious issue is beyond the pale.
Quick off the block: Chris Williamson's Resist Movement.
Jeremy Corbyn tweeted this.
None of these responses even begin the talk about why many people on the left, including the radical left, would be very very wary of defending Loach's strain of 'anti-Zionist' politics.
Update:
Apparently some still do not have a clue.
10 Responses