Left Fragmentation Part 3: Trade Union and Socialist Coalition Launches Rival to Labour in May Elections.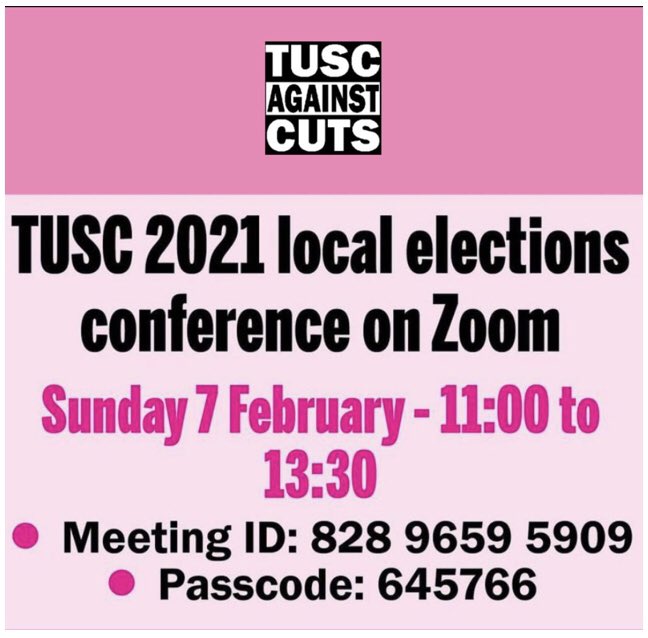 Another Left Splinter.
TUSC is a coalition with an all-Britain steering committee comprised of representatives from its constituent organisations alongside leading trade unionists, sitting in a personal capacity. The current constituent organisations are the RMT transport workers' union, represented on the steering committee since 2012; the Socialist Party, a co-founder of TUSC in 2010; and the Resistance Movement, established in 2019 by, amongst others, the ex-Labour MP Chris Williamson.
Trade Union and Socialist Coalition (TUSC).
The Socialist Party, SP,  is best known as one the splinters that emerged from the Militant Tendency – the others of an size being Socialist Appeal (following the major anti-Militant expulsions bust up in 1992 they stayed inside the Labour Party), and Socialist Alternative (a more recent split, which is part of the Committee for a Workers' International in which the SP was the leading fore). There is also a faction within the PCS Trade Union, Socialist View, which had connections with the party.
Socialist Party leaders, such as Peter Taaffe (General Secretary 1997–2020) considered that the Labour Party had become a bourgeois party, and had to be opposed electorally. But, "When Jeremy was Labour leader there was an opportunity to transform Labour into a mass workers' party. " 'Jeremy' and his 'project' did not do this. "his was not done, allowing Starmer to take the leadership with the party machine, MPs, and structures ready and waiting to do his pro-capitalist will. Given that missed opportunity, a struggle for working-class political representation will not now succeed within the confines of the Labour Party." "Today, in an era of profound capitalist crisis, the working class needs its own voice more than ever before. A party, not a project, is the way forward." ( Socialism Today, issue 245, February 2021)
One can only guess who would be the leading cadre in this party.
Both the Socialist Party and the Rail and Maritime Transport union (RMT) campaigned for Brexit and cast their support behind the Leave campaign. TUSC promoted Paul Embery's Trade Unionists Against the EU front whch had got financial backing from hard right businessman Arron Banks. Far from helping the labour movement, or fulfilling prophecies that the North Sea would turn to socialist lemonade,  this helped the Bosses' Brexit and prepared the way for the Johnson electoral strategy of Getting Brexit Done..
Chris Williamson, whose Resistance Movement is, an observer member,  did not attend. This suggests that there may well be problems with the man whose reputation as a left-wing politician may exceed Lord Voldemort's.
Williamson did make a recent appearance elsewhere, not long ago, promoted by the anti-Labour Skwawkbox alt-news site.
If Williamson is yet to tweet on the event,  Resist sent somebody.
Sadiq Khan is a target in London.
Pitching to Corbyn…
We await Corbyn's response,
Summary of previous electoral campaigns (Wikipedia).
2015 local elections

TUSC renewed its promise to field the largest left-of-Labour challenge in the parliamentary and local authority elections. It bolstered its 2014 local election candidacy count by 70, bringing the total to 650. As it also fielded 135 PPCs, in every major town and city in England, Wales, and Scotland, TUSC subsequently exceeded the overall number of candidates to satisfy the BBC's fair coverage threshold, qualifying it for distribution of election material via the Royal Mail, as well as time on the major networks for the airing of a Party Election Broadcast.[56]

TUSC gained no seats (and, in one ward, no votes) and lost three anti-cuts councillors in Leicester and Hull. They retain one affiliated councillor each in Warrington, Walsall and Hull, and two in Southampton.[57]

2016 local elections

Following the 2016 elections, TUSC had three councillors in Southampton under the banner of Coxford Putting People First,[58] Kevin Bennett having lost his seat in Warrington;[59] Hull Red Labour and Walsall Democratic Labour also lost their remaining seats.

2018 local elections

Following the 2018 elections, TUSC retained at least one affiliated councillor in Coxford, Southampton, following the re-election (as Independent – Putting People First) of TUSC national steering committee member Keith Morrell.[60] Two other former Putting People First councillors also retain their seats as Independents, but the group has since dissolved.[61] Morrell resigned in 2019.[62]
@Neo-LIberal' Labour meanwhile has launched this:
Written by Andrew Coates
February 8, 2021 at 1:09 pm
One Response
Subscribe to comments with RSS.