Exclusive: Tariq Ali on Progressive Military Coup in Myanmar.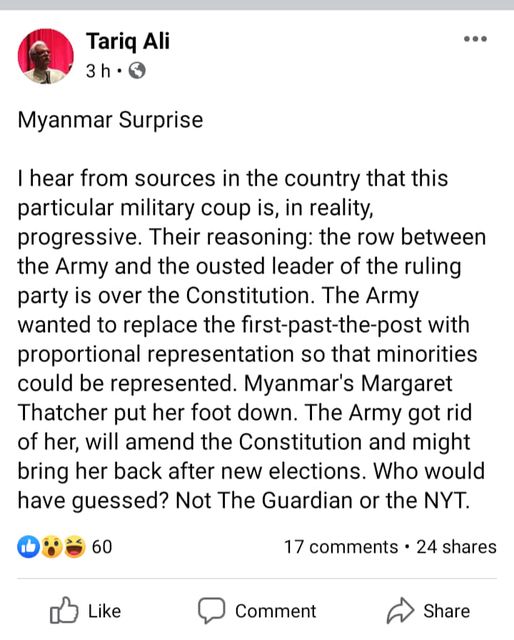 Tariq Ali has the Lowdown on Myanmar.
Exclusive.
Breaking News.
Tariq Ali sat in the attic of his Islington Town House. The veteran of many a revolution, he was honing his combat skills. Zionist Space Invaders flashed across the screen of a games console. He wove between the Jewish laser cannons and blasted a flying saucer to smithereens.
There was a sound from the Smartphone.
The urbane public intellectual and former guerrilla picked the device up,
"Take a chill pill old Red Mole, its all so bogus, like, I've gotten the real dope on Myanmar."
The Californian intonation could not disguise the voice of an old comrade, who had raised himself  to the level of comprehending the historical movement of imperialism as a whole.
"Halloa Perry! What ho? "
Mr Anderson continued, now speaking his mother tongue.
"Burma's Margaret Thatcher is gone gone gone! Por tanto, the  general mouvance, has, after una estación de tránsito, what is dominant' will never be exhaustive of the phase in question, Ha-at-tu-si ma-ak-ke-es-ta nu-wa-ra-ta-pa DINGIRMEŠ-is sal-la-i ha-as-sa-an-na-i da-a-er."
Tariq smiled as he recognised the familiar Hittite tag.
"Insider Source?"
"You bettcha!"
"Next issue of New Left Review or shall it be the London Review of Books?"
"Get the news out pronto!"
This was the Myanmar Moment, PR, steps forwards, who would have guessed?
The Street Fighting Man recalled the days in the Quartier latin leading the crowd to occupy the Sorbonne.
He called an old comrade.
"Bonjour Edwy Plenel! " Tariq continued in the language of Molière, "Je suis un Revolutionary, je habite  à the south of Islington."
As the story was unfolded the top French insider journalist exclaimed,  "Bougre de crème d'emplâtre à la graisse de hérisson!"
6 Responses