Piers Corbyn is Back: Compares Covid Vaccination with Auschwitz.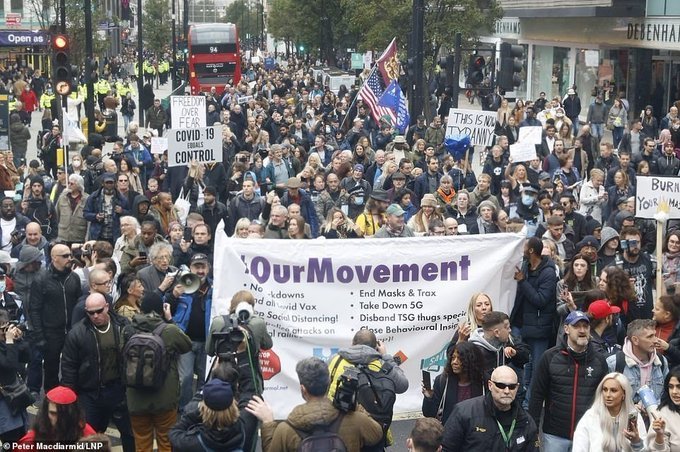 As Backed by Tory MP Desmond Swayne.
The story below is enough to make you retch.
Notice this:
Piers Corbyn designs leaflet comparing Covid vaccine programme with Auschwitz'
An MP today asked police to investigate the distribution of a leaflet designed by Jeremy Corbyn's brother that compares the Covid-19 vaccine programme with the Nazi death camp of Auschwitz.

Southwark Labour MP Neil Coyle said it was "utterly sickening" to exploit the Holocaust to peddle anti-vaccine myths that have been denounced by senior NHS doctors and scientists.

Theresa Villiers, the Conservative MP for Chipping Barnet, said the leaflet had been sent to Jewish homes in her constituency and had caused "upset and concern". She called it "disgraceful".

The pamphlet, which has been hand-delivered in several areas, carries a cartoon of the extermination camp where 1.1 million people were murdered between 1940 and 1945. In the drawing its sign that read "Arbeit macht frei" ("work sets you free") has been altered to "Vaccines are safe path to freedom".

Among claims in the leaflet that NHS doctors say are complete nonsense are that "some vaccines contain nanochips which can electronically track recipients". It credits the idea of the cartoon to Piers Corbyn, the older brother of former Labour leader Jeremy Corbyn.

Mr Coyle said he acted after complaints from residents on the Newington Estate and the Walworth Road. "I am asking the police to investigate this breach of covid rules," he said. "Families staying home, isolating and shielding should not face the hideous situation of having their doors knocked by conspiracy theorists pretending there is no risk."
There is this
Piers Corbyn was a comrade on the left.
Look at the state of him now.
5 Responses