Russian pro-Navalny Protests, Conspiracist 'anti-imperialists' react.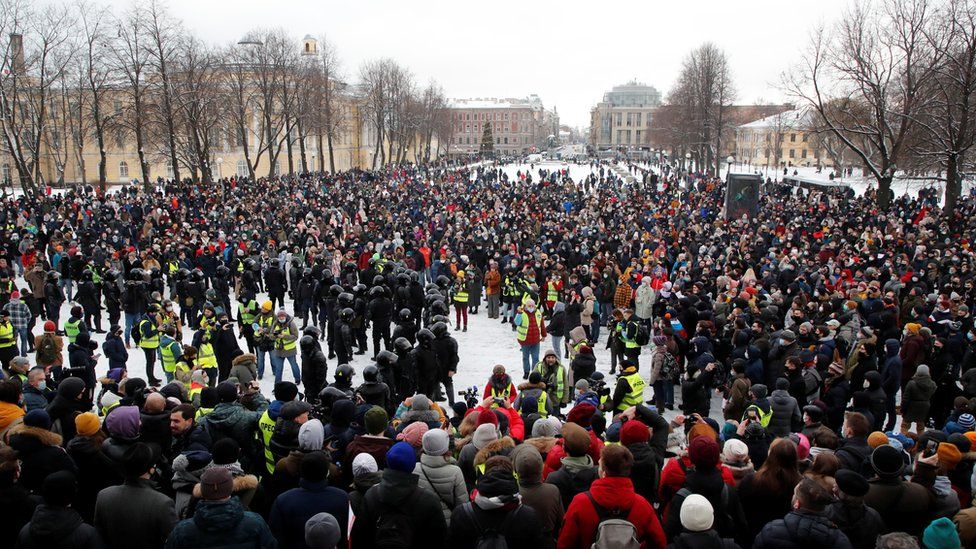 St Petersburg: Crowd Shouts 'Down the Tsar!. 
Alexei Navalny protests: Moscow in lockdown as police detain thousands
Riot police and national guard troops close central metro stations and block off streets
Moscow police have paralysed the centre of the Russian capital as protests in support of the jailed opposition leader Alexei Navalny continue for a second consecutive weekend.

At least 3,000 people including Navalny's wife, Yulia Navalnaya, were detained at rallies across the country as supporters of the Kremlin critic took to the streets to protest against his jailing, despite biting cold and the threat of arrest.
Already the 'anti-imperialist' friends of  Vladimir Putin are responding:
George Galloway Retweeted:
The Notorious site The Grayzone of Max Blumenthal.
"Despite facing repression, Alexei Navalny is no hero. Russian writer Katya Kazbek reveals the Western-backed opposition figure's real history."
Eva Bartlett, a Canadian activist and blogger who is known for promoting conspiracy theories about Syria She writes opinion editorials  for the television network RT, aka Putin Telly.
"Western mass media and hypocritically-indignant Western representatives are again busily claiming Russian peaceful protesters have been brutalized by police in demonstrations across Russia on January 23.
The sloganeers demand the release of the unpopular petty criminal and Western flunkey, Alexei Navalny, arrested upon returning to Russia for having broken Russian law."
A contrasting left wing analysis of the background:
Ilya Budraitskis
Russia: Mass protests calling for Navalny's release on 23 January, set to continue
On 23 January, large-scale protests were held in Russia, the main unifying demand of which was the release of opposition leader Alexei Navalny, who had been arrested a week earlier just after his return from Berlin (where he was being rehabilitated after being poisoned).

On the eve of the rally, after his arrest, Navalny's campaign team presented a video about Vladimir Putin's secret palace, which cost about 100 billion roubles (about $13 million) and was astonishingly opulent and senseless. Against a backdrop of economic stagnation, rising inflation, and unemployment, the story of this palace resonated enormously (over 90 million views on Youtube at the moment) not only as an example of corruption, but also as a demonstration of colossal social inequality in modern Russia.

Unlike the previous Navalny investigations in which high-ranking bureaucrats and oligarchs close to power have been the heroes, this time it is the authoritarian leader himself whose sustained popularity has until recently provided the legitimacy of the regime. Not surprisingly, the publication of the film and the call to go out into the streets provoked a panicked reaction from the authorities: "preventive" talks were held at every school and university, informing students that their participation in the protests would lead to "problems", and all TV channels explained that the palace did not really belong to Putin, who preferred an ascetic way of life.
Read more view link (Europe Solidaire Sans Frontières)
h
3 Responses