National Populist Marine Le Pen Tops French Opinion Poll.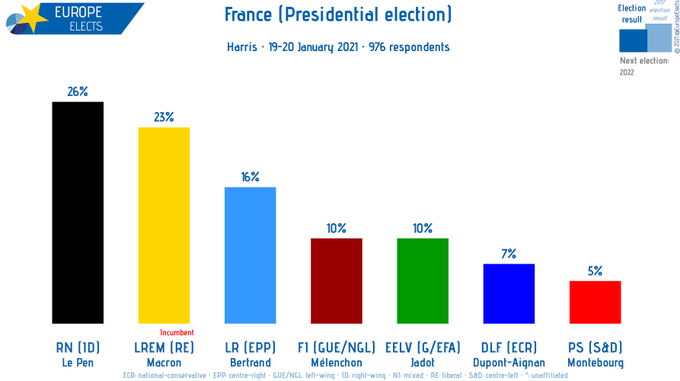 Marine Le Pen Tops Poll.
Le Monde:
Presidential: Marine Le Pen's last chance in 2022
Seventeen months before the election, the president of the National Rally appears in the polls as the main opponent of Emmanuel Macron.
Marine Le Pen, who is due to present her New Year greeting to the press on  Monday January 25, is still given as the main competitor of Emmanuel Macron, seventeen months before the presidential election, even if the political landscape is ever-changing. An IFOP-Fiducial poll for CNews and Sud Radio in June 2020 even credited the president of the Rassemblement National (RN) with 45% of the voting intentions in the second round, if it was necessary to vote immediately. And above all 40% of the voters of Jean-Luc Mélenchon in 2017 would be ready to vote for her, and 33% of those of François Fillon (republican right-wing).
This Poll was taken seventeen months, before the French Presidential election.
Marine Le Pen's Party Le Rassemblement National, RN,  (ex-Front National) topped the 2019 European Election poll in France, winning 23,34% of the vote.
Now she is credited with 26%
Marcon remains popular, despite disquiet at his high-handed way of dealing with politics. Demands for more resources to fight Covid19 and mass protests at a new security law which will ban people taking pictures of the police in action and increase surveillance.
The classic 'governing' right wing (the present incarnation of Nicolas Sarkozy's party) Les Républicaines (LR), at 16% is down from their 20.1% score in the 2017 Presidential elections.
Jean Luc-Mélenchon, at 10%  is well down from his 19.58% result in the same contest.
At 7% he national populist Nicolas Dupont-Aignan  is slightly up from his 2017 4,70%
There is no clear Socialist Party candidate – it could well be, to say the least, Anne Hidalgo rather than the sovereigntist Arnaud Montebourg who is ploughing his own path. Other forces on the left are likely to be more favourable to her – as Mayor of Paris she governs with the support of a wide range of left wing forces, including the Communists and Greens.
Marine Le Pen has been compared to Donald Trump.
The RN's national populism could be say to have parallels with Make America Great Again her organisation's origins and  strategy has been very different.
TO begin with the Front National was founded by members of the revolutionary nationalist group  Ordre nouveau. Jean-Marie Le Pen  had a long, and violent history on a French far-right which goes back to supporters of the Vichy regime and fighters for l'Algerie Française.
As they have emerged as electoral force in the 1980s a  prime aim has been to purse the long-term Front National of " dédiabolisation". (literally de-demonise). That is, to exorcise that past.
When Marine Le Pen took over the reins ten years ago the renaming of the party as the RN was a new turn in this long-term strategy.  She further attempted to tone down her party's language, using  allusions rather than direct attacks on "enemies" of France and the French, defending the Republic despite the presence of extreme-right Monarchists around the party, supporting Laïcité while her backers are often traditionalist Catholics – a 'secularism' aimed  against Muslims.
Dix ans de Marine Le Pen à la tête du RN: la grande arnaque de la «dédiabolisation»
Marine Le Pen has only pursued this strategy with more or less the same recipes: recruitment of executives doing well in the media – Florian Philippot was the perfect example for years – distancing himself, officially, distancing her self from extremist groups, polishing her speech to make its racism and xenophobia largely euphemistic… Marine Le Pen used the expression "national priority" rather than "national preference" , too overtly discriminating…
In 2012 they created a broader front, the le Rassemblement Bleu Marine, to attract the traditional right and former socialist sovereigntists. Yet as Mediapart notes, the core of the party remains far-right, to the point where the street fighters of the Groupe Union Défense (GUD) and extreme racists linked to Alain Soral's Égalité et Réconciliation, have roles in the organisation.
While it has 6 deputies in the National Assembly, 1 Senator, 306 regional councillors and 827 local councillors, at  83 000 members (a figure hotly disputed, " selon des sources internes, entre 20 000 et 25 000".) The RN is not a mass movement. Run from the top down with a structure not far off "democratic centralism" it also not a totalitarian mass party with a military wing.
Not only is Marine Le Pen more measured in tone than Trump has ever been, but she has no militias behind her, nor supporters ready to rampage through the Assemblée National.
She is actually a lot milder than Brendan O'Neill….
And there is no French far-right mass media to compete with the British extreme nationalist press.
4 Responses