As Keir Starmer Speaks to the Public, Factionalist Left Calls for "Socialist Co-Ordinating Committee".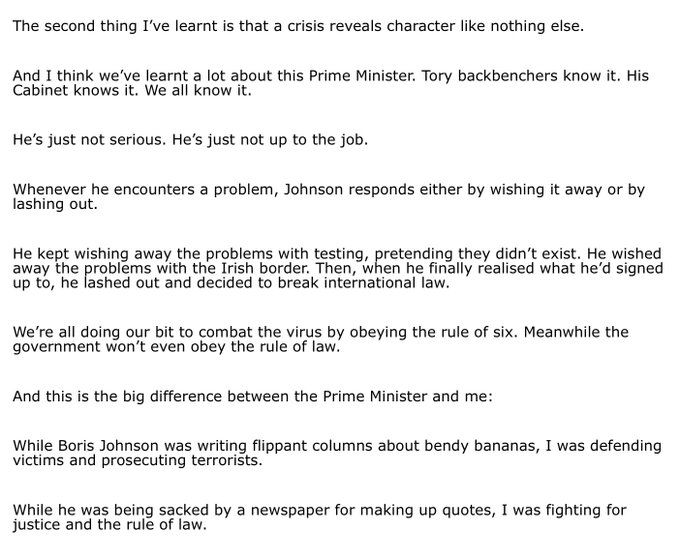 Keir Starmer Goes for Johnson's Jugular.
As Keir Starmer's speech to the Labour Conference goes down well, out on the left, way out, there are now calls for a new 'co-ordinating Committee".
James Schneider, who was the deputy to Seamus Milne (both attended Winchester public school) and helped found Momentum, and former co-Chair of Oxford University Liberal Democrats clearly has some ambitions.
Earlier this year (April), on the pro-Brexit Verso site he expressed strong opinions against internationalists who fought against Brexit,
Bridging the Gap: Corbynism after Corbyn

Brexit gave the establishment a wedge to drive into the heart of the Corbyn project – and it did so with glee. Its repertoire – round-the-clock attacks, accusations of idiocy, performative confusion – need not be rehearsed. Within the party, those who both wished Corbyn well and to overturn the referendum result acted in large part as the establishment's unwilling dupes. They wanted Corbyn to make the anti-democratic, Europhiliac argument that he never convincingly could. By the 2019 general election, Corbyn had lost his room for manoeuvre and his team was fundamentally divided on how to play an extremely challenging hand. The burnish of 2017, when Corbyn had appeared a politician apart, authentically himself, had been painfully wiped off.
To put it simply, the anti-Brexit left were part of the blame for the December General Election defeat.
This was Schneider's strategic vision for the future of the left in April 2020.
With no party leadership to defend, Momentum could focus on bridging the gap between the moment's possibility and the movement's weakness. It could help build socialist capacities across the movement as a whole and offer coordination on every terrain of social struggle.

The Corbyn movement may be half-orphaned but it is no infant. It can succeed if it proves its maturity through tolerance for diversity, internal generosity and commitment to the long haul. Corbyn's leadership was never going to bring socialism, even if elected with a majority government. It was a spark, an organiser and a staging post. It is up to the movement to take the cause further and win advances, for the many, not the few.

The movement can prove Jeremy Corbyn right: there is no such thing as Corbynism. There is socialism. And, things can, and they will, change.
It is hard to see any of these "dupes" and "Europhilics"  willing to work on a common project with Milne's colleague.
As for socialism, there is little to indicate what this means. If he seriously believes the following then we can only remain in despair, "The horizon of state power turbocharged the Corbynite intellectual space: several important books were published in 2018 and 2019, Tribune and Novara expanded their output, and a boom in left-friendly think tanks developed."
He has clearly not given up on the hopes he outlined in 2016 in an interview for the left-populist US journal Jacobin,
They see themselves as part of a post-2008 movement that has engaged with the Labour Party to change politics.

I see my role in Momentum as a dialogue between those two. I've read Miliband, I learned from his critiques, but I don't come from his tradition. He helped me understand the historical development of the Labour Party and concepts like Labourism, but he was also writing in a different moment of history. The direction of history and politics, the nature of the economy, and technology's role in society is quite different today. Our job is to adapt to that and to build coalitions that can win social majorities for change.

One of the tasks is to unite these two camps. That is the nature of a movement-party, combining the benefits of a tradition with the innovations of newer movements. What we have seen over the course of the year since Corbyn's election is each group learning a lot from each other. They have become stronger. If you're going to build a mass organization today, and repoliticize society, you need new ways of organizing, thinking, and communicating. But if you're going to win the change you want to see, to be the government, to be in power, you need to engage and win with a party.
Those were the days, Sanders, Corbyn….
This camp has not come to terms with their defeat, nor with the wider problems of left-populism, in retreat across Europe. where it's had a serious presence, France and Spain.
His initiative has had these more positive responses:
And this,
We have yet to register the response from the heavyweights of the alt left, Skwawkbox, and Aron Bastani's Novra Media.
Bastani seems to engaged his troops in an important war of manouvre against Paul Mason.
It's all to play today…
For some reason many people on the left just do not take these initiatives seriously.
8 Responses