American SWP (no relation to UK SWP) Denounce "Violent course of antifa, Black Lives Matter threat to working class."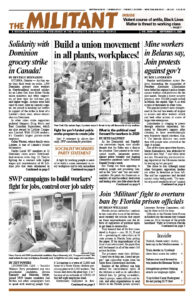 Page 7: "Antifa, Black Lives Matter threat to working class."
This Blog does not often comment on US politics. The earthquakes that have been happening recently have been covered from the left too well elsewhere.
There is excellent information available daily through Marx Mail, and Louis Proyect and people like Spencer Sunshine. Spencer is excellent on antifa and their fight against the US far-right.
It does not take long to imagine why there has been little comment here: conditions are dramatic and you need to be familiar with what is very different culture,  and political landscape, to write anything useful.
But this article in the very latest Militant (the original, not the UK version of years past), a Trotskyist publication which dates back to the 1930s, is too extraordinary to pass without comment.
Violent course of antifa, Black Lives Matter threat to working class
In recent weeks there has been an escalation in deadly street violence  led by antifa and leaders of Black Lives Matter, as well as by some rightist vigilantes – from Portland, Oregon, to Kenosha, Wisconsin. The looting, intimidation, arson, street fighting, and shootings pose a deadly threat to the working class.

All summer, groups of antifa have carried out provocative nightly actions in Portland, including attacking police, setting fires and breaking windows. These actions are dangerous for working people looking for ways to resist bosses' efforts to push the capitalist crisis onto our shoulders. They deal blows to fights by unionists, against cop brutality and for Black rights.
This is unforgivable:
As they glorify violence, the embittered middle-class forces of antifa rail against "the elite," elevate small group action above political struggle and remain deeply alienated from the working class. They have much in common with fascist groups they claim to oppose. Others have traveled this road previously, like Italian Socialist Party leader Benito Mussolini who went on to lead fascist forces to power in 1922.
There is more in the same vein,
The violence and thuggery practiced by antifa and Black Lives Matter is the opposite of the broad, inclusive mobilizations that were organized in late May, largely by young people in thousands of towns large and small across the country in response to police brutality.
By focusing on "Actions seeking to silence, "shame" and intimidate people are on a political course toward anti-working-class thuggery" – actions few would hesitate to condemn – as if anybody is in favour of thugs –  the SWP misses the dynamic in which this is happening.
It is not hard to agree with US comrades who immediately see this part of the sentence, that in the US the "deadly street violence (is)  led by antifa and leaders of Black Lives Matter, "
In other words, they are a major cause of "violence and thuggery".
To boot, they are not just opposed to broad demonstrations, they  have "much in common" with  Mussolini's  squadristi.
How has it come to this?  
The American Socialist Workers Party  (SWP) is  the oldest continuous organisation in the world which comes from the Trotskyist tradition. Formally created in 1937 its origins go back to the Communist League of America (CLA) created in 29128 by opponents of Stalin who had been expelled from the US Communist Party.
Many British people on the radical left have an affection for the early years of the party whose most famous leader was  James.P.Cannon.
When you read about Trotskyism in the 1930s and 1940s, from the strike waves during the Roosevelt years, to the New York Intellectuals,  you will find many references to the SWP. One dissident faction, the. Shachtmanites, which broke from them at the start of the 1940s, even gets a mention in the Coen Brothers film, Inside Llewyn Davis
This Blog comes from a different strand of the radical anti-Stalinist left, largely European. The tradition that supported workers' self-management represented by Michel Pablo (Rapitis), was originally Trotskyist, and at frequent loggerheads with the US SWP. For some, our ideas are shaped by non-Trotskyist democratic Marxist traditions which have had roots  in such currents the London Bureau of left-socialist parties, later called the International Revolutionary Marxist Centre, the body that was behind the ILP and George Orwell's support for the POUM during the Spanish Civil War or the 1960s New Left of  Britain, France, Germany, Italy and the Low Countries.
In broader terms our  activities, our socialist, social democratic, and labour parties, and radical new leftist groups which have had an electoral presence, have an imprint that makes it hard for us to relate to a political environment where 'left' frequently means liberal, and the Democratic Party has marginalised anything less moderate than (in European terms) social democrats like Bernie Sanders.
Some people in the UK have had more direct contract with the SWP. Within the 1970s British left, in the International Marxist Group, the supporters of the US party 'The Tendency' were a vocal presence during the 1970s and continued there until the mid-1980s.  They stood for very different politics to TC, above all through its hostility to the Portuguese radical left following the 1974  'Carnation Revolution'. For some the activities and over-vocal presence  of this group, described even then as 'cultish' did not create much affection for their parent body.
The tiny fragment that remains of this group, the Communist League, is pro-Brexit and has a variety of other obnoxious positions (cosying up to Castro's successors for a start). They are part of what is the SWP's 'international', the Pathfinder tendency Careful observers sometimes spot them at demos with their characteristic hand-made placards covered with felt-tip slogans, a practice mimicked by the Spartacists. They sell Pathfinder books and copies of the US Militant.
Here is a rare photo of their 'candidate' for the London Mayor in 2016  (he did not run in the end) Roger Silberman, who was once quite prominent in the IMG.
Their US parent has moved away from Trotskyism, summed up  Jack Barnes Their Trotsky and Ours (2002) and move to turn themselves into an ally of the Cuban Communist Party. After years of purges, shrunk down to a small cult, with more than enough money to keep going and attempt to run a 2020 candidate for President, Alyson Kennedy.
In case you think that description is a bit shop-worn, this is how Louis Proyect describes their present form,
In this photograph, dated March 15, 2020, you will see a group of mostly senior citizens defying the call for social distancing. Who could they be? Rightwing Christian evangelists? Libertarians standing up for liberty?

Instead, you are looking at members of the Socialist Workers Party at a memorial meeting for one of their members who died last month. The Militant newspaper reported that more than sixty people were in attendance. That's probably about half the membership, and 1,900 less than when I was a member back in the 1970s. What happened to all these people, including me? Most either drifted away or became victims of a purge in the early 1980s when they fought to preserve the party's Trotskyist heritage. Over the past decade, the dropout rate accelerated mostly as a result of the party adopting increasingly peculiar positions. Of the remaining 100 or so, their activism mostly consists of going door to door like Jehovah's Witnesses peddling the books and newspapers of what most would view as a cult.

APRIL 10, 2020

The SWP and Social Distancing: a Study in Abnormal Political Psychology
This is the SWP's present perspective,
It is in the course of these fights and broader struggles in the years ahead working people will learn how to defend ourselves in disciplined ways from assaults by the bosses and cops who protect their rule. And we will see more clearly the middle-class character and dangerous anti-working-class course of antifa and the Black Lives Matter leadership.

As we do so we'll gain confidence in our own forces and have the opportunity to build a movement capable of bringing an end to capitalist rule and replacing it with our own government.
Some suggest that they have just got older and more conservative with the years….
******
Some links: USA: On the Formation of the Jack Barnes Cult in the SWP Gus Horowitz.
USA – SWP: Long March to Oblivion David Finkel.
More than a cultist. Andrew Coates reviews Memoirs of a Critical Communist. Towards a History of the Fourth International, by Livio Maitan.
Extract:
 The American Socialist Workers Party (no relation to the UK SWP), the oldest Trotskyist party in the world, and an influence on the celebrated list of 1930s New York Intellectuals, under the impact of Jack Barnes today subordinates its politics to the Cuban state. Maitan charges them with their leader's 'authoritarian behaviour' and purging their group by accusations of 'disloyalty'. He does not explore allegations of 'cultism' and 'Trotskyist missionaries' common to those who have had contact with them in Europe.
25 Responses