Piers Corbyn: From International Marxist Group to Red-Brown Charlatan.
Ex-International Marxist Group activist now stands with Holocaust denier David Icke and the far-right.
The Guardian carries an article, on the demonstration, Coronavirus sceptics, conspiracy theorists and anti-vaxxers protest in London.
But, this, written in a respectful tone, is how it talks about three of the best-known participants..
Among those due to speak were Piers Corbyn, the weather forecaster and older brother of the former Labour leader Jeremy Corbyn, the former newspaper columnist and health journalist Dr Vernon Coleman, and the conspiracist celebrity David Icke.

Although the demonstration focused on coronavirus restrictions, those taking part espoused anti-authoritarian grievances ranging from the lockdown to the imprisonment of Julian Assange to claims of elite child sexual abuse.

On the eve of the protest, Corbyn told the Guardian that a number of groups had come together to join in with the demonstration.

"In terms of whether you believe that the virus is a hoax or not, whatever is happening now is less than or equal to a normal flu, so the lockdowns and all that goes with them is unjustifiable in any terms," he said.

"We are calling for MPs to refuse renewal of the Covid Act [Coronavirus Act], and if they do not, we will campaign to have them removed from office."
One of the aspects of Piers Corbyn which is not given a wide airing is the revulsion that his former comrades in the International Marxist Group (IMG) and others on the radical left feel about his present politics.
In the 1970s Piers was better known on the left than his brother.
From Imperial College to the Squatters' movement, he was a well-known figure on the left. He was active in the IMG, standing in 1977 in Lambeth Central for a GLC election under the group's name. Not everybody appreciated his efforts to create a Squatters' union. Like the rest of the British section of the Fourth International he joined the Labour Party and was a party councillor in Southwark between 1986 and 1990. He remained in the Borough, and people speak of him in the 1990s selling left publications in his local pub.
Corbyn appears in the 2006 BBC Documentary 'Lefties', in the first episode, Property is Theft, about squatting in the 1970s.
PIers made a career forecasting the weather, forming WeatherAction, in 1995. The meteorologist was still sending out EMails about his prognostic power to leftists (using a wider list) when the Internet began to take off in the new millennium. He fell out with the same left when he began promoting climate change denial in the same decade, and was pushed out of left-wing politics. His thinking was wildly at odds with his former Fourth International comades, who took an Eco-Socialist turn at the same time and joined the fight for "Global Climate Justice".
Interviewed in 2016 (Guardian) he was without regrets: "Like his brother, physicist and meteorologist Piers Corbyn is a man of revolutionary zeal. His own battle, however, is against all this 'climate-change nonsense'…
He has certainly changed, and not just because of his climate change denialism.
This is one of the leaflets he has been distributing this year.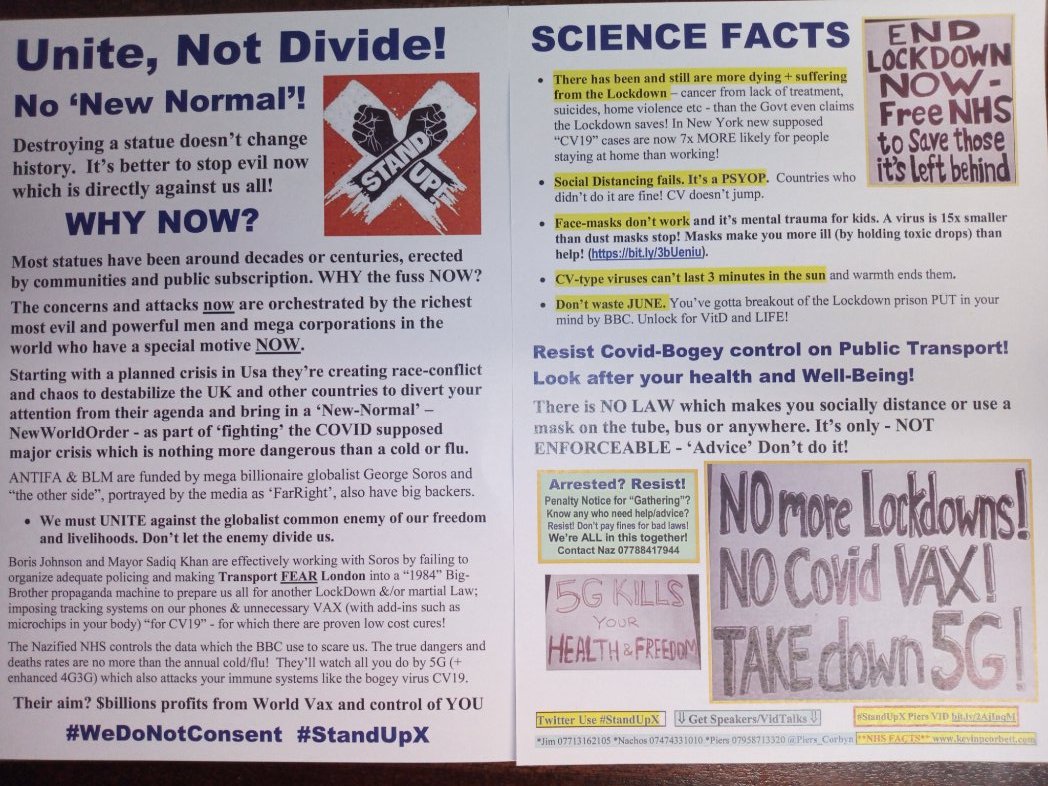 We must "unite against the globalist common enemy", the "Nazified NHS", "AntiFa and BLM are funded by mega billionaire Soros. The (BLM) concerns and attacks on statues are "orchestrated by the richest most evil men and mega corporations" to "divert your attention and bring in a 'New Normal' – New World Order" "Covid ..is nothing more dangerous than a cold or flu."
Most people would say that somebody who produces this material is not entitled to any respect whatsoever.
This is the far-right charlatan yesterday in London.
These are some more of this friends.
And these:
There is a view that the a core group protesters who assembled against the Lockdown in Trafalgar Square come from a long-established fan-base of David Icke. Others, from  Save Our Rights UK organisation, Q Anon, 'Wellness' anti-Vaxx campaigners, and anti 5-G obsessives, are of a more recent ilk. They are political confusionism, a mixture of right and left united against an enemy that they define in their imagination.
This is an international phenomenon as this report on a demonstration in Ireland last week indicates,
A Garda investigation has begun into an anti-face mask rally held in Dublin at the weekend on suspicion it breached coronavirus regulations prohibiting the organising of events.

Separately, a number of disturbances at the rally were also under criminal investigation, including one incident during which men who were armed with sticks or batons clashed with others present. *

They wore black caps and scarves covering their faces, as well as PPE-type latex gloves, and clashed with a number of other men present in what appeared to be a pre-planned attack. One man suffered significant injuries before gardaí restored order. *

The event was organised by the Health Freedom Ireland, which says it is a non-political organisation, with support from Yellow Vest Ireland.

….

Other speakers included members of the Irish Freedom Party which wants to "regain control" of Ireland's border to more closely control immigration.
There is a sharp political edge, one underlined by Piers Corbyn: the anti Bill Gates and above all, George Soros, theme.
Soros is a hate figure for the far-right and some on the 'anti-imperialist' left (see above picture about Syria).
George Soros Conspiracy Theories Surge as Protests Sweep US.
USNews and World Report.
George Soros, the billionaire investor and philanthropist who has long been a target of conspiracy theories, is now being falsely accused of orchestrating and funding the protests over police killings of Black people that have roiled the United States. Amplified by a growing number of people on the far right, including some Republican leaders, online posts about Soros have skyrocketed in recent weeks.

They have been accompanied by online ads bought by conservative groups that call on authorities to "investigate George Soros for funding domestic terrorism and his decades-long corruption."
We can add Piers Corbyn to that list of conspiracy theorists.
The leftist rhetoric about the New World Order, first used in the 1990s after the First Gulf War, has been moulded after a well established pattern into a rant about mysterious figures controlling the planet.
It is said that there is a special place in Hades for renegades from the IMG who turn to the far-right.
Worse than this (story not verified):
14 Responses