Political Confusionism: Anti-Lockdown Conspiracists, from Fascists to Anti-Vacs, Fill Trafalgar Square .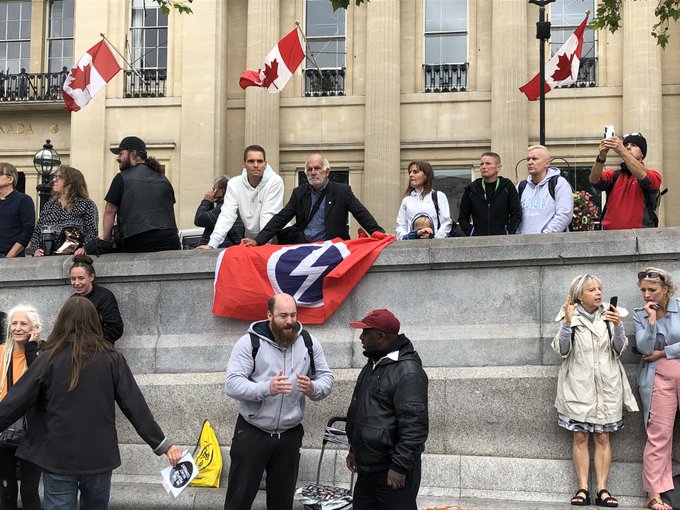 British Union of Fascists Flag: Anti-Vac and Conspiracy Right-Wing Mingle with Trafalgar Square Demo.
The London protest brings together Piers Corbyn and David Icke, and a raft of other far-right conspiracy activists.
Reports:
Here is another shot of them.
The far-right conspiratorial background of the march's principal organisers is well-known.
There is David Icke and Piers Corbyn. Corbyn has taken to railing at the 'New World Order', George Soros, and the 'Nazification' of the NHS.
Here he is this afternoon:
They are part of a Europe-wide (and further afield in North America and Australasia) movement that brings together 'anti-vaccination campaigners, 'civil liberty' anti-'big government' rightists, and straightforward racists.
These cross-overs in this latest outbreak of political confusionism are already being charted.
Le Monde, a few days ago carried a detailed  report highlighting the cross-over between those who hold anti-lockdown ideas and conspiratorial right-wing thinking.
La défiance imprègne notre société » : le discours antimasque, nouveau terreau complotiste
As indication they pointed to a Facebook site which had renamed itself from Zemmour (the surname of a French far-right-wing anti-immigrant historian) to "Non au masque" (no to Masks).
In an opinion survey of 800 members of these Web platforms it was found that 52% believed in the Illuminati (against a whopping 27% of the general population!), 56% believe in the Great Replacement by Immigrants (against 25%), and 52% in a Zionist "plot" against France (22%).
In the UK the culture warriors and identitarians of Spiked are also stirring the pot.
Britain was often a pretty unfree place before 2020. But this year illiberalism has gone into overdrive. The state now dictates that we must cover our faces in certain places or face a fine.
Yesterday: Not a single healthy child has died from Covid
A new study confirms the virus poses a negligible risk to children.
With the evidence mounting that kids are largely safe from Covid, it is clearer than ever that schools are safe. Those who want to hold up the return to education are massively over-stating the risks. In fact, they are causing harm to children by restricting their lives in the name of protecting them from a negligible threat.

Let's stop scaremongering and get schools back to normal.
More Background from Hope Not Hate.
THE UK'S EMERGING CONSPIRACY THEORY STREET MOVEMENTS.
New conspiracy theory-driven street movements, spreading dangerous QAnon, 5G and anti-vaccine propaganda, have held dozens of small protests in the UK recent months. These groups are collaborating and gathering momentum.

Last Saturday, over a hundred protesters marched to Buckingham Palace, where a section angrily chanted "paedophiles" outside the gates. Some protestors bore signs referencing QAnon, a baseless US-centric conspiracy theory alleging that President Trump is waging a secret war against a cabal of powerful Satanic paedophiles, alleged to be kidnapping, torturing and even cannibalising children on a giant scale. The conspiracy theory, which has strong undercurrents of antisemitism, has spread rapidly in the US and developed pockets of support in Europe in recent months.

The outfit behind the protest, Freedom for the Children UK (FFTCUK), is the British branch of a new American group, which held scores of gatherings across the USA, Canada, Australia and New Zealand last Saturday. FFTCUK itself organised events in eleven cities across Britain, and whilst some were tiny, others, including Manchester , were hundreds strong.

Whilst FFTCUK's deliberately vague branding appears to have attracted many concerned by genuine child trafficking, several of the group's central UK organisers have expressed QAnon beliefs. The iconography of the theory was displayed by attendees at events around the country, as well as numerous references to broader Satanic ritual child abuse conspiracy theories.

FFTCUK is just one of a constellation of conspiracy theory-driven protest groups to have emerged during lockdown, which, despite being founded on diverging issues, appear increasingly willing to pool their efforts. FFTCUK's Manchester event was supported by Stand Up X (SUX), a homegrown anti-5G outfit which, since launching in May, has organised dozens of small anti-lockdown events.

This Saturday SUX is, alongside a number of other groups, co-organising what may be the largest conspiracy theory protest in recent months, as David Icke, a major British conspiracy theorist and antisemite, is set to speak against the lockdown in London alongside prominent anti-vaccine activists.
Today is Saturday.
4 Responses