The Fall of the House of Andrew Murray? UNITE's McCluskey Succession Battle Hots Up.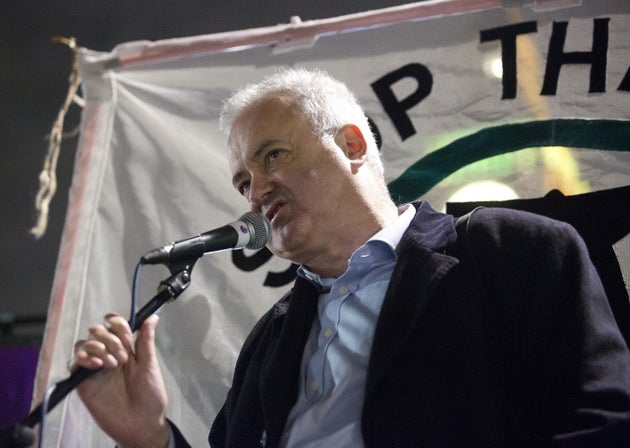 Andrew Murray, "Leaving the EU" was a "democratic impulse" 
In the 1970s it used to be said that, "The Communist Party can float an idea early in the year. It goes to trade union conferences as a resolution and it can become official Labour Party policy by the autumn. A few years ago we were on our own, but not now."
These days the group that claims to carry the flag of British Communism, the Communist Party of Britain, has more modest achievements.
UNITE's chief of Staff, Andrew Murray, who belately left the CPB in 2016, after joining the old Communist Party of Great Britain in 1976, followed by active membership of  the party linked to the Morning Star, has had more modest successes.
He has taken against "the poisonous seeds of the politics of personal identity and human rights",  "rancid identity politics", the "newly declared culture war",  and the "Brexit derangement syndrome" of those opposed to leaving the EU (Pages 97, 214 – 5. The Fall and Rise of the British Left.) 
Apart from Spiked, always ready to denounce the Woke Taliban, Murray's bundle of views on these issues is not popular.  On the left they seem to have been swept to one side, above all by the Black Lives Matter movement, which, is clearly one for human rights and has been accused, by right-wingers of waging a "culture war".
This is no doubt a reason why Murray has backtracked a little.
The working class has become, he writes in Tribune this weekend(Class Politics After Corbyn), largely a "sociological classification", a"mass of wage labourers without collective institutions or an ideological project". In Marx's early terms, it is a "class in itself" but not a "class for itself".
The combination of capital has created for this mass a common situation, common interests. This mass is thus already a class as against capital, but not yet for itself. In the struggle, of which we have noted only a few phases, this mass becomes united, and constitutes itself as a class for itself. The interests it defends become class interests. But the struggle of class against class is a political struggle.
The Poverty of Philosophy (1847).
In the absence of this unity, and political direction,
The space has been filled to some extent by what is now termed 'identity politics'. Mention the term and right-wing columnists will start foaming about the demands of women and black people, above all, to have their identities as such recognised, and the specific and intensified oppressions which have shaped that identity addressed. The labour movement may have been ahead of the curve here, but not by very much.

In fact, identity politics has an ancient pedigree within class politics. For example, the Labour Party in the East End of London was bitterly divided in the 1930s between its large Jewish and Irish elements. The former were stalwart opponents of fascism at home and abroad, while the latter were not, due largely to the influence of Catholicism — indeed, priestly influence won much of the Irish element in Stepney Labour to a pro-rebel or at least neutral position in the Spanish Civil War.
At this point Murray wanders further into history, and finds solace in abstract reference to 'imperialism', "As in the USA, any approach to class politics has to be framed not just by the eternal verities of exploitation but also by an acknowledgement that the working class has been shaped by the experiences of imperialism and its concomitants of racism and relative privilege on a global scale."
The left was indeed ahead of the curve but not because it confronted cultural clashes in the past, which one could extend to religious and national differences in Scotland and cities like Liverpool.
The 1980s, a formative time for Murray's faction, Straight Left, was caught up in debates begun and collected in The Forward March of Labour Halted? Eric Hobsbawm,  (1981) Tribune's editor Ronan Burtenshaw  may, like many, assert that with 80% of people today working in the Service Sector they are still objectively working class. But Hobsbawm was right to indicate that the decline (if not vanishing) of heavy industry  and  manufacturing, the closely knit politics based on work and community has effects which we can see today.
As Hobsbawm wrote, "the development of the working class in the past generation has been such as to raise a number of very serious questions about its future and the future of its movement."
Murray visits the North and meets people who have difficulties with the use of migrant labour. A " brand-name retailer had established a warehouse creating around a thousand jobs — but few if any were advertised in the local job centre. Instead, the work was subcontracted to a labour agency which recruited exclusively in Poland. " This example could be found around the country, and not only in the 'left behind' areas.
Only wishful thinking can ignore this. There is no easy answer. There is nothing on the horizon  like the kind of struggles portrayed in Upton Sinclair's The Jungle (1906) on the exploitation in the Chicago meat-packing industry, which could draw different nationalities together.
But for Murray there is a common cause that united at least some people, Brexit. 
I asked: 'When people around here voted for Brexit what problem did they think they were solving?' The answer: 'Everything.'
He continues,
The desire for an alternative reality attainable through democratic endeavour remains alive, despite the marginalisation of the concept of political alternatives throughout the neoliberal era.

Leaving the EU was the issue that this desire came to hang its hat on in many areas. This was a democratic impulse which Labour, despite a radical leadership committed to popular initiative, got itself on the wrong side of. These are the people Labour left behind in the dash to support a second referendum.
 Murray was a key Corbyn adviser, drafted in to help on issues such as Brexit ("Labour should stay neutral in Brexit 'culture war', warns Corbyn ally". October 2019)
He is not 'neutral' now.
Taking sides for Brexit – that is dividing people – is a stand, Murray claims is to be against an institution which is "an effective constitutional bulwark against democratic choice in its member states on major economic questions."
In other words, all the reasons why people voted for Brexit, and one hopes that even the UNITE Chief of Staff is aware of less noble ones than democracy,  are less important than this.
Arguing backwards from what he sees as the neo-liberal nature of the EU onto the intentions of Brexit voters Murray claims they were following a "democratic impulse".
The urge may have driven them to support a campaign backed by the free-market right, the fancy may have taken them to dream of a People's Brexit as a stage on the British Road to socialism. But somehow, just somehow the " democratic empowerment" of the vote now leaves Labour with new possibilities, away from "liberal fiat" " It now falls to Keir Starmer to lead the long march from the security of North London to the battleground industrial hinterlands."
That a majority of people in work voted to stay in the European Union, that manufacturing and industry (such as it is) are hit by Brexit, that many working class people backed Remain out of hard-headed self-interest, including an interest in the protections offered by the EU's 'liberal' legislation, is beneath Murray's radar.
Above all, if it was conflicts over , and dislike of the use of migrant labour is a form of "class politics", then what kind of political class for itself is being created?
It is hardly one of class unity.
The trade union movement has been called the greatest movement for human rights in history, but what kind of sectional rights against others is he responding to?
What kind of future, what kind of bread-and-butter improvements can be campaigned for on that basis?
Is it a surprise that Murray's team is  breaking up?
Last week the hard right Express ran this story,
LABOUR PARTY civil war could be in the offing, with a fierce critic of Sir Keir Starmer edging towards a breakthrough in the battle to succeed Len McCluskey as general secretary of Britain's biggest trade union, Unite.

..

Last week Mr Beckett issued a warning to the Labour leader, accusing him of punishing the working class for the coronavirus crisis.

He tweeted: "Boris Johnson & Keir Starmer, I have a message for you both.

"We won't stand idly by while you dump the pandemic fall out on the working class."

Mr Beckett has been tipped to see off the challenge of Steve Turner, a union official that has played a leading tole in industrial disputes involving industry sector giants British and Bombardier.
Beckett is proud of this record,
Things did not go according to plan.
6 Responses